As I'm sure you already know, it can be a real challenge to get your teenage children out of bed in the morning. Unless there is a football match or a meet-up at the mall, getting them up before 10 am can be a real struggle.
That is what I found before I started making pancake and waffle breakfasts. That is when everything changed.
If you are looking for a surefire way to get your kids bouncing out bed and unified around the kitchen table in the morning, there's nothing that I've found that entices my little rabble better than a steaming stack of homemade buttery pancakes or fantastically fluffy waffles with their favorite toppings.
What makes waffles and pancakes such a number one breakfast treat? The soft and spongy inside and the ability to drizzle them in just about any topping you can imagine, means that there is something for everyone.
Are you a fruit fan in the morning? Waffles and pancakes are scrumptiously sweet and filling when accompanied by chopped strawberries or diced banana, you can even try topping them with whole blueberries and then dusting them in vanilla sugar.
For those who have a bit more of a sweet tooth, waffles and pancakes go really well with the more traditional toppings and sauces like Belgian chocolate and fudge sauce, honey, golden or maple syrup and are simply brilliant when slathered with butter.

Pancakes and waffles are also a great snack or dessert idea to serve for friends and family.
There are also some really creative toppings that will be perfect if you are looking for something to really wow your guests such as sliced bananas with brown sugar and cinnamon sauce, pitted cherries with vanilla ice cream and crushed wafer pieces or even blueberry yogurt with strawberry syrup and powdered sugar. There's really no end to the possibilities.

So, let me show you what to look out for when purchasing a waffle and pancake maker and I'll give you a guide to some of the best pancake and waffle maker combo out there.
Best Waffle and Pancake Maker Reviews
Itching to get your hands on one of these handy combos? Have a look at the following makes and models before purchasing to make sure you purchase a combo that does exactly what you need it to.
BLACK+DECKER Waffle Makers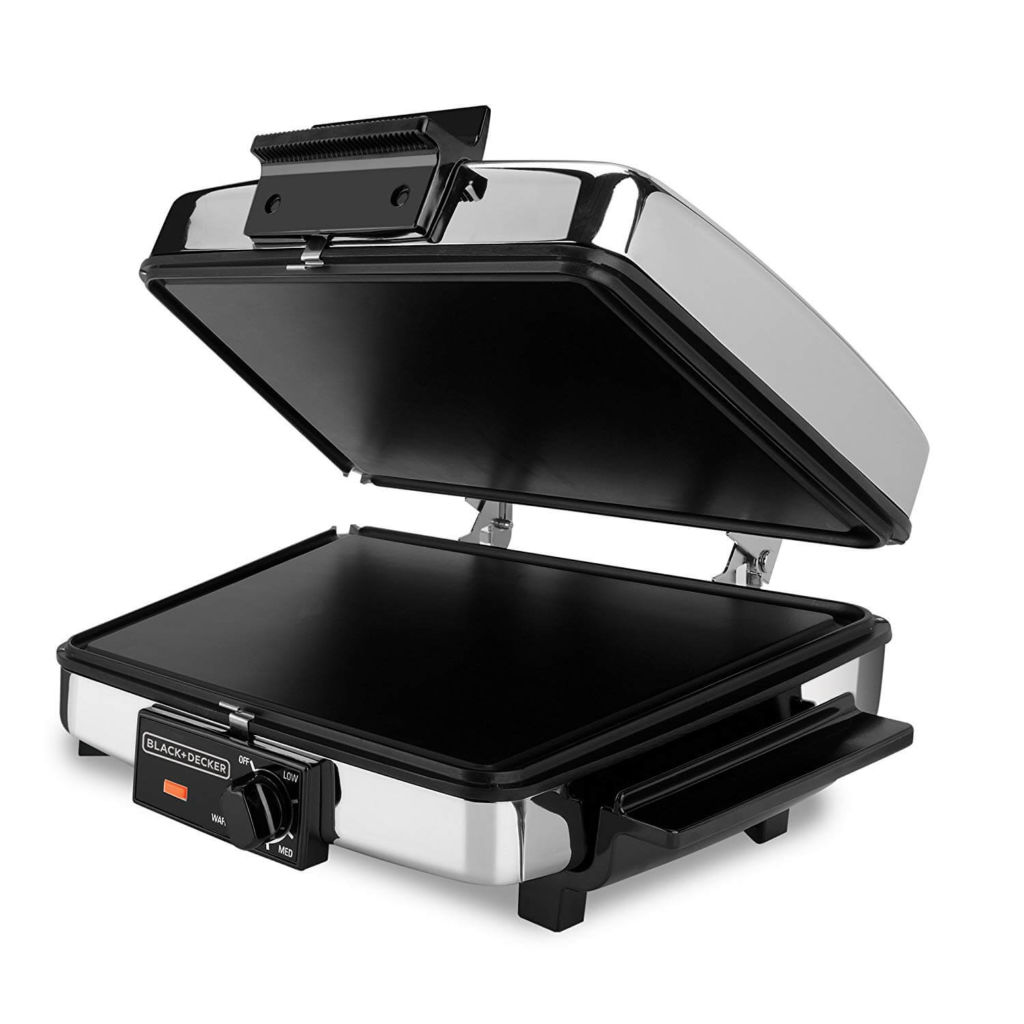 We have spoken a lot about how useful it is to be able to kill two birds with one stone, but what about killing three? Then we have got the perfect waffle maker for you right here.
Overview
This waffle and pancake maker is fantastic as not only does it come with removable waffle plates, but it also has two flat plates that you can use to fry eggs, bacon, or even make french toast.
Features
Healthy eating is not always easy, but this appliance will lend you a helping hand as it has grease run-off channels that will help drain the excess oils from your food.
And don't worry, this isn't a one-temperature-fits-all appliance as it has a multi-temperature dial which can be turned up and down according to the level of heat you need.  
Pros
Drains excess oils
Easy to operate
Also works as a panini press
Elite Cuisine waffle and pancake maker
This is another great waffle and pancake maker. This waffle maker has removable waffle plates and a griddle that will help you to fry bacon, sausages or even scramble a couple of eggs.
Overview
This Elite Cuisine waffle maker is your all in one breakfast solution. Not only does it makes waffles, but it comes with a variety of interv=changabel cooking plates for you to also make pancakes, hash browns, eggs, and grill sausages on.
Features
The removable plates are dishwasher safe, so forget the soaking a scrubbing as you can simply place them in the dishwasher after use.
No one likes a burnt pancake and cleaning stubborn burnt batter off of a grill can be annoying. That is why this breakfast grill has been made with a nonstick surface that will make it easier to wipe clean and will assist you in cooking the best pancakes, every time.
Pros
Compact in size and fits the kitchen countertop perfectly
Plates are dishwasher safe and makes clean up a breeze
Can be used to make a variety of recipes other than waffles
Cons
The waffle grill is too shallow to hold on adequate batter for waffles
Cuisinart WAF-300 waffle makers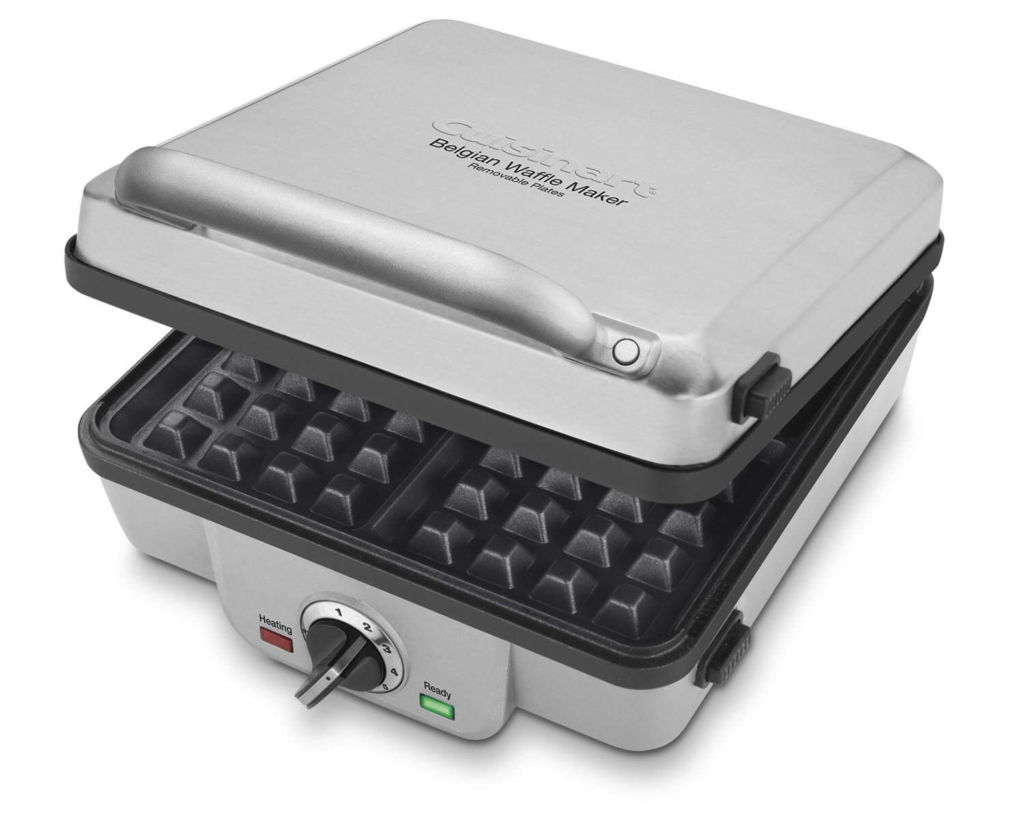 Looking to make chunky and fluffy Belgian waffles? Then this is the appliance for you. This waffle maker will evenly cook the most superb Belgian waffles with a crispy outside and a spongy inside.
Overview
Make more pancakes and waffles than ever before as this Cuisinart breakfast maker has the ability to cook four waffles and has a four-slot pancake plate, meaning you can whip together a tasty breakfast in record time.
Lace your waffles in velvety chocolate sauce or sticky golden syrup for the ultimate taste sensation.
Features
The six setting temperature control on this waffle maker means that you can decide exactly how you want your pancakes or waffles to turn out. Would you like them fluffier on the inside with a spongy surface?
Or maybe you fancy having them a little firmer on the inside with a golden brown crunchy outside. Turn the dial to make them just as you would like them.
Pros
Comes with multiple plates
Convenient to use
Heat distributes perfectly throughout the plates and cooks the waffles evenly
Cons
The coating on the plates tend to chip off
Not dishwasher friendly
Yedi Panini Press
I'm a big fan of this grill. This is an all in one grill that will make you absolutely any breakfast meal that you desire.
Overview
This Yedi waffle maker does just about everything, not only will it make a delicious stack of waffles but it also functions as a contact grill, panini press, full grill, full griddle, half grill or half griddle.
So when you are not in the mood for getting the hob dirty, this Yedi Total will help you out.
Features
This grill comes equipped to tackle a cleanup as it comes with a cleaning brush that will help to keep your nonstick surface intact and it also comes with tongs/spatula that will assist you with cooking.
This is a 6 in 1 panini press that can not only be used to make waffles but also pancakes, sandwiches, eggs and many more dishes
Pros
The plates are easy to remove and reinstall
Easy to clean after every use
Can be used to make several different dishes
Cons
Doesn't have any basic temperature setting
Dash waffle and pancake maker
This Dash Mini Maker is superb. It is fantastic for small kitchens or if you are looking for a griddle that won't take up much room in your cupboards or on your work surface.
Overview
Looking for something to give to a friend? This Dash Mini Maker would be the perfect housewarming or wedding gift, to give tastiness as a present to those who are just starting up.
Features
But just because it is small, doesn't mean it isn't powerful. This maker has been designed to make the best pancakes, cookies, eggs, waffles and more, perfect for parties for one and couples.
Pros
Heats up pretty quickly
Compact in size and easy storage
Easy to clean the plates
Cons
Doesn't have an on/off switch
Have to keep a keen eye to monitor the food from being overcooked/undercooked or burn.
Cuisinart Griddler
Are you looking for a Griddler that will get not just one job but five done in one? Then you have come to the right place as this 5 in 1 griddle by Cuisinart will do just that!
Overview
If you are anything like me, then I am sure you will agree that the cleanup process of cooking is the bit that really sucks the fun out of cooking, but that doesn't have to be the case with this Cuisinart Griddler!
This Griddler will work perfectly as a contact grill, panini press, full grill, full griddle, and half grill or half griddle – just about anything you need it to!
Features
This Griddler works with removable plates that can easily be detached from the Griddler and placed in the dishwasher to be washed – now aren't that simple?
The team down at Cuisinart has thought of everything as this Griddler also comes with a handy scraping tool!
Pros
Comes with 5 cooking options
Easy to use
Can be used to make eggs, pancakes, grill bacons, waffles and more
Cons
Doesn't cook the waffles well evenly
Doesn't heat up quickly makes the cooking process slow
Why Do I Need a Waffle and Pancake Combo appliance?
A pancake waffle combo appliance does exactly what it says on the box, it cooks waffles and pancakes to perfection. But you may be wondering whether such an appliance would really be useful for you in your household.
Let me name a few reasons as to why I think they are indispensable in the family home.

Two-in-one waffle makers
I don't know about your family, but it is becoming increasingly difficult for me to get mine to agree on anything.
Especially when it comes to breakfast. There would always seem to be a disagreement in my house about whether we would eat pancakes or waffles.
That's when I came across pancake waffle combo appliances that cook both pancakes and waffles to perfection and life became so much easier.
Spend smart
Pancake waffle combo appliances are also fantastic because they are a great money saver. Instead of having to fork out on a separate pancake and waffle maker, having the two in one is a lot kinder on the purse strings.
Easy clean
These appliances often come with removable plates, meaning that they can easily be popped in the dishwasher to be cleaned after use so that you don't have to do any scrubbing. Result!
Space saver
Multifunctional appliances are also great space savers. If you are a little short on space on the work surface or maybe you are trying to declutter your kitchen cupboards, a pancake waffle combo will help you to save space in your kitchen.
Now, I know what you are thinking, when purchasing combo appliances they are quite often advertised as being able to do two jobs fantastically, however you usually find that they would be better described as a jack of all trades appliances that sadly are a master of none.
That is why I have composed the following list of the greatest pancake waffle combo appliances that really do make the very best pancakes and most scrumptious waffles in one compact appliance.

FAQ
Which is the best waffle maker to buy?
BLACK+DECKER 3-in-1 Waffle Maker with Nonstick Reversible Plates. MaxiMatic EBG-980 Elite Cuisine 1200-Watt Waffle and Breakfast Grill with Temperature Control.
Cuisinart WAF-300 Belgian Waffle Maker with Pancake Plates.
Yedi Total Package 6-in-1 Grill, Waffle Maker, Griddle, Panini Press with Deluxe Accessory.
Dash DMS001SL Mini Maker Electric Round Griddle for Individual Pancakes, Cookies, Eggs & other on the go Breakfast.
Cuisinart 5 in 1 Griddler
Should you grease a waffle iron?
Yes, try to use a basting brush with melted butter or oil to grease your waffle maker. This will make he cleanup process much easier. Your waffle maker will last longer, and not be sticky.
How do you disinfect a waffle maker?
To clean and remove stubborn, hardened batter drips, use a few drops of oil onto the batter. Let it sit a few minutes to soften, then clean it away with a damp cloth or paper towel.
Conclusion
There are loads of pancake and waffle combo makers on the market so it is important you purchase the right one. Make sure your combo maker is capable of the following in order to get the best results:
Removable plates
These make cleaning up so much easier as they can be placed in the dishwasher.
Temperature control
A temperature dial or a few browning settings means you are in control of how your waffles or pancakes turn out.
Nonstick surface
This will help save your food from sticking and burning and will also make it easier for you to wipe the appliance clean.
Multifunctions
A waffle and pancake combo maker that also triples as a grill to make paninis, fry eggs, and bacon is also very useful. You won't even need to get a pan dirty next breakfast.