Who doesn't enjoy an iced cold glass of tea to cool you off in the summer heat? Growing up in the South, I drank my fair share of sweet tea growing up as a kid and all the way into my adulthood, until I started having to watch my sugar intake 🙂  
That's why I've been super excited to write this best iced tea makers review to show you some of my favorite electric and manual iced tea makers on the market. So let's not waste any time and jump right in.
Comparison Table
Table could not be displayed.
Top 7 Iced Tea Makers In 2020 Reviewed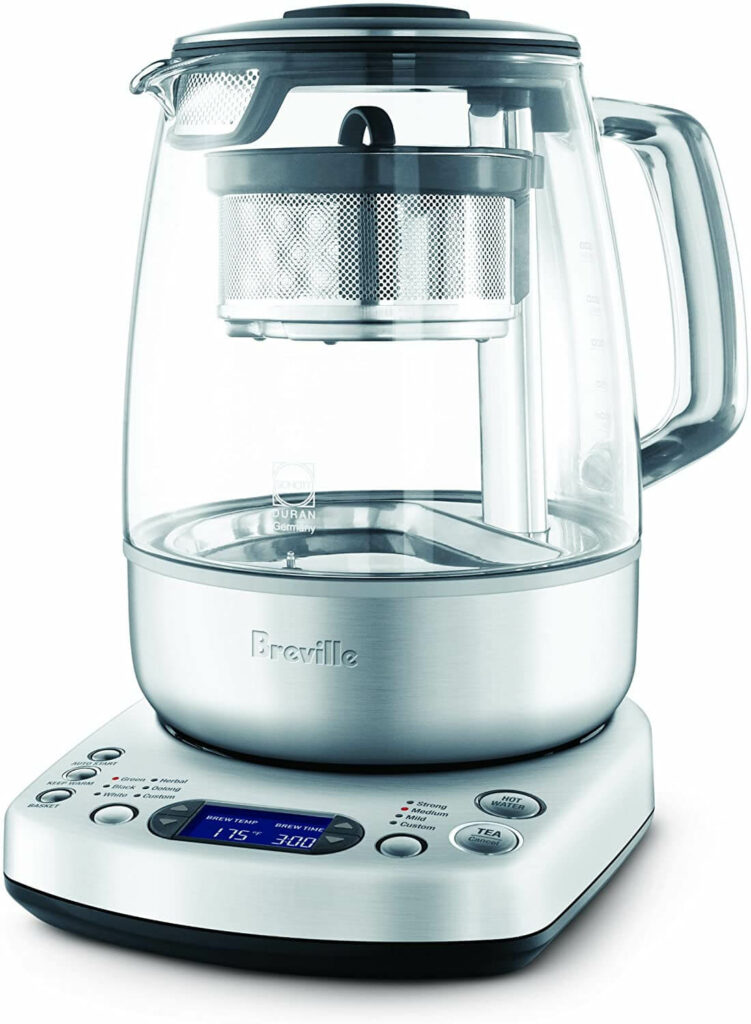 Breville Btm800xl
The Breville one touch tea maker is a great tea maker if you have a small family or if you just like to drink a lot of tea.
Overview
This electric tea maker has many features and is one of the more expensive tea makers on the market, but you get what you paid for just like with all things in life. 
Features
It has a neat little tea basket that automatically lowers into the hot water and moves out when it's done. It has an auto-start feature and a 60-minute warning feature that you can use if you're not in a rush to drink your tea.
 It only has a 51-ounce capacity, unlike some others that have a full 2-quart pitcher. However. It has a neat little LCD screen that gives you all kinds of stats while your tea is brewing. It even has five different variable strength controls so you can adjust how strong you want your tea, but we recommend going to full strength always. 
You can also even use this product to boil hot water if you're making other drinks. This is a very popular product and comes highly rated and you most likely won't be disappointed if you get one of these. 
Just make sure you realize that it may take a few times to find the right balance. It may take several runs of finding the right balance on the strength setting in the amount of tea you are using, so you make that perfect tea. But it's well worth the research. 
You may want to get the warranty with this Tea maker as some complaints so it stops working after a little while. However, this could happen to anybody.
Pros
Easy to use
Makes perfect tea
Heats up pretty quickly
Cons
Need to be observant of how strong your want the tea to be.
Hamilton Beach 40911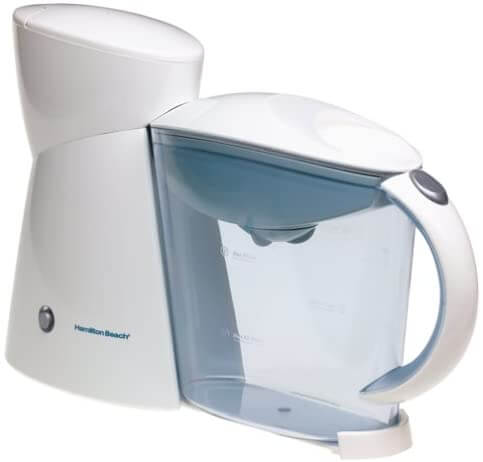 This white Hamilton Beach electric iced tea maker is another great option and it is not as expensive as Breville.
Overview
It doesn't come with all the bells and whistles, but still has an automatic cut off and you can also still adjust the brew strength of the tea. 
Features
This is also a neat product because you can buy additional pitchers that connect to the machine straight from Hamilton Beach if you have a large family or if you have a party that you need to make a lot of tea for.
This one certainly doesn't look as modern as some of the others, but it still gets the job done. This tea maker is easy to clean and maintain and you can even add ice to the pitcher so that the tea is instantly chilled as it brews.
This is another highly rated product but few people again complain that it stops working shortly after receiving it, which seems to be common with just about any product you find.
Pros
Easy to clean after each use
Perfect for brewing tea
Makes perfect tea within minutes
Cons
The jug tends to leak while brewing.
Takeya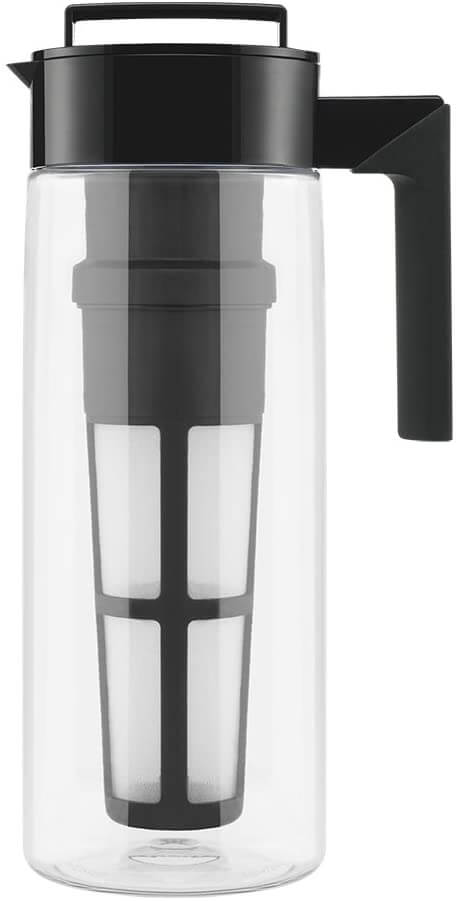 The Takeya iced tea maker is a simple manual iced tea maker yet sleek with its Japanese design. 
Overview
This tea maker has a fine mesh tea infuser where you can add loosely 4 tea bags and make tea in 30 seconds. Take the mesh tea infuser out and add your ice and shake for another 30 seconds and you have cold tea in just a minute. You can also add other flavors or sugars to make the tea that you love the most. 
Features
Takeya also offers other insulated bottles that you can transfer your tea to if you are on the go.
If you're on a budget, this could be a great option as It is not as expensive as some of the electric tea makers. Just like with all of the recommendations on this list it comes highly rated. 
This could be a great tea maker for yourself or a gift for a friend or family member.
Pros
Has an airtight lid that is useful when you shake the tea with your ice so that it doesn't leak.
This tea maker is BPA free and makes 2-quarts of tea at a time.
Cons
The tea tends to spill every time you want to pour it due to the design of the lid.
Mr. Coffee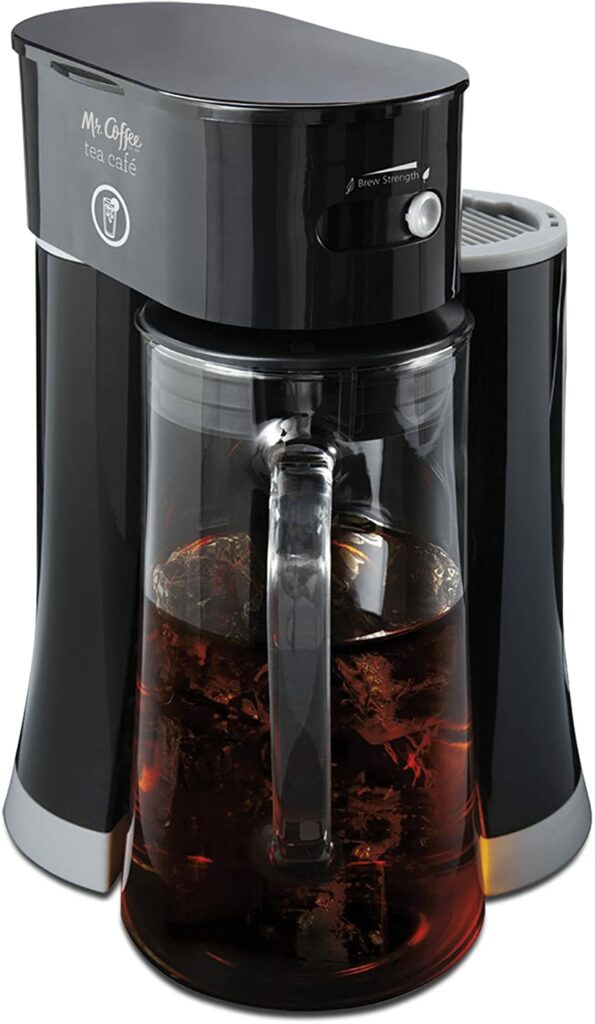 Mr. Coffee, as you would expect, is normally known for its coffee machines, but take a look at this electric tea maker as well. You can use this machine to make tea with either loose tea or tea bags.
Overview
It has a fast room cycle, taking only a couple minutes to brew 2 1/2 quarts of tea. The tea basket has a permanent filter that you can clean and take out. 
Features
This machine has an intuitive strength control dial that you can slide to make the tea stronger or weaker. The pitcher is also dishwasher safe and just like with the other electric ones, it automatically shuts off after it's done.
With over 1400 reviews and a 4.1-star rating, you can tell this is a high-quality product. This is going to give you that restaurant-quality tea that you were looking for. 
The number one complaint seems to be that the pitcher is thin and breaks easily. So if you happen to be a little clumsy, this might not be the tea maker for you.
Pros
Very well priced
makes perfect clear tea and doesn't get cloudy
Cons
The pitcher often tends to break which is it's only downside
Nostalgia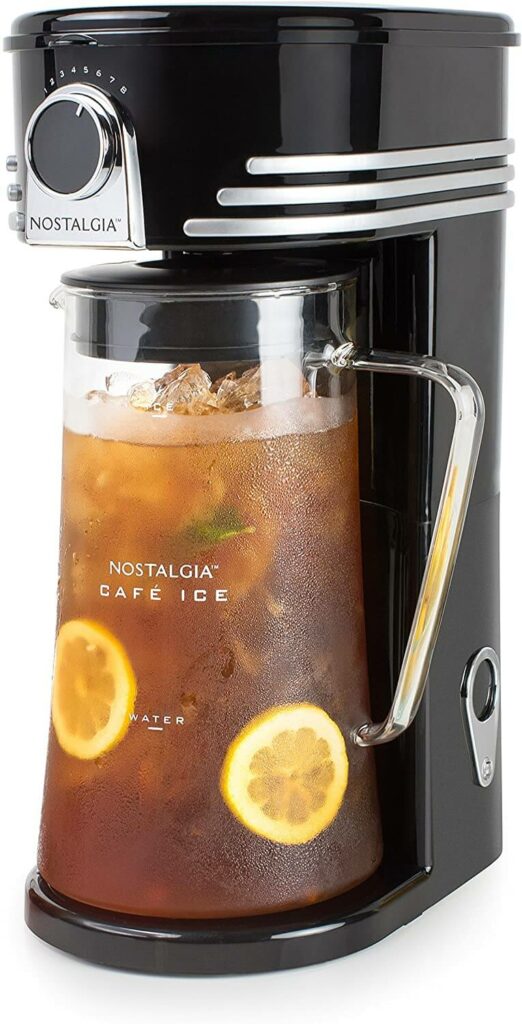 Nostalgia is known for making all kinds of products. You may have seen us recommend their hot dog toaster. But today we're talking about their iced coffee maker and tea maker brewing system.
Overview
If it's hot where you are, it is here in Florida, sometimes iced coffee and tea makes more sense than hot coffee or hot tea. With this machine, you can have both.
Features
This pitcher is one of the largest on this list with three 3 quart capacity and has a large handle that's easy for lifting in pouring. In the filter basket, you can use coffee tea bags or loose leaf tea.
Just like many others on this list, you can select your strength using a dial that goes from one to 8 on the front of the machine.
Is actually an extra chamber where you can add additional flavor enhancements like citrus fruit, herbs, or other sweeteners to combine with your tea as you are brewing. 
What we like most about this machine is that it's easy to use. There's just one button to turn it on or off. There's no fancy timers or LCD displays that could break. 
Pros
Easy to operate
Has an extra chamber to add additional flavor to the tea.
Cons
Some people have complained that this pitcher is fragile as well. However, if you're on a budget, this could be a great option.
Ovalware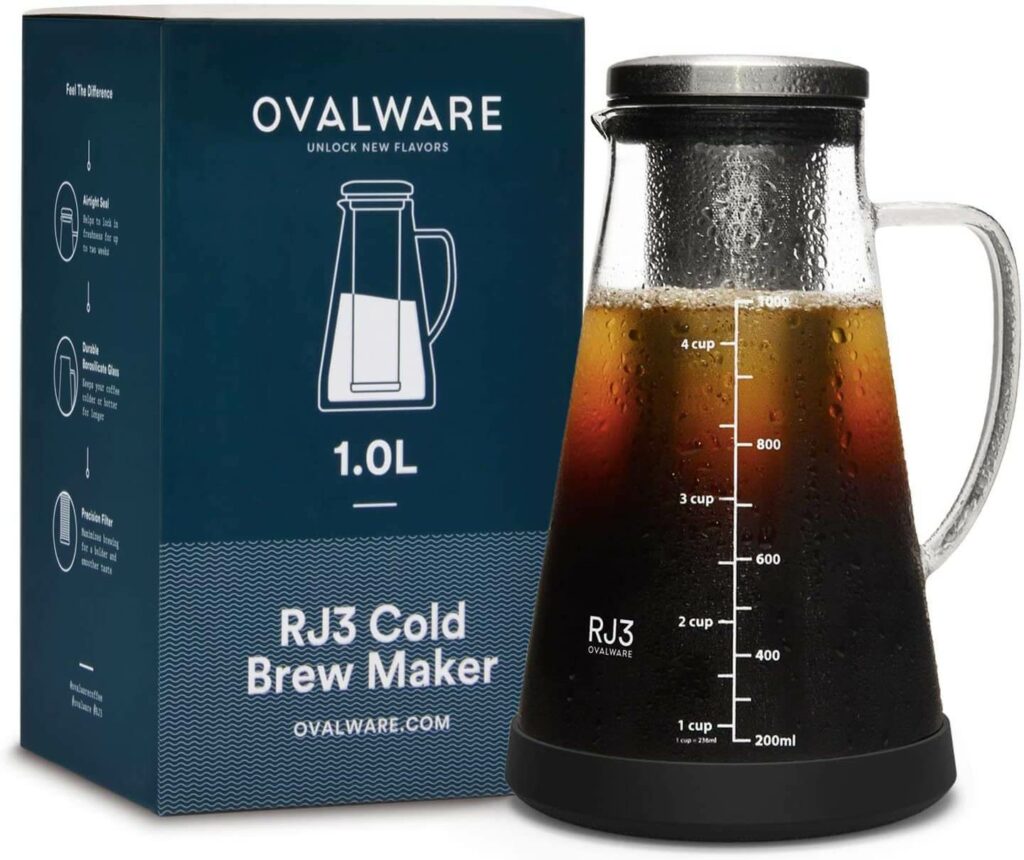 Ovalware's airtight cold brew iced coffee and tea maker is another great option if you are looking for a manual tea maker on a budget.
Overview
It looks sort of similar to a Chemics pour-over coffee brewer but this is designed to cold brew coffee which produces smoother coffee in my opinion and it's usually less acidic than brewing coffee hot.
Features
Simply add your tea to the filter along with hot water and steep for as long as you desire about 5 or 10 minutes.
You can remove the filter basket and pour over ice for a refreshing glass of tea. 
This iced tea maker probably has the most reviews out of any on this list and it comes highly rated with 4.5 out of 5 stars.
Pros
It can have a richer and bolder taste than regular drip coffee.
It's also great for loose leaf or tea bags to make your favorite pot of tea. 
Cons
Most of the complaints are similar to the other ones that we've already mentioned.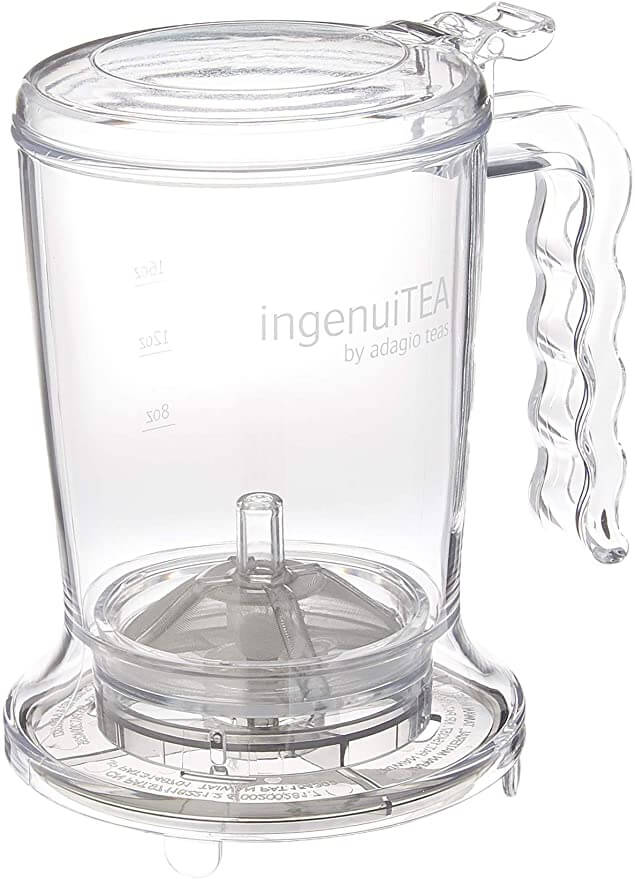 Adagio
Adagio Ingenuitea iced tea teapot is probably the simplest manual iced tea maker on this list. Similar to a pour-over coffee, it sits right on top of your teacup and allows the tea to flow through a mesh strainer straight into your cup.
Overview
When first looking at it, you might not even notice it's a tea maker because of its simplistic design.
Features
Simply fill up the filter basket with your loose leaf tea, add your water, let it steep and then sit it on top of your favorite tea mug and drain the tea and enjoy it.
This is another popular product problem because of how simple and well it works and its price as it is one of the cheaper options on this list but does require a little more work.
Pros
But this BPA free tea maker.
It is dishwasher safe
Can hold up to 28 ounces. 
Cons
Tends to spill out the tea sometime while pouring.
Buying Guide
Electric Or Manual
Should you get an electric or manual iced tea maker? Well, that's really up to you and how much work you want to put into your tea. True tea enthusiasts probably prefer manual tea makers as they're going to be using loose tea and heating up the water to the perfect temperature that they require. 
If you just are looking for convenience and a great cup of tea you may wanna check out an electric tea maker.
Size Matters
The size really only matters if you either have a lot of tea drinkers or you like to drink a lot of tea yourself. 
If you drink a whole pot then you may want to get one of the 2-quart options. But if you just like drinking single cups at a time then some of the smaller manual options would be good.
The Pitcher
As we noted, any of the glass pitchers on this list could break if you're not careful. So this is probably one of the least important factors in your buying decision.
Versatility
Some of these iced tea makers also brew iced coffee, which could be something to consider if you like drinking both.
Style
Well, if the iced tea maker will be sitting out on your countertops, you may consider the looks of how each of these would display if you have guests over. But if you are keeping it tucked away in a cabinet, then this doesn't matter too much.
Special Features
The Breville, at the top of our list, really has a ton of nice features if you are into all the bells and whistles.
Ease Of Use
Most of the electric tea makers are going to be easier to use than the manual ones because there's just less of a process and there's more automation.
Maintenance
On the other side of that, most of the manual tea makers will probably have less maintenance because there are fewer moving parts.
Conclusion
At the end of the day, we just want a nice refreshing glass of iced tea. We hope you enjoyed checking out these best-iced tea makers reviews and hopefully, you are a little closer to making your decision.
In the end, what works well for you may not be the best option for others. So, we always recommend you do your own homework. Before you make the final decision. 
Do you use one of these best-iced tea makers? Let us know in the comments below.