What should you look for in the item category "best lunchbox for men"? Well, there are certainly many things to consider. Not only should you take into account the basic functionality of keeping your lunch at temperature. One should also consider organization of your lunch items. 
Additionally, in our research we have found people are more likely to utilize lunch boxes that fit a certain style or aesthetic that makes them happy to pack AND unpack their lunch.
Top 10 Best Lunch Boxes For Men In 2020 Comparison Chart
DBTAC Tactical Lunch Bag, Large Insulated Lunch Box for Men...
Ecolunchbox Three-in-One Stainless Steel Bento Box (1,...
Our #1 choice
MIER Adult Lunch Box Insulated Lunch Bag Large Cooler Tote...
HANGO Insulated Lunch Bag [Set of 2 Sizes] - For Women & Men...
Lifewit Lunch Box for Adult 9L Insulated Large Lunch Bag...





Lifewit Lunch Box for Adult 9L Insulated Large Lunch Bag...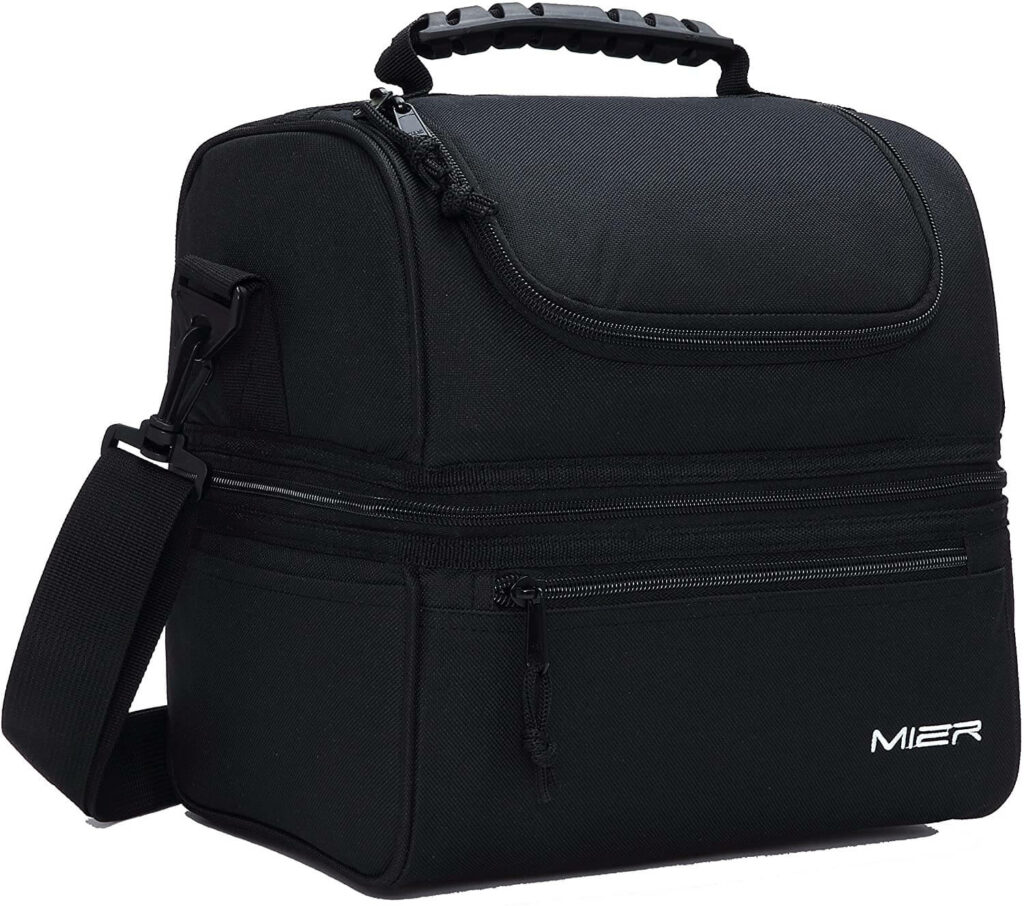 MIER
Let's get this party started with the Mier double decker lunchbox. That's right this lunch box features a double decker design. This is one of the largest lunch boxes we reviewed and it has plenty of space to store all of your lunch items. 
In our tests this lunchbox held temperature pretty well and the included shoulder strap was indeed handy. 
The main drawback of this lunchbox was how rugged it is. Compared to some of our other reviewed lunchboxes the zippers and overall construction didn't seem as hardy so you would need to be more mindful of tossing this one around.
Under Armour
The Thermos Under Armor lunchbox is a more simply designed lunchbox from the outside. This lunchbox is more the size of what one would expect a lunchbox to be. 
The main feature of this lunch box that is awesome is the hard shell interior. This shell-like interior helps the lunchbox to keep its shape no matter where you stash it so your items don't get squished but also makes cleanup a breeze. 
If anything spills or comes in contact with the interior it's a simple wipe to clean it up from the inside. This is a great lunch box for men or for kids getting older that don't want a character themed lunchbox anymore as its perfect for stashing in a backpack.
Hango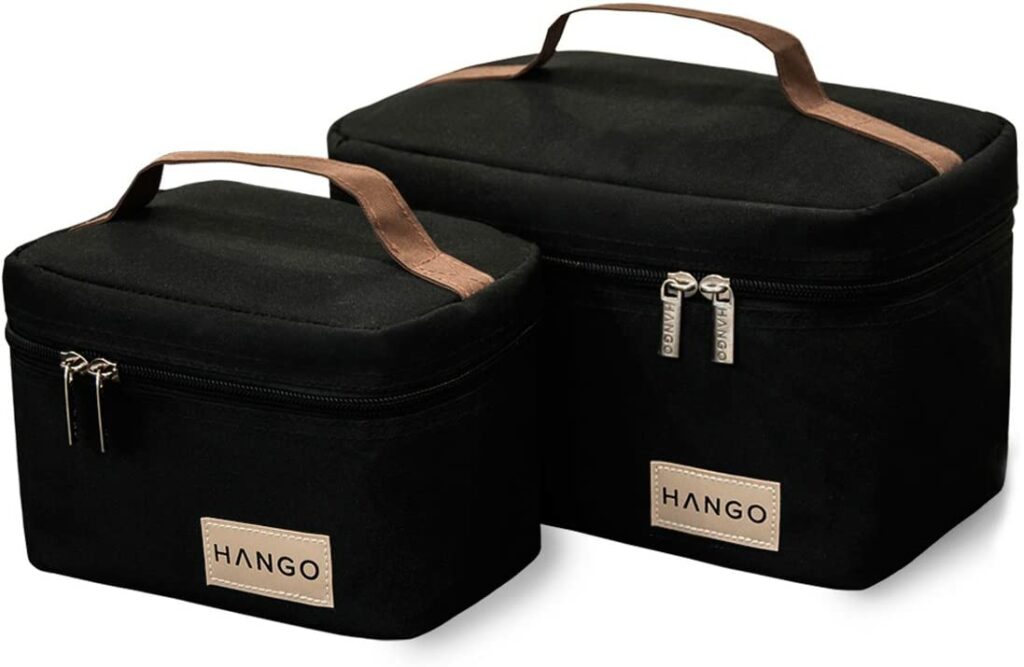 This next lunch box comes in a set of two. With the two back you receive with this purchase (one large on small) for the value it makes it one of the best lunch boxes for men. 
This set gives you the option for efficiently bringing a smaller lunch/snack to work or a larger lunch to work and you are equipped to have a non-bulky lunch box for the job. 
This lunchbox is a great value item for the price however it doesn't quite share the rugged construction as some of the other boxes we have reviewed, but for the price its a great deal.
Lifewit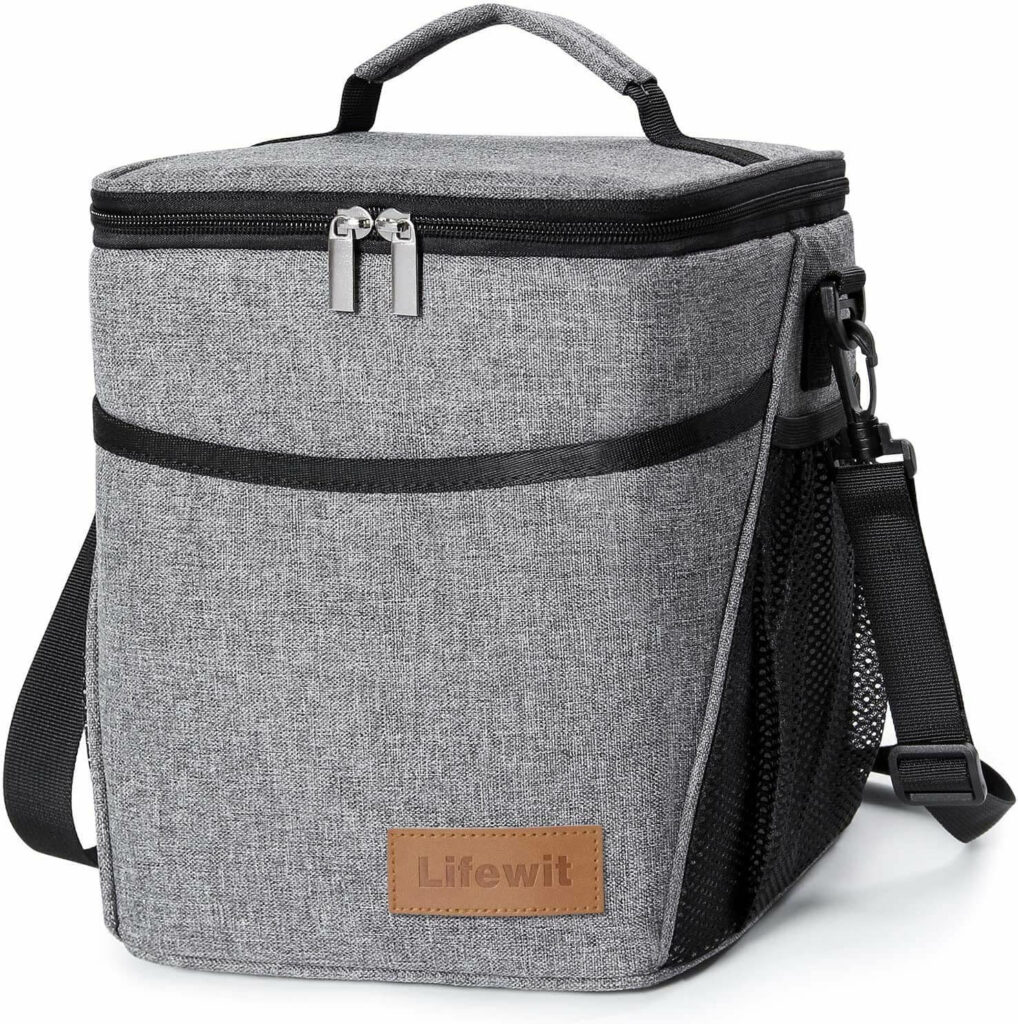 If you liked the idea of a HUGE lunchbox but didnt like our other reviewed double decker lunch box with two compartments this may be the box for you. 
This cooler has a single large compartment that is great for packing a huge lunch OR doubles as a great cooler to bring a 6 pack or even more with an ice pack out with you for any outdoors event. 
The versatility this box offers is great and because of that it should be one you use over and over again for many outings, not just taking lunch to work.
Coleman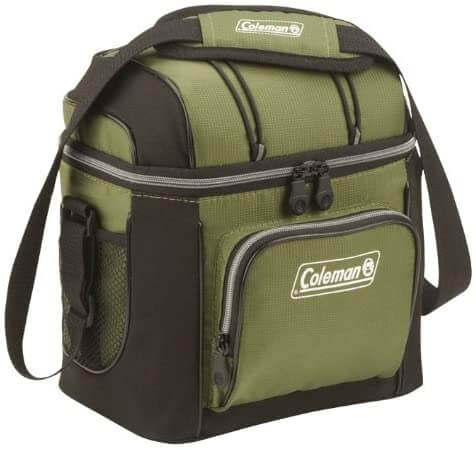 This Coleman lunchbox is also a great unit to do double duty as a cooler for your drinks also. Coleman has been a trusted name in camping supplies and coolers for years so you know with this unit you are getting quality. 
This insulated lunchbox for men also contains a removable plastic liner that will make any spills that may happen a breeze to clean up. This is absolutely a top lunch box to consider.
ECOlunchbox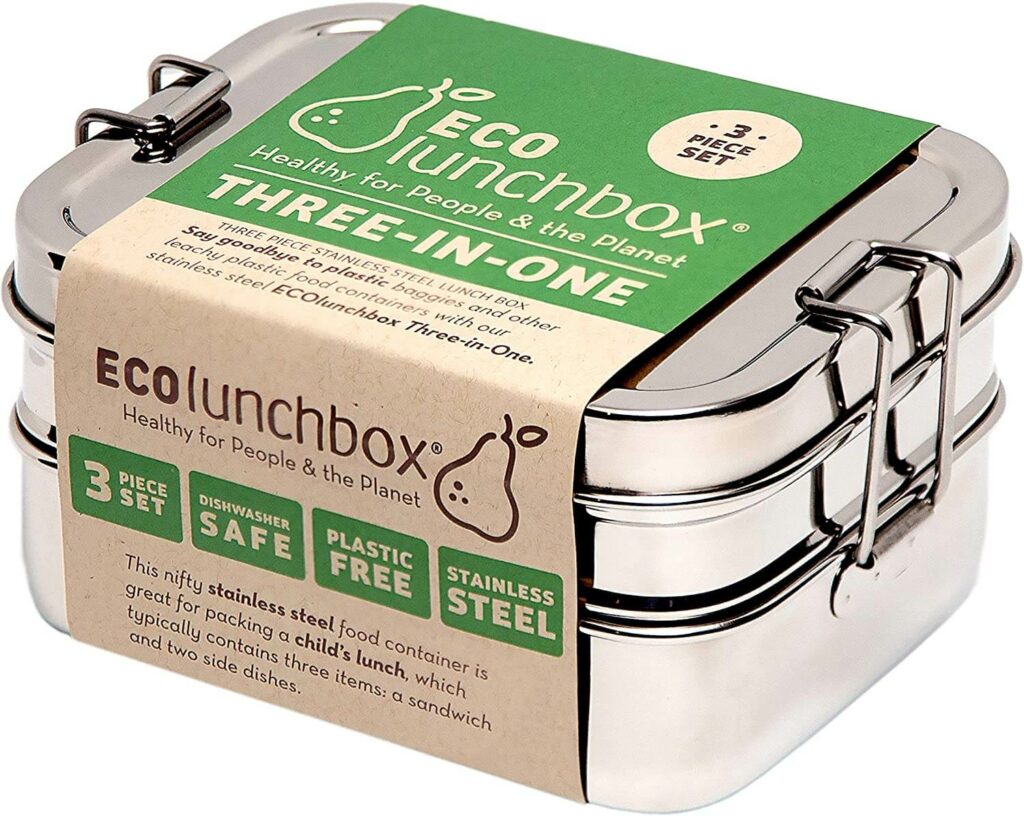 If you are the type of person that heads to work and has a fridge to keep your lunch in at work and a very short commute this may be the box for you. If you are not interested in a lunchbox that will double as a cooler or have any use for the chilling aspects of a lunchbox the simplicity of this unit may be exactly what you are looking for.
The strength of this box is the amazing compartments it has that all clip together to store and keep your lunch organized and clean until lunch time.
Zojirushi Mr. Bento
This is one of the coolest lunch boxes that we were able to review. This lunchbox is more of a canister system to keep you lunch either hot or cold. 
If you find yourself bringing multi-ingredient salads to work or a pasta or curry and you like to add the ingredients right before eating this may be the exact transport you are looking for. 
You stack your items inside the unit in their compartments and they stay sealed and separated until it is time to eat. If this describes the lunch feasts you prepare then this may be your best mens lunch box (or women too 🙂 ). 
Lifemark Labs
If you find all the features and bulk of all the items we have reviewed so far a bit overwhelming and unnecessary for your use then the simplicity of this lunchbox may be the one for you. 
This box is more of a compartment tupperware to keep your lunch organized and ready to eat. If your a more minimalist type of person this long lasting plastic lunch box may be exactly what you are looking for.
Everest Cooler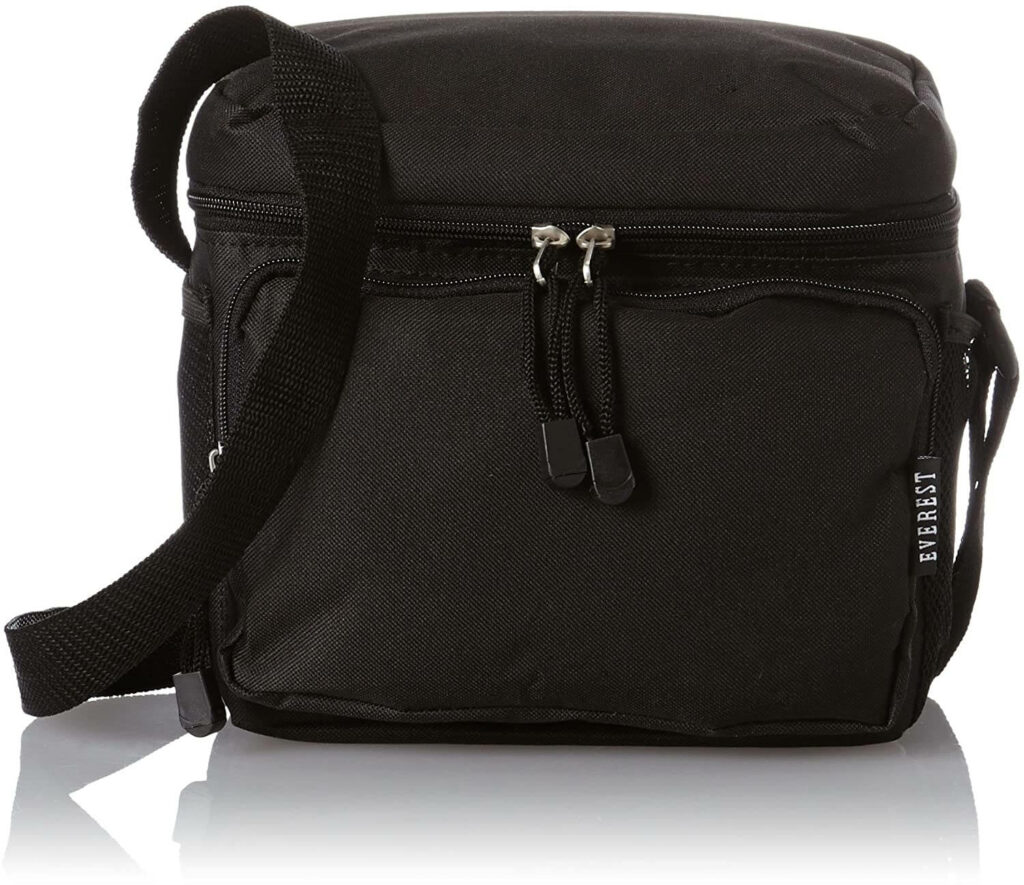 If you are looking at all the lunchboxes reviewed here and thinking to yourself they seem a little bit out of budget then this may be the perfect one for you. If you are looking for a simple strong affordable bag that is one of the best lunch bags for men this is it. 
For the price, I don't think you will find a more rugged unit that gives you the basics and none of the extra stuff you don't need that causes the price to increase.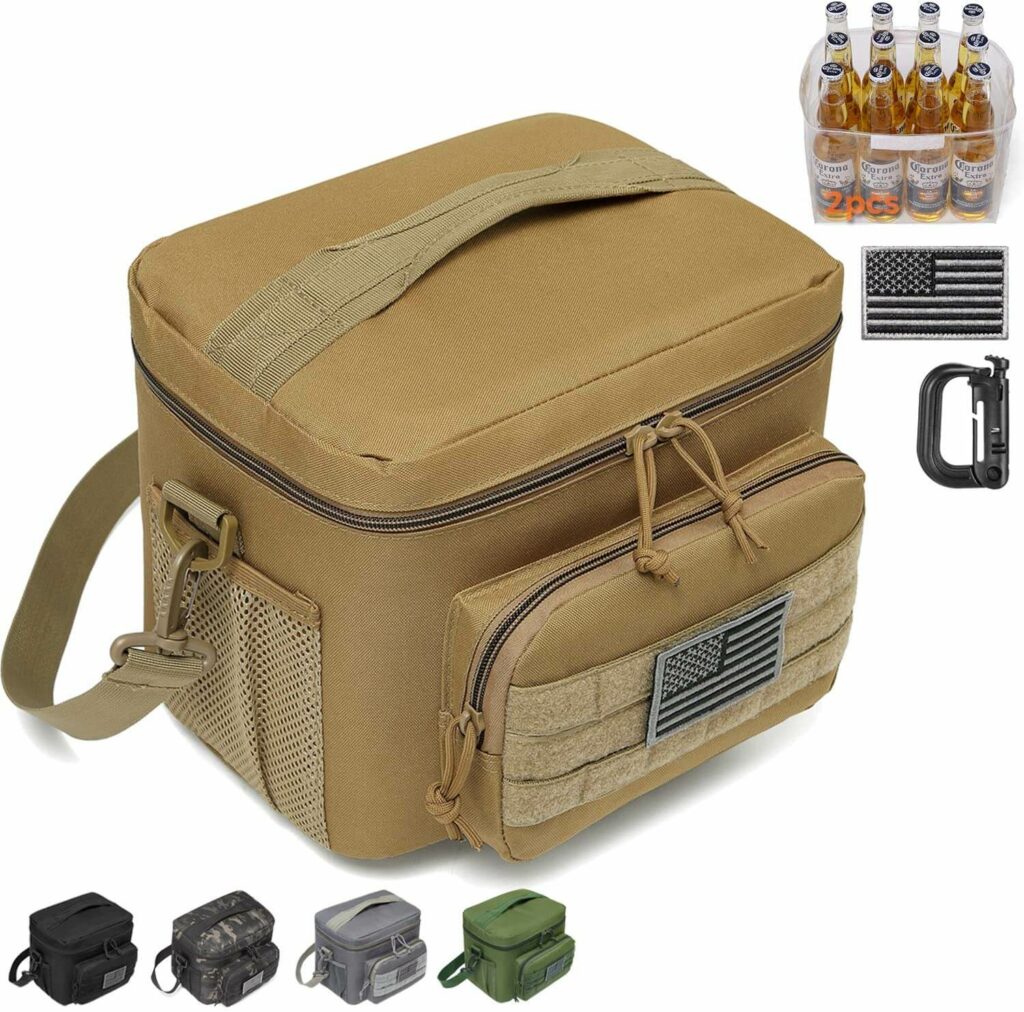 Tactical
If you are looking for a rugged lunch box with a more "military grade" look to it then this is the perfect lunchbox for you. This lunchbox looks like it was designed with a camo army uniform in mind. 
This spacious lunch box has enough space to hold a full meal and also to double as a cooler if you just want to sit by the campfire and have a few drinks with your friends. This is one of the best lunch coolers for men that we have reviewed. The design makes it quite versatile and it should last you, if cared for, for years to come.
Best Lunch Box For Men Buying Guide
When you are online shopping for your perfect lunch box there are certain things that you should consider before clicking the buy button on your new lunchtime companion.
Insulation
A better insulated cooler will help to keep your food cold (or warm) for longer and require a more modest sized ice pack to do the job. The better insulation the longer your lunch or drinks will stay cool.
Size
Do you need a smaller lunch box for a modest sized lunch or do you need a larger lunchbox that you will also use to bring out a 6pack when going to the beach? These are all things to consider when choosing your lunchbox.
Compartments
Do you like to keep your food separated and not use plastic baggies? Depending on how you pack your lunch and what you are packing will dictate your need or, not need for compartments.
Keeping It Clean
Coolers with a sealed interior, or better yet a plastic hard interior as some reviewed above will be much easier to keep clean on the inside. Depending on what you pack for lunch this may be an important factor to consider.
Carrying Flexibility
How do you get your lunch to work or play? There are many options to consider for transporting your lunch. A shoulder strap, a simple hand strop only or no strap. It's important to consider how you get your lunch to work and if you carry a lot of stuff with you regularly for the options of what is best for you for carrying. 
Product Quality
As with most things you get what you pay for. We have reviewed expensive boxes and more modestly priced boxes. It's important to factor this in when picking your lunch box. 
If your lunchbox is going to take a lot of abuse it may be worth spending the extra money to purchase a more quality unit.
Color And Design
While often overlooked style is an important factor to consider for your lunchbox. Is your box going to make you want to pack your lunch? Is it going to make you want to bring it to work and bust it out when the pressure is on at the break room table? 
Choosing a box that makes you feel good is the first step to packing and using your lunchbox regularly, as silly as it may sound to some.
Accessories
Many of the boxes we reviewed above had many accessories and extra storage options. Is this something you require or is it just overkill? These accessories let you utilize your lunch box to the fullest and additionally add more versatility to your lunch box.
So, What's The Best Lunch Box For Men?
Unfortunately a quality lunch box isn't really a one size fits all scenario. You have to think about what you typically pack for lunch and how you prefer to transport it to work or when out on an adventure. 
The reviewed boxes we covered certainly have some overlap but some of them are designed for and excel at specific uses, you'll need to consider what is most practical for you before pulling the trigger on one of the excellent lunchboxes in this article.