If your family is anything like mine, they take their waffle making seriously. My family likes their waffles just so. That means, the perfect, golden brown and crunchy exterior with the fluffiest, spongiest and sweetest inside.
They love it when their waffles come out with super deep pockets that are the ideal depth for filling to the brim with the most luscious and stickiest toppings or for smothering in lashings of butter or even for pelting with a handful of blueberries and a dash of low-fat yogurt.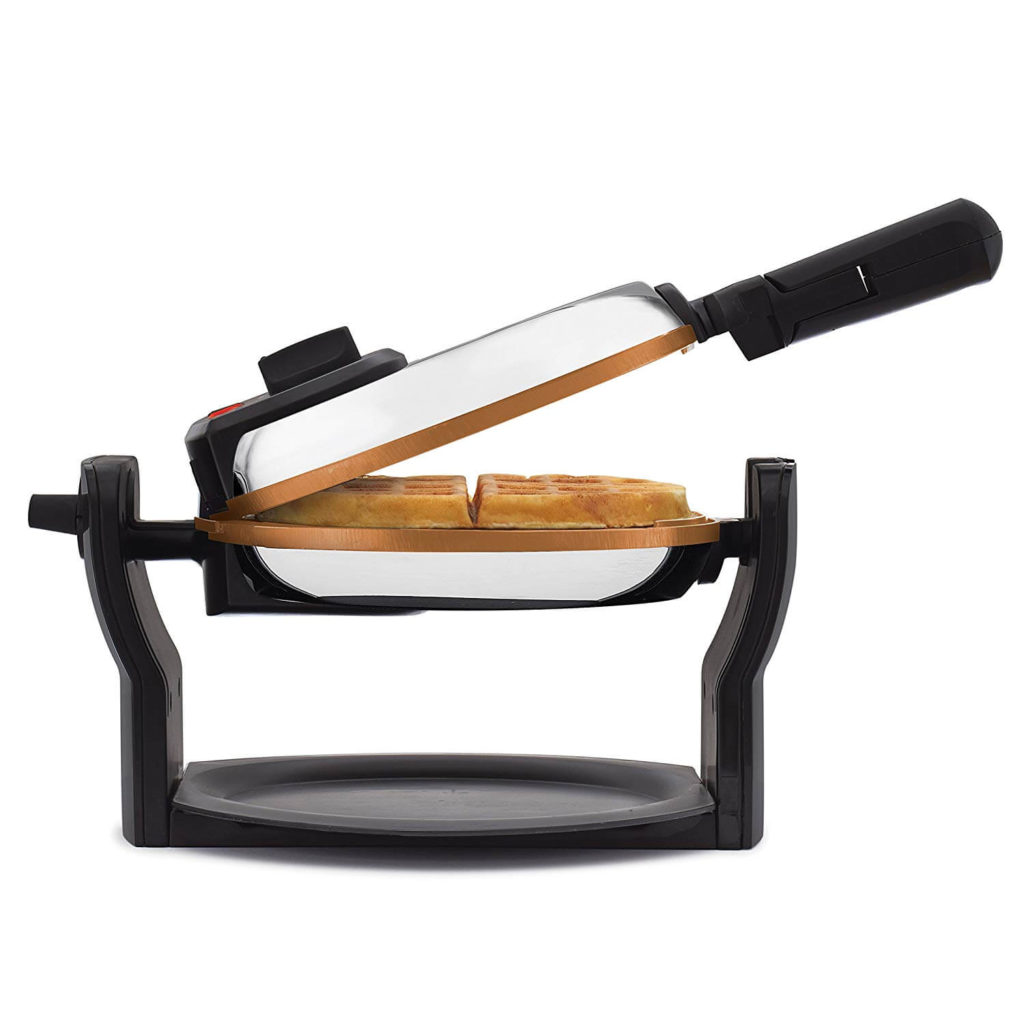 Bella 14608 Waffle Maker
If your family likes to tuck into the perfect waffle, then I am sure they will fall in love with a Bella waffle iron – a fantastic kitchen appliance that will help you to achieve the "Best Parent" award in the kitchen this weekend.

Bella 14608 Waffle Maker Review
This article is full of Bella waffle maker details for the Bella 14608 – a family favorite waffle maker. But, how can you be sure that this waffle maker is the right fit for you and your family? Make sure you stay tuned, as I will be discussing all of the features contained in this Bella waffle iron that will make you say yes, to one of the greatest waffle making appliances on the market. 
Overview 
If your family views making a classic batch of waffles like a skill that has to be mastered, I am sure they will fall head over heels for some of the features on this waffle iron that help it to cook each waffle to perfection. 
Features
Rotating feature. One of the most sought-after features in a waffle maker is the rotating feature that this Bella 14608 comes with. This feature allows you to flip the waffle halfway through cooking to ensure the batter is spread evenly across the mold. Flipping the waffles helps the batter to cook more evenly, ensuring a crispy outside and fluffy inside once the appropriate cooking time has passed.
Thick waffles. Enjoy 1 inch thick waffles as this waffle iron will allow you to pack in extra batter whilst always cooking your waffles to a crispy brown delight. The extra deep pockets created by the molds will allow you to pack in even more of your favorite toppings onto the outside shell whilst still enjoying the padded sponginess of a thick waffle.
The non stick coating on this appliance will help you to cook without waffle iron spray or butter on the molds as it easily releases your waffles on cooking completion.
Pros & Cons 
There are some bonus features that we really loved on this Bella waffle maker. You can take a look at these features below.

Pros
This waffle maker has been designed with a special ceramic copper titanium coating. This unique coating helps to cook your waffles 30% faster than your standard non stick coating. This coating also lasts 80% longer than your average non stick coating, helping your waffle iron to stick with you and your family for longer than you had ever imagined.
This waffle maker is extremely popular amongst families as the non stick coating does not contain any harmful chemicals because it has been designed without PFOA and PTFE. That way you can use this waffle iron with real peace of mind.
No two people like their waffles the same and that is why this appliance also offers browning control so that you can choose from the 9 settings and have your say on exactly how brown you would like your waffles. 
Cons
While this feels like a well built waffle maker there is a noticeable amount of plastic used on it.
Conclusion
I am sure after reading the above mentioned information, you are more convinced that the Bella 14608 flip waffle maker is truly a fantastic appliance that will help you to achieve the best results when cooking the tastiest waffles for breakfast or a mid-afternoon snack with the family.

If you like what you see with this waffle maker, you should add one to your basket today so that you can be preparing your first waffle batter in time for a scrumptious treat with family and friends this weekend. 

Once you have got your waffle maker, I am sure you will be impressed by some of the extra features that have been incorporated into its design such as the removable drip tray which helps to catch excess batter and crumbs for easy cleaning and the non slip feet which help to keep the appliance in one place to avoid spillages. Not only that, but you will also be able to benefit from an auto lock feature that will stop the waffle maker from opening when flipping.

Not ready to use your waffle maker yet? You can use the folding handle to tuck it away until the weekend. Now, isn't that handy?