They always say that good things in life come in small packages and that is definitely true about waffles. In fact, waffles are pretty darn tasty no matter what size they come in, but there is something extra sweet and joyful about a mini waffle. That is why you will see in our Dash mini Belgian waffle maker – it is one of the greatest appliances you can invest in for your kitchen!

A Dash mini waffle maker is the perfect size for small families and couples to tuck into their kitchen. It is also great to be used when you are making a deliciously spectacular batch of waffles and are not too keen on sharing them – (I get it, I mean who shares waffles nowadays?!) This is also the ideal mini Belgian waffle maker to use that can easily be rounded up and tucked away into a kitchen cupboard drawer or shelf where it lays so small you will not even notice it.

This article will explain everything you need to know about the world's greatest 4 mini Belgian waffle maker and will also provide you with a handy link so that you can grab yourself one pronto. Stay tuned!
Overview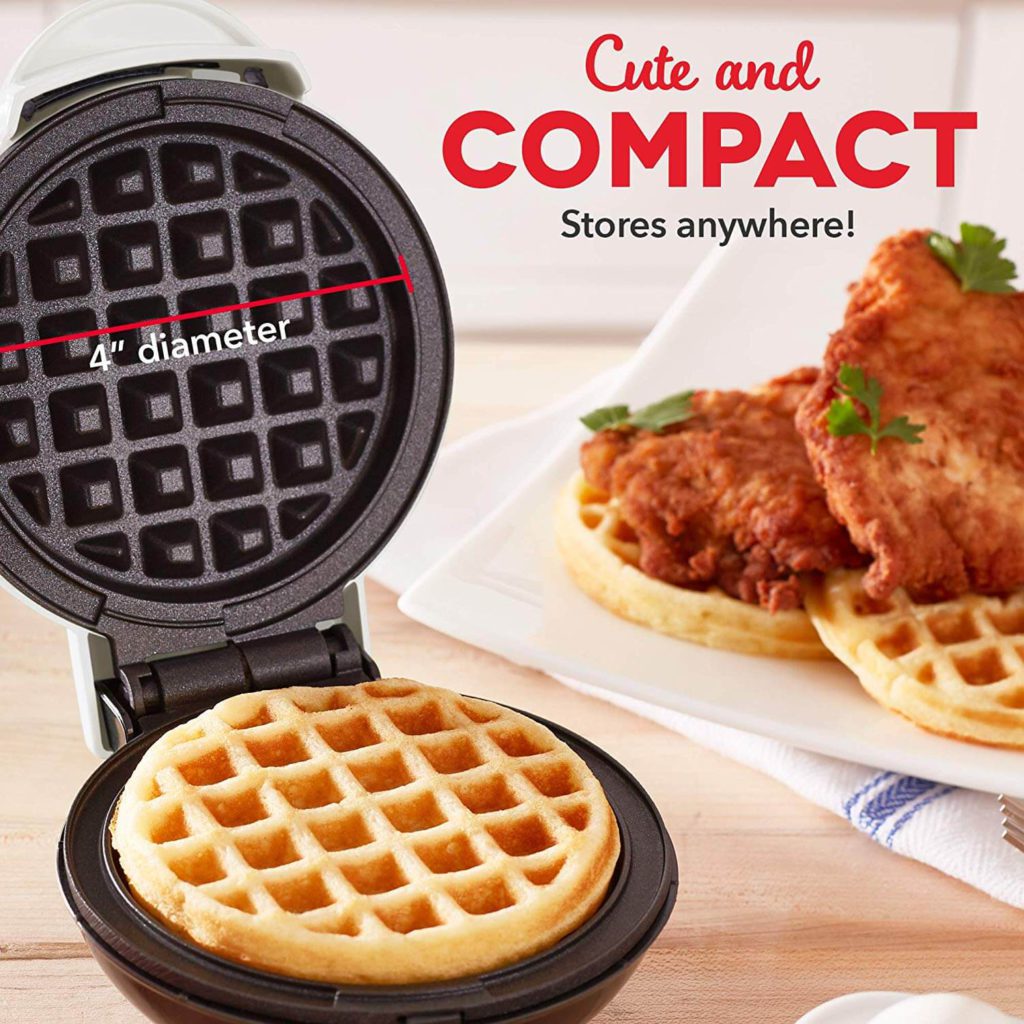 So what exactly is it about this Dash mini waffle maker that everyone is so keen about? Take a look at the following information that will paint a vivid picture of the appliance for you:

Lightweight. One of the best features of the waffle maker is how lightweight it is. Weighing in at just over 1 pound, this waffle maker is perfect for transporting around the kitchen or even taking to a family members' home to share the deliciousness all round.
Multipurpose. Not only is this mini Belgian waffle maker superb at making an absolutely scrummy piping hot stack of waffles, but it can also be used to make mini hash browns, paninis, or even mini biscuit pizzas!
Recipes galore. We all need a little inspiration from time to time. Allow your imagination to go wild, as this waffle maker comes with a recipe book that will help you to get the most out of your waffle maker and explore new meals.
Non-stick. Spending time scrubbing and scraping after cooking is no fun. That is why this Dash mini waffle maker has been designed with a non-stick coating that will help your waffles to release easier from the plates and will make it a doddle to clean.
Pros & Cons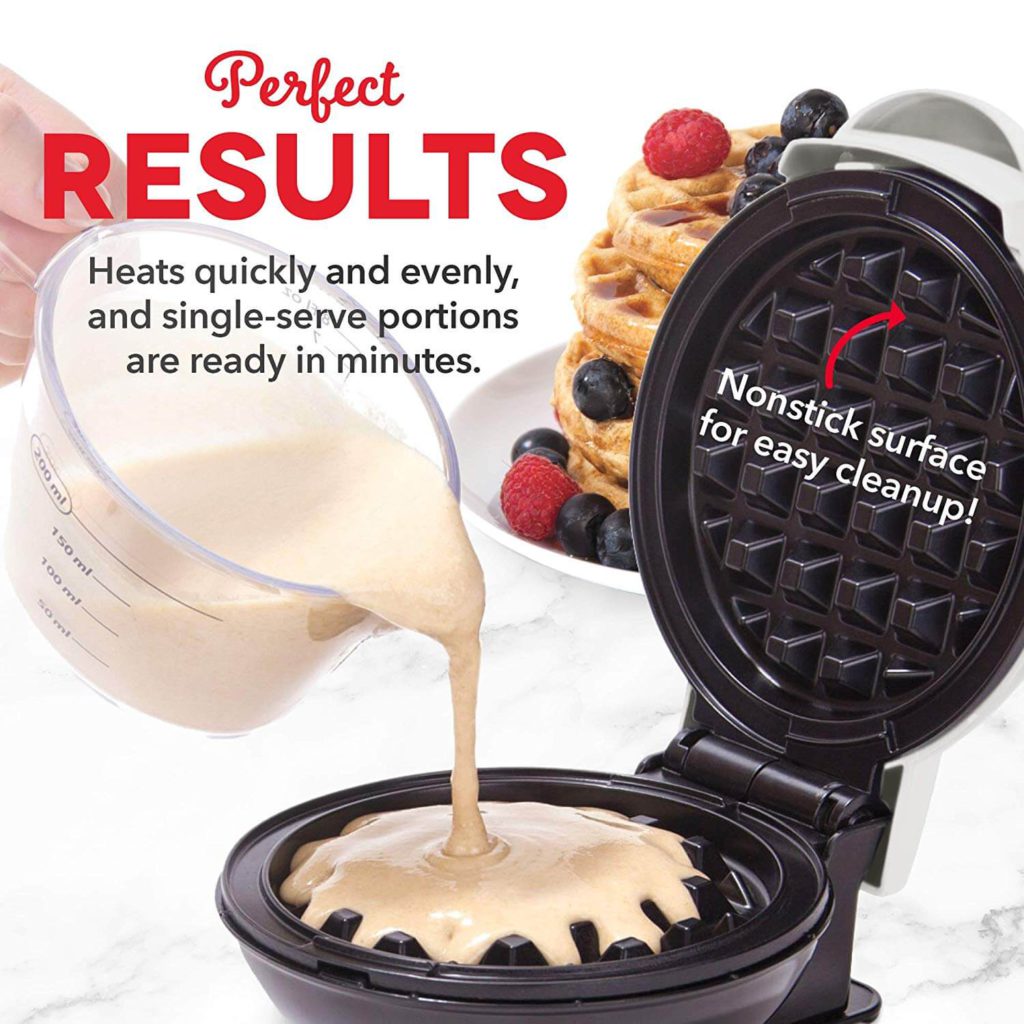 Are you ready to purchase an awesome mini waffle maker by Dash? Then take a look at what reviewers and consumers are saying about this appliance in the following list of pros and cons.

Pros 
Compact design. The compact design on this waffle maker is definitely a factor that appeals to many. The maker only measures 5 x 6 x 2.8 inches, so it can easily be tucked out of the way on a kitchen countertop or inside a drawer. This is a great appliance for those who are trying to declutter their kitchens but still want to be able to count on a reliable waffle maker. 
Economical. This mini waffle maker is also very kind on the purse strings, coming to users at an unbeatable price. 
Colors. The waffle maker comes in a variety of bright colors for you to choose from. There's one for everyone!
Cons

Features. There are not many features on this waffle maker so it will require you to keep an eye on your waffles as they cook and ensure that you spread the batter evenly so that they fluff up nicely and create a delicious crispy edge all around. But for such a mini device, I think it is to be expected that it will not have a wide range of functions and features.
Conclusion
What can we conclude about this mini waffle maker by Dash? One thing is for sure, that if you are into tasty, crispy and at the same time fluffy waffles, drizzled in your favorite sticky sauce or topped with the juicy chopped fruit of your choice, then you need to try it all in a miniature version with this excellent waffle maker brought to you by the wonderful team down at Dash.

There is nothing better than trying out new recipes, after all, you wouldn't want there to be a secret scrumptious waffle recipe floating around that you haven't had the chance to sample! That is why this waffle maker comes with a recipe book that you can use to follow some of the most innovative recipes that will be perfect for you to try out with your brand new waffle maker and share with family and friends.

Sounds good, right? Then make sure you get your hands on your very own Dash mini waffle maker as soon as possible! Add one to your cart and you could be pressing yourself the perfect pile of mini waffles, just in time for that all important comfort food evening you've been planning.

Happy waffling!