There is nothing that will make life in the kitchen easier than being able to rely on a state of the art cookware set, like the Duxtop SSIB-17. Why's that? A great cookware set will prevent your food from sticking and burning and will also help it to cook more evenly – helping to avoid that pesky problem when food is burnt to a crisp around the edges but remains stone-cold and lifeless in the middle.
And of course, when the inlaws are due to arrive any minute, you've got an elaborate meal on the menu and high expectations to meet, having a top-notch cookware set will be the most surefire way to sail you on to cooking success. 
Duxtop Reviews
What should you look out for when choosing your next slick and shiny cookware set? To have the freedom to cook just about any meal in the kitchen some pans that are really essential. Take a look at the following list of kitchen pot and pan must-haves:
Frying pans
Quart stockpots, saucepans, and casseroles
Pasta basket
Steam basket
If you are wondering where you can find a cookware set that includes all of these pieces then look no further than a Duxtop cookware set! They make amazing cookware.
Duxtop SSIB-17 Cookware Set Review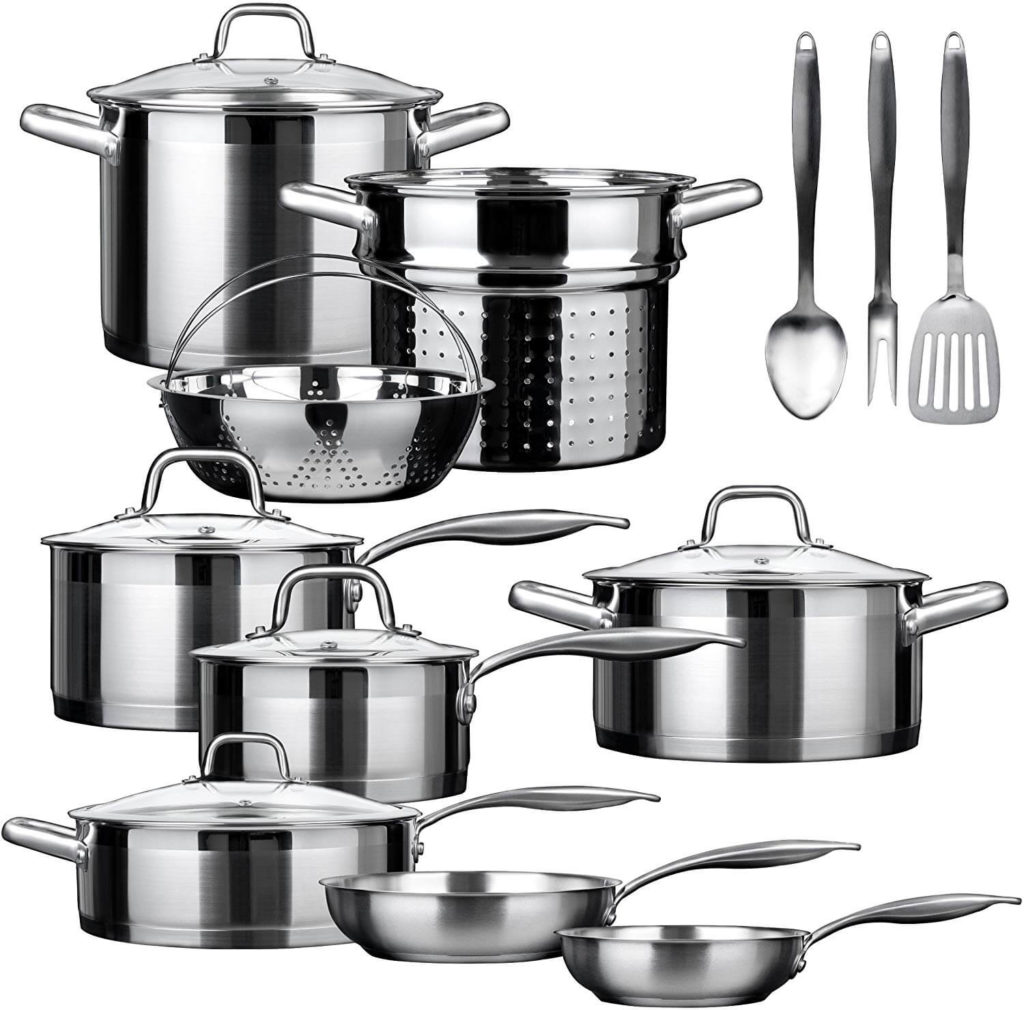 If you are looking to completely replace your kitchen cookware set or are looking to stock up your very first kitchen with everything you need, then you cannot go wrong with these 17 pieces of professional cookware set by Duxtop. Check it out below.
Overview
This cookware set includes the following: 2 frying pans, 2-quart saucepans with lids, 1-quart stockpot with lid, 1-quart casserole with lid, 1 quart saute pan with helper and lid, 1 pasta basket and steam basket.
Features
What's that? You don't have anything to mix all of the deliciousness together with? Not to worry as this set also comes with 3 kitchen tool pieces including 1 serving spoon, 1 spatula, and 1 pair of sausage tongs.
The handles on the lids and sides of this cookware have all been ergonomically designed to fit in your hands like gloves. They also have an anti-slip satin finish to help make the cookware safer to use and easier to grip.
This set is ideal for use on an induction stove, but also works a dream on gas, electric or even a glass stovetop.
The entire set is made up of super robust stainless steel that will stand the test of time. This robust material will make the set more resistant against rust, corrosion, and staining.
Who makes Duxtop cookware?
Are you looking to splash some cash on a brand new Duxtop cookware set but would like some more information about the company before doing so? Then you are in the right place as the following is a list of all the important information there is to know about Duxtop cookware. Get savvy.
Duxtop cookware is made by the Secura Company – an electro domestic company that is well-known for its fantastic induction cooktops – so much so that the Secura Company has sold over 8 million small appliances in the USA alone. So if you are looking for a set of induction pots and pans for your induction cooktop, there is no better place to shop than with Duxtop.
Although the Secura Company is known for designing cookware that is ideal for an induction cooktop, homeowners with gas and electric top hobs have also been known to Duxtop cookware religiously and, of course, with exceptionally good results. So you can feel confident purchasing a cookware set form Duxtop no matter what kind of stove you have at home.
Now that you know a little more about Duxtop, the Secura Company, and their cookware, are you ready to take a look at a top of the range and fantastically priced cookware set? Check it out below. 
Duxtop Cookware Tri-ply SSC-14PC
Are you looking to replace your entire kitchen cookware set without spending an arm and a leg? Then you cannot go wrong with Duxtop cookware, as this 14 piece set comes complete with everything you will need to triumph in the kitchen every time you cook.
This article is coming especially to those who have induction top kitchens, and also to those who don't as this Tri-Ply Duxtop Induction cookware set will be the perfect solution for just about any avid cook.
Duxtop Cookware Tri Ply Stainless Steel Review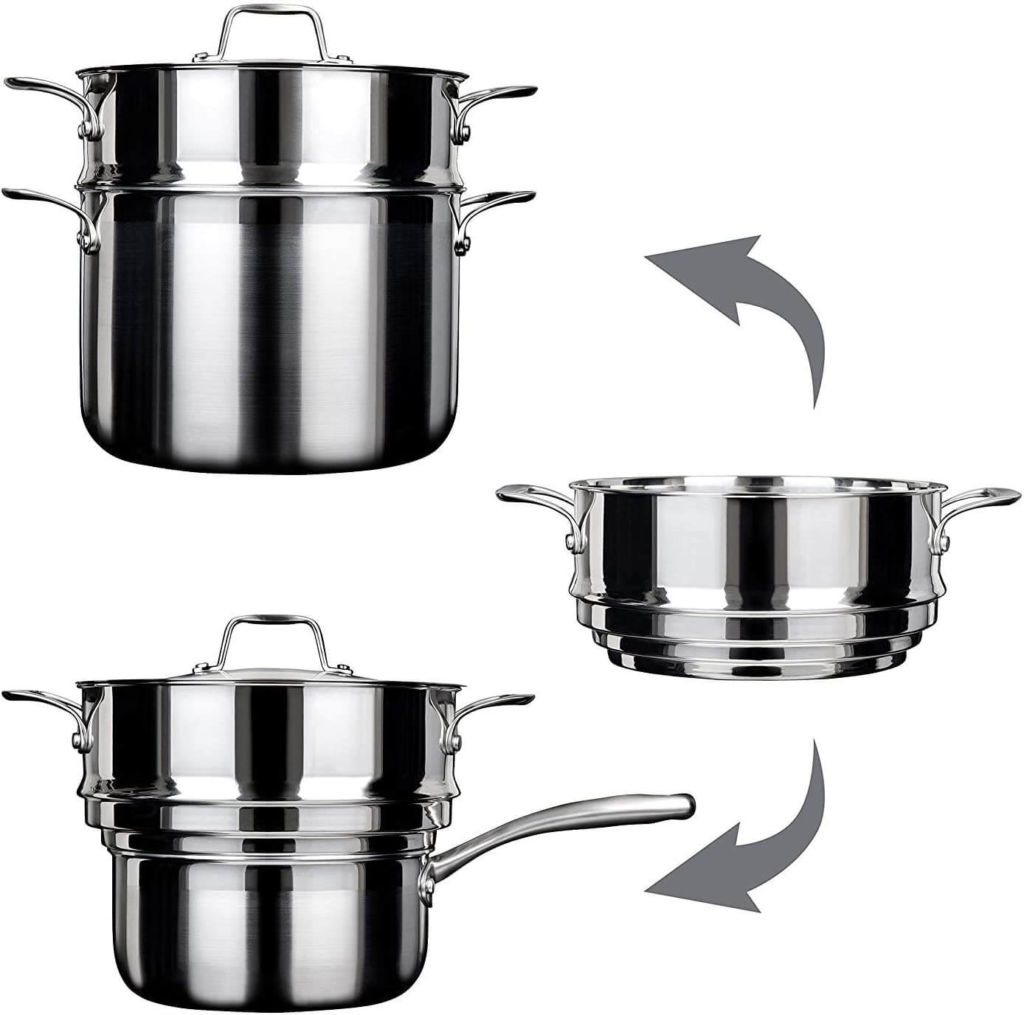 There is nothing worse than looking for your favorite pan to use, only to find that it is in the kitchen sink full of food, or has been left in the dishwasher dirty. Wouldn't it be awesome to have a variety of amazing pots and pans to rely on that will all provide you with uniform brilliant results?
If consistency, reliability, and great results are what you are looking for when you cook, then stay tuned as this article has been packed full of Duxtop cookware reviews that will help you to see how you can get your hands on one of the best induction cookware models out there.
Overview 
Are you ready to dive into this Duxtop cookware reviews? Then let's get started!
So what are some of the super cool features that await you in this cookware set? Take a look below and all will be revealed!
Features
This set comes complete with everything you will need to cook a variety of dishes for the family to sample this weekend. It includes two frying pans, two saucepans with lids, one stock pot with a lid, one sauté pan with a helper and lid, and one steam basket.
This stainless steel cookware set has been designed to work with any cooking methods including gas, electric, infrared, and especially induction kitchen tops. That's right, this cookware is ideal for use in any kitchen.
All of the handles on this cookware set have been ergonomically designed and prepared with a satin finish that helps to improve the non stick properties of the handles. These nonstick handles help the user to get a better grip on the cookware, making it both safer and easier to transport the cookware from hob to hob or around the kitchen.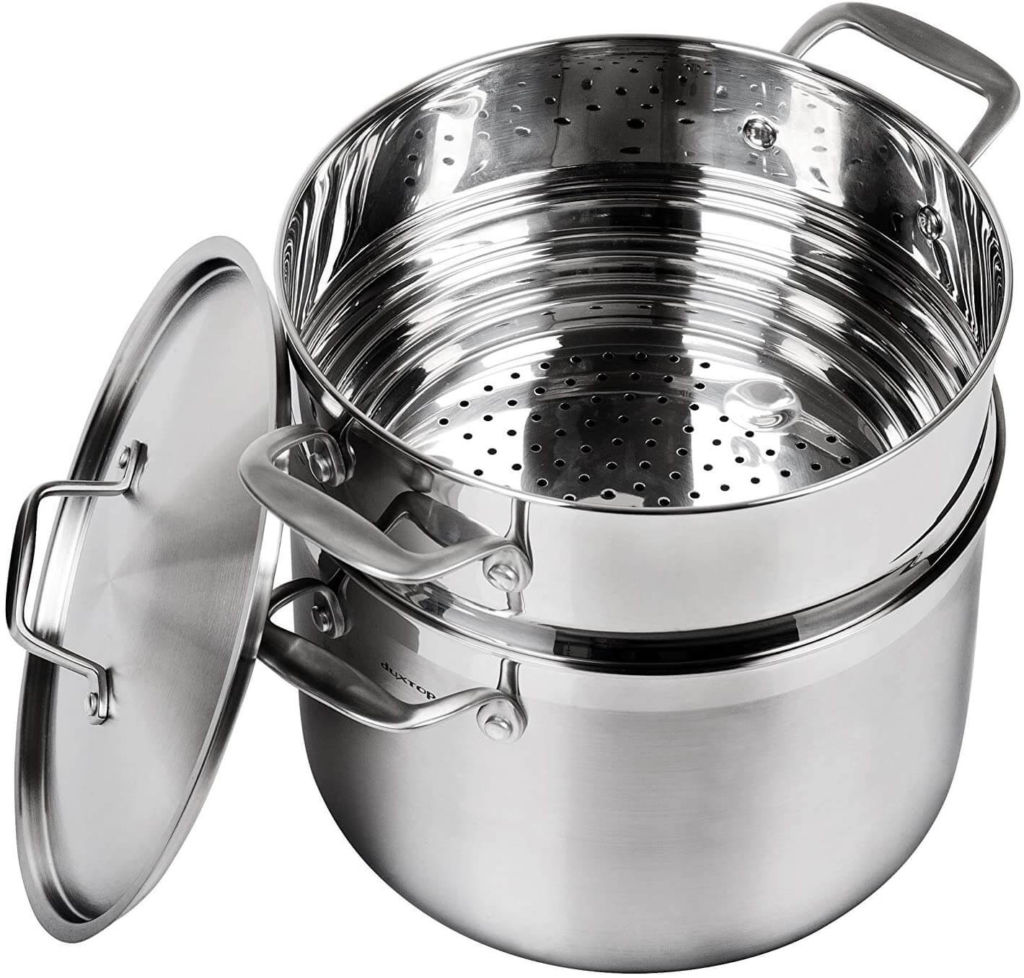 Duxtop Cookware Pros & Cons 
There are so many reasons why we think this Duxtop cookware set is worth investing in. Check out some of them below.
This list will also help you to be aware of some of the features that manufacturers do not mention when promoting their stock.
Pros
Excellent quality
Heat distributes evenly throughout the the pans
Compatible with all types of cooktops
Another great feature of this cookware is that it is completely dishwasher safe! There is nothing better than taking the load off at the end of the evening and piling everything in the dishwasher to be washed. 
This cookware is ideal for transferring straight from your stovetop to the oven as it is oven safe up to 550 degrees Fahrenheit. That's right, there is no more decanting and ovenproof dishes required with this cookware set by Duxtop!
This cookware is even freezer safe so that you can use it for storing your delicious creations to be enjoyed again at a later date.
Cons
This set comes with two frying pans that must be seasoned to make them non stick before using them. If you do not season the pans food will stick and burn on them and is a pain to remove.
The surface tends to scratch very easily
Is Duxtop cookware good?
The Duxtop try ply stainless steel cookware set in one of the best ones that you can find for the money. They are completely dishwasher safe, oven safe and freezer safe as well.
Where is Duxtop cookware manufactured?
The Duxtop cookware is manufactured in China.
Who makes Duxtop?
it is a product made by Secura Company
What is the best quality cookware brands?
There are many amazing cookware brands available in the market today such as All-Clad, Circulon, Duxtop and many more.
Conclusion
Now that you have had an inside look at one of my favorite cookware sets and know a little more about Duxtop cookware and the Secura Company, I am sure that you feel more confident about choosing their products for your home. 
If you are looking to choose between a handful of cookware sets but cannot make your mind up about which one to go for, make sure you choose a set that comes with all of the basic pots and pans you need to cook up a storm at the weekend for the family.
Some cookware sets come with a very limited selection of pots – just the bare essentials, and this can be frustrating to deal with when you are cooking for larger parties. Ensure your cookware set comes with a couple of frying pans and stockpots so that you can have the freedom to cook a few dishes at once.
If you are completely replacing your kitchen cookware set it is nice to choose something that will offer you a range of cookware items from steamers to strainers to pots and pans and spatulas. Cookware sets such as the one we analyzed today by Duxtop come with everything you need to kick start your kitchen.
If you plan on making meals for large families or enjoy making a variety of dishes for people to sample when preparing for a dinner party, then I am sure you will appreciate having this 14 piece set by Duxtop behind you to help. 
Not only does the 14 piece set help you to have more freedom when creating different dishes, but it will also help you to control your portions better, making it easier to cook smaller and larger portions when you need to. The set comes with one 8 inch and one 10 inch frying pan that are ideal for making smaller meals. It also comes with one 1.6 and one 3 quart saucepan that are great for alternating with when cooking smaller and slightly larger dishes.
The set comes with solutions to facilitate healthy eating including the steamer – the ideal solution for steaming a selection of your favorite winter veggies. And the 8 quart stockpot is perfect for brewing together a hearty soup.
So if you are looking for a cookware set that comes complete with everything you will need to cook a whopping meal for the family on any kitchen top, then I am sure you will fall in love with this Duxtop cookware. Why not try adding the set to your basket today?