There is nothing that will make life in the kitchen easier than being able to rely on a state of the art cookware set, like the Duxtop SSIB-17. Why's that? A great cookware set will prevent your food from sticking and burning and will also help it to cook more evenly – helping to avoid that pesky problem when food is burnt to a crisp around the edges but remains stone-cold and lifeless in the middle. And of course, when the inlaws are due to arrive any minute, you've got an elaborate meal on the menu and high expectations to meet, having a top-notch cookware set will be the most surefire way to sail you on to cooking success.

What should you look out for when choosing your next slick and shiny cookware set? To have the freedom to cook just about any meal in the kitchen some pans that are really essential. Take a look at the following list of kitchen pot and pan must-haves:
Frying pans
Quart stockpots, saucepans, and casseroles
Pasta basket
Steam basket
If you are wondering where you can find a cookware set that includes all of these pieces then look no further than a Duxtop cookware set! They make amazing cookware.

Duxtop Reviews
Duxtop SSIB-17 Cookware Set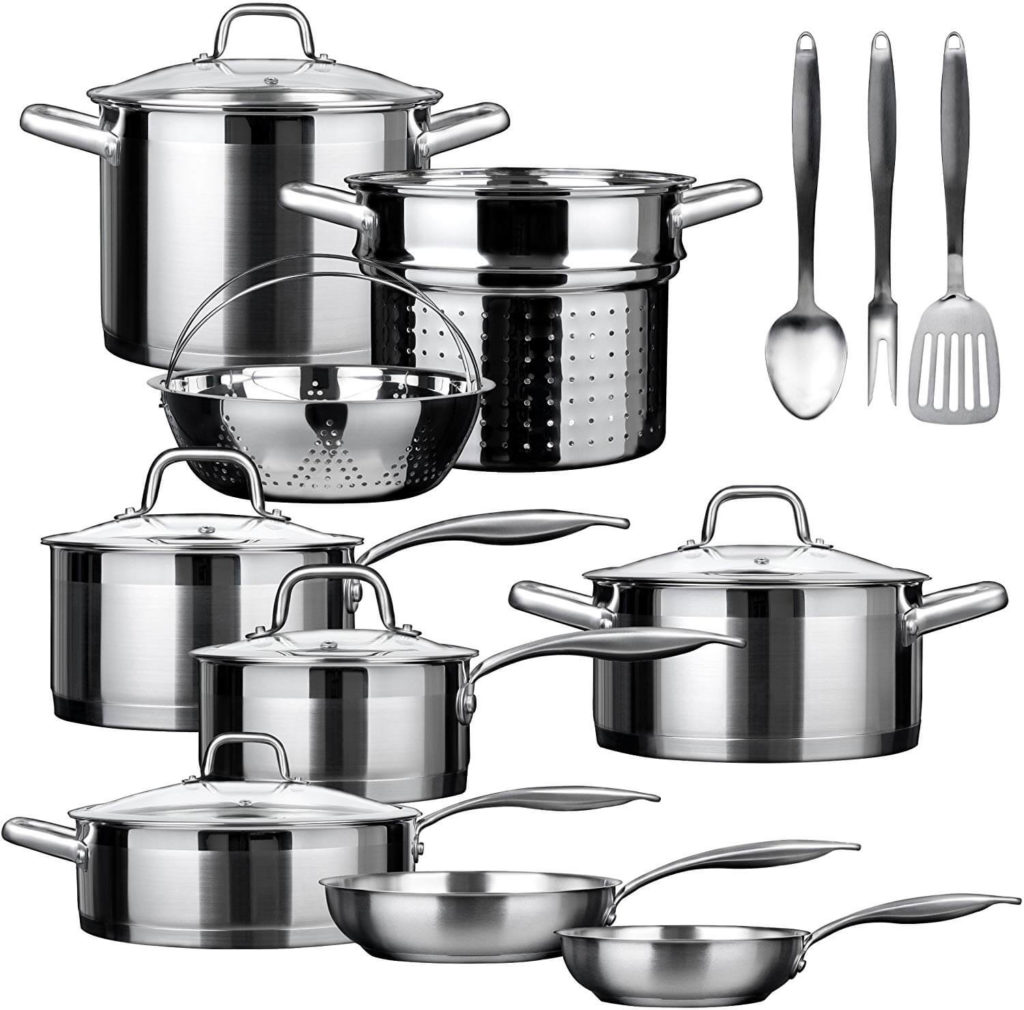 If you are looking to completely replace your kitchen cookware set or are looking to stock up your very first kitchen with everything you need, then you cannot go wrong with these 17 pieces of professional cookware set by Duxtop. Check it out below.
Features
This cookware set includes the following: 2 frying pans, 2-quart saucepans with lids, 1-quart stockpot with lid, 1-quart casserole with lid, 1 quart saute pan with helper and lid, 1 pasta basket and steam basket.
What's that? You don't have anything to mix all of the deliciousness together with? Not to worry as this set also comes with 3 kitchen tool pieces including 1 serving spoon, 1 spatula, and 1 pair of sausage tongs.
The handles on the lids and sides of this cookware have all been ergonomically designed to fit in your hands like gloves. They also have an anti-slip satin finish to help make the cookware safer to use and easier to grip.
This set is ideal for use on an induction stove, but also works a dream on gas, electric or even a glass stovetop.
The entire set is made up of super robust stainless steel that will stand the test of time. This robust material will make the set more resistant against rust, corrosion, and staining.
Who makes Duxtop cookware?
Are you looking to splash some cash on a brand new Duxtop cookware set but would like some more information about the company before doing so? Then you are in the right place as the following is a list of all the important information there is to know about Duxtop cookware. Get savvy.

Duxtop cookware is made by the Secura Company – an electro domestic company that is well-known for its fantastic induction cooktops – so much so that the Secura Company has sold over 8 million small appliances in the USA alone. So if you are looking for a set of induction pots and pans for your induction cooktop, there is no better place to shop than with Duxtop.
Although the Secura Company is known for designing cookware that is ideal for an induction cooktop, homeowners with gas and electric top hobs have also been known to Duxtop cookware religiously and, of course, with exceptionally good results. So you can feel confident purchasing a cookware set form Duxtop no matter what kind of stove you have at home.
Now that you know a little more about Duxtop, the Secura Company, and their cookware, are you ready to take a look at a top of the range and fantastically priced cookware set? Check it out below.
Conclusion
Now that you have had an inside look at one of my favorite cookware sets and know a little more about Duxtop cookware and the Secura Company, I am sure that you feel more confident about choosing their products for your home.

If you are looking to choose between a handful of cookware sets but cannot make your mind up about which one to go for, make sure you choose a set that comes with all of the basic pots and pans you need to cook up a storm at the weekend for the family. Some cookware sets come with a very limited selection of pots – just the bare essentials, and this can be frustrating to deal with when you are cooking for larger parties. Ensure your cookware set comes with a couple of frying pans and stockpots so that you can have the freedom to cook a few dishes at once.

If you are completely replacing your kitchen cookware set it is nice to choose something that will offer you a range of cookware items from steamers to strainers to pots and pans and spatulas. Cookware sets such as the one we analyzed today by Duxtop come with everything you need to kick start your kitchen.