Ree Drummond is another fellow food blogger who has been around for the better part of 15 years now. She has seen wild success and has even turned that success from her food blog into an actual television series. 
Some of you may know her from TV or others from her blog but what you all know is that she knows how to cook. She even has many of her own product lines, including cookware, as well as actual food products that you can buy.
Today we're actually going to talk about her pioneer woman cookware sets review and go over a few of our favorites to help you make a decision if you are in the market to purchase one.
Ree Drummond has really grown the pioneer woman brand over the last 15 years. She even has a full staff of about 20 people that help her run the blog.

About The Pioneer Woman
On her website, you can find thousands of articles about ree herself, about food and cooking, or about entertaining your friends and family around your house. The Pioneer woman brand also sells several frozen food items such as ravioli, fried goat cheese, zucchini chips, and many more. 
As you know, she also has a passion for animals and her line also includes dog treats for your furry little friends at home as well.
Comparison Table
The Pioneer Woman Vintage Speckle 10-Piece Non-Stick...
The Pioneer Woman Vintage Speckle 24-Piece Cookware Combo...
Pioneer Woman 17 Piece Cookware Set - Porcelain Enamel...



The Pioneer Woman Vintage Speckle 10-Piece Non-Stick...

The Pioneer Woman Vintage Speckle 24-Piece Cookware Combo...

Pioneer Woman 17 Piece Cookware Set - Porcelain Enamel...

Best Pioneer Woman Cookware Sets On The Market 
Well, I don't think I need to spend any more time introducing Ree Drummond in the pioneer woman brand as you're probably already familiar with it, so let's dive into our top three favorite pioneer woman cookware sets.
Vintage Speckle 10-Piece Cookware Set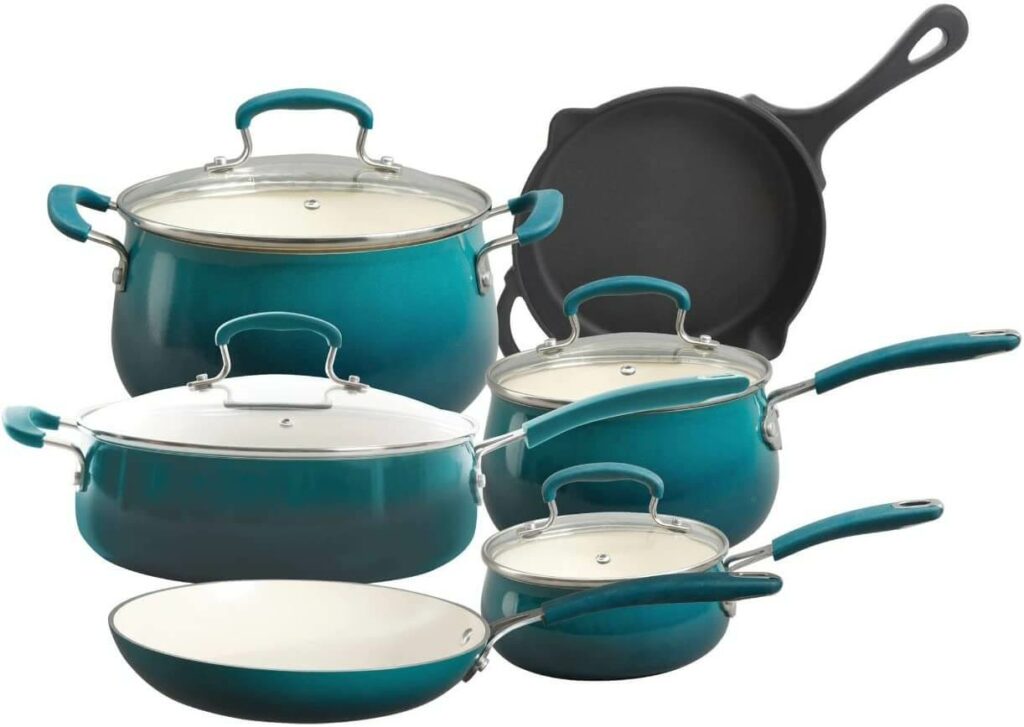 The Pioneer woman vintage speckle 10 piece cookware set comes in and neat turquoise color with ten different items. It includes a 5.5-quart Dutch oven, a 4.2-quart jumbo cooker, a 2.5-quart saucepan, a one-quart saucepan, a 9.5 frying pan, and an 8 inch cast iron frying pan. 
This is a pretty awesome beginner cookware set. It comes with just about everything you need to get going. We especially like the cast iron frying pan and the Dutch oven as you can do a lot of cool stuff with those two items. 
All the items are dishwasher safe except for the cast iron, obviously. And feel free to use wood or nylon utensils in these. However, you never want to use metal utensils in non-stick cookware as you can scratch the surface and ruin the nonstick coating. 
The Dutch oven is oven safe up to 900 degrees Fahrenheit so you can cook just about anything that you would ever need to at that temperature. 
If you're looking for a good set that provides great value for the price this could be just the one for you. There is nothing fancy about these pots and pans just 10 different items that help you get the job done. 
As long as you take care of them they should last for many many years. You may notice some people talk about the pots and pans losing their nonstick coating but this could be due to many reasons including not taking proper care of the pots and pans. 
One thing we would recommend is just making sure you are choosing the right set from Amazon as it appears, some people received the product in the wrong color.
Vintage Speckle 24-Piece Cookware Combo Set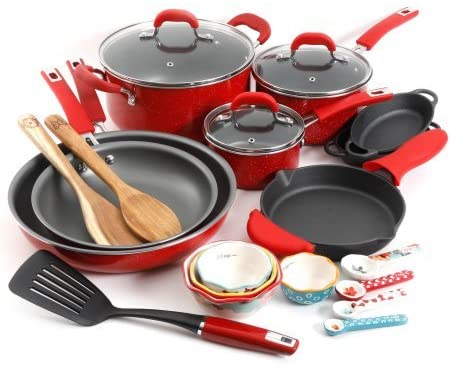 The Pioneer woman vintage speckled 24 piece combo set is great if you are looking to take it to the next level. This includes everything in the 10 pieces set with additional measuring bowls, measuring spoons, 2 mini au gratins, silicone sleeves, a wooden spoon, and nylon spatula. So you would have even more items to help you impress your guests. 
This item comes in red and has the traditional Teflon coating that is black, unlike the ceramic white for the 10 pieces. This cookware set is also highly rated. With an average of 4.6 out of five stars. 
These pots and pans are light-weight yet durable to last you many years to come. Again, all these pots and pans except for the cast iron skillet are dishwasher safe. Unfortunately, there have been quite a few reports of the paint rubbing off on the set in particular. However, the product still comes highly rated by many customers. They're also super easy to clean and the pans heat evenly so that your food is cooked properly.
Pioneer Woman 17 Piece Cookware Set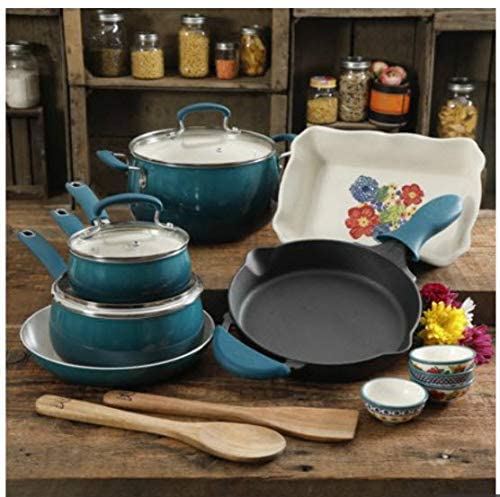 So far we've talked about a few non-stick cookware sets, but the pioneer woman 17 piece cookware set is a nice alternative if you were looking for a non stick cookware set. With these pots and pans, you don't need to use high heat like you normally do with stainless steel. 
As with any enameled pots and pans when you wash these, you need to dry them with a towel and not let them air dry or spots could develop on the bottom of your cookware. 
This set comes with a saute pan, a steamer insert, a 9.5-inch frying pan, a 2.5-quart saucepan with a lid, and a 1.7-quart saucepan with a lid and also a beautiful serving dish.
The exteriors are highly polished and brushed to give that ultimate shine and keep them looking nice for years to come.  
This set comes highly rated with a 4.2 out of five stars, however, doesn't come without its flaws. Remember, they recommend us not to use super-high heat but you also have to get the pan hot with oil in it before you throw your food in to avoid sticking. 
You may be surprised by the quality of these pots and pans when they arrive on your doorstep. There are well made and are very attractive.
Conclusion
So there you have our top three recommendations in this Pioneer woman cookware set review article. If you are new to cooking you may opt for one of the non-stick options, but as your culinary school skills begin to grow, you may find yourself wanting the stainless steel copper bottom set. 
The non-stick options are nice, but you have a lot more control and are able to do more things with the stainless steel copper bottom sets. As with everything, your mileage may vary and what works for some people may not work for you. So as always we suggest you do your own homework and research before making the final decision.
We hope that we have at least helped in your research process. Do you have one of these pioneer woman cookware sets? Let us know in the comments below.