T Fal stainless steel cookware is a great reliable choice for hectic kitchens. Are you fed up with spending what seems like endless time in the kitchen soaking and scrubbing your cookware? Are you looking for a cookware set that you can simply wipe clean? 
Tfal Stainless Steel Cookware Review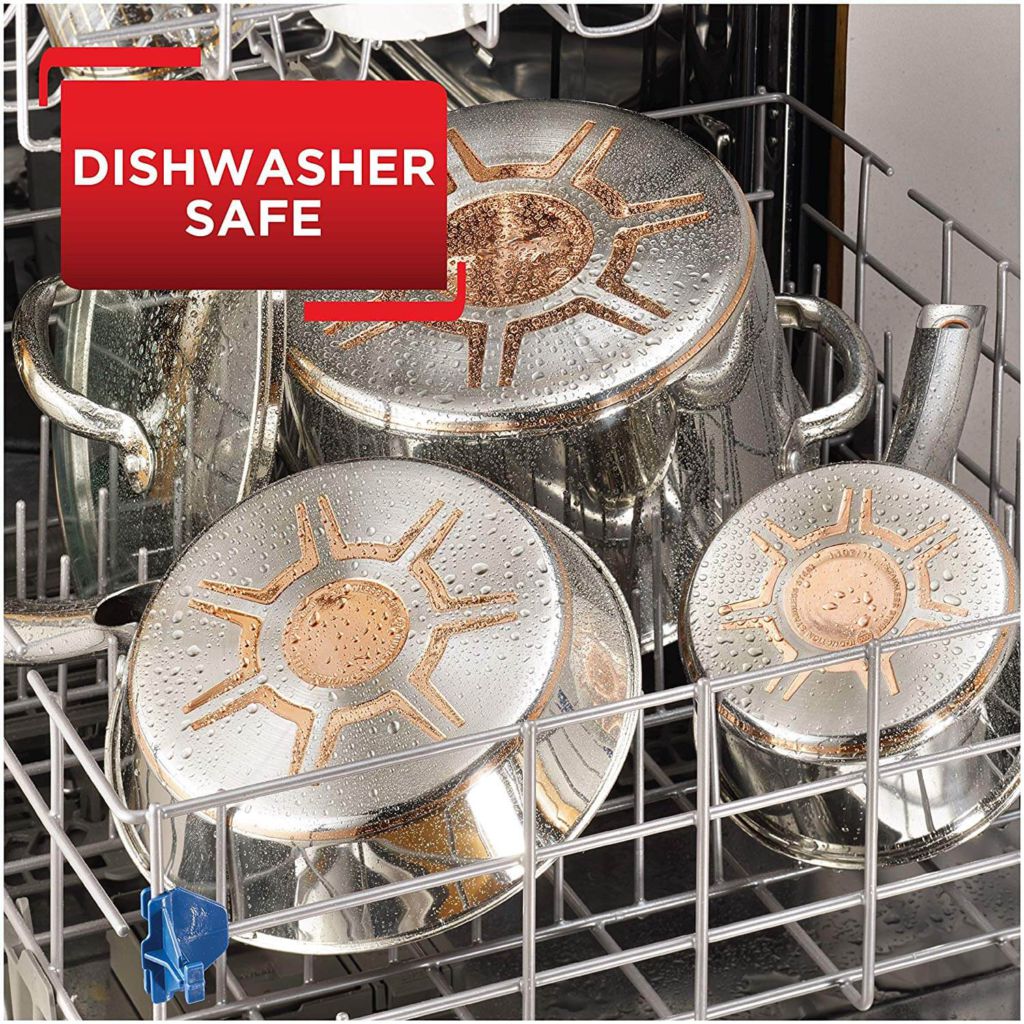 There is nothing fun about spending your weeknight evening standing over a pile of pots and pans in the kitchen. The dishwasher won't hack them, and even your kids are turning their nose up at the chore – nope, no amount of pocket money that will get them to stand fighting the stains off of these pans.
If the above mentioned situation sounds like something that happens in your kitchen on a regular basis, then it definitely is time for you to treat yourself to a brand new T-Fal stainless steel cookware set.

Tfal Stainless Steel Cookware Review
Are you looking to find out more about this 13 piece set? Then stay tuned as in this article I will go on to explain more detail about the T Fal stainless steel cookware including information on the main features of the cookware and also a list of pros and cons that will help you to make the best decision when purchasing.
Overview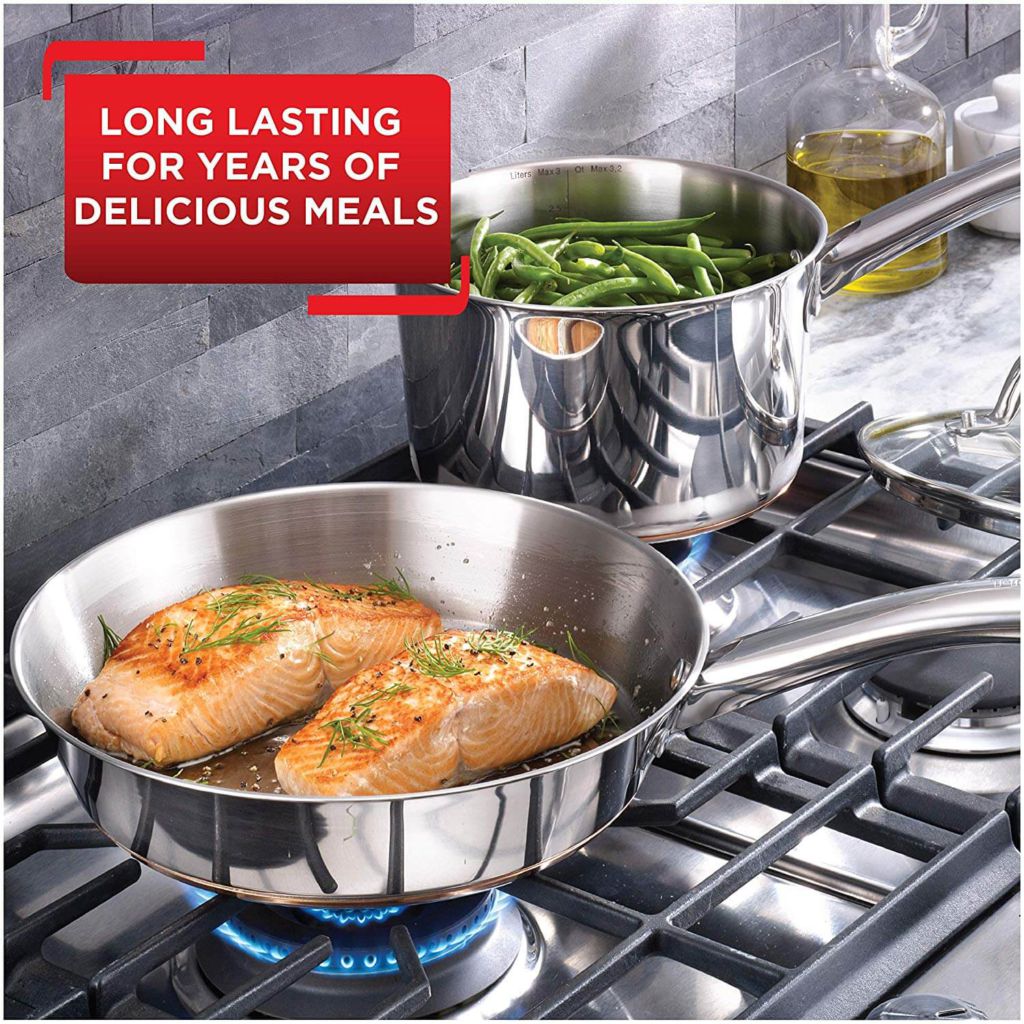 What have you got to look forward to when opening up the box on your brand new, shiny 13 piece cookware set by TFal? Take a look at some of the main features listed below to find out more. 
Features
This set comes complete with every pot and pan you will need to help you feed your family and even friends this weekend. It includes three frying pans in various sizes – (including one with a lid), three quart saucepans with lids, one Dutch oven with a lid and one stainless steel steamer.
Every piece of cookware in this set has a copper base. The copper helps to evenly distribute the heat across the cookware, making it easier to cook without your food sticking and burning. This technology makes cooking meals a quick and even process.
If your current cookware set is not dishwasher safe, it is probably making way too much work for you in the evenings. That is why this T-Fal set is dishwashable, simply place it in your machine for easy cleaning after cooking.
This cookware is oven safe up to 500 degrees Fahrenheit, making it the perfect set to take from stovetop to oven without having to change your cookware and unnecessarily dirty additional cooking tools.
Pros & Cons 
And that is not all! There is so much more to be said about this TFal stainless steel cookware set.
Take a peek at the following list of pros and cons that will go into more detail about this set and what to look out for.
Pros
The handles on this cookware have been ergonomically designed to fit in your hands like a glove. They have been designed from stainless steel and have been riveted to make them extra sturdy and long-wearing.
The lids have vent holes to ensure that steam is able to escape from the cookware. This will help to prevent food from boiling over and will also help to maintain visibility under the lid when cooking so that you will not have to lift and look.
It has never been easier to follow the recipe with this cookware as the pieces come with interior measuring marks that will make it easier for you to keep an eye on the volume of your ingredients.
Cons
Some users have noticed that this cookware set works better when greased before using. Try adding a small amount of cooking oil or butter to line your pans when cooking to ensure your food doesn't stick or burn.
Conclusion
Dinner time is an important time at home. And when you have had a long day at work and the kids are grumbling and asking for the umpteenth time what time dinner will be ready, the last thing you want is to have to rely on a cookware set that takes an age to heat up. Or worse, a cookware set that heats everything quickly, or rather, too quickly and ends up burning the bottom layer of all of your food to a singe. 
That is why I love the TFal stainless steel cookware set, as the copper bottom allows the cookware to heat up speedily and evenly, helping you to put dinner on the table quicker than ever before. The copper base technology also helps the cookware to heat more evenly, making hot spots and sticking a thing of the past.
Forget about all of that laboring over the kitchen sink with a scouring pad at hand! Simply pop this set in the dishwasher and forget about it!
Happy with what you have seen here today? I am sure you are. Make sure you add a T-Fal stainless steel cookware set to your basket today so that you can start unboxing the magic asap.