If you have had it up to your eyeballs looking through tons of cookware reviews, then stick with me through the last one you'll need as the Calphalon cookware review included in this article is the most important and only cookware review you will need to lead you to cooking success this weekend.

There is nothing better than inviting the family over at the weekend to sample your latest kitchen recipes and creations. And there's no easier way to simmer it together all than by using the very best cookware to do so. 

If you are looking to replace an old cookware set or are purchasing your very first to kit out a brand new kitchen, you will want to get a hold of something robust, effective and that offers great value for money. But where can you find the very best cookware set on the market?

There are so many different cookware sets available to purchase and with the specs of each cookware set professing to be better than the last it can seem like a real minefield trying to sift through which cookware sets are selling you some genuinely fantastic cookware and which sets are just overpriced and simply not good enough. 

Calphalon Contemporary vs Classic Reviews
Calphalon Classic Pots And Pans Set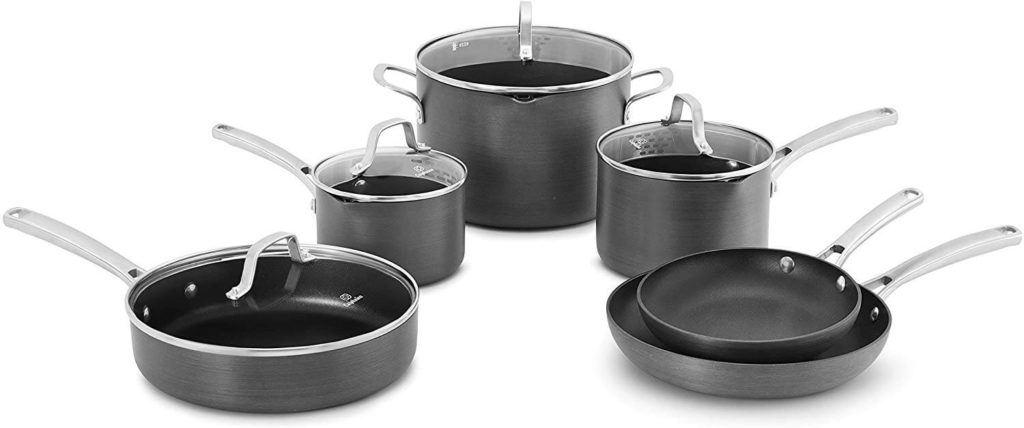 Are you leaning towards purchasing Classic cookware set by Calphalon as your next amazing cookware set for the kitchen? Then you will love this 10 piece, classic nonstick set. Take a look.

Overview
The cookware set includes 2 frying pans as well as 3-quart saucepans with lids as well as 1 stockpot with a lid. This is everything you will need in order to cook up a delicious meal for the entire family. It also features a nonstick coating, and this will help you slide the food out of your cookware without fear of it getting stuck and potentially burning. This in turn makes it a lot easier to keep the food well preserved and it will be easier to wash up.
Features
Nonstick Coating
Stay-cool handles
Durable
Stainless Steel Handles
Pros
Tempered glass lids
Lifetime warranty
Convenient measurement marks
Hard-anodized aluminum build
Cons
A bit heavy
Not that many color options
Calphalon Nonstick Set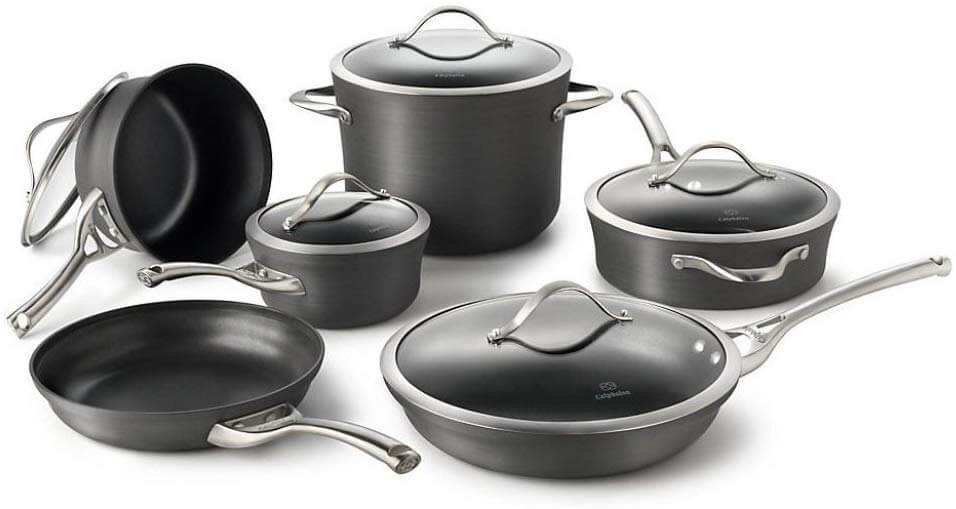 Now that you have had a look at everything that comes with a Calphalon Classic cookware set, I am sure you are keen to know more about the Calphalon Contemporary cookware set and what that contains. Take a look at the list of standout features below for this 11 piece cookware set.
Overview
This set contains 1 frying pan as well as 1 frying pan with a lid, 3-quart saucepans with lids and a single quart stockpot with a lid. They all feature a nonstick coating as well as cool-touch handles which will remain cool even when cooking at the highest temperatures. This set is made from heavy gauge aluminum construction, which makes it robust and hard wearing as a result.
Features
Heavy gauge aluminum construction
Three layers of nonstick coating
Brushed aluminum stainless steel handles
Pros
Large set
Nonstick surface
Easy to use
Slick design
Calphalon Classic Cookware
When choosing your next cookware set, you will have to make the big decision – whether to go for a Calphalon classic cookware set or a Calphalon contemporary cookware set. In order to make the choice, take a look at the following key factors about Calphalon classic cookware.
Calphalon classic cookware is some of the most original cookware by Calphalon, it contains some of the original ideas put into Calphalon cookware when the company first started up and they have worked to perfect their classic cookware line ever since.
The classic set comes in a great range of prices, with some of the cheapest cookware being stainless steel. The stainless steel cookware range is easy to clean and has a polished surface that makes the set look attractive. Some of the other cookware materials include ceramic and nonstick but these, of course, are a little more pricey.
The classic cookware range by Calphalon comes with all of the little features and details that make cooking easy including measuring lines. Their cookware pots and pans include measuring lines on the inside of the cookware, making it easier for the consumer to keep an eye on the volume of their ingredients, helping them to perfect the recipe every time.
Calphalon Contemporary Cookware
Do you like to keep your options open? Then don't just stop there – you should take a peek at some calphalon contemporary stainless steel cookware that I am sure you will also love. Have a look at some of the main features on Contemporary cookware sets. 
The Calphalon contemporary cookware set comes in two varieties – nonstick and stainless steel with stainless steel being the more popular option as it is cheaper. The stainless steel range although cheaper is really aesthetically pleasing as it comes in brushed steel and with a curved design that will glisten like pieces of jewelry in your kitchen when displayed. The pans are easy to clean and heat up quickly.
Although there is less choice with the Calphalon Contemporary cookware range, the set comes with more features and is generally better quality and more resilient than the Classic collection.
The Contemporary cookware collection by Calaphon comes in handy 12 piece sets that include a grand selection of just about every pot and pan you need to kit out your kitchen. But if you only require a smaller number of pots or pans there is something for you also as the Contemporary cookware collection also comes in smaller sets of just two specialized pans that are ideal for making specific meals.
FAQ
Is Calphalon Classic good?
Calphalon Classic cookware is designed for everyday normal use on a budget. While it is not dishwasher safe it is a good sturdy set of cookware that if properly maintained will last for years.
What is the difference between Calphalon classic and contemporary?
The first difference between Calphalon Contemporary and Classic you will notice is the price. Calphalon Contemporary is generally a bit more expensive than Calphalon Classic. In terms of construction, the contemporary is of higher build quality with the nonstick series having three layers of non-stick and the stainless version being tri-ply. In comparison, the Classic series nonstick has 2 layers of nonstick and the stainless series is full stainless steel with an impact-bonded aluminum bottom. Finally, The Calphalon Contemporary is advertised as dishwasher safe while the Classic is not.
What does Calphalon mean?
Calphalon is a kitchen product brand most well known for manufacturing cookware and knives. The Calphalon company is owned by Newell Rubbermaid. Calphalon manufactures both entry-level and premium brand cutlery and cookware.
Is Calphalon a good brand?
Calphalon is a very good brand with a great reputation that manufactures products at entry-level pricing that are of good quality as well as professional-grade cookware at a reasonable price
Conclusion
Now that you have had a more careful look at the Calphalon Classic vs Contemporary cookware set, I am sure you have got more of an idea about which one suits you and your style of cooking better or which one best matches your budget.

As I am sure you have noticed while reading the review, the Calphalon Classic cookware set is by far the cheaper option between the two, but just because it is cheaper, does that mean it is inferior? Not necessarily. Consider the specifications, both cookware sets feature cool-touch handles, a nonstick coating, and a great range of pots and pans that will help you to be more versatile when cooking. So, just because the Calphalon Classic cookware set is the cheaper option, doesn't mean it isn't any good. 

So what is the real difference between the two sets? The main difference between the two is how aesthetically pleasing they are. The Contemporary set has a more modern and polished design with some fancy features on the cookware that make cooking easier. The pots and pans look smart and the hard-anodized aluminum construction will make them easier to clean up. So if you are looking for a set that will help your kitchen shine, choose the Contemporary, however, if you are looking to save on a great cookware set go for the Classic, I am sure you will not be disappointed.