Every kitchen needs high-quality cookware set in order to function well. Why? Because making meals with cheap cookware often causes food to burn in the middle while remaining uncooked at the edges. Cheap cookware also stains easily and is difficult to clean. Inadequate cookware can also make it trickier to get good results when cooking and can make the whole experience frustrating rather than enjoyable. 
If you are kitting out a brand new kitchen then you will need a fantastic new cookware set. Or perhaps you are moving into a new apartment or are simply looking for the cookware set to replace an old, tired-looking set. Whatever the case, you can get great results when purchasing a TFAL 12 Piece Cookware Set.
T-Fal C561SC Cookware Review
If you have never purchased T-Fal cookware before you may be a little speculative about doing so. That is why this article has been put together for you as I will go on to explain a little about T-Fal cookware and why it is so excellent. Following that, I will go on to show you a great titanium cookware set review that I am sure you will not be able to resist, followed by some FAQ's about T-Fal cookware. Check it out.
T-Fal Cookware Set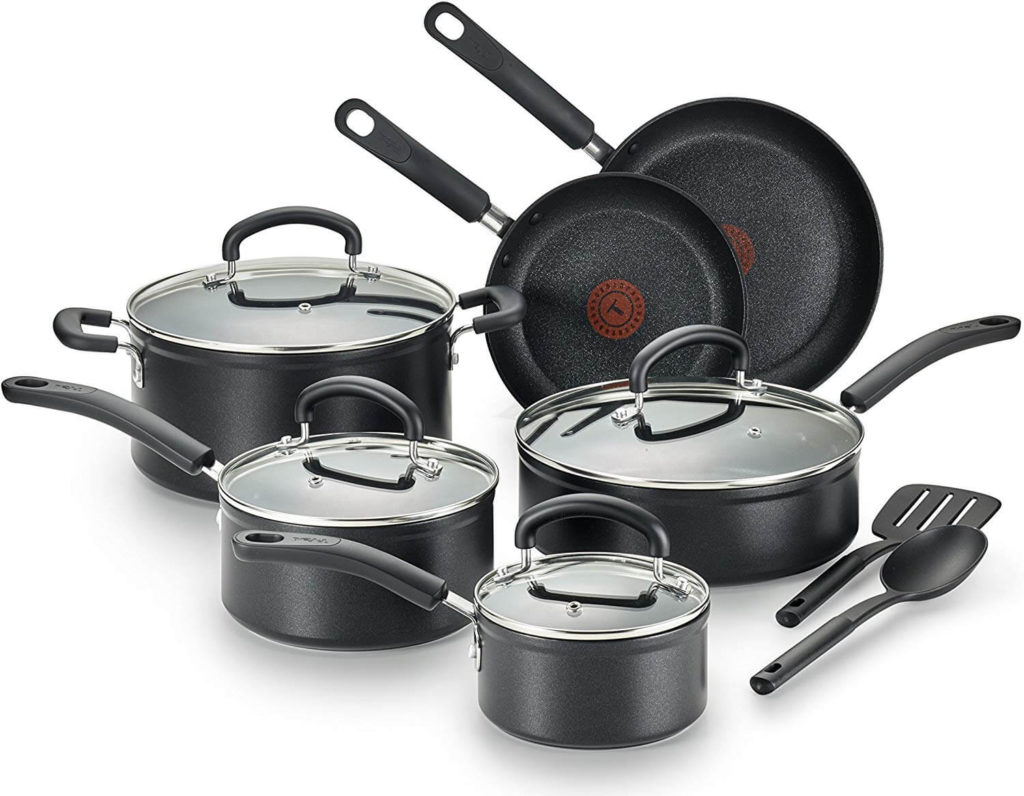 Are you looking for a state of the art cookware set with everything you need in order to make a smashing meal for the family this weekend? Then you will love this 12 piece cookware set by T-Fal. Check out everything it has to offer below.
Overview
This cookware set contains 2 frying pans, 2 saucepans with lids, 1 deep saute pan with a lid, and 1 dutch oven with a lid – everything you need to cook up a storm for the family. Are you running low on good quality kitchen utensils? Then you will be pleased to know that a solid spoon and a slotted spatula are also included in this cookware set. 
Features
The soft-touch handles on this cookware set have been riveted, helping you to get a more steady grip on your pots and pans to prevent slipping and accidents in the kitchen. 
Never wash a pot or pan again! This cookware set is dishwasher safe – let the machine do all of the hard work for you!
T-Fal have put this cookware set together with a titanium advanced non stick interior – a superior non stick surface that will help you to cook your favorite food using little to no oil.
Pros
All the pans heat up evenly
Food doesn't stick to the surface of the pans while cooking and slides off like a breeze
You only need to use the tiniest of oil or no oil at all while cooking
Cons
Not much durable and sturdy
Prone to scratching easily
About T-Fal
If you are looking to replace your entire cookware set with one by T-Fal then you are probably intrigued to know a little bit more about the company before you do so. Here is a list of facts about them that will help you to be more confident when purchasing your next cookware set. 

T-Fal makes their cookware based on the guidance of the company motto: make your everyday life easier. Nothing will make life easier in the kitchen than having reliable and high-quality cookware set behind you and that is why all of T-Fal's products are really top of the range.

T-Fal has worked so hard to stick to their motto and have reaped great results from doing so as they have become world leaders in non-stick cookware – the best and most important cookware for cooking the finest meals in the kitchen. 

Non stick cookware is really important as not only does it help your food to cook more evenly and helps it to release easier, but it also makes your cookware easier to clean – and let's face it, who doesn't like the idea of spending less time washing up and longer tucking into a delicious meal with family and friends? T-Fal was founded in 1956 and has put all of its energy into producing the best non-stick coating ever since.
FAQ
Is T Fal good cookware?
Yes, T Fal is a great quality brand especially when you are operating on a budget. Though they may not compete with premium brands that cost in excess of $500, T-Fal sets will last for many years.
Are T Fal pans safe?
Yes, the Teflon used on the pans is very safe as long as the temperature does not exceed 570 degrees Fahrenheit (300 degrees Celsius) 
Conclusion
Now that you have had a look at the above mentioned T Fal 12 piece cookware set reviews I am sure you have had your appetite whet to look at the other cookware sets T-Fal has to offer. As you saw at the outset, T- fal is renowned for creating non-stick cookware that lasts the test of time so they should definitely be considered when you come to choose your next cookware set. 

You will be pleased to know that not only does T-Fal make reliable cookware, but it does so at a great affordable price. T-Fal cookware sets also come in a variety of numbers of pieces, with some sets being the perfect size to replace pretty much every pot and pan in your kitchen and with other sets coming with just two or three chosen pieces to compliment your current cookware set.

So, before you click "confirm and pay" on that cookware set you have had your eye on for a little while now, make sure you consider T-Fal to provide you with one of the best cookware sets you can get your hands on that has the perfect balance between durability and great quality with affordability. 

Happy cooking!