If you are looking for a new cookware set, you should consider the Cuisinart Multiclad Pro. Why? The Cuisinart MCP-12N cookware set is ideal for busy families and hectic kitchens.

Are you looking for a cookware set with all of the right pans to help you cook any meal and deal with just about any eventuality? Are you after a set that will provide you with a few similar options just in case the pan you need just so happens to be sat in the fridge, in the sink, or is MIA altogether? Then let me assure you that the Cuisinart Multiclad Pro is the cookware set for you.

Throughout this article, I will present you with this fine Cuisinart Multiclad Pro review and show you all of the features that have gone into making it a pretty awesome set. I will also show you a list of pros and cons of the cookware that will help you to make the best decision when purchasing your next cookware set. 

So, if you are ready to see what the Cuisinart Multiclad Pro is all about, make sure you take a peep at the overview below and make a note of the link on this page that will help you to purchase it today.
Cuisinart Multiclad Pro Overview
What are some of the key features on this Cuisinart Multiclad cookware set? Take a look at the information below which will show you just what they are.

This cookware set contains two covered saucepans, two open skillets, one covered sauté pan, one covered stockpot, and one steamer insert with a lid. That's right, now you have a pot and pan for pretty much any occasion.
Drip free pouring. Are you fed up with messy kitchen countertops and with cleaning between gas rings? Don't worry, so is everyone, and that is why this cookware has been designed to help. The rims on this cookware have been tapered to facilitate drip free pouring, making it easier for you to pour the contents of this cookware without making a mess of your kitchen stovetop or counters. 
Stainless steel lids. The tight fitting lids on this cookware will help you to lock in nutrients and heat when cooking.
Oven safe. Another nice feature on this cookware set is the fact that it is oven safe up to 550 degrees Fahrenheit, making this the ideal set of pots and pans to use on the stovetop and then transfer directly to your oven without having to dirty other cookware.
Cuisinart Multiclad Pros & Cons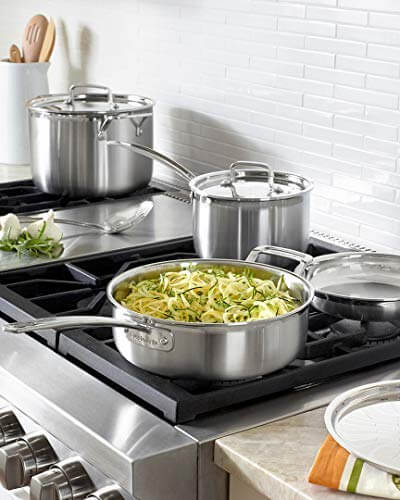 What are some of the bonus features you can look forward to with this Cuisinart Multiclad Pro? Take a look at the following list of pros and cons that will show you some of the hidden gems and specifications that users love on this cookware set and some of the things they say could use improving.

Pros
Cool grip handles. The cool grip handles on this cookware set are a nice feature that allows you to handle the set without the use of an oven glove or a tea towel even when cooking on the stove with high temperatures.
Dishwasher safe. It is safe to say that one of the winning features with this cookware set is the fact that it is entirely dishwasher safe. That means no more scrubbing or soaking is required at the end of a busy day. What a relief that is!
Cons
Brushed finish. The outside of the cookware has a smart brushed chrome finish. While this looks very smart when new, some users have complained that it is difficult to keep the set looking pristine as it easily shows up dirt, dust, and fingerprints because of the highly reflective surface. They have also said that it is tricky to keep the underside of the pans looking shiny when cooking on a gas stove.
Conclusion
If you are looking for a top of the range cookware set, you cannot go wrong when choosing the Cuisinart MCP-12N as your best buy. Why's that? Not only does this cookware set include all of the best features such as stay cool handles, tapered drip free rims and a mirror like shiny exterior, but the set also comes with surround technology which helps to distribute heat evenly across the base of your cookware so that your food cooks evenly, avoiding hot spots and burning. The surround technology also helps your cookware to heat the walls of your pots and pans faster helping your food to cook faster and to retain heat once it is finished. You will now be able to get dinner on the table faster than ever before!

All of these features have been wrapped up into a dishwasher safe set that is robust and will continue to look the part with time. 

Are you ready to start using one of these Cuisinart Multiclad Pro cookware sets at home? Then make sure you treat yourself to one today! Follow the link on this page and get started cooking with your new Cuisinart set as soon as possible!