Kitchen appliance enthusiasts and lovers of all things healthy eating are getting behind the Nutribullet RX blending system as one of their favorite options to mix together their choice of fruits and vegetables. 
The Nutribullet RX 1700 is a fantastic blender model, but I am sure you have already asked yourself – how can I be sure that this is the right model for me and my family? Do not worry as this article is a very thorough overview of our thoughts on this blender after experimentation in our kitchens. 
Nutribullet RX
If there is one thing you should know about an appliance before you purchase it, it isn't necessarily what the manufacturer thinks about the product, but rather, what consumers like you think about it, those who have tested the product in natural home environments and can tell you exactly how it works and how well the unit responds to constant use and washing. In this review this is what we will attempt to do.

Nutribullet RX Review
Are you ready to get the inside scoop on his Nutribullet RX blender? Then stay tuned as we will be covering it all in this article, including pros and cons and a list of features and specifications!
Overview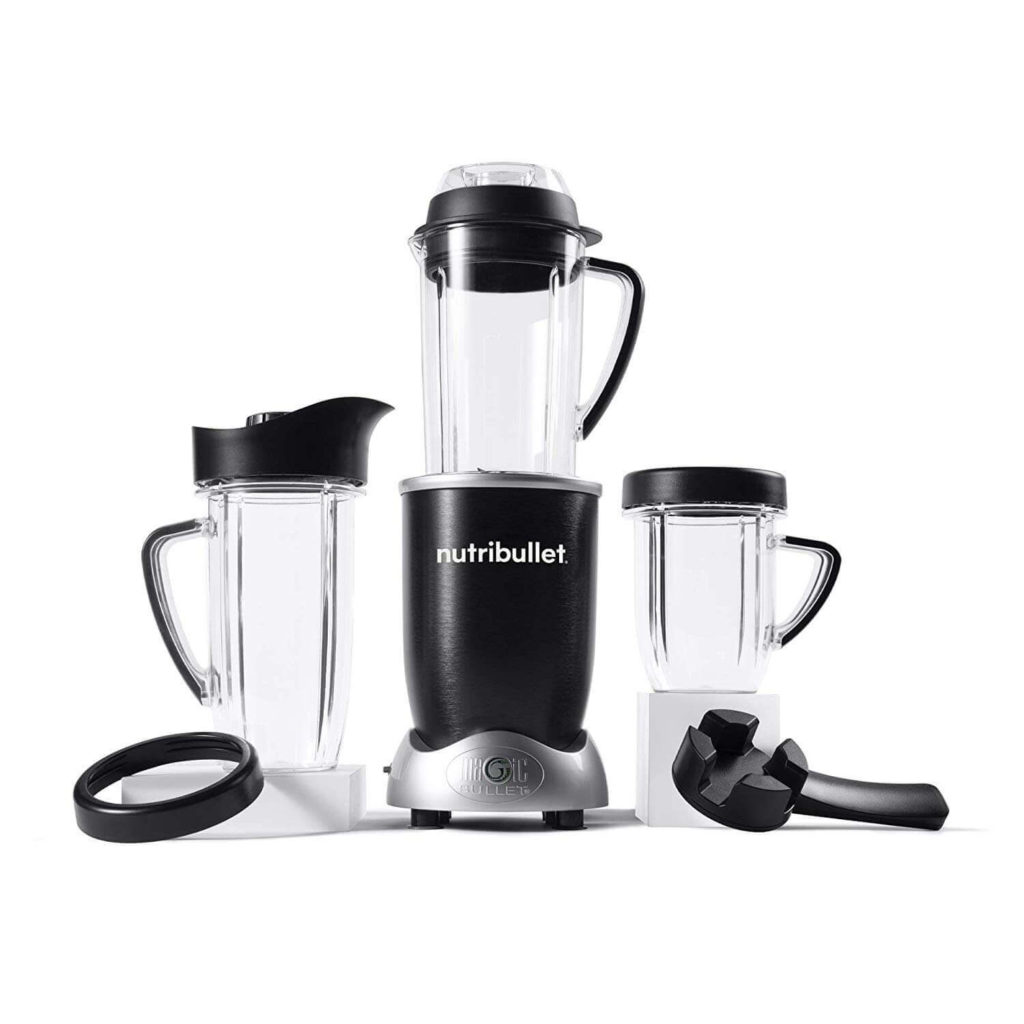 So first things first, let's have a look at what the manufacturers have to say about the Nutribullet RX blender. The following list of features will help you to see how this model functions.
Features
This is more than just a blender or smoothie maker. This blender comes with a handy heating cycle that will allow you to heat the contents, making it possible to create tasty soups and sauces that you can simply pour straight into dinner plates ready to be served without having to then microwave your meals.
This blender has a super robust 1700 watt motor that will crush through the toughest of ingredients including nuts and seeds, helping you to make the creamiest smoothies without bits. It is even possible to make nut butter with this model – now isn't that groovy!
This is the ideal blender for making something for one – thanks to the 30 ounce container that is included in the purchase. You can even make something for the whole family as the blender comes with a one liter pitcher, perfect for sharing the juice around with everyone. The blender also comes with a slightly larger carry cup for those big appetite mornings or for those days with long meetings.
Pros & Cons 
Here is the most important part of the review. The following pros and cons are full details of our initial and continued impressions of this blender.
Pros
Recipe book. The purchase of this Nutribullet RX blender comes with a handy recipe book that will help you to get more out of your blender using a variety of tasty ingredients. There is so much more to this blender than meets the eye!
Hands free technology. This blender has been designed with an innovative hands free smart technology that will allow for the operation of the blender without the user having to keep an eye on the blender. It will stop itself when the ingredients have been thoroughly mixed together.
Carry cups. The two carry cups come with sip and seal lids and handles that make it easier for you to transport a smoothie with you on the go. It has never been easier to eat healthier!
Cons
One of the only downsides that consumers found with this model is the fact that it does not come with varying blending speeds, making it difficult to stick to some recipes that require fine tuning when blending.
Conclusion
I am sure you will agree that it is so much better to find out the ins and outs of an appliance and consider some opinions and feedback on a model before going forward with a purchase. That is why this article has provided you with a wealth of information on the various features on this Nutribullet RX blender that will help you to get a better picture of the blender before you purchase. 
Paragraph
Nutribullet blenders are extremely popular, and they have been around for a while and every new model that they create is more in tune with our modern fast paced life and way of living.
And the same can be said about this model. The handy carry cups with handles reflect how important it is for us to have the ability to take our scrumptious smoothie and shake creations with us on the go in one simple movement.
The fact that the cups can be placed in the dishwasher also helps to make this Nutribullet RX a model that can be cleaned quickly and simply, without any extra effort required on the behalf of the user.

Do you like what you have seen in the Nutribullet RX blender today? Then make sure you treat yourself to a model!