Everything in life seems to have a touchscreen interface nowadays and the team down at Ninja is keeping up with the trend. That's why they have created an unbeatably fabulous Ninja smart screen blender review with all of the regular blender features (with a few brilliant bonus features of course) and the capability to control it all via its touch screen display. Nothing screams slick, high quality and premium goods like the way a Ninja smart screen blender looks when sat on the top of a kitchen work surface.

But apart from the touch screen, what is it that everyone is ranting and raving about with this model? Stay tuned throughout this article to find out everything that the Ninja smart screen blender duo with freshvac technology has to offer. Not only will this article provide you with a great overview of the Ninja 2 in 1, but it will also show you the pros and cons of this model so that you can purchase with confidence.

So if you are ready to check out the fresh and innovative interface design by Ninja and everything else this smart screen blender will bring to the table, keep on reading – you will not want to miss out
Overview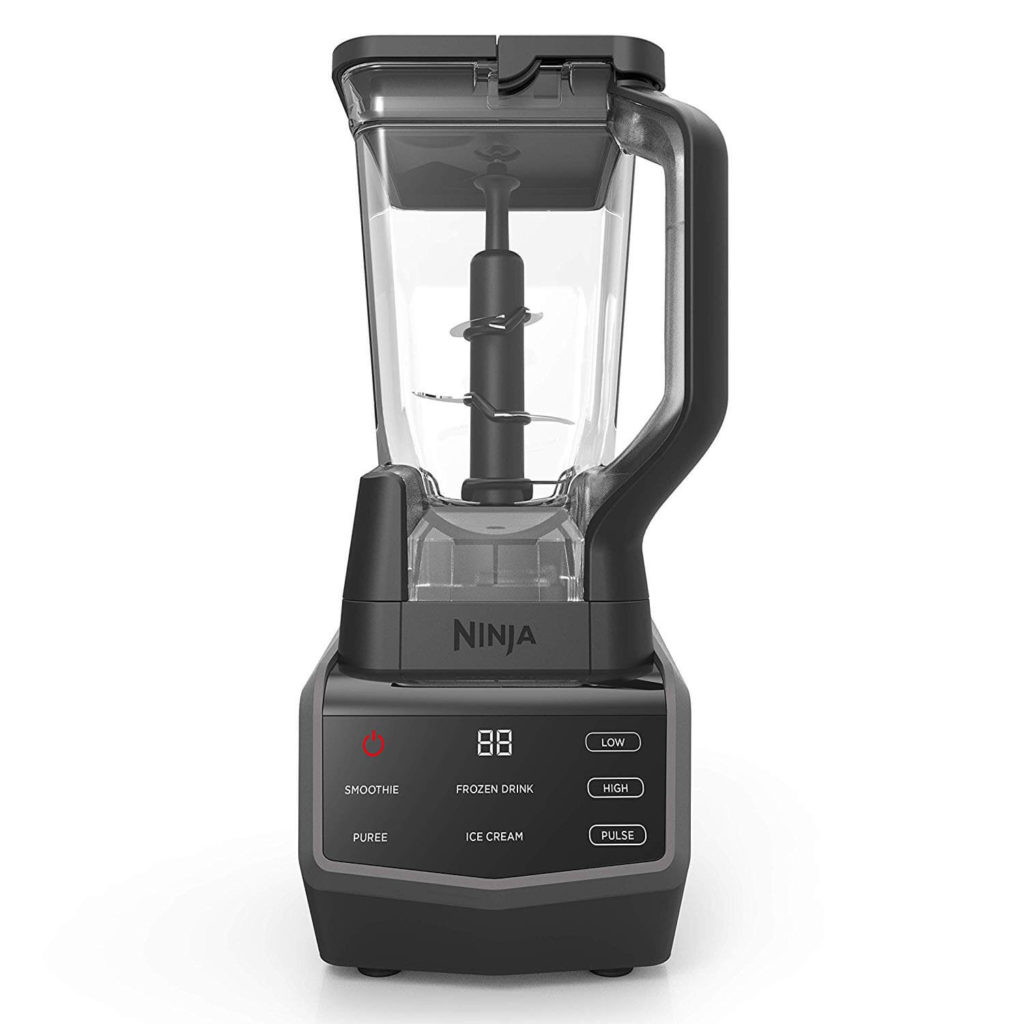 So just what has this Ninja smart screen blender got to offer? Take a look at the following overview that will tell you exactly what you can expect from this awesome blender.

Powerful motor. The Ninja smart screen blender comes with a wickedly powerful motor that will crush ice into snow in a matter of seconds. The 1000 watt motor is the perfect solution for cutting through super tough veggies or slicing and dicing leafy greens.
Touchscreen. As already mentioned, the blender features a long lasting touchscreen that is easy to use and simple to wipe clean.
Pre programmed settings. Put the recipe book down at let the blender do all of the calculating for you! This smart screen blender comes with preset programs that will help you to make the creamiest ice cream, the coolest frozen drinks, the thickest puree, and the most healthy smoothie with just a light tap on the interface.
Family sized. There is nothing fun about having to make various batches of the same recipe. That is why this Ninja blender comes with a generously large 72 oz pitcher so that you can make something scrumptious for the whole family to enjoy in just one go.
Pros & Cons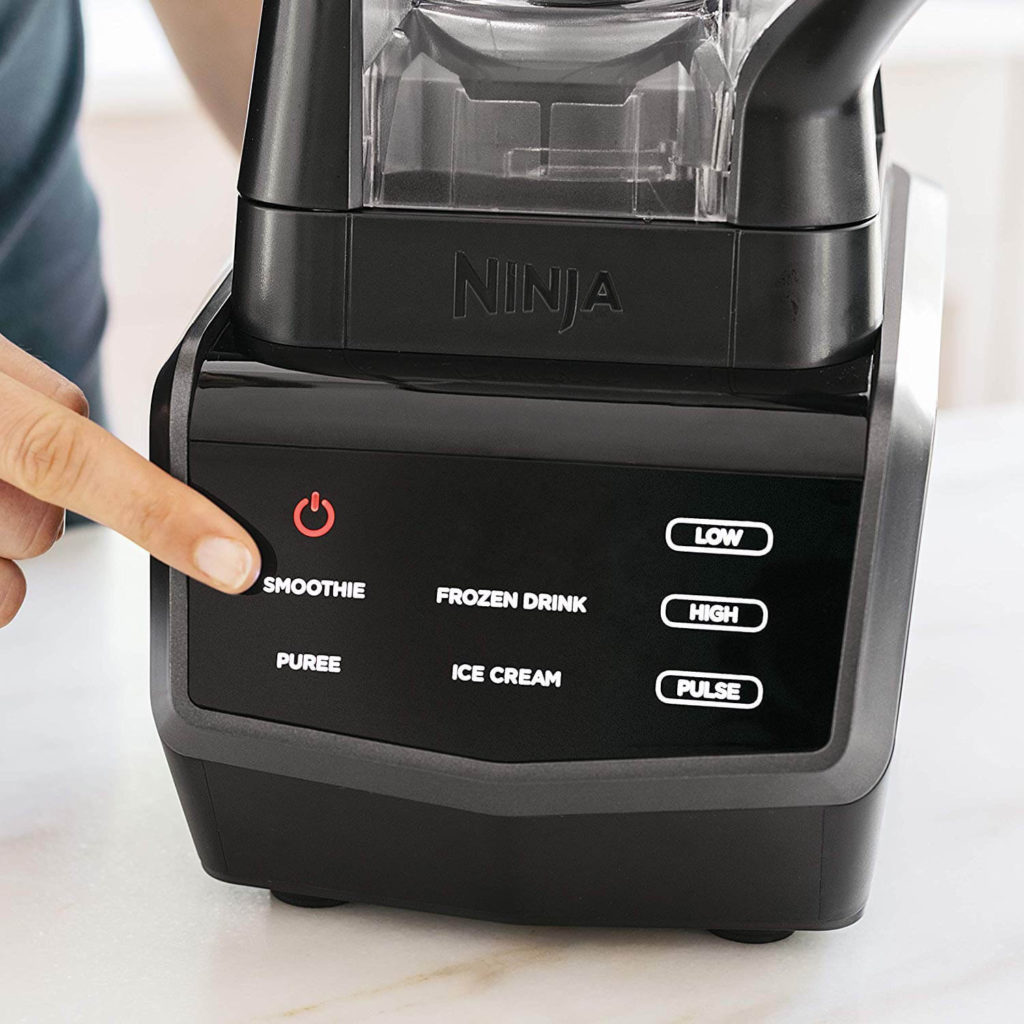 So you may be wondering, – what do consumers think about the blender? That is a great question to ask as although the manufacturers may be 100% convinced that their products are the best thing since sliced bread, it is often the consumer that finds little things about the performance of the appliance that could be tweaked. Take a look at the following list of pros and cons to find out what everyone is saying about the Ninja smart screen blender.

Pros:
Touch screen interface. The touch screen feature on the Ninja smart screen really kicks this blender a notch above the rest as it is simple to use, durable, and easy to clean. Say goodbye to cleaning around buttons and dials as the interface on this blender can be cleaned with one easy sweep. Now isn't that easy?
Pre programmed settings. The settings on this blender make it a whole lot easier to use. It contains settings for some of the most popular blender recipes so add your ingredients, pop on the lid, tap the button, and relax!
Cons:
Some consumers have noticed that the blender's pitcher develops stress cracks quickly, which takes away the like new feel and makes the blender's jug look aged within a short time.
Conclusion
Blender models are most certainly evolving and getting easier to use, but the Ninja smart screen blender that we have been considering in this article definitely blows quite a number of other blender makes and models out of the water thanks to its fantastic touch screen display. If you are looking for a great blender with a modern touch, you will love this model!

Once your smart screen blender has arrived at your door, I am sure you will be keen to keep it in tip top condition for as long as physically possible. To do so, make sure that when you clean the exterior of the blender, you do so with a damp, non-abrasive cleaning cloth. Using abrasive cleaning cloths to wipe over the touch screen display on this unit will scratch it over time. You will also want to use non-abrasive cleaning cloths to wipe over the entire unit, both the interior and the exterior in order to keep it from scratching.

You will not be disappointed by your Ninja smart screen blender so make sure you get hold of one asap so that you can start whizzing together some delicious smoothies, frozen drinks, purees, and ice cream in time for the family to sample this weekend.