If you are looking for a brand new personal blender, you have probably been faced with quite a few options when browsing the internet. There are loads of choices to make, such as the size of the unit, the preset features it comes with and how strong its motor is. But one of the most tricky decisions of them all will most likely be choosing between a Magic Bullet and a NutriBullet blender and seeing which blender will be best for you. 

This article contains the most up to date Magic Bullet reviews and NutriBullet reviews so that you can get a feel of each blender and decide which one will best suit your needs. Asides from Bullet blender reviews and overviews, I will also list some of the pros and cons that consumers have noted when purchasing a NutriBullet blender, so that you will be in the know about the ins and outs of this blender and can make the best decision when purchasing.

So if you are ready to see who will win the war – Magic Bullet or NutriBullet blenders, stick with me throughout this article to take a closer look at them and choose your winner.
Overview
It is time for the ultimate Magic Bullet vs NutriBullet showdown, and to start it all off, the following is a list of features on both blenders so that you can compare their specifications and choose the blender that best fits you. 

Magic Bullet 
Motor. The 200 watt motor that is great for your everyday blending needs.
Capacity. The pitcher has an 18 oz  capacity – making this blender ideal for personal use.
Weight. This is a lightweight blender, weighing just 4.6  pounds.
Cleaning. The cups on this model are top shelf dishwasher safe for easy cleaning.
Height. This blender measures 12 inches high – perfect for nestling it between your kitchen countertop and kitchen units.
NutriBullet
Motor. The NutriBullet is well equipped with a 600 watt motor that will help you to crush through even the toughest of ingredients faster than ever before.
Capacity. The pitcher has a generous 24 oz capacity so that you can share your delicious creations with family.
Weight. Slightly heavier than the Magic Bullet, this NutriBullet blender weighs in at 7 pounds.
Cleaning. The cups on this model are top shelf dishwasher safe for easy cleaning.
Height. This blender measures a mere 14 inches high.
Magic Bullet Review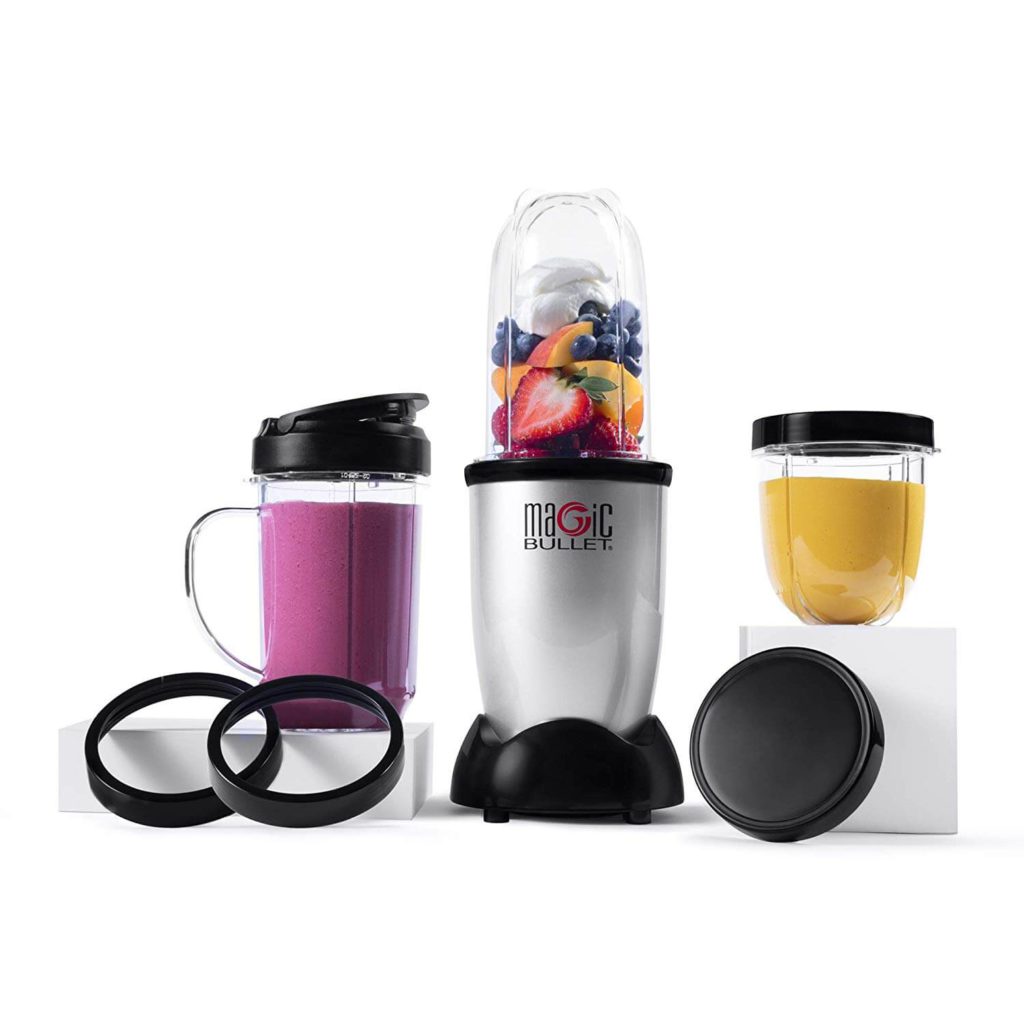 Now that you have had a look at some of the quick facts about the Magic Bullet and NutriBullet blenders, I am sure you are keen to find out some more in-depth information about them both so that you can decide which blender will be the one you purchase today. In order to find out a little more, take a look at the following Magic Bullet blenders reviews that will dive a little deeper and let you in on everything it has to offer. 

Take the goodness anywhere!
The Magic Bullet blender is becoming increasingly popular among shoppers across the nation because of the users' ability to create a delicious smoothie and take it with them anywhere they would like. The blender comes with cups and sip and seal lids that make this the perfect portable smoothie without having to worry about dirtying additional pitchers or containers.
Easy cleaning!
The cups included with the Magic Bullet set are all safe to be washed on the top rack of your dishwasher, making tidying up at the end of the day a piece of cake.
Super speedy recipes!
Are you looking for ways to get more out of your Magic Bullet blender? Then you will love the recipe book that comes with your purchase, listing tonnes of tasty 10 second recipes that will help you to expand your cooking horizons.
Compact design.
The compact design on this blender makes it the perfect fit for small kitchens or for those with limited kitchen countertop space. The Magic Bullet blender has been designed to fit perfectly between your kitchen work surface and your kitchen units so that it is easy to tuck away out of sight. It will also fit neatly in your kitchen cupboards as it only measures 13.2 x 6.9 x 10.6 inches.
Nutribullet Pros & Cons
One of the best ways to find out the ins and outs of a product is to take note of reviews from those who have already tried and tested it. If you are considering purchasing a NutriBullet blender but are not too sure whether you should do so or not, take a look at the following list of consumer pros and cons in this Bullet blender review that will help you to see what users are saying about the performance and practicality of this appliance. 

NutriBullet Pros
Space saving. If you are working with a limited cooking space or storage space, the NutriBullet blender is the one for you as it is small and compact and perfect for squeezing into tight cupboards. The unit measures just 8 inches in height – the ideal blender that can easily be tucked out of the way.
Dishwasher safe. Another one of the most important features of this blender is that the cups and lids are dishwasher safe. They are best kept on the top shelf of your dishwasher where temperatures are not too high. This makes it easier than ever to get your blender unit clean without getting your hands dirty.
Great price. It is not easy to find a great all-round blender, and when you do, prices often like to sky rocket over 100 dollars, which can seem quite extortionate especially if you are looking for an appliance to simply mix a few of your favorite fruits together in the morning. That is why the NutriBullet is becoming a household favorite thanks to its competitive prices and the quality build of the blender making this unit fantastic value for money that is not easily beaten by other blender makes and models.
NutriBullet Cons
Warranty. The warranty on the NutriBullet is valid for just one year, and although user reviews are extremely positive about the unit, the one year warranty can be a bit of a worry for first time blender buyers. 
Conclusion
So what can we conclude from our Magic Bullet vs NutriBullet showdown? Here are some of the features that are virtually on par between the Magic Bullet and the NutriBullet blenders:

Both blenders come with one speed option and a pulse button which is great for following different recipes. 
Both the Magic Bullet and the NutriBullet blenders both operate using two blades that will whip through even tough fruits and vegetables.
They are both dishwasher safe, and ideal for placing on the top rack of your dishwasher, saving you time cleaning in the kitchen.
Both blenders come with a handy recipe book that will provide you with inspiration on more blending meals.
And here is where they differ:

The NutriBullet has a larger cup than the Magic Bullet, helping your delicious creations to go further.
The NutriBullet works on a more powerful motor, so it will create your smoothies faster and whizz through tougher ingredients with ease.
Which blender comes out on top? I would like to conclude that the winner of the showdown is mainly based on you, the consumer and how you plan to use the blender as they are both very similar. So consider the facts and then chose which blender best suits you based on pitcher size and motor speed!