Starting a new year means making New Year's resolutions and what can be a better resolution than deciding to eat healthier and pack more fruit and vegetables into your diet. Now, we all know that eating healthier sounds great in theory and is something that we can motivate ourselves to do for a short period of time, but getting into shape can be tricky when you are trying to follow diets that involve complicated recipes and time-consuming preparation methods. 

Nutribullet Pro 900 Blender Review
What can be a quick and surefire way for you to get more fruits and vegetables into your diet each day and help you stick to your resolution? Why not try a Nutribullet Pro 900-watt blender that will help you to make some of the most delicious fruit and vegetable smoothies in the mornings as a breakfast drink or as a filling snack between meals.

Nutribullet Pro 900 Blender
If you are after a brand new blender, then you will love this article as it will explain more about the Magic Nutribullet Pro 900 series, and all of the fantastic features it comes with that make this blender popular with those who are trying to eat healthier this New Year. Take a look at the Nutribullet Pro 900 reviews included in this article to get started!
Nutribullet Pro 900 Overview
There are so many great features on this Nutribullet Pro 900 that I am sure you will love and will make it easier than ever before to consume your five a day before even leaving the house for work in the morning. Take a look at the following overview of everything this blender has to offer:
Nutribullet Pro 900 Features
900 watts. The Nutribullet Pro 900 works with 900 watts of power that will help to blend even the toughest ingredients into a creamy smoothie. You can even add spinach and other leafy greens to the mix!
60 seconds. Most smoothies can be made in the Nutribullet Pro 900-watt blender in 60 seconds or less, making this the perfect blender to use in the morning so that you can have something delicious and nutritious to take with you on the go without taking up too much time.
32 oz. The Nutribullet Pro 900 has a 32 oz capacity – a great size pitcher that will help you to make generous personal sized smoothies. The sip and seal lids make it easier than ever before for you to simply remove the pitcher from the stand, snap on a sip and seal lid and away you go, smoothie in hand.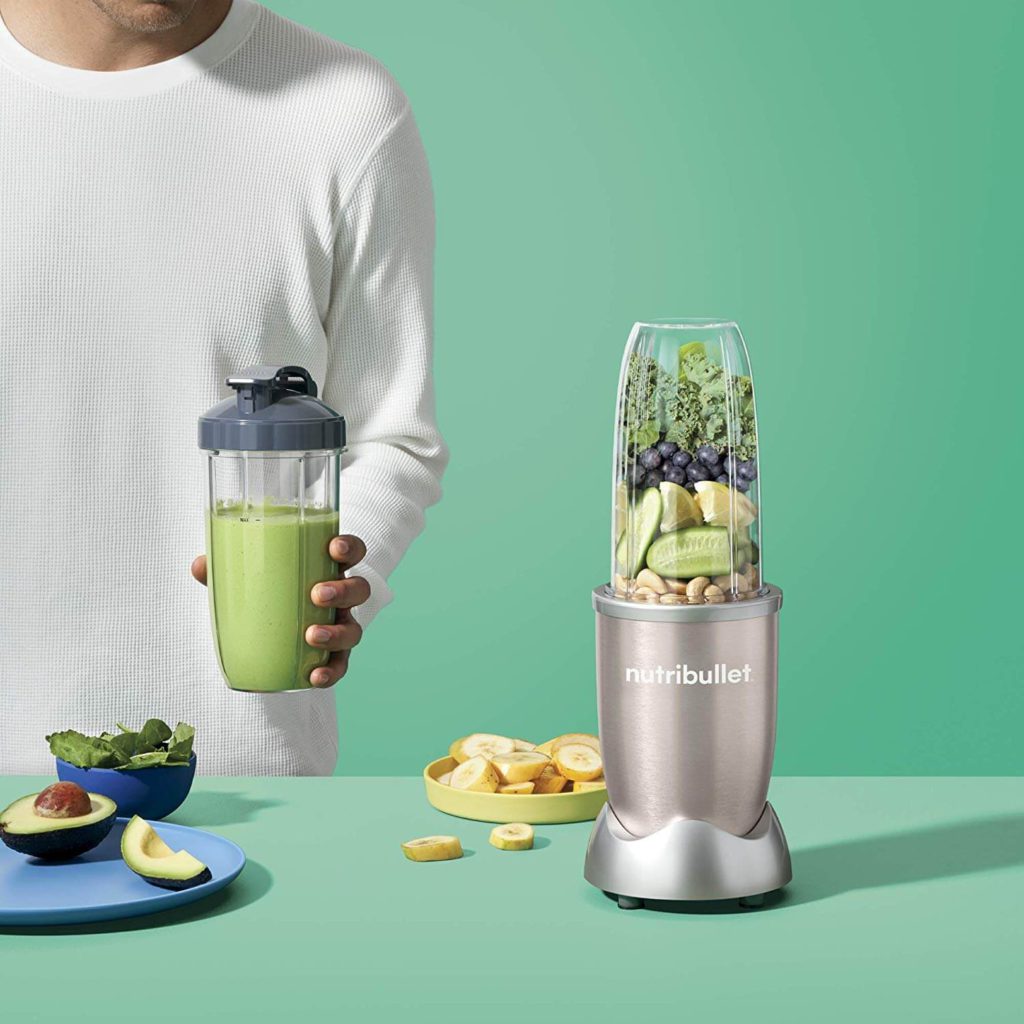 Nutribullet Pro 900 Pros & Cons
Is your finger hovering over the trigger, ready to purchase a brand new Nutribullet Pro 900? Then I am sure you will not be disappointed.
But if you are still a little unsure about whether you should go for it or not, why not take a look at the following list of pros and cons that will help you get a better look at the blender and how it works.
Pros
Super speed. Consumers love the Magic Bullet Nutribullet Pro because it can whip a smoothie together in less than 60 seconds, meaning you can get some tasty results in next to no time!
BPA free. The whole unit is made from BPA free plastic so that it can be used with real peace of mind. 
Washable. The blender is easy to dismantle and wash by hand. And it can also be washed on the top rack of the dishwasher, making it even easier to get the smoothie maker clean and ready to be used again tomorrow.
Cons
Some consumers have observed that the Magic Bullet Nutribullet Pro is noisy when operating and may disturb sleeping family members if you are using it in the morning to make a smoothie before leaving for work.
FAQ
Is the NutriBullet 900 worth it?
When it comes to choosing a blender, Nutribullet is one of the most effective ones that you can find. It comes with a powerful motor which is perfect for making smoothies.
Can the NutriBullet 900 crush ice?
It can crush ice but that might cause wear and tear to the blades over the long run.
Which is better NutriBullet or Nutribullet pro?
Nutribullet Pro is a better option here considering the power of the motor and the performance it gives at the value.
Conclusion
Sticking to a New Year's resolution is not easy, but there is no better decision than resolving to eat healthier and get more fruits and vegetables into your diet. Although it is not easy, there are some things you can do that will make it simpler to reach your goal and one of those is purchasing a Magic Bullet Nutribullet Pro blender. Thanks to the sip and seal lids and the large 32 oz pitchers, there has never been a quicker and more manageable way for you to take a smoothie with you as you commute to work or to pack a delicious mix of fruit and vegetables into your kids' packed lunch bags to enjoy during recess at school.
Keeping up with diets that involve a lot of measuring can be time consuming, but there is nothing faster than chopping a few fruit halves and emptying them into a pitcher, screwing the lid on and allowing them to whiz around in the blender for 60 seconds! 
So if you are looking for a way to get healthier without adding long winded processes to your day, then I am sure you will not regret purchasing a Nutribullet Pro 900. Add one to your basket today to start up on your healthy eating journey!