If you are looking for a copper base cookware set that just screams quality, you should look nowhere else than to an Anolon Nouvelle copper hard anodized nonstick cookware set. 
Anolon Nouvelle Copper
What is so special about Anolon Nouvelle? I am glad you asked, as we will be discussing the answer to this question in today's article. This article will go on to discuss a variety of topics to do with this set including Anolon cookware warranty, Anolon Nouvelle cookware materials, and will discuss what is included in the set and a list of pros and cons that you will find handy to consider before purchasing.

Making a final decision and choosing the perfect cookware can be a little bit of a headache, and it can be more than frustrating when you end up paying an arm and a leg for a cookware set that is bog standard at best.
Anolon Nouvelle Copper Review
I am sure we have all been in the position where we have purchased something online without looking at the reviews and really regretted the purchase later. That is why this article will provide you with all of the information you need about the Anolon Nouvelle copper nonstick cookware set that will help you to make the best decision when purchasing.
Overview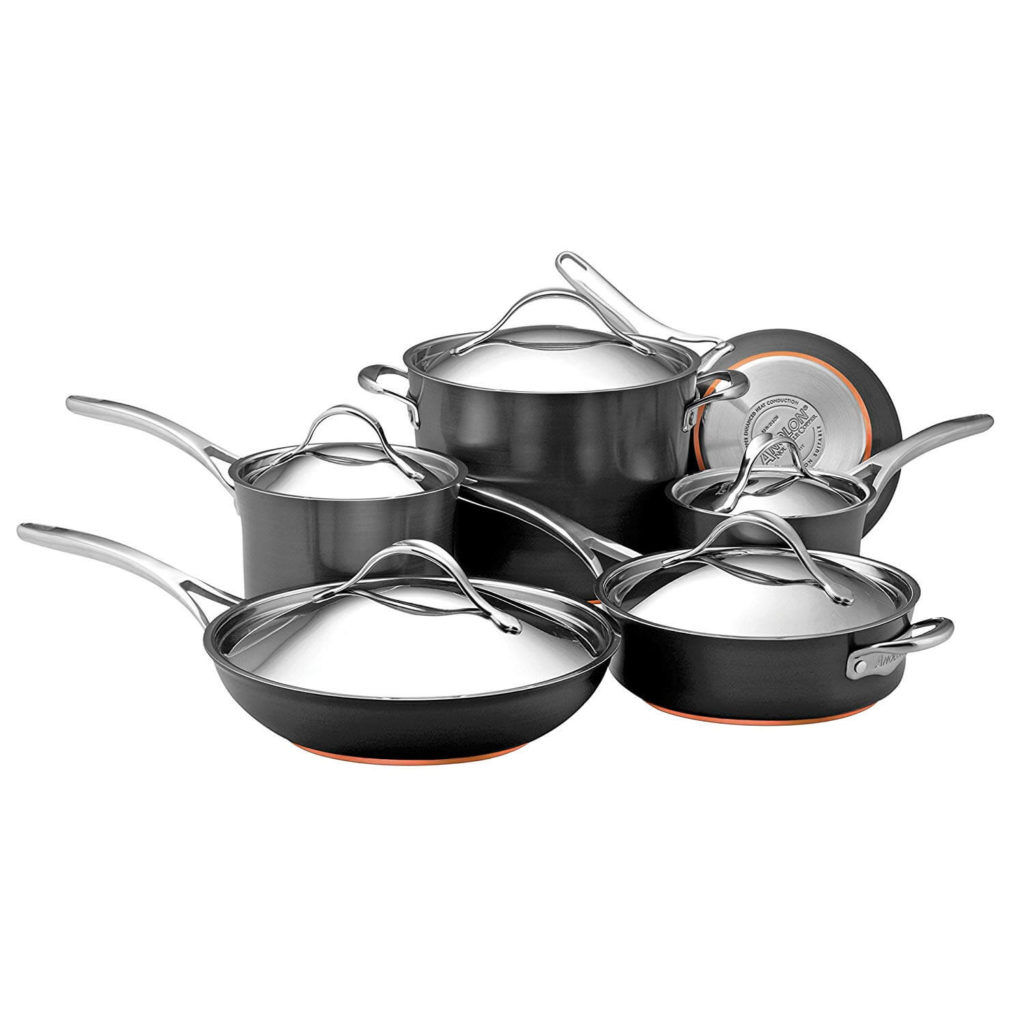 Well, let's get cracking. What is it that makes this cookware set stand out from amongst the masses available to you? Take a look at the following information that will answer that question.
Features
This set comes with everything you need to start cooking a wicked meal in the kitchen as it includes two saucepans with lids, one stockpot with a lid, one frying pan, and one sauté pan with a lid. That's right, with this cookware set to hand, you will have everything you need to rustle together something tasty for the family dinner party this weekend.
This set has a stainless steel construction with a copper base. The copper base technology helps the cookware to spread the heat across the base more evenly, making it easier for you to steadily cook delicious meals. The copper base also helps to prevent cooking problems such as sticking and burning as your food will cook at the same pace as heat is distributed from the center of the pots and pans outwards.
Are you fed up with decanting and changing cookware to ovenproof dishes? Then I am sure you will love this set as it is oven safe up to 500 degrees Fahrenheit.
Pros & Cons 
Stay tuned! There is so much more that can be said about this Anolon Nouvelle cookware set, that is why I am sure you will find the following list of pros and cons informative..
Pros
This set boasts robust stainless steel handles that have been ergonomically designed to fit comfortably in your hands, reducing wrist fatigue and other problems that develop from using bulky and heavy cookware for extended periods. The handles have been double riveted to ensure their sturdiness and to help them stand the test of time.
It is always a bit nerve wracking when you have to make a big purchase, but there is one feature on this Anolon Nouvelle set that will help to calm your worries altogether. This cookware set is backed by a lifetime warranty so that you can purchase with confidence.
One of the features users love on this set is the smart tulip design that makes it stand out from among the others. This design helps the cookware to blend into your kitchen as a delicate feature rather than a bulky and eye-sore like cluster of pots and pans.
Cons
There were no significant cons found with this model, however, it is a bit pricey, but that is to be expected as it is a quality set.
Conclusion
There is nothing better than being entirely satisfied with a purchase. Unfortunately, that does not happen very often nowadays as manufacturers tend to stretch the truth about their products and have a cunning way of getting around negative feedback. That is why I love this 10 piece cookware set by Anolon Nouvelle as the price matches its great quality and its fantastic design that consumers love.
This set comes with all of the features you need in a cookware set – such as sturdy handles, deep set lids, and a great variety of pots and pans. It also comes with a nice selection of bonus features such as copper bases that heat food faster, a lifetime warranty, the oven safe ability to help you go from hob to oven in a flash, and a tasteful tulip design that will help the set to look the part when placed on your kitchen countertop or when stored in kitchen cupboards. 
Do you like what you have seen in this 10 piece set? Then make sure you treat yourself to one today by following the link on this page! I am convinced that you will be nothing but pleased with the purchase of this set!
As always, happy cooking!