Did you know you could cook just about anything in an electric skillet? An electric skillet is a convenient kitchen appliance that is great if you are short on time or space. 
When I first started researching these electric skillets I was amazed at what you can cook inside of one. They're also great because the whole kitchen doesn't need to get hot when I'm turning on the oven earth stove. 
Anyway, let's not waste any more time and dive deep into finding you the best electric skillet in 2020. 
Comparison Table
Table could not be displayed.
Top 6 Electric Skillets In 2020 Reviews
Elite Platinum EG-6203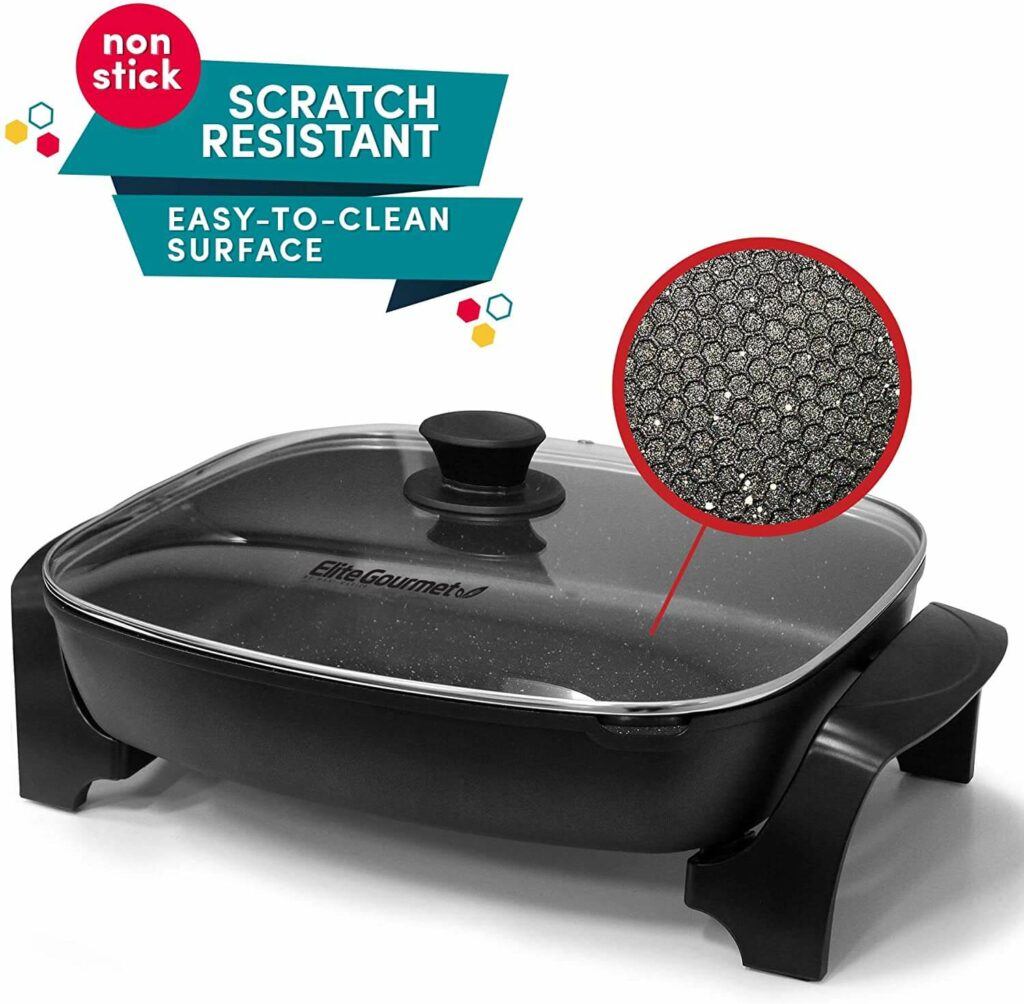 The elite gourmet electric skillet is actually one of our favorites. It comes in three different sizes. 
Overview
Like all the others it is dishwasher safe and heats quickly and evenly. This one may have better temperature control, heating from 200 degrees to 400 degrees fahrenheit, which helps prevent hot spots or your food sticking. 
Feature
The 16 inch version is large enough that you can fry a whole chicken for your entire family. 
The walls are slightly taller than others, which helps prevent splatters and any grease splashing onto your countertops. 
The non-stick surface is PFOA free with a marbleized honeycomb design. This one also comes with a one year warranty So if you have any worries about the nonstick coating, you may want to consider this one. 
One feature that this has that some others don't is a neat little pour spout. If you are draining the liquid for cleanup or maybe pouring into a gravy bowl, this is very convenient. 
With a 4.6 star rating, many customers love this product. Many say that it heats very evenly compared to other less expensive skillets. 
The complaints seemed to be all over the place and are probably an on off product. Some say it gets too hot, some say it doesn't get hot enough. This is typical with any product that you see. 
Pros
Easy to operate
Has a temperature control feature
Surface heat up evenly
Cons
Claims to be dishwasher safe, but it's ideal not to, as the non stick layer tends to get scratched.
Presto 06852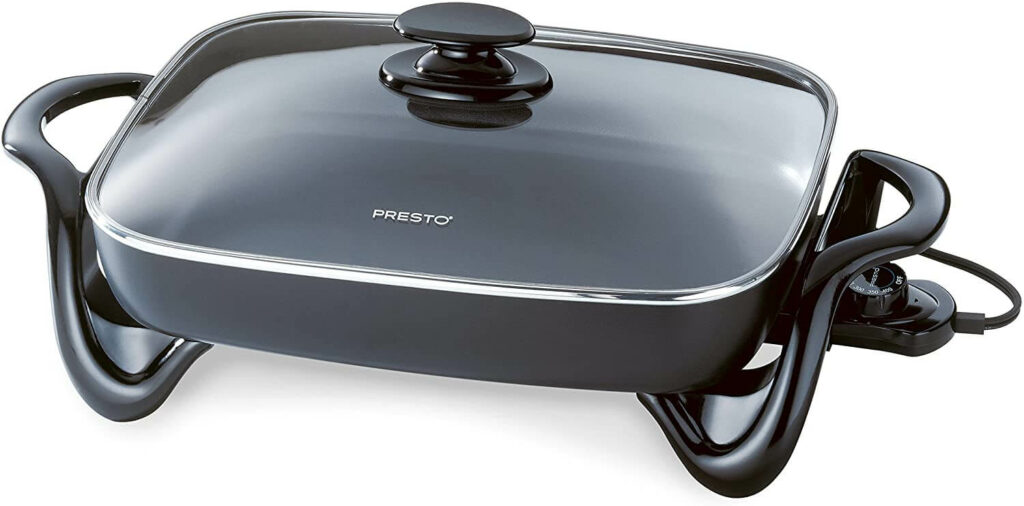 The presto 16-inch electric skillet is a great entry-level electric skillet if you're on a budget or if you just don't want to spend too much on your first one if you're new to cooking. 
Overview
It is made in China, however, it has a premium non-stick surface that helps make cooking easy and clean up as well. Like with all non-stick services, make sure you use the right utensils in here, you don't ever want to use metal as it could scratch the surface.
Feature
Another cool feature on this electric skillet is that after you're done cooking you can set it to stay warm and use it as a buffet server if you have guests over. 
This is also an energy efficient appliance as it saves energy versus using your range or oven. 
Cleanup is a breeze as it is dishwasher safe and you can remove the heat control to the cord. 
This is a very highly rated and popular product with over 3500 reviews on Amazon and has a 4.7 star rating. 
Many customers with larger families thoroughly enjoy this product.
However, these are only a handful of reviews. The overwhelming majority love this product. 
Pros
Easy to cleanup
Dishwasher safe
Easy to operate and use daily
Cons
The number one complaint is that the non-stick coating comes off despite people being careful and not using metal tools and keeping the temperature low.
Uneven heat distribution
De'longhi Bg45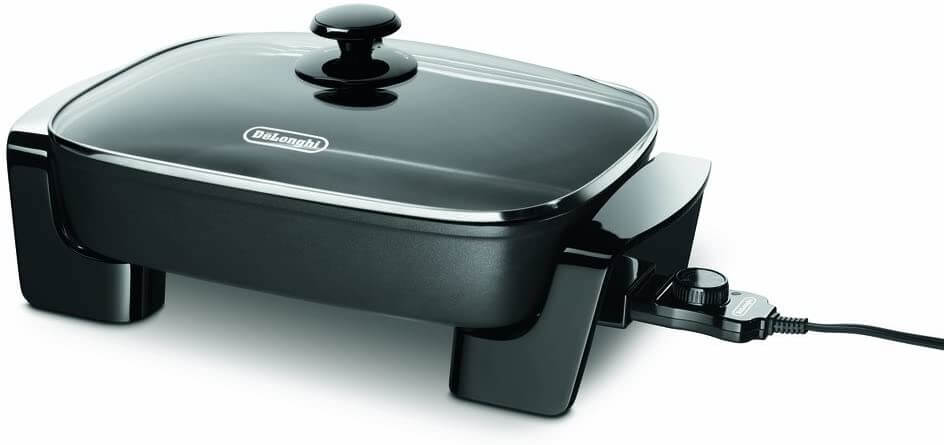 The De'longhi electric skillet is another great electric skillet to consider for your purchase. It is all black with a sleek modern design in a sturdy glass lid. 
Overview
It is slightly larger than the presto listed above. However, it has many of the same features such as the detachable power cord, dishwasher safe, which allows for easy and fast cleaning. 
Feature
You'll be happy to know that as this electric skillet heats up the handles are not part of the pan, so they will not get hot, allowing you to move your food as needed or when it is done to the serving line. 
This skillet like many others is nothing fancy, but gets the job done. It is another highly rated product with a 4.4 star average on over 700 reviews. 
Dislike with most of these the main complaint is that the nonstick coating comes off. This tends to be from heavy users who are using the electric skillet on a daily basis. 
So, if that's what you plan on doing just know that the non-stick coating may come off. However, if you just plan on using this for holidays and special occasions it should be perfect for you. 
Pros
Easy to clean after every use.
Has a glass lid that makes it easy to observe cooking progress
Easy to use on a regular basis
Cons
The non stick coating tends to chip off
Precise Heat Ktes4
The precisely rectangular stainless steel electric skillet is a little bit more expensive than the others probably because of its stainless steel design. 
Overview
However, with the stainless steel, you don't have to worry about a non-stick coating coming off but, there is a little bit more of a learning curve using the stainless steel. 
Feature
You need to make sure this skillet is nice and hot and well oiled before you add your food. You should also make sure that your food is not does not have any moisture on it because that will stick to the skillet. 
The 16 inch size is great if you're serving six to eight people. Again, the feet and handles are also insulated so they don't get hot as the food cooks. 
This electric skillet doesn't come as highly rated but it seems there's a learning curve here. 
With stainless steel, like I said, you need to make sure the temperature is right before you add the food. 
This electric skillet should also be easier to clean as its hard stainless steel surface should shine right up after each use. 
Pros
Good temperature control
Easily heats up
Uniform heat distribution
Cons
Difficult to clean as food tends to stick to the cooking surface
Priced high in comparison to others
Nesco Es-08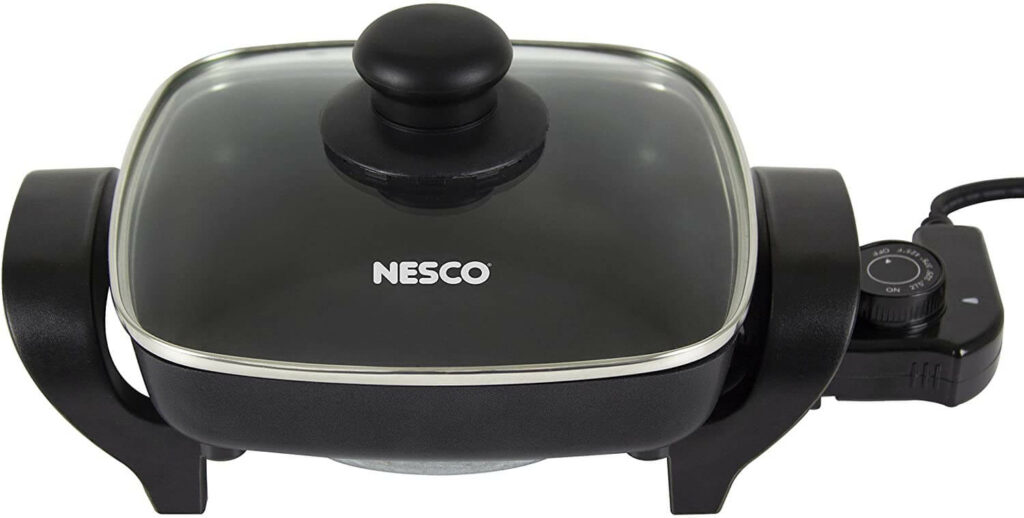 This black Nesco electric skillet is great, if you're on a budget. They have an 8-inch option or a 12-inch option.
Overview
However, this could be great for roasting a whole chicken. the 12-inch option is more like a deep fryer as is a four-inch wall and even comes with a metal rack inside. 
Feature
It comes with the last glass lid and large handles. However, only the lid is dishwasher safe. 
These electric skillets are great for making breakfast, but lunches and dinners as well. Any recipe that you have that's a one-pot recipe would be great for these electric skillets. 
If you go with the eight inch version. This is probably only good to cook for about two people at one time. However, the 12 inch is probably better for 4 to 6 people at one time. 
There are several customers that have updated their views to mention that they've used this for over a year and it's still working fine. So for the price, this is probably the best value for your money. 
Pros
Heavy and sturdy
Easy to clean up
Heats up quickly making the cooking process faster
Cons
When washed in dishwasher it might tend to scratch.
CucinaPro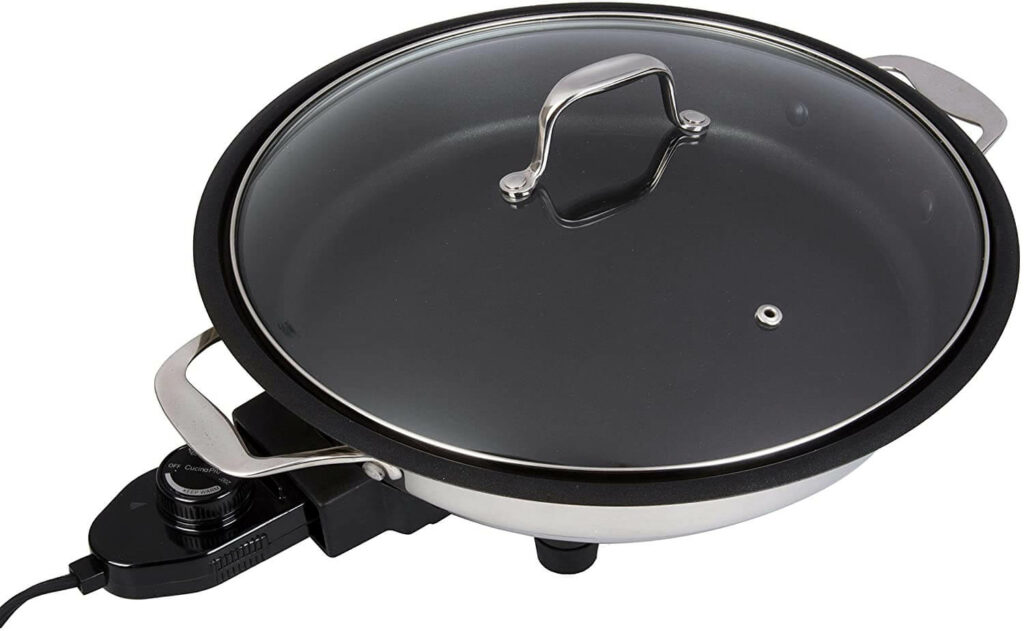 Here's another stainless steel, 12-inch electric skillet by Cucina pro.
Overview
It's not as deep as some of the others but it is well built and Cucina pro is known for a quality product. 
Feature
It is made from 18 gauge stainless steel, so it is sure to last. 
This also makes sure that the interior heats evenly so that your food cooks correctly. The timber glass lid is nice as you can see your food as cooking but it also locks in heat. And there's one small vent hole that allows steam to escape. So, there's not too much pressure. 
We recommend that you hand wash this skillet versus using the dishwasher. It can make your favorite recipes from frying doughnuts to hamburger casseroles with this electric skillet. 
Pros
Very easy to clean up as food doesn't stick to the surface due to its non stick layer
Comes with a glass lid
Ideal for daily usage
Cons
Again, with this non-stick cooker with stainless steel body, there's a little bit of a learning curve, but if you take the time it is well worth the effort. 
Buying Guide
As you can see there are several great options to consider when buying an electric skillet. However, what are some of the important things to look for? 
What Size Should You Get?
Most of these skillets range from either 8 inches to 16 inches with several 12 inch options. The size that you want really depends on how many people you'll be cooking for, do you host a lot of parties often or is it just you and a significant other? 
If you are cooking for 4 to 8 people on a regular basis, you should probably get one of the 16 inch options.
What About The Lid?
Most of these have a timber glass lid which is great as you can see your food. However a few have stainless steel lids that you cannot see through. Being able to see is really the only difference between the two lids. 
Clean up
Most of these but not all are dishwashers safe if you enjoy the convenience of a dishwasher that is something to look out for. However none of these are huge and the food shouldn't stick so cleaning shouldn't be a huge thing to worry about.
Do You Need A Steam Vent?
A few of the tempered glass lids have the vent spout which is great so your food doesn't get too hot and overcooked so this could be something to consider.
Drainage Spouts
Only the elite gourmet electric skillet had a drain spout. This is actually a pretty cool feature and one of the reasons why it is Amazon's choice versus all the others on this list. 
Non-Stick Coating
What most of these are non-stick electric skillets, the two stainless steel options obviously do not have a nonstick coating. However as we noted if you are going to be a heavy user the non-stick coating could start to peel off over time. But as long as you take care of your electric skillet and use the right tools this will help it last longer. 
Side Walls
 Most of these side walls were at least 33 inches and some even up to 4 which is great for frying or preventing a mess. But a few of the stainless steel skillets had lower walls, so this may be something to consider as well. 
Conclusion
As you can see these best electric skillets. Have many great features overall, it's a great kitchen appliance that you will get great use out of unlike others that might just sit in your pantry for years. 
As with any purchase you should do your own research and think about the things that are important for you. Overall, we hope that we helped in your research process and please let us know if you have any other questions in the comments below.