There is something so satisfying about owning a reliable set of pots and pans. Not only will the right set help you to cook a variety of dishes thanks to a wide range of different cookware and utensils, but the right cookware will also help you to achieve the best tasting results as good quality cookware will help your food to release easier and will avoid problems such as sticking and hot spots.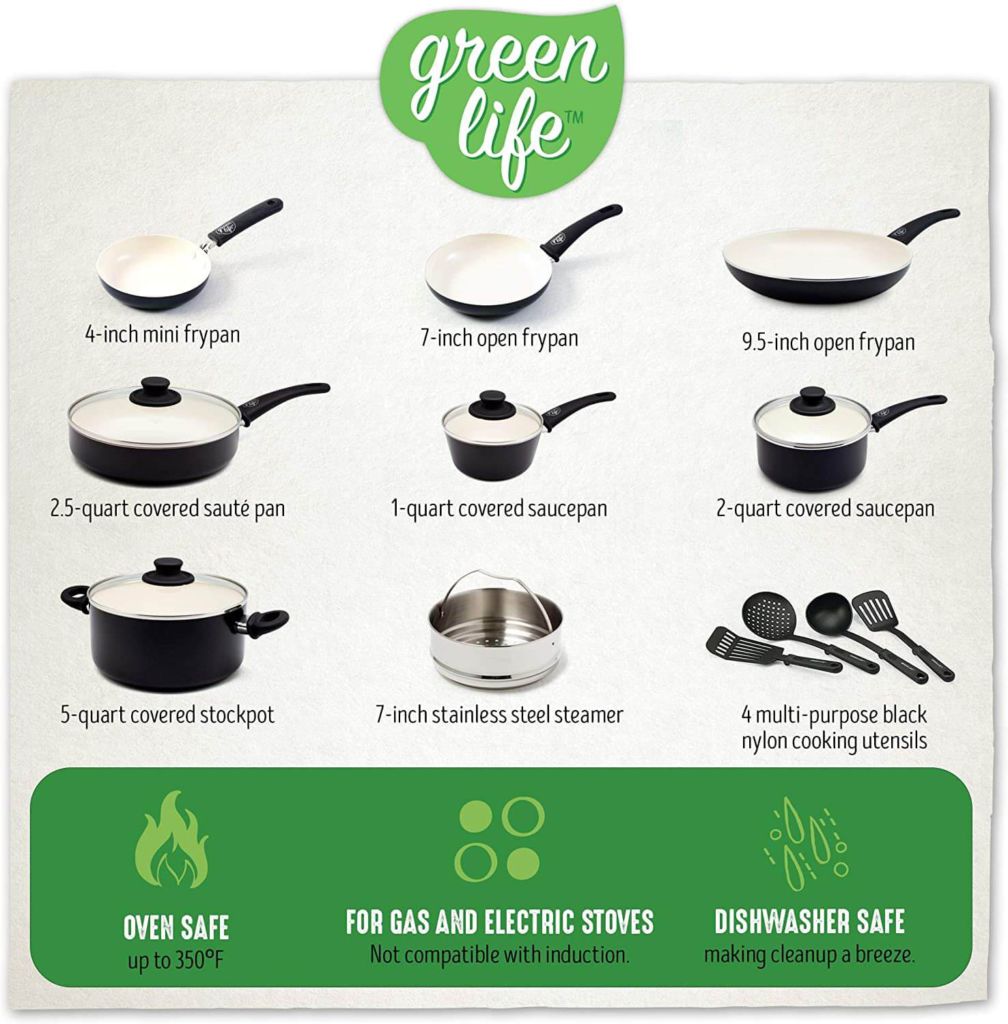 But you may be wondering where one can find a great cookware set. Look no further than to a set of Green Life pots and pans that will take you down the road to cooking success.
Green Life Pots And Pans
This article has been crammed full of Green Life cookware reviews and lists of facts about Greenlife ceramic cookware that you will love if you are looking to purchase something top quality. Make sure you consider all of the Greenlife cookware reviews mentioned in this article, as they will help you to make the best decision when choosing your next set.
Green Life Pots And Pans Review
To get the ball rolling, take a look at the overview and the list of GreenLife cookware pros and cons mentioned in this article that will fill you in on everything you must know about this set before purchasing.
Overview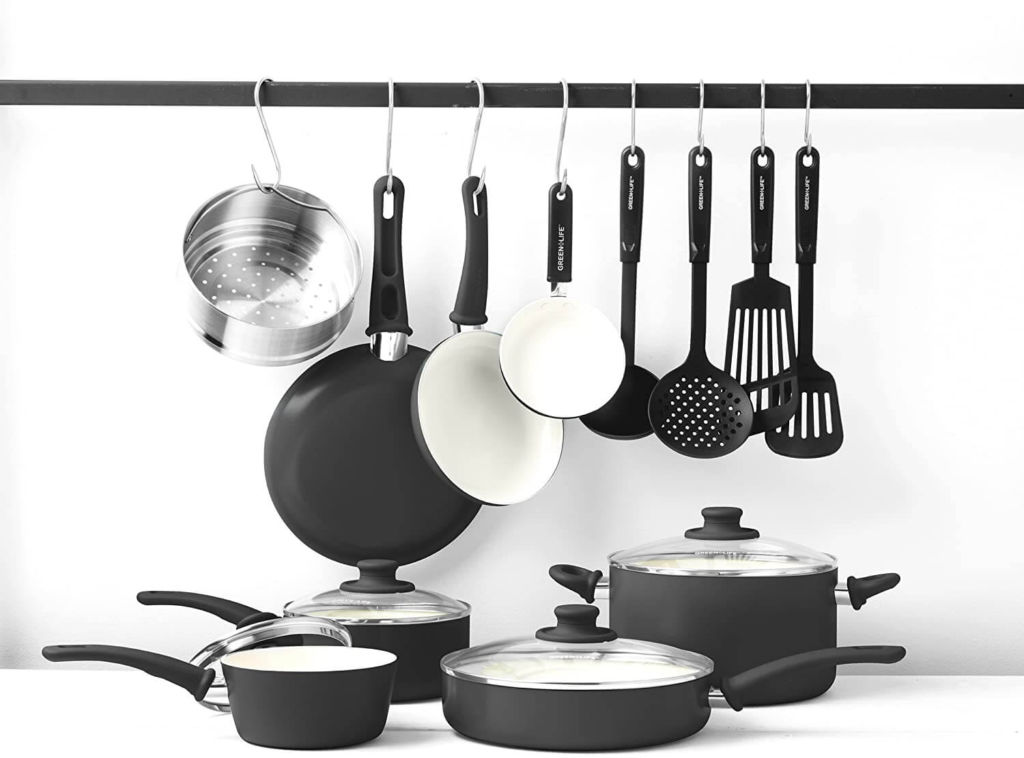 The following is a list of specifications and features that can be found on the Green Life cookware set. Take a look to see just how this cookware measures up!
Features
Are you looking for a cookware set that will have you fully equipped for any kitchen eventuality? This set comes with two frying pans, one mini frying pan, two quart saucepans with lids, one stockpot with a lid, one sauté pan with a lid, one stainless steel steamer, and four kitchen utensils (including a slotted spatula and ladle).  
Do you want to get your hands on a kitchen cookware set that will help you to add a splash of color to your kitchen? Then you are in luck, as this set comes in a variety of colors including blue, burgundy, turquoise, soft pink, lavender, black, and more.
Have you finished cooking for the evening? Great! Now simply pop the whole set in the dishwasher! That's right, this entire set is dishwasher safe, saving you the fight with the kids over who is going to wash the dishes. 
This cookware has been designed with a great feature – stay cool handles. These handles will allow you to get a comfortable grip on them even when cooking using high temperatures.
Pros & Cons 
If you are ready to purchase a brand new cookware set but are a little unsure about which brand or model to go for, the best thing you can do is take a look at the following list of pros and cons to see if this cookware set meets your needs.
Pros
We loved the ergonomic handle on this cookware. It has been designed to fit delicately in the palm of your hand and is soft to touch.
The cookware in itself is very light so that also helps to reduce wrist fatigue and will allow you to get a better and safer grip on the set.
The body of the cookware has been reinforced with aluminum, making it a better conductor of heat. This will help the cookware to heat up faster and will not leave you waiting around.
Cons
Some users have complained that the coating on the inside of the cookware is tricky to clean. They have noticed that it stains easily and can be prone to breaking down and leaving black marks even when it is cleaned using non-abrasive materials.
A recommendation has been made to clean the cookware with the utmost care and avoid using sharp utensils inside it to cook with.
Conclusion
Choosing a new cookware set is not an easy feat. There are so many details to consider such as how many pieces it will contain, what kinds of pots and pans it will feature, the size and the shape of the cookware and even the color of it. 
One of the nice things about this Green Life cookware is the variety of different pots and pans and even utensils that come with the package. There are not many kitchen cookware sets out there that are generous enough to give away 4 kitchen utensils with their cookware, making this set rather unique.
The added utensils also make this an ideal starter up package for someone who is leaving home or for those who are looking to bulk up their kitchen cookware and utensils selection. 
This set also includes a mini frying pan, the perfect size to make a tasty sunnyside egg or teeny but tasty and fluffy pancakes. 
Grab ahold of one of these Green Life cookware sets for a great selection of pots and pans in your favorite color! Follow one of the links on this page that will help you add a set to your basket and get it on order today!