If you have been searching high and low for a reasonably priced and state of the art cookware set that will make cooking easier and more enjoyable, then look no further than a calphalon tri ply copper cookware set.
What makes Calphalon cookware so great? You are in the right place to find out as this article will go on to explain some of the special features and will also show you a calphalon tri-ply copper review of the best 10 piece cookware set. 
When you are cooking a big meal in the kitchen it is important to have some reliable and good quality pots and pans to cook with that you can be sure will not cause your food to stick or burn and will help it to cook evenly.
Also, if your house is anything like mine you will probably agree that it seems increasingly impossible to keep up with all of the cleanings, washing up and putting away in the kitchen.
So instead of hunting and wasting precious time looking for that one good saute pan that you know will make the perfect fried egg, why not invest in a cookware set that comes with multiple saute pans and quart stock pots so that you can have multiple pots and pans on the go at once.
Calphalon T10 Tri-Ply Copper 10 Piece Set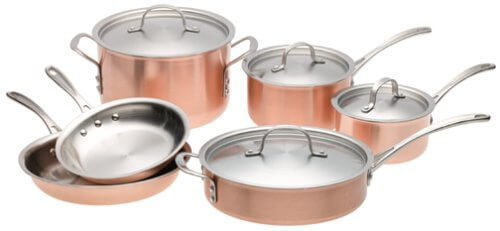 Are you ready to look at a fantastic Calphalon tri 10 piece cookware set that will help you to achieve excellent results in the kitchen every time you cook? Then take a look at the following Calphalon T10 Tri-Ply copper cookware set review to find out everything this set has to offer.
Overview
This 10 Calphalon piece cookware set comes with absolutely everything you will need to get started in the kitchen including 2 frying pans, 1 quart saute pan with lid, 1-quart saucepot with lid, and 2-quart saucepans with lids. 
Calphalon Tri Features
You can use this cookware set to make any meal as they are stove, broiler, and oven safe. 
The cookware is made with triple-layer copper and steel construction which makes the set more robust and also helps to distribute heat evenly across the base of the cookware.
The triple layer of the calphalon cookware also helps to lock in heat when you have finished cooking so that your food will remain piping hot until you are ready to serve.
The Calphalon cookware features say cool handles that will remain cool to touch even when you are cooking with high temperatures. These convenient handles will mean you do not need to worry about using oven gloves or kitchen tea towels when handling the cookware on the stove.
Pros
Heat transfers well throughout the pans
Food doesn't stick to the surface of the cookware
Easy to clean up after use
Cons
Extremely light coating of copper at the bottom
The stainless steel starts to show off through copper cladding after a few use
Top Calphalon Tri Features
Before diving into the Calphalon Tri-Ply Stainless Steel Review, you will probably want to know why so many professional chef's rant and rave about their cookware.
Are you looking to invest in some Calphalon cookware but would like some more information about it before doing so? Then check out the list below that will let you in on all of the top features on Calphalon cookware.
Pour spouts
Calphalon cookware is designed to make cooking easy and mess-free. The Calphalon tri cookware is made with pour spouts on the rims of their pots and pans so that you can empty the contents of your cookware without having a mess to clean up afterward.
Calphalon Tri Fill lines feature
Calphalon cookware also comes with fill lines, making it easier to keep track of the volume of your ingredients and follow the recipe.
Impact-bonded aluminum
Calphalon pans are made with impact-bonded aluminum, helping food to heat evenly avoiding hot spots, sticking and burning, making cooking easier and quicker. 
Calphalon Tri Cool-touch handles
Most Calphalon cookware sets all feature cool-touch handles. Forget the oven gloves, no matter what temperature you are cooking with! The cool-touch handles help to make cooking safer and simpler. 
FAQ
How do you clean Calphalon copper pans?
To ensure the longevity of your pans it is best to hand wash them using a non-abrasive sponge and dishwasher detergent. In addition to avoiding the dishwasher, you should also avoid harsh chemicals such as bleach, floor/counter cleaners, and baking soda. In addition to ruining the finish on your cookware, it will also void the warranty. To maintain the copper we suggest using Barkeepers Friend Cleaner and Polish for cookware.
What is tri-ply copper cookware?
Tri-ply copper is constructed from 3 metals. Sandwiched between copper and stainless is an aluminum core. The conductivity of copper and aluminum ensures even heating, the best temperature control, and excellent searing.
Is Calphalon a good brand?
Yes, Calphalon Cookware sets are a premium brand at a fair price. Calphalon cookware when properly maintained will last you for years to come.
What is calphalon cookware made of?
The Calphalon T10 cookware set is constructed of stainless steel, aluminum, and copper.
Calphalon Tri Cookware Conclusion
Now that you have had a closer look at the set through this Calphalon T10 Tri-Ply copper review, I am sure you will be more than ready to go out and purchase yours and when you do, I can guarantee you will not be disappointed. 

Another great thing about Calphalon cookware sets is that they come to you at a great price. It works out far more economical to purchase a cookware set than it would to purchase individual pots and pans, especially if you are looking to replace quite a few pans in your kitchen. 

Not only that, but having a matching cookware set looks very smart and will help to jazz up any kitchen and this Calphalon set would be the perfect match to both modern and more traditional style kitchens. The brushed stainless steel and copper finish will glisten in your kitchen as they buff up back to their original shine very easily. 
So before looking into any other cookware set, or considering other makes, models, and manufacturers, make sure you consider this Calphalon T10 Tri-Ply set as one of the best cookware options. I am sure you will love it!
Enjoy happy, easy and quick cooking with your Calphalon cookware set!