Are you looking for a fantastic chef knife to kit out your kitchen? Then you should definitely consider purchasing a Dalstrong Shogun Series Chef Knife as it is one of the best chef knives on the market. 
Chef knives are the perfect multipurpose knives and they help you with a variety of different food preparations such as chopping, slicing, and mincing your favorite cuts of meat and vegetables. Chef knives are also ideal for removing large chunks of meat from bones. In order to prepare the best meal and present it, you will need to have a great chef knife to rely on in the kitchen. 
About the "Shogun Series"
Are you looking to purchase one of the knives from the Shogun Series but are looking for a little more information about these knives before doing so? Then you have come to the right place, take a look at the following list of Shogun Series knife features.
DALSTRONG Chef's Knife – Shogun Series X Gyuto 
This article has been prepared to help you get the inside scoop on one of my favorite knives – the Dalstrong Shogun chef knife. What makes this knife so special? What features does it contain that help to make food preparation easier? All will be revealed throughout the course of this article so stay tuned.
Would you like a little more information on the Shogun Series of razor sharp kitchen knives? Then I am sure you will benefit from having a look at the information coming up in this article about the Shogun Series and what you can expect from this top class knife range.
Overview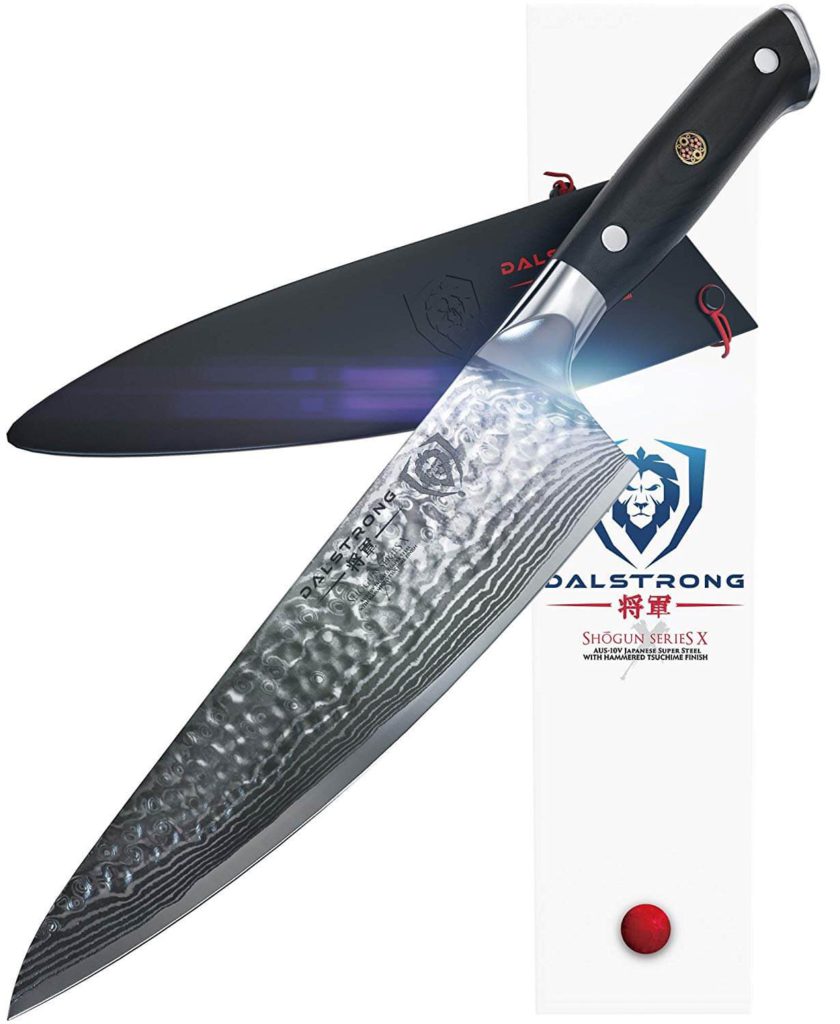 Now that you have had a deeper look into the Shogun Series of knives, why not more specifically take a look at the Shogun Series X Gyuto chef knife by Dalstrong.
The following review will tell you everything there is to know about this knife and just why it is a great knife to purchase.
Features
67 layers. One of the greatest things about the Shogun Series of knives is just how tough the blades are. The blades are made of 67 layers of Japanese super steel and each layer contributes to making a rock-solid blade that will not pit or split easily.
Japanese super steel. The blades on the Shogun Series are made up of Japanese super steel – a tough high carbon stainless steel material that is superior to your standard knife blade material. The blade material in the Shogun Series is less likely to stain and rust or corrode than other materials and will stay sharper for longer and will require less frequent honing.
The blades are sharper helping the user to create immediate grip on contact with food making the knives safer to use and easier to cut uniform slices with.
60 days. The Shogun Series is crafted over a 60 day period of careful manufacturing that helps to make sure the very best and sharpest knife arrives at your doorstep when you order
DALSTRONG Chef's Knife Pros & Cons
Pros
Blade Material. The blade on this chef knife is made up of ultra-premium Japanese super steel – a razor-sharp material that will help you to slice and dice your way through even the toughest of ingredients.
Sheath. Even the sharpest blades can be rendered useless if they are not well looked after. That is why this chef knife comes with a PerfectFit Dalstrong sheath that will help to keep the blade sharper for longer. 
Tapered bolster. The bolster on the knife acts as a finger guard to make it safer to use the knife and prevents accidents but also perfectly counterbalance the weight of the blade and the handle. The perfect balance helps to reduce wrist fatigue and also makes the knife more comfortable to handle.
Tapered blade. The tapered blade encourages food to slide away from the surface of the blades when chopping, helping to make cleaner and swifter cuts even when working with wet ingredients.
Cons
Food and ingredient tends to stick to the blade while chopping and slicing.
Conclusion
Now that you have had a closer look at the features of the Dalstrong chef knife, I am sure you are keen to get your hands on one of these great knives and you should for the following reasons:
The Dalstrong Shogun Series knife has a premium knife blade that will remain sharper for longer and is easier to clean.
The knife has a top-class ergonomically designed handle that is more comfortable to grip and that has been crafted to fit perfectly in the palm of your hand.
The Dalstrong Chef knife has been designed with a tapered blade that helps to prevent food from sticking to the knife – helping you to cut cleaner slices. 
Not only does the chef knife come with some awesome features that will make food preparation easier, but the combination of all these features help to make a knife that will last a lifetime
Are you looking for your next best kitchen companion knife that will help you to fulfill general cooking preparation tasks? Then make sure you click one of the links listed in this article that will help you to add one of these top class chef knives to your basket pronto.