A kitchen will never be complete without a great chef's knife. A Chef's knife is the perfect multipurpose knife that is great for completing a whole host of food preparation tasks such as chopping, slicing, and mincing your favorite vegetables and meat. That is why the focus in this article is on the Shun 8 chef knife – a superb multipurpose knife that is taking the nation by storm.

If you have a chef's knife at home that is working below standard or is not helping you to prepare your meals as fast as you think it should, don't waste any more time on it! This article has been prepared especially for you, to show you the fantastic Shun DM0706 razor sharp chef's knife and everything it has to offer.

During this article, you will be able to read a complete review of the Shun DM0706 Classic 8-inch chef's knife and see all of the features it contains. Not only that, but you will also be presented with a list of pros and cons that will help you to get an inside peek on the Shun Classic and find out what consumers have to say about it.

So, to start the ball rolling, take a look at the following overview!
Overview
Are you looking to get your hands on a brand new Shun 8 inch chef knife? Then I am sure you are keen to know a little more about the knife and how it operates before you do so. Take a look at the following information that will explain everything you need to know about it:

Handle. The handle on the Shun Classic has been carefully and ergonomically designed out of Pakkawood, the perfect material that is easy to clean and keep clean and has been molded to fit gracefully in the palm of your hand, helping you to get a better grip on the knife and giving you more control over the blade.
Lightweight. The Shun 8 inch chef's knife is a lightweight knife that makes it easier to maneuver and control than heavy and bulky kitchen utensils.
Sharp. The knife's blade is made up of 69 layers of stainless steel, with each layer contributing to the strength of the blade. The VG-MAX stainless steel is a fantastic choice of blade material as not only is it highly resistant against stains, but it also offers protection against rust and corrosion. The VG-MAX also contains added chromium making the blade far sharper in comparison to run of the mill kitchen knives.
Pros & Cons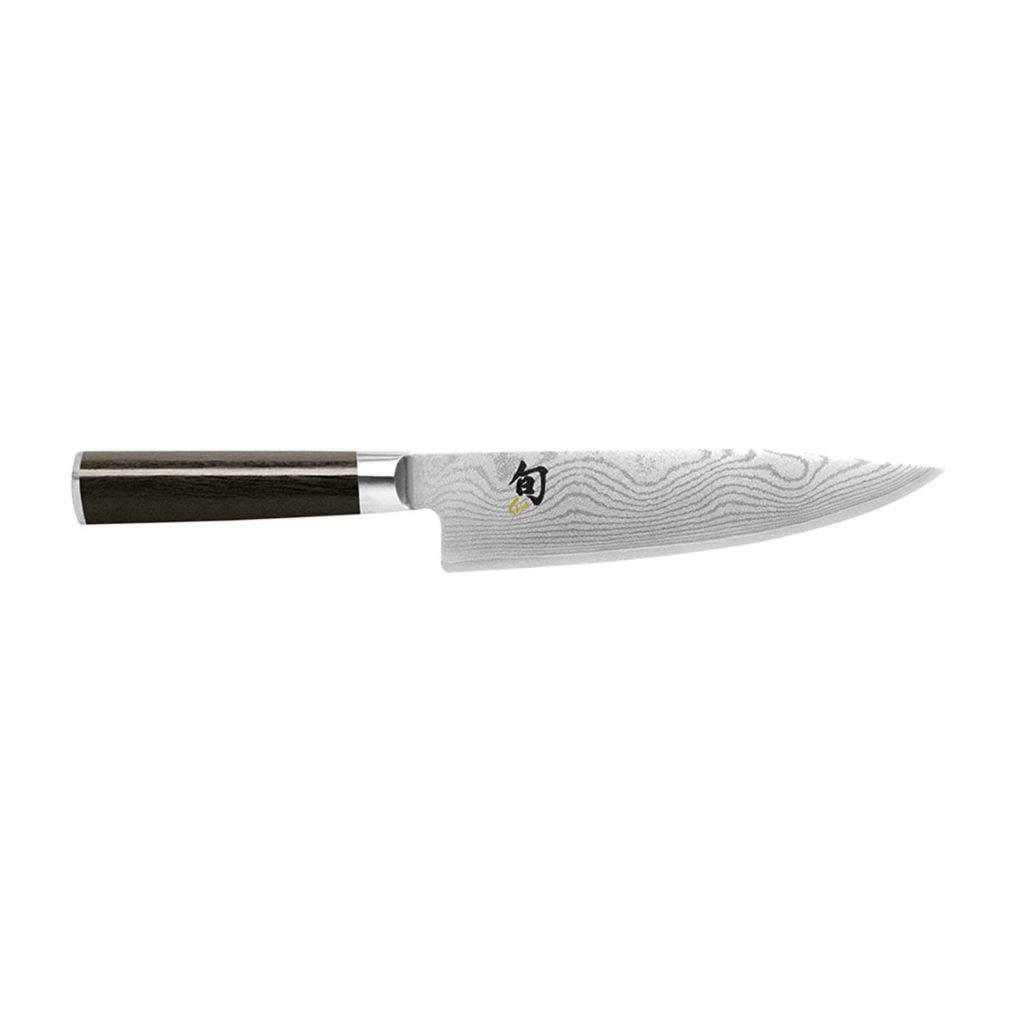 There is no greater way to really get to know a kitchen utensil before purchasing it than to look through consumer reviews. But instead of searching and scrolling through endless reviews on the internet for the Shun DM0706, I have done all of the hard work for you. Simply read the following consumer pros and cons to find out what this knife is all about.

Pros
Extra sharp blade that will slide its way through the toughest vegetables and the thickest cuts of meat with minimal effort required on your part.
The Pakkawood handle is water resistant so will keep the knife in like new condition for longer as it will not be damaged by mold or start to flake as other knife handles are known to do.
Cons
Some sellers are promoting a lifetime sharpening service with the purchase of this knife, but sending the knife back to the company based in Utah can be a pain if you do not live locally.
The knife edge is so tough that some users have noticed that it is rather brittle, making it easy for chips and grooves to form on the blade, especially if you are frequently using the knife to cut through meat bones.
Conclusion
After looking through this review, I am sure you can understand just why so many home chefs are gravitating towards the Shun DM0706 classic 8-inch chef's knife as their next and possibly even their last chef's knife (thanks to their lifetime sharpening guarantee).

If you are looking for the perfect all-purpose knife that will be ideal for slicing, chopping, and mincing through tough vegetables, fruits and cuts of meat, you cannot go wrong if you are looking to purchase the Shun 8 inch knife.

This Shun Classic knife is fantastic, so much so that you may find yourself wondering – is there anything this knife cannot do? Well, of course, it is a regular chef's knife, so it would not be your ideal knife for coring or peeling fruits or vegetables, nor would it be too effective when deboning meat or fish or cutting uniform slices of your favorite sourdough bread, but it will most certainly take care of the rest! The great thing about this knife is that not only will it help you to simply complete a food preparation task, but the design of the knife and the strength of the blade will help you to get everything done at record speed.

Try it out for yourself so you can see just what all of the fuss is about!