Barbecue season is just around the corner and the time to start perfecting that smoked pulled pork recipe is now, in time to show off your masterpiece and wonderful cooking skills to the family at the next gathering. But in order to make a wicked smoked meal, you will need the very best equipment to prepare it on.
Dyna-Glo Charcoal Smoker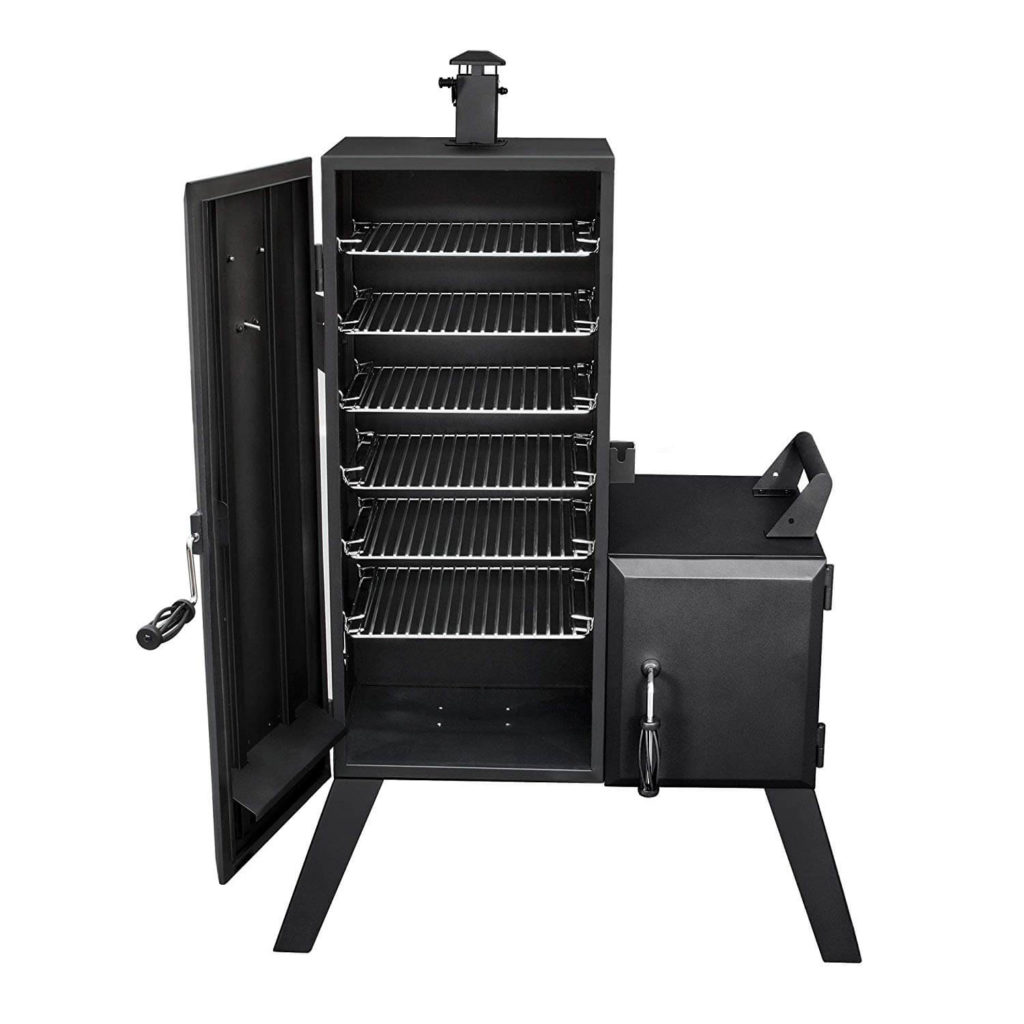 That is where the Dyna Glo vertical smoker comes in, as it is a truly fantastic smoker with all of the best features and additions that make smoking a rack of juicy fall off the bone baby back ribs the most enjoyable pastime.
So where can you get your hands on a Dyna-Glo vertical offset charcoal smoker – (otherwise known as a Dyna-Glo DGO1176BDC-D)? It's easy. Follow the link on this page that will take you directly to Amazon where you can drop one of these awesome smokers into your basket right now. 

Dyna-Glo dgo1176bdc-d Charcoal Offset Smoker Review
Before you finalize a purchase, I am sure you are raring to find out more about this Dyna-Glo offset smoker and see exactly what it is capable of. Stick with me and I will show you all there is to know about this fantastic smoker and everything it can do.
Overview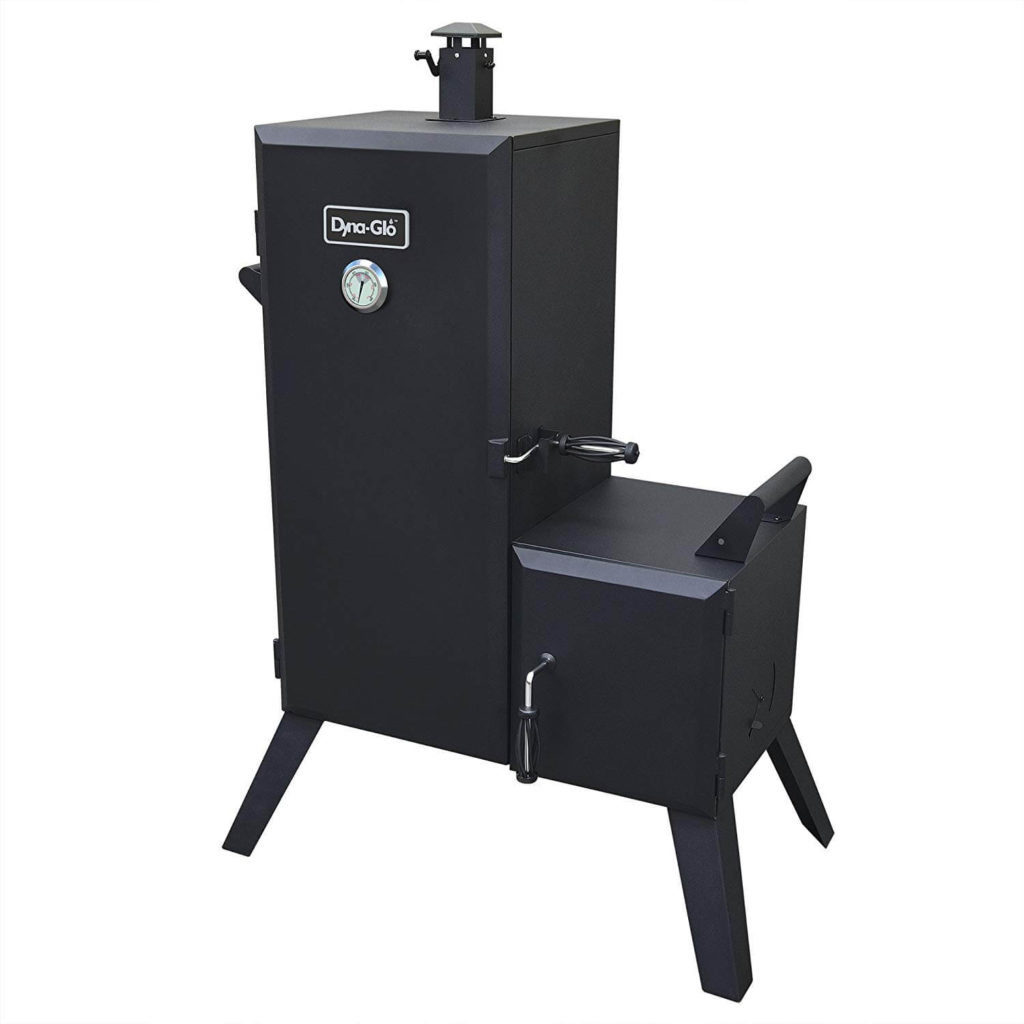 What exciting features await you on the Dyna-Glo Dgo1176BDC-D? The following information will explain exactly what you have got to look forward to.
Features
Large cooking area. This smoker is ideal for using to cook some tasty grub for large parties with family and friends as it has a super generous 784 square inches of cooking space – plenty of room for you to stack and smoke the most succulent and beautifully marinated cuts of fresh meat on. The large cooking area will also give you the freedom to experiment with different cooking methods such as direct and indirect smoking.
Dual door. The dual door design helps to maintain high temperatures inside the smoker, reducing the amount of heat lost. This great heat-locking design will help to save you time and money on refueling as the smoker will maintain its high temperatures for longer.
Hard wearing. The smoker has been made from heavy duty steel, which makes it resistant even against harsh weather temperatures. The resistant materials the Dyna-Glo smoker has been made from will help it to stay in fantastic condition as time passes. Thanks to this, your smoker will stay looking in like new condition for longer.
Pros & Cons
Now you have had a good look at what the manufacturers have got to say about the Dyna-Glo vertical offset charcoal smoker, I am sure you are keen to find out how consumers are rating it too.
Take a look at the following list of pros and cons that has been derived from users' comments about the smoker. I am sure it will help you to form a well-rounded opinion of the smoker.

Pros
Removable ashtray. One of the great features of this smoker is the removable ashtray. The tray helps to keep debris and ash all in one place so that it can be emptied into the trash at your convenience, saving you a bunch of time on cleaning up.
Removable grease cup. Another great feature that consumers love is the removable grease cup, which collects oils and excess juices from the meat so that they can easily be disposed of.
Cons
Water tray. One of the features I must say this smoker is lacking is a water bowl. A water bowl helps to keep your meat succulent while cooking and helps to keep it from drying out. Without a water bowl, it is up to the user to keep an eye on the temperatures and seal the meat well so that it remains tender while cooking.
Conclusion
A great smoker will be your right-hand man on your backyard terrace, helping you to serve up the tastiest cuts of piping hot, well-seasoned meat to all of your guests.
As I am sure you are already aware, choosing a new smoker is a big decision so, how can you be sure whether the Dyna-Glo charcoal offset smoker is the make and model for you? 
The Dyna-Glo DGO1176BDC-D has:
A massive cooking area.
A dual door that locks in flavors and high smoker temperatures.
A heavy steel construction that will protect the smoker from the elements.
Handy removable ash and grease collectors to facilitate cleaning.
And an enameled charcoal chamber. 
If the above mentioned list ticks all of the boxes for your perfect offset smoker, then I am sure you will be more than happy with the Dyna-Glo vertical smoker that we have been considering in this article. 
So now that you have made a decision, what's next? Follow the link on this page and add one of these Dyna-Glo offset smokers to your basket today. I am sure you will be impressed with the results when it arrives at your door and will be keen to start smoking on it right away!