Everyone needs a rock solid cookware set that will stand the test of time. You know, like the kind of cookware set your mom has in her kitchen that she seems to have had as long as you can remember that always assists her to whip together some mighty tasty meals for the whole family.
And not only does it help her to make scrummy meals, but it also really looks the part and hangs like ornaments in her kitchen. 
Circulon Symmetry Cookware Set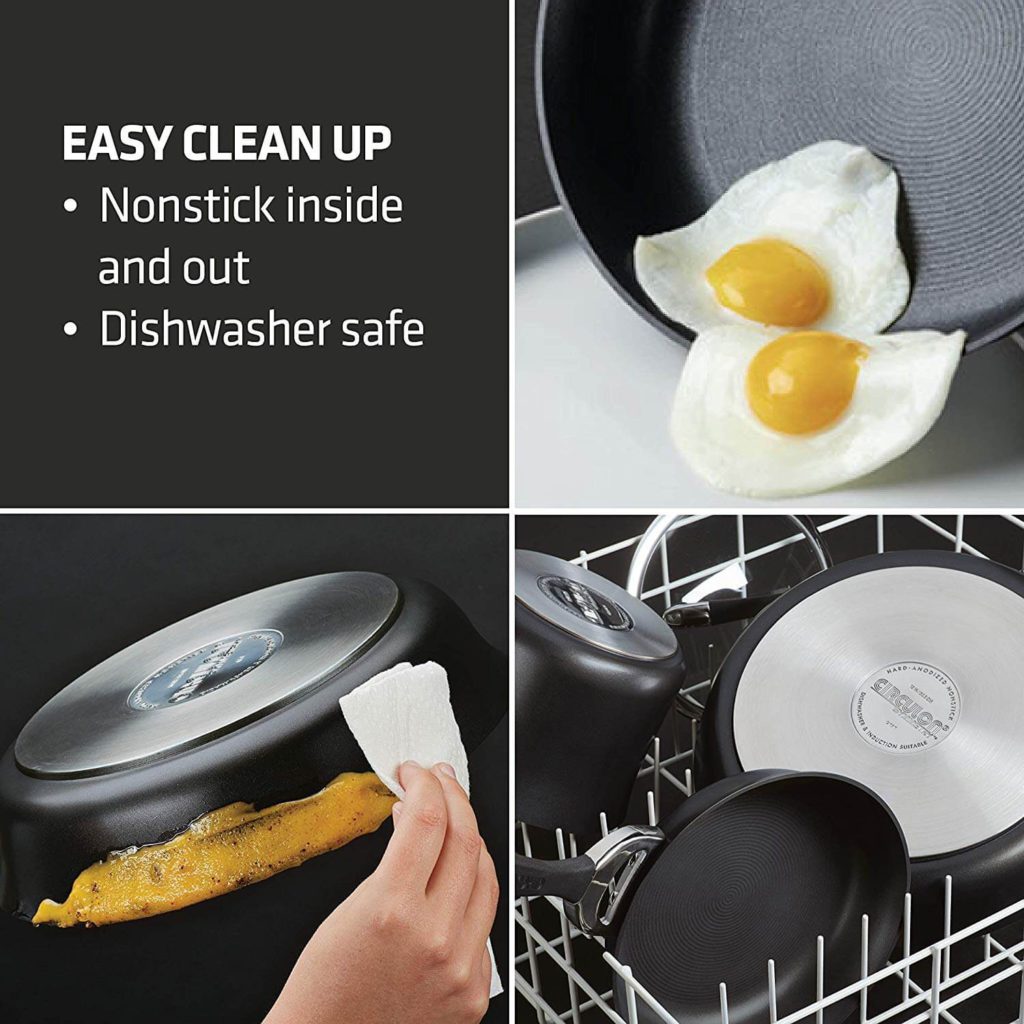 Where can you get your hands on a kitchen cookware set like this? Look no further than towards a Circulon Symmetry review, cookware set that will not disappoint and will be your stylish kitchen assistant.
Perhaps you are wondering what makes up a Circulon Symmetry pans set and are intrigued to read some Circulon Symmetry reviews.
If that is the case, you are in the right place!
In this article, you will be able to check out some complete reviews for the Circulon Symmetry cookware and will also be able to take a look at an overview of the set and everything it comes with. 

Circulon Symmetry Review
If you are ready to get savvy about all things Circulon Symmetry, stay tuned and I will take you through everything you need to know!
Overview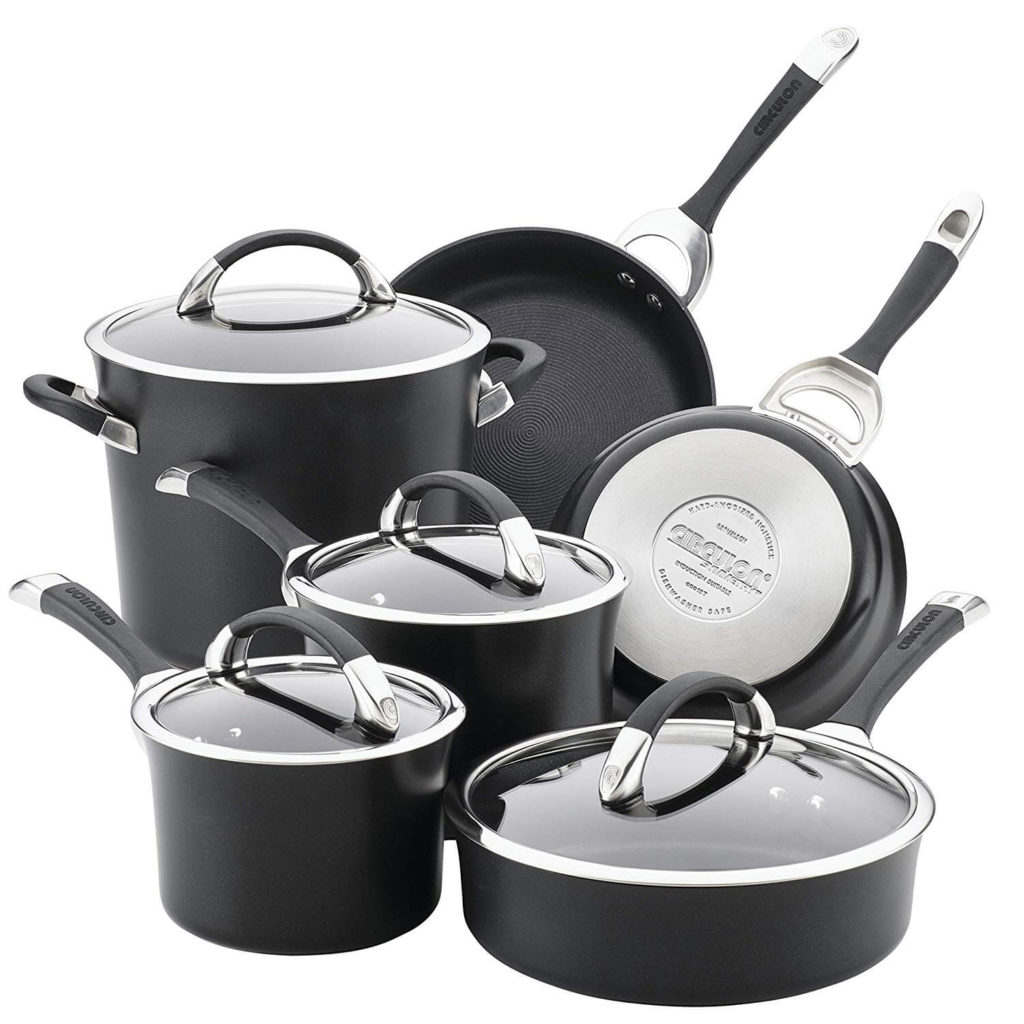 So what are we waiting for? Let's get stuck in and check out some of the super cool features on this Circulon Symmetry cookware set!
Features
The set comes complete with 2 quart saucepans with lids, 1 quart stockpot with lid, 2 frying pans, and a sauté pan with a lid.
That's right, it has everything you need to cook up a storm in the kitchen this weekend!
Sophisticated shapes. Are you looking for a cookware set that will really look the part in your kitchen? The pots and pans in this set all have a quaint tulip design that will make them look very stylish when stored in your kitchen cupboards or between your kitchen units.
Non stick. This cookware set has been designed with a non stick coating that will prevent food from sticking and burning when cooking. The non stick coating will also make these pots and pans easier to clean and restore to their brilliant original shine.
Dishwasher safe. One of my favorite features on this Circulon Symmetry set is that all of the pieces are dishwasher safe. That will save you time scrubbing and soaking at the end of a busy workday. It couldn't be simpler!
Circulon Symmetry Pros & Cons
Take a look at the following list of pros and cons for this Circulon Symmetry cookware that will give you more of an idea on what to expect when you open up the box on this fantastic set.
Pros
Food release. This Circulon Symmetry cookware works with an advanced non stick coating that helps to release the food from the cookware so that it simply slides off of the pots and pans.
This helps to facilitate cleaning and also makes it possible to cook using very little oil or butter.
Even heating. The cookware heats up evenly across its base, making it easier to control temperatures when cooking and also helping food to cook at the same pace across its base, preventing hot spots and sticking.
Colors. This cookware set comes in three stylish colors – black, merlot and chocolate so that you can pick the style that will best match your kitchen and your taste.
Cons
Price. Although this is a fantastic cookware set, the price is somewhat steep. But because of the original tulip design, the range of pots and pans included and the brilliant non stick coating on the whole set, I think it is worth every penny you spend.
FAQ
Which Circulon cookware is best?
From the review above, we can say that the Circulon Symmetry Cookware Set is one of their best sets. It is sophisticated and of great quality and is amazing for the long run.
Which is better Calphalon or Circulon?
Both are great brands that are well renowned in the market for their high-performance cookware. However, if you are looking for a good non-stick option it would be wise to opt-in for Circulon.
Are Circulon Pans any good?
Absolutely, Circulon produces some of the best cookware in the market and are well known for the high quality of product they offer.
Conclusion
Where can you find a sophisticated, complete cookware set that will last?
I am sure that now you have had a look through this article, you feel comfortable concluding that the Circulon Symmetry cookware set will provide you with top of the range cookware that will perform above and beyond your expectations. 
This cookware set is becoming increasingly popular among homeowners and I must say, if there has ever been a bandwagon worth jumping on, it is definitely this one.
Why can I make this conclusion? This set will provide you with something stylish, in a color that will match your kitchen and with the right features that will help you to cook a scrumptious meal without having to worry about your rice burning or your delicious gravy drying out or sticking to the bottom of a saucepan. Now, isn't that a load off? 
There is nothing left to conclude now other than to encourage you to add one of these cookware sets to your shopping basket. I am sure you will begin seeing the difference as soon as you bring the set into the kitchen. 
You will no doubt be satisfied with your purchase so all that's left to say is, happy cooking!