If you are looking to step up your tea pot game from a basic teapot or get your first one a cast iron teapot is an excellent choice.
Cast iron is an excellent material for a quality tea pot the metal is 100% non-toxic, so you will not have any health concerns. Another huge positive point for cast iron is its excellent heat retention properties.
A teapot full of tea will stay warm for a much longer time in a cast iron pot vs most other teapot materials. Enough about the positives of why cast iron is an excellent decision let's get into the reviews.
Top 4 Best Cast Iron Teapots Comparison Chart
Our #1 choice
Tea Kettle, TOPTIER Japanese Cast Iron Teapot with Stainless...
RIKYU RKTS508CP Cast Iron Tea Pot Tea Set Pine Copper, 24...
Primula Green Dragonfly Japanese Tetsubin Cast Iron Teapot...
Suyika Japanese Tetsubin Cast Iron Teapot with Enameled...




Top 4 Best Cast Iron Teapots In 2020 Reviews
Towa Workshop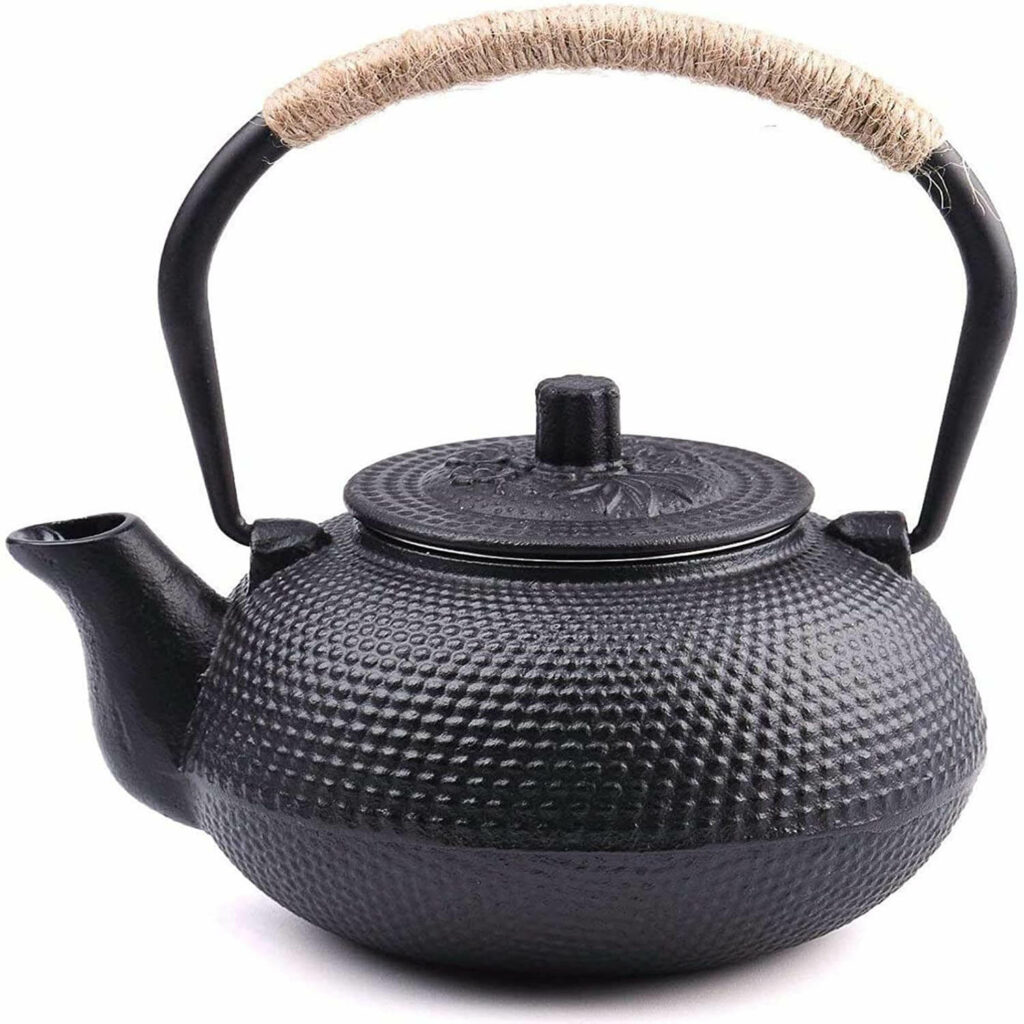 First up we have the Towa workshop Teapot. This japanese teapot really has that authentic japanese cast iron teapot look to it, the aesthetic hemp handle also helps keep your fingers safe when using this teapot. 
This teapot comes in several sizes to choose from so you can get the perfect size if it's typically just you enjoying tea or if you often enjoy tea with guests. This is a great teapot that we couldn't suggest enough it is certainly a front runner for best cast iron teapot. 
This teapot also includes a stainless steel infuser which is an important item to have when you are making loose leaf tea. The sealed enamel interior also helps to keep this pot easy to maintain and clean.
Primula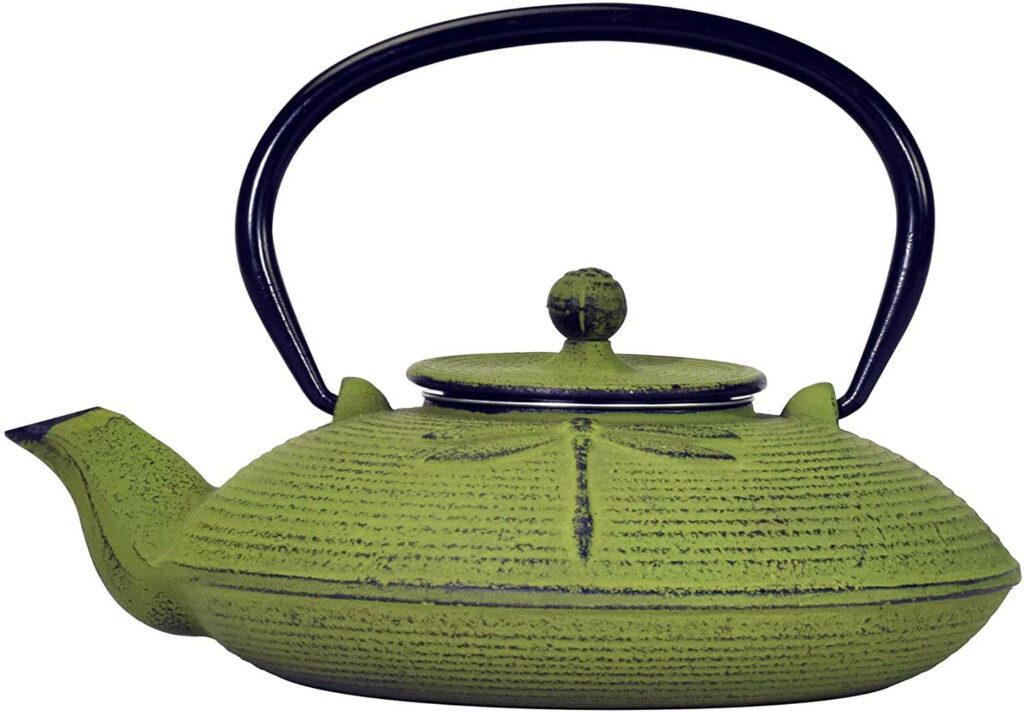 Next up for review is the Primula Green Dragonfly teapot. This teapot only comes in one size, 26oz, so it is important to consider if this size is large enough for your needs.
This teapot includes a stainless steel infuser and enameled interior as many of the pots we review in this article will also have. This cast iron teapot is another solid purchase especially for the price.
Typically we like something that will help keep the handle cooler to the touch, however since you aren't really supposed to cook these pots on the stove, they are just for steeping, this is a minor issue easily done without.
M.V. Trading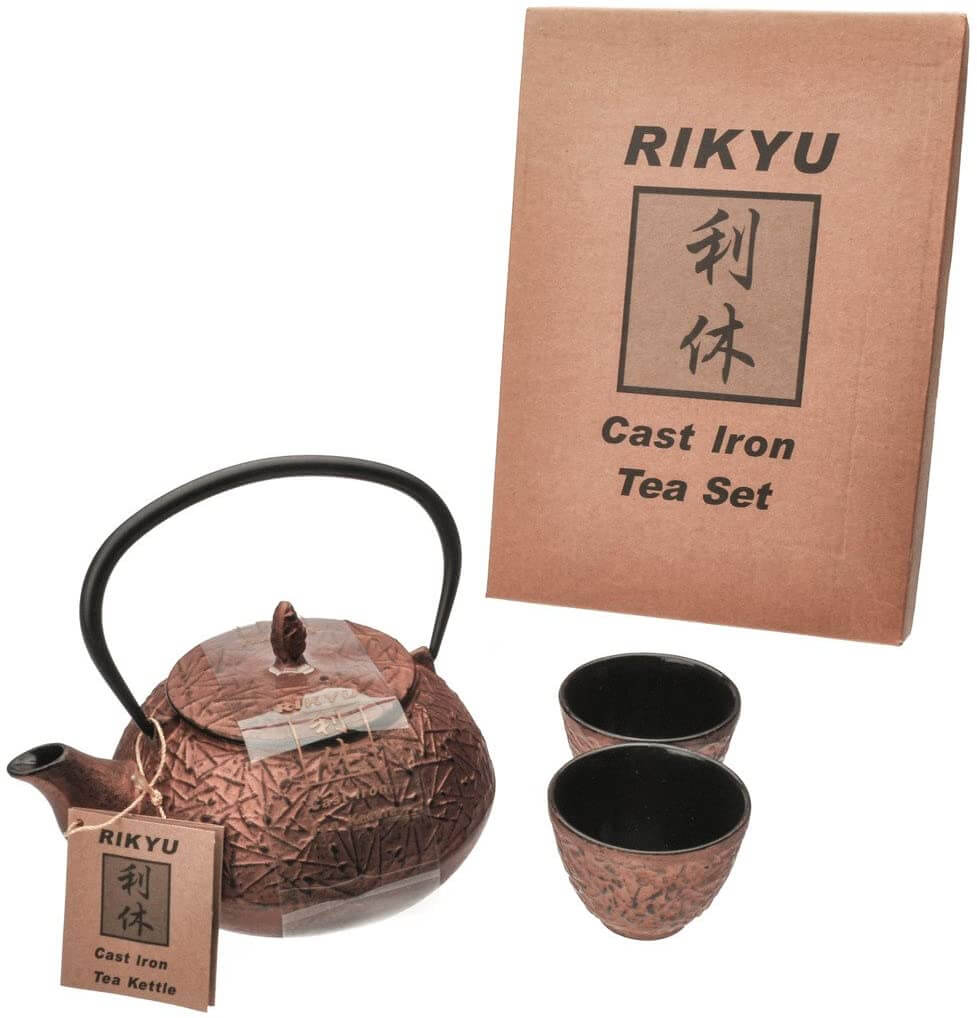 Our next review is for a cast iron teapot set, so if you wanted some matching cups included with your teapot this could be the set for you.
The M.V. Trading tea pot set includes an awesome teapot and two matching cups. This 24oz teapot has a very neat design and gold color.
This set includes an interior enameled pot, cups and stainless steel infuser. This teapot holds 40 ounces which makes this large cast iron teapot one of the larger ones we have reviewed. 
Toptier
Our final review is the Toptier Japanese tea kettle. This kettle features an enamel interior and a stainless steel infuser for the tea leaves.
This tea pot unlike the others we reviewed can be used on the stovetop to heat your tea, so if that is a must have feature for you this is the teapot for you. This teapot is also available in a few different sizes so you can choose the correct size for your needs.
Our only complaint about this teapot is it seemed to not be as sturdy in construction as some of the other teapots we have reviewed, that being said this teapot is also one of the more budget friendly options we reviewed.
So, What's The Best Cast Iron Teapot?
Most of the cast iron tea pot options we reviewed here had pretty similar features. It is important to choose one with an enamel interior to help keep it clean and easy to maintain.
The stainless steel infuser most of these come with is excellent if you make loose leaf tea often.
That being said you cant go wrong choosing just about any tea pot in this article it comes down to which one you think will work best for you and which matches your aesthetic.