Hey guys, it's Jeremy and Greyson here from Ktchndad today. We are going to review this 6 quart Uno Casa dutch oven.
It's an enamel coated cast iron dutch oven, which is pretty neat. I'm also going to make a lamb stew recipe in it to show you how wonderful it works.
About The Uno Casa Dutch Oven
To start, I just wanted to say I love the design of this. The handles are nice and big, which makes it easy to grip for moving it around.
Do be careful if you're already cooking with it, these will get warm, most likely. The other thing is I just love the red color. I think the design is nice.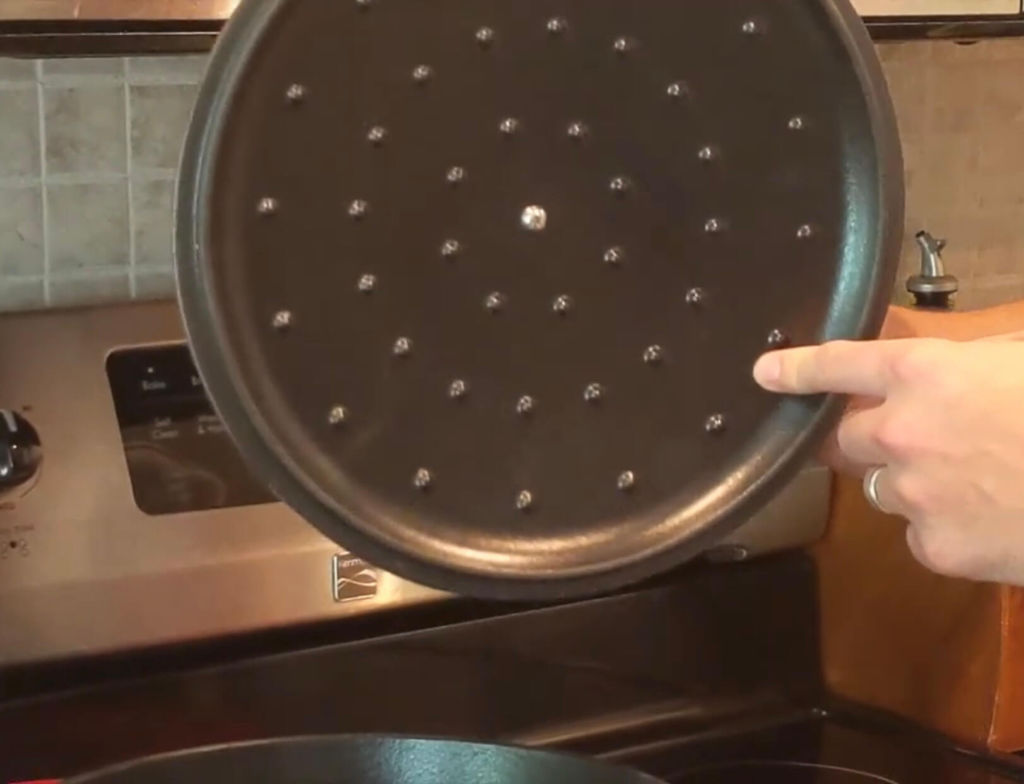 As you can see, this lid has all these little bumps throughout it. And what that does is, as you're cooking and the condensation is coming up to the lid, it allows that moisture to drip back down over meat, constantly braising it and keeping it moist.
As you can also see, it's coated on the inside as well as the outside. So you don't have to season it like a normal cast iron pot and you can also wash it with some mild detergent, which normally a lot of people will tell you not to use cause it will take the seasoning away.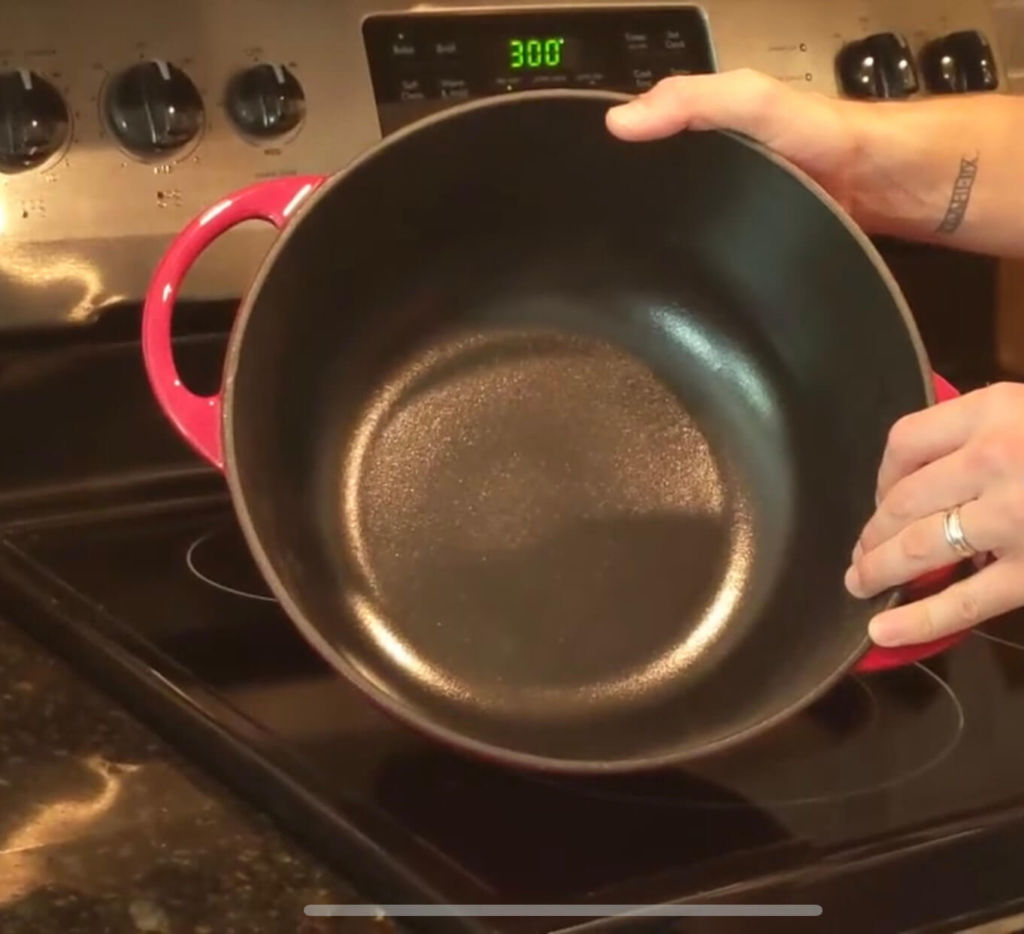 The other cool thing that the Dutch oven came with was this pad that you can rest is on after it's hot when you're taking it out of the oven.
Also, it has these cool little grips that you can pick it up with as it's hot so you don't burn your hands. They also will help you have a firm grip and will not slip out of your hands.
Lamb Stew Recipe Using the Uno Casa Dutch Oven
So, as you can see, today I'm going to make a lamb stew. We're going to keep it pretty simple. We also don't have a huge family, so I just got 1 pound of lamb, some carrots, some celery, some onions.
I didn't have any beef stock but I did have a couple of boxes of beef bone broth so I am going to use that which will be fine.
I also have a little bit of red wine to give it some richness.
So to start, as you can see, the lamb has a nice layer of fat on it. So Greyson is going to take this lamb and place it inside the pot with the fat side down while it's still cold.
So the reason I'm having him do this is I want to render out some of this fat before we start browning the vegetables. And since there's a nice little layer of fat on this meat, I'm going to start with a cold pan and then turn it on. That will allow us to render out more of the fat.
As you may have also noticed, I have the oven preheated to 300, which is what we will braise the stew at after we get it all put together.
Alright, now Greyson's is going to go wash his hands and I'm going to turn this on medium heat so that the fat starts rendering out. After the lamb has been cooking for about 7 or 8 minutes you will see about a tablespoon and a half of fat rendered out of it. So I'm going to scoop that out and start frying the onions.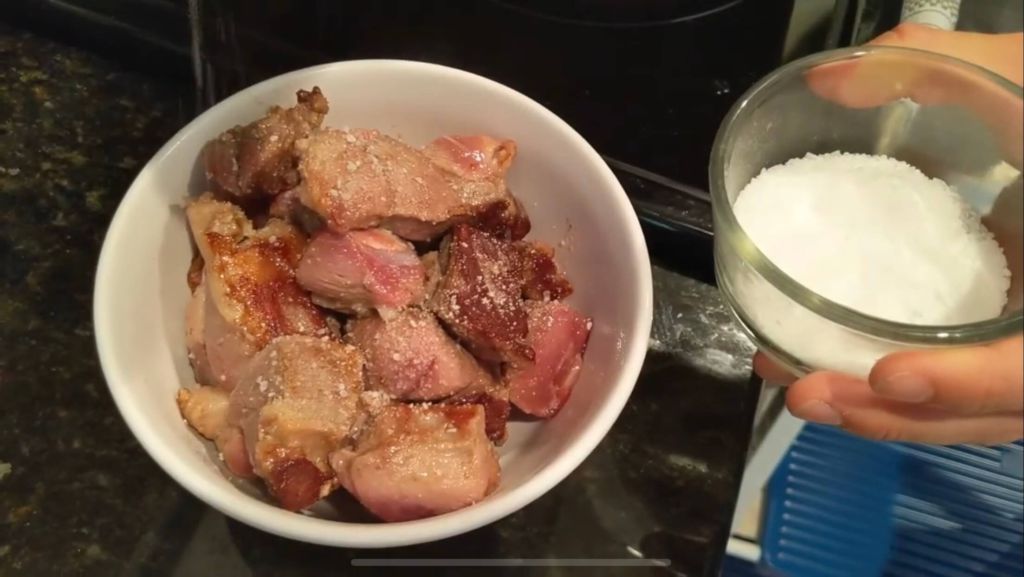 As you can see, this lamb is pretty much brown on one side.
Now Greyson is going to carefully place these onions in the pan. And we are just going to spread this out. And while that is cooking, I am going to put some salt on the lamb.
I am going to let Greyson add in the salt. We are also going to sprinkle some pepper on it and gently stir the meat so that the seasoning spreads all over. Then we are going to let that sit while are vegetable fry
Alright, we have got some nice color on our onions now, so we're going to season the onions, throw in the rest of the vegetables and season those, though in the lamb, the beef stock and wine. We're going to bring that up to a simmer and then we'll throw it in our oven.
So Greyson's is going to season the onions with salt and pepper.
I am a big fan of seasoning each component because 50% of being a good cook is knowing how much salt and pepper to put. I'm also a big fan of using fresh ground pepper versus using pre-ground.
Okay now go ahead and add the carrots and celery. We're keeping it simple today. You could easily throw potatoes here or mushrooms, but we are just working with what we have.
You could also easily scale this up with two pounds of meat, some more salt, pepper on those. But sometimes less is more. And now I'm just gonna add back or lamb.
Make sure you get all the juices that have accumulated in there which will add more flavor. Now we are going to add the red wine followed by the beef stock or bone broth.
You just need enough liquid to cover everything well.
Cooking the Stew
I'm actually not going to use the second bone broth that I had. So we're just going to bring this up to a simmer and then I'm going to cover it and put it in the oven at 300 for about 2 hours.
Alright, I'm not sure if you can from the video, but it's just got to simmer so I'm just going to pop the lid on and throw it in the oven.
Just from these 10 or 15 minutes of working with it on the stove, the handles have gotten pretty warm, so just be careful when you transfer it to the oven. I'm gonna use the grips that it came with.
Alright, so we are going to leave that in there for about 2 hours. Like I said the lid's going to produce that rainfall effect, so hopefully, the meat comes out nice and juicy.
We just took our lamb Stew out of the oven. It's been there for two hours at 300 degrees. We were letting Uno Casa Dutch oven do its magic. Now we're going to check this out for the first time.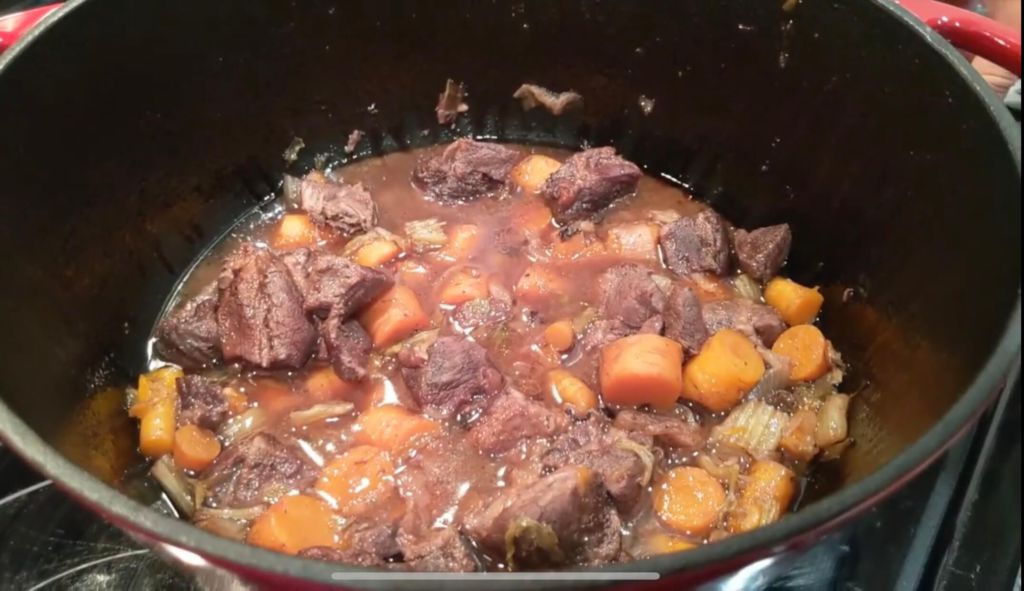 It's looking pretty good, as you can see we didn't use a ton of liquid, so it's kind of reduced down a little bit and this lamb is super tender. The spoon is kind of slicing right through it.
Conclusion
So I'm pretty happy with how this looks right now and we're going to give it a taste. Like I mentioned, I've got a bowl of rice that we're going to put it over.
Alright, so that was our lamb Stew recipe as well as our view of the Uno Casa enamel coated cast iron dutch oven.
I'm pretty happy with this. I would definitely recommend it. The heat seems to be evenly distributed and it has produced a great product, so give those a try and let us know what you think. See you next time.