Scrambled eggs, pancakes, fried bacon – what do all of these foods have in common?. They all need to be cooked in the best nonstick pan without Teflon in order to achieve the very best and most scrumptious results.  
Perhaps you have had it happen to you before, you have begun to make a tasty fried breakfast on a Sunday morning – you have chopped the tomatoes, diced the mushrooms and are ready to fry everything, you pop your ingredients into the skillet and within a few minutes everything is charcoal black and stuck to the base of the pan. What's the cause of this problem? – a poor quality nonstick pan. 
Perhaps your nonstick pan was great when you first bought it, but after a few uses and a few washes it started to go downhill and you're having to line your pan with more and more cooking oil in order to stop your food from catching and burning. But let's face it, no one likes bacon that is swimming in oil and it isn't great for your health either. Not to mention that cooking with a poor quality nonstick pan is very frustrating and can make the simplest of tasks, such as frying an egg into a real ordeal.
If you have been through the above-mentioned scenario what seems like one too many a time, then you may want an alternative to a nonstick pan.

Best Non Stick Pan Without Teflon Reviews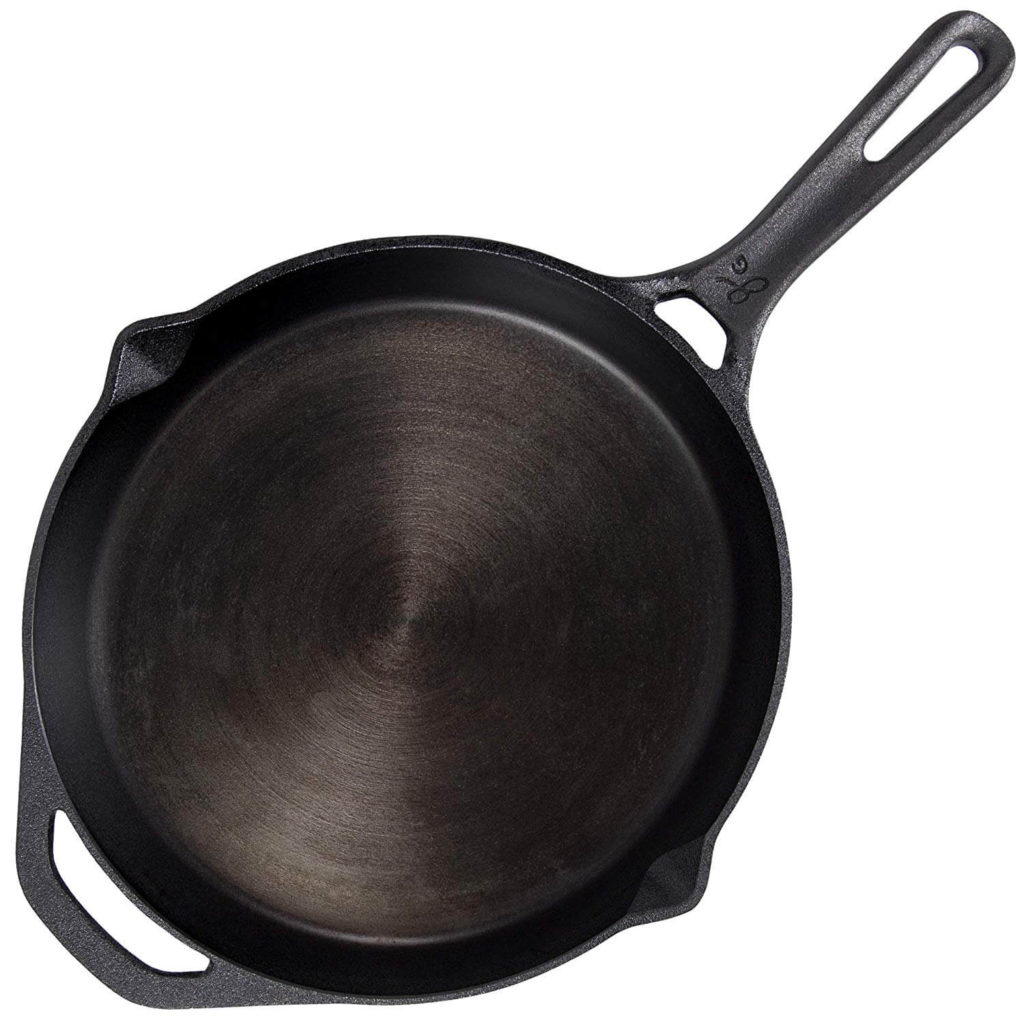 GreaterGoods
If cast iron is your favorite cookware material then you will love this 10 inches cast iron skillet by Greater Goods. 
Overview
This is an alternative to nonstick cookware that has been seasoned with organic, cold-pressed flaxseed oil, which gives your food an added flavor at no additional cost.
The pan has a machine-etched smooth base as well as interior walls. This helps food simply slide off the surface without sticking. The sides also have molded pour sprouts that help you pour the contents of your meal without any dripping or spilling.
Features
Safe Seasoning
Premium Surface
Easy to Clean
Pros
Cast Iron Kit
Backed by Real Support
[/su_list][/su_box][/su_column] [/su_row]
Calphalon 2029620

Here is another top suggested an alternative to nonstick cookware, but this time made of stainless steel and by Calphalon.
Overview
This 3 ply construction makes this cookware tough and better at heat distribution than any other materials. It is oven safe up to 450 degrees Fahrenheit, which means that you can easily transfer it from hob to oven and back again without the need to dirty additional pots and pans. The aluminum core also makes this the ideal cookware for searing, browning and sautéing ingredients in order to make your favorite tasty dinners.
Features
Durable 3-ply metal construction
Evenly sears, browns, and sautés
Oven safe up to 450°F
Pros
Compatible with gas, electric, induction and glass top stovetops
Brushed stainless steel with stay-cool long handle
TECHEF CT30 CeraTerra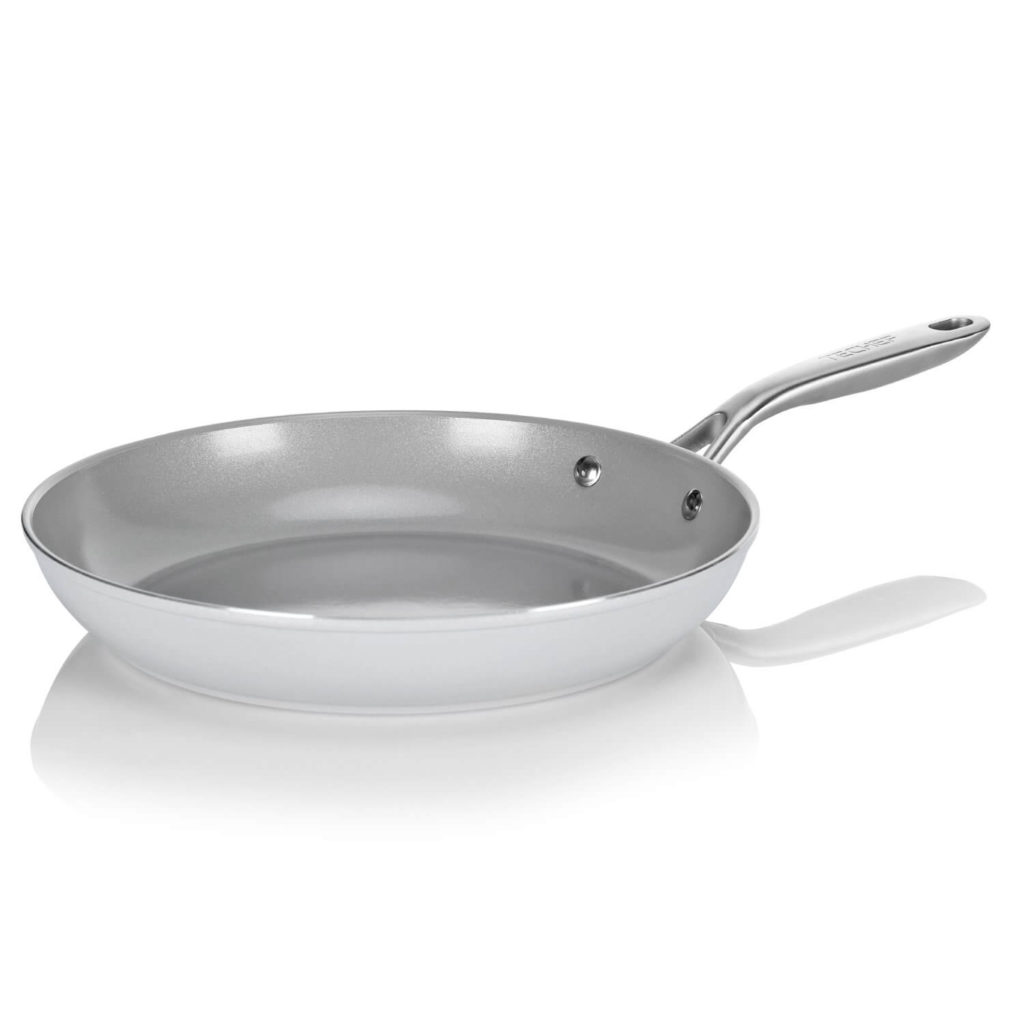 This 12 inch nonstick ceramic frying pan by TECHEF is another classic alternative to nonstick pans that will help you to cook with ease and real peace of mind.
Overview
This ceramic pan is completely dishwasher safe, and as such it is easy to clean at the end of a long day. This Tefal alternative is also oven safe, which means that you can use it both on the hob and in the oven of up to 450 degrees Fahrenheit.
Features
Elegant and stylish design
Induction-ready with a heavy base
Stainless Steel handles
Pros
Durable
Easy to Clean
Oven and Dishwasher Safe
Why Look At Alternatives?
If you have done a little research into nonstick pans then you are probably wanting to purchase an alternative to nonstick cookware for your next frying pan replacement. Why? Nonstick cookware is coated with PTFE (polytetrafluoroethylene), otherwise known as Teflon.
While Teflon is a fantastic nonstick coating, making it possible to cook with little to no oil in a frying pan, saute pan or griddle, investigations have gone underway in recent years to look into the possible health risks of overheating Teflon. When Teflon is heated to over 570 degrees Fahrenheit or 300 degrees celsius, the coating begins to breakdown, releasing toxic chemicals into the air.
Exposure to these chemicals for over 4 hours has been known to cause flu-like symptoms to consumers that last between 12 to 48 hours. 

Of course, the likelihood of one cooking at these temperatures for hours on end is very small, but even so, by using nonstick coated cookware you are not without risk and to avoid exposing yourself or your family to any such danger you will probably be looking for the best nonstick pan without Teflon the next time you shop for cookware. 

You may be wondering, is there any alternative to Teflon coated cookware that will still give me great nonstick results? The answer is yes and that is why this article has been prepared with you in mind, to help you get some ideas on some Teflon alternatives. 

During this article, I will go on to discuss three fantastic Teflon alternatives that still provide great nonstick results enabling you to make the very best fry up this Sunday morning. Not only that, but once you have had a feel for the different Teflon free materials that are on the market, I will also review three of the top suggested Teflon alternative pans available right now so that you can have more of an idea about what your Teflon-free options are. 
Suggested Teflon Alternatives
Ceramic
Looking for an alternative to the nonstick pan? Then ceramic is a great choice as most ceramic cookware is dishwasher safe, making it really simple to clean after use. Alternatively, ceramic also polishes up nicely when washed in warm, soapy water with a nonabrasive cleaning cloth or sponge.

Ceramic as material comes with natural nonstick properties, making it a great alternative to Teflon coatings and the like. Ceramic cookware is often made up of stainless steel, aluminum or copper coatings, making it a better at conducting heat, distributing heat and also retaining it. 

Another great factor about ceramic is that it is very often oven-proof. This means that you can easily transfer your food from hob to oven and vice versa without having to dirty multiple pots and pans.
Stainless Steel
Another fantastic alternative to nonstick pans is stainless steel. Stainless steel is great for browning foods and is scratch resistant. Most stainless steel pans can be placed in the dishwasher to be washed, making them quick and easy to restore back to a squeaky clean condition. 

Most stainless steel pans are made with an aluminum core, allowing heat to distribute more evenly across the base of the pan, helping to avoid hot spots and sticking and burning. Not only that, but most stainless steel pans are made in layers, to ensure consistent heating, further helping to avoid food from heating quickly in the middle while the edges remain cool. 

Stainless steel is also a very light material, making the perfect cookware for flipping eggs and pancakes as it is easy on the wrist.
Cast Iron
One of my favorite alternatives to nonstick cookware would be cast iron. Now if you're in the need for speed in the kitchen cast iron may not be your go-to option as it doesn't heat up very quickly. But once a cast iron pan or griddle has heated up it retains the heat very well, making it a great option for keeping food warm on the hob while waiting for guests to arrive. 

Raw cast iron skillets do take a little extra work, as they have to be seasoned periodically and cannot be washed using soap or popped in the dishwasher to be cleaned, but the results and the great tastes and flavors that are emitted from a raw cast iron grill are definitely worth all of the effort.
FAQ
Do all nonstick pans use Teflon?
The nonstick coating is made from a chemical called PTFE, also known as Teflon, which makes cooking and washing up fast and easy.
Is ceramic better than Teflon?
In terms of ceramic vs Teflon cookware, the main difference lies in the composition of the non stick coating. Teflon is known to emit toxic fumes when it is heated up to a certain temperature.
Conclusion
So there you have them, three of the best nonstick pans without teflon, now it is just up to you to decide which of the alternatives to nonstick cookware you like the best.

The easiest way to do so is to shop by material. If you already have some cast iron cookware at home but are not too much of a fan of the maintenance that comes with cast iron, then consider stainless steel or ceramic cookware as your perfect alternatives. 

Perhaps you have already got a lot of stainless steel cookware around the home but are looking for something a little more robust or possibly more rustic looking to match the perfect traditional style kitchen, if so, then a ceramic or cast iron pan or skillet will definitely be the way forward. 

Whatever material you choose you will know it is free from the possible harmful effects of PTFE, helping you to create a safe, toxin-free cooking environment not only for yourself but for the whole family.