There really is nothing better than homemade bread. Nothing comes close to the warm and fluffy inside and crunchy crust on a loaf of freshly baked bread. There is something about the uneven thick slices and the waft of baked dough that is really just unbeatable. And let's face it, shop bought bread has nothing on a homemade slice.

Homemade bread is fantastic with just about any topping, spread or filling. From the traditional lashing of creamy butter when toasted, a spread of your favorite homemade jam / marmalade or a smothering of peanut butter or Nutella really does the trick to fill the hole and get you out of the house quickly in the mornings.

But perhaps you are looking for some more adventurous toppings for homemade bread, to liven up breakfast a little bit more and encourage the family to eat at home, rather than grabbing something that's maybe not so healthy in the mornings on the go. If so, have a look at the following homemade bread topping creations that have been designed with families in mind:

Crispy chicken on a bed of iceberg lettuce with your choice of barbecue or tomato and chipotle mayonnaise drizzle.
Bacon, lettuce and sliced tomato with a spread of whisked avocado, a drizzle of lemon and a pinch of cayenne pepper.
Sliced turkey, lettuce, tomato and ranch or barbecue flavored potato chips, for that extra crunch your kids will go nuts for.
Smoked salmon, cream cheese, cucumber and baby prawns. Topped off with some fresh dill.
But as I'm sure you will agree, the success of your homemade loaf does depend greatly on the quality of your bread maker, and while there are many makes and models on the market, it is not always easy to find one that will really suit your needs.

That is why this article has been made with you, the homemade bread lover in mind. I will go on to explain how to get the best use out of your bread maker, what to do to keep it as clean as a whistle, and then I will go on to review three of the very best Oster bread makers on the market.

So if you are looking for the very best Oster breadmaker, stay tuned!
How To Make Bread
Looking to spruce up your bread making recipe? Or perhaps you are trying your hand at bread making for the first time and would like a few pointers to help keep you on track. Then you are in the right place, as here is the simplest bread making a recipe out there, that yields the very tastiest results with minimal effort – now that's what I call a winner!

Here are the all-important ingredients for you to make the crunchiest but spongiest homemade bread, today!

Ingredients:
1 cup of warm water
2 tbsps of canola oil
1 tsp of sea salt
2 tbsps of demerara sugar
3 cups of white bread flour
2 tsps of active dry yeast
Directions:
Add the cup of warm water, canola oil and salt into the bread tin.
Pour the demerara sugar and white bread flour on top of the wet ingredients and salt.
Make a small indent with your finger in the dry ingredients on top, making sure it doesn't reach the wet ingredients, and fill it with the dry active yeast.
Return the bread pan to the breadmaker and follow the manufacturer's instructions to choose the right bread baking setting and then press "start".
When the breadmaker indicates that your bread is finished, turn the bread maker upside down to remove the loaf, or tease with a rubber spatula. Wait for the bread to cool before slicing.
And there you have it, a few basic steps to making a delicious 1.5 lb loaf of bread for the family.
How to Clean a Bread Machine
Maybe you already have a bread machine at home that you just can't seem to keep clean and are looking for a few tips on how to do so. Or perhaps you are looking to invest in your first bread maker and are curious to see if all of the cleaning up is worth the hassle for a loaf of bread. Let me assure you that it really is! Here are some quick and easy steps to help you get your bread machine back to like-new condition, and how to keep your brand new bread maker looking sharp for as long as possible. Follow the steps closely for the very best results.

Unplug the bread machine and wait for it to cool completely before attempting to clean it. Leaving it to cool will allow time for any wet dough to dry, which will make it easier to sweep away.
Use a dry microfiber cloth to wipe away any crumbs, flour or dough mixture that has been left behind in the inside of the bread machine.
If you find there are some more stubborn bits stuck on the tin, immerse the microfiber cloth into a bowl of warm soapy water and then ring dry. You can then use the cloth to remove more pesky stuck on bits.
Immerse the microfiber cloth into a bowl of soapy water and then ring dry. Use it to wipe over the heating elements, removing any flour or crumbs that may have fallen onto them.
If your bread pan is dishwasher safe, simply place it in the dishwasher to be cleaned. If not, it can be wiped and then rinsed over with a soapy, wet microfiber cloth.
If you find the bread pan has more stubborn bits stuck on, immerse it in warm soapy water for 20 minutes and then attempt step 5 again.
Dry using a microfiber cloth.
Bread Maker Reviews
Looking to purchase a new bread maker but not sure which make or model to go for? It can be tedious to read through endless reviews and comments, trying to work out which one will fit the bill. That is why I have compiled a list of just three of what I think are the very best Oster bread makers on the market this year. Have a look at the specifications of each one to make sure you pick something that will be perfect for you and your family.
Oster Expressbake Bread Maker with Gluten-Free Setting, 2 Pound, White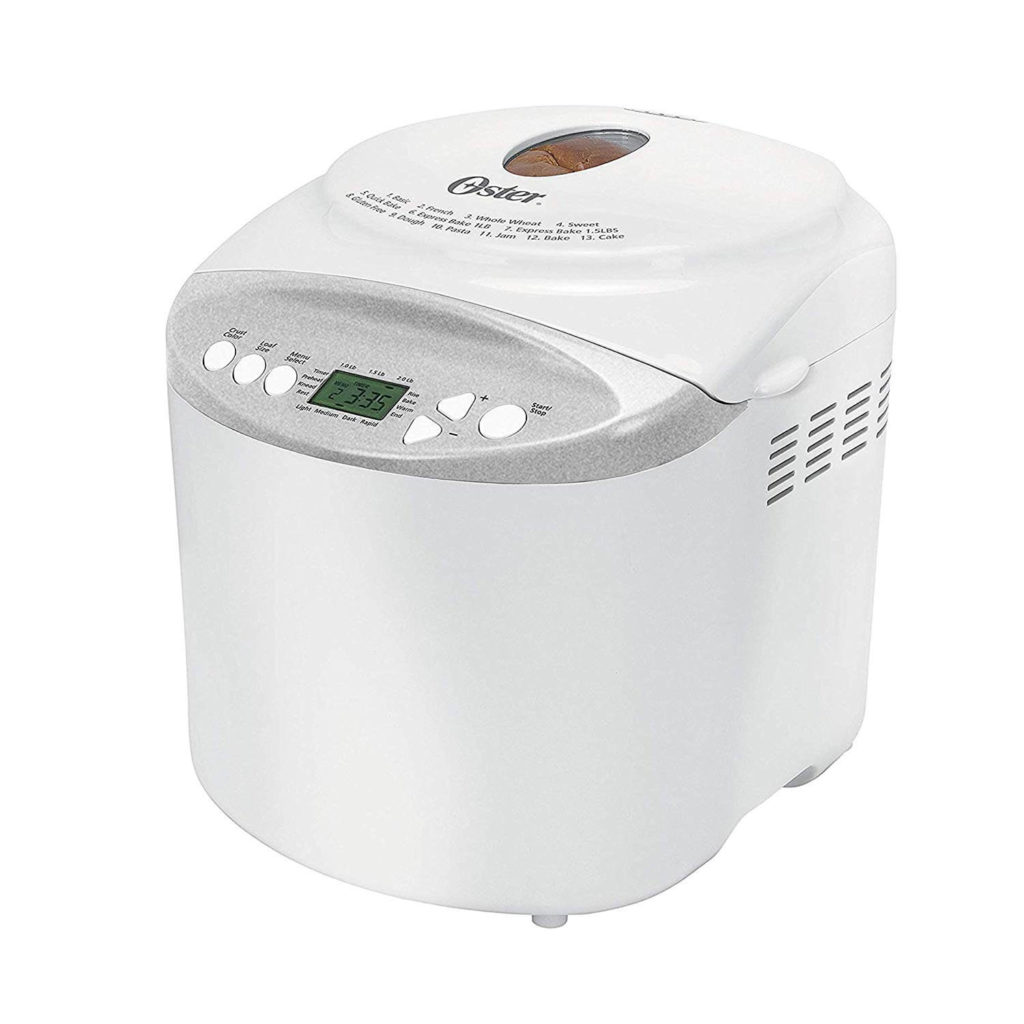 Looking for the best gluten free bread maker? Then look no further as this Oster Expressbake comes with a wide variety of 13 bread making settings, one of which being gluten free bread.

This breadmaker is ideal for big families as it can make up to a 2 lb loaf. Not only does it make bread, but included amongst the 13 settings are options to make pasta, jams, doughs and cakes, making this bread maker the perfect kitchen companion!

Jarden Oster Expressbake CKSTBRTW20 Bread Maker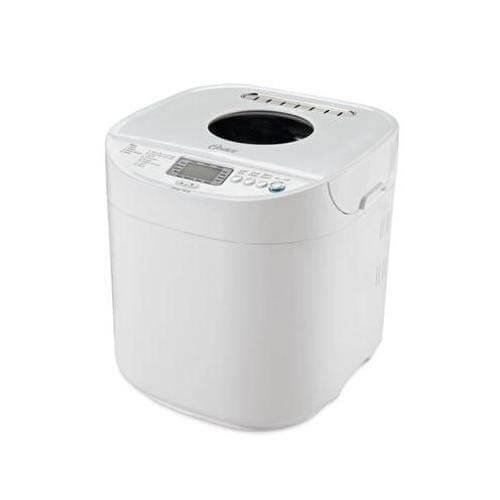 This Jarden Oster Expressbake is another fantastic breadmaker. It comes with 9 programmed settings, including jams and jellies.

The maker comes with a circular viewing window which will help you to keep and eye on your bread as its cooking, without having to keep opening the lid. An audible "beep" will let you know when it has finished baking.

Oster Bread Maker | Expressbake, 2-Pound Loaf CKSTBRTW20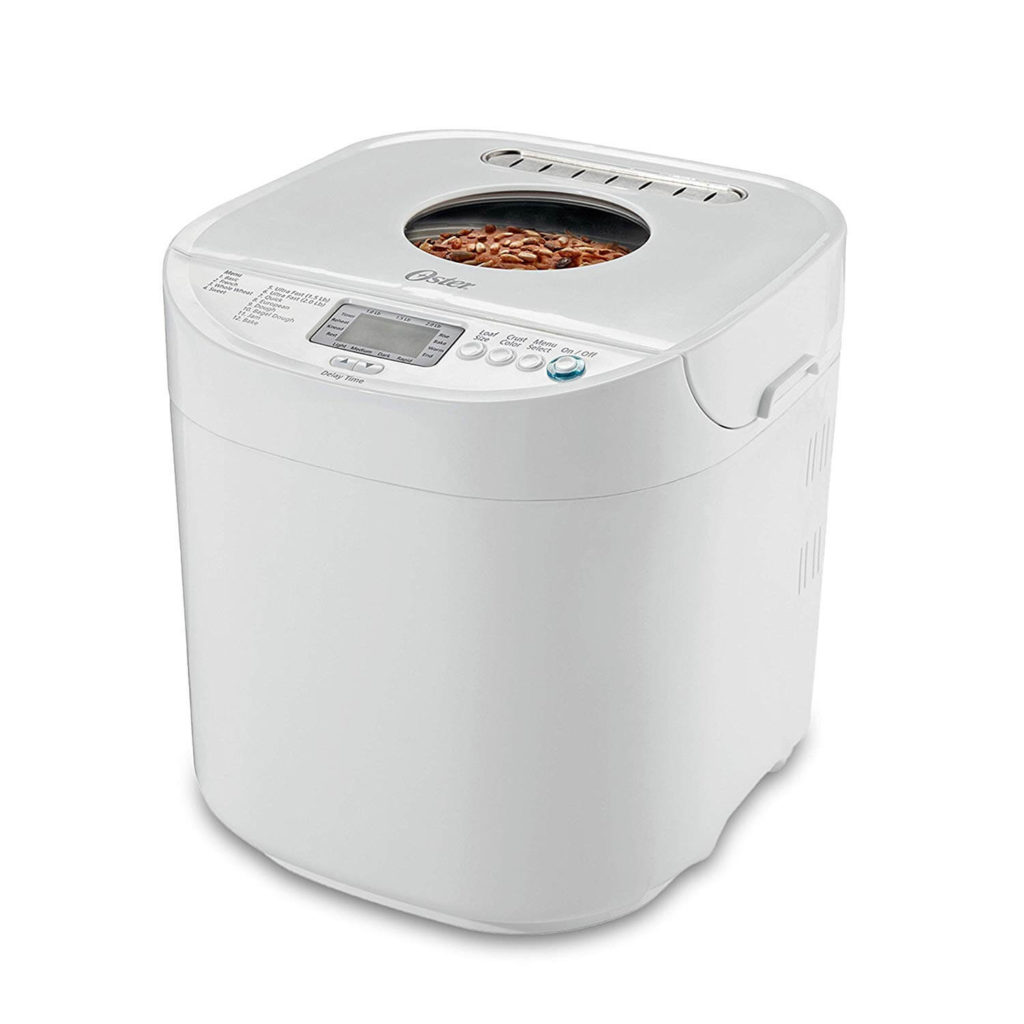 This Oster Expressbake bread maker bakes a nice variety of breads. You can choose from 3 crust settings and there are 12 settings for you to make your choice of bread, doughs and jams. The large LCD display will help you to keep an eye on the baking and time left on the maker.

In a hurry? The expressbake setting on this bread maker will make a 2 lb loaf of bread in under an hour!

Conclusion
There are many breadmakers on the market, but if you are looking for something top of the range that is big enough for the family with a variety of settings, the abovementioned bread makers will be right up your street. Happy baking!