The best home soda fountain money can buy right now appears to be Sodastream, which has been showing impressive sales increases in the last several years.
Despite struggling to get respect on Wall Street since its IPO, the home soda maker has become the top pop machine in the mind of the public. It's not hard to figure out why.
SodaStream Jet Sparkling Water Maker
More and more consumers are hearing about Sodastream's home carbonated water maker. It's a small kitchen appliance which allows you to make soft drinks in your own kitchen that taste as good as bottled and canned sodas bought in supermarkets or convenience store soda fountains.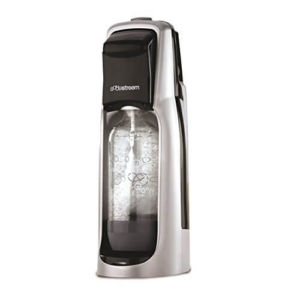 Sodastream Machine
Sodastream flavored syrups gained credibility in the summer of 2011 when it beat samples of cola and ginger ale drinks in a blind taste test on CNBC, a popular financial cable news network.
As reported in a recent article in Daily Finance entitled Sodastream Is About To Overflow,
If DIY soda's a fad, someone forgot to tell SodaStream's customers. The company has been in business in one way or another since 1903. Revenues have grown consistently for several years and more than doubled between 2009 and 2011.
Of course, not every buyer of the base soda machine will become a convert, especially those who receive the soda maker as a gift, but the company bakes a certain attrition rate into its projections.
In spite of those consumers who do condemn their soda maker to the back of the cupboard, consumables are still growing at a strong pace.
Based on unit sales in the last quarter, flavor syrups grew by 52%, while CO2 refills were up 29%, both ahead of growth in starter kits, which clocked in at 15%. For the three-month period, consumables revenue jumped 61%, and the higher-margin category now makes up 60% of sales, helping to boost overall margins.
For those who are unfamiliar with some of the benefits of Sodastream, I've created this short video which tells you more about it.
Learn more about flavors, specifications and pricing information by clicking on Sodastream Online Store.
Read sodastream reviews home seltzer water makers and then you can choose easily the right soda maker machine.
Sodastream Home Soda Fountain and Obesity
Sodastream got some welcome publicity recently when New York City Mayor Michael Bloomberg announced he would seek a ban on sugary soda drinks over 16 ounces sold in certain outlets in New York City.
The mayor believes such drinks contribute heavily (excuse the pun) to obesity, especially in younger people who tend to consume them in 32 and even 64-ounce sizes.
Sodastream advocates quickly pointed out that Sodastream fizzy drinks contain far fewer calories and carbs and much less sugar than carbonated soft drinks you can buy in stores. The advent of SodaStream has created seltzer creating a fun and exciting activity.
Get a SodaStream model that suits your wants and begin creating higher bubbles these days. Relish a sparkling moment.