There's really nothing better than a freshly cut slice of homemade bread. There is something about the chunky uneven slices, the soft, spongy inside and crunchy exterior that just cannot be replicated by a shop-bought loaf. I'm sure you will agree that homegrown is always best and homemade bread is no exception to the rule. 

As you've noticed from your bread making experience, the success of your homemade loaf of bread is often determined by the quality of your bread maker. If your bread maker isn't up to scratch then unfortunately, your loaf of bread won't turn out quite as you expected.

Perhaps this is your first time buying a bread maker and would like some information about the best makes and models on the market today, or maybe your existing bread maker is on its way out and you are looking for information on a good replacement. Whatever the reason, there are so many different makes and models of bread makers that one could easily get lost scrolling through review after review, trying to get the perfect balance between price and quality. That is why this article has been prepared to give you the very best Cuisinart bread maker reviews. 

But you may be wondering, why Cuisinart? Cuisinart is a really reliable kitchen appliance brand. They have been making kitchen appliances since their founding in 1973 and their products have come on leaps and bounds since then. What I like about their appliances is that they come with a great warranty, which really helps you to have peace of mind when purchasing.

So without further ado, have a look at the bread makers listed below and their features, so that you can choose one that will really suit you and your families needs and will help you to make the very tastiest loaf of bread.
Cuisinart CBK-200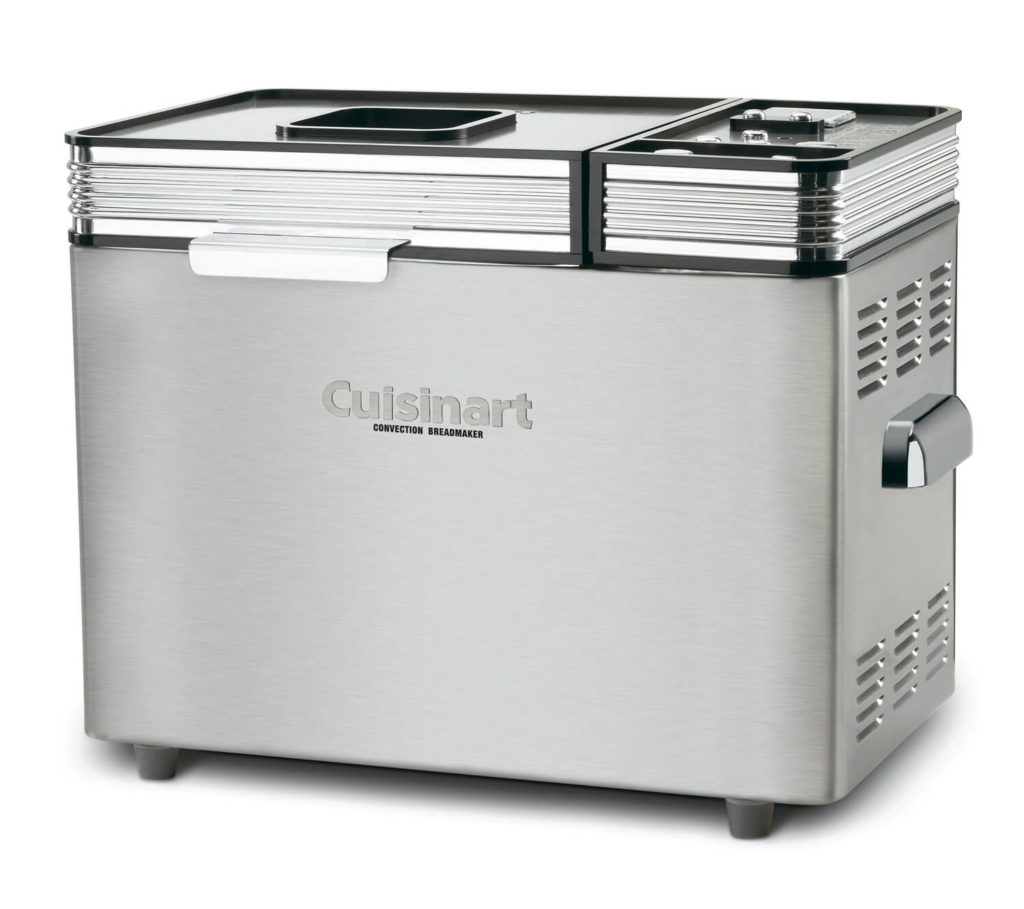 This CBK-200 is a great bread maker with many baking options.
Features
Customizable options. One of the great features I really love about this bread maker is that it comes with a range of over 100 customizable options and 16 preset menu buttons for you to bake your bread in the style that you prefer. The 16 preset buttons are not just your run of the mill settings either, as not only does it come with your average whole wheat, fast bake and pizza settings, but it also comes with a very snazzy artisan, gluten free and low carb pre-programmed settings, so that you can have it your way, no matter the style.
Looking for a kitchen assistant? Then this bread maker is your perfect match as it comes with assisted timing. The bread maker will sound an audible tone when it is time for you to add the fruit or nuts to your bread, so that you don't have to keep a constant eye on the clock.
Want it ready for when the kids get home from school? Not a problem. This bread maker has a delay start option, which can delay the baking process for up to twelve hours. That way it will be toasty and ready to slice for when you arrive home in the evening.
The only con I find with this bread maker is that it doesn't have an internal light for you to keep an eye on the baking, so if you want to check up on it you may need to open the lid and turn on a flashlight in order to do so.
Additional notes:
Here some other points worth considering:
Crust shade colors
Fan of a good ol' crusty loaf? Great, as this bread maker comes with 3 bread crust shade options, now you can choose exactly how brown you'd like your loaf.
Pre-programmed settings
The bread maker has 16 preset menu options including some rather specialty ones, such as low carb, gluten free and artisan doughs, so that you can make that extra special loaf for the family.
Assisted timer
It works as a chefs assistant as the maker will sound an audible tone when the time has come for you to add mix-ins meaning that you don't have to keep an eye on the timing, as the bread maker will do that for you.
The one con I have found with this bread maker is that unfortunately, it is not PTFE or PFOA free, but all of the plastic components are BPA free.

FAQ
What is the best bread maker?
Cuisinart CBK-200 is one of the best bread makers in the market.
How do I reset my Cuisinart bread maker?
In order to reset the breadmaker you need to press the START/STOP button and keep it pressed for 5 seconds, the display will go blank. After the display of the breadmaker is blank press any button and the display will come back on so that you can set the new program.
What is a convection bread maker?
Cuisinart has got two different bread making appliances that uses convection fan. The convection fan allows hot air to circulation within the baking chamber while baking.
Conclusion
So there you have it, your guide to the best Cuisinart bread maker on the market. It has a few bonus features that will help you to make the decision between one or the other depending on your families needs. Take the time to review the above-mentioned information before purchasing and of course, happy baking!