A great chefs knife is your right-hand man in the kitchen, helping you to prepare the best meals swiftly and efficiently. Are you looking for a chef's knife with an ultra-tough blade, a razor-sharp finish and a comfortable grip handle? Then I am sure you will love the Zelite Infinity pairing knife that we will consider in this article.
Every kitchen needs a great chefs knife as it is the ideal knife for all of your chopping, slicing and mincing needs and works well when cutting both meat and fish, fruits and vegetables.
This multipurpose knife is essential in the kitchen, and I am sure you are feeling the strain if you are having to work with a blunt or pitted knife at home.
Knives that have been poorly designed or cheaply constructed are also uncomfortable to use, especially if you are spending extended periods of time in the kitchen throughout the day or over the course of the evening. A badly put together knife can cause additional problems such as wrist fatigue. 

Zelite Infinity Pairing Knife Review
You will be glad to know that this Zelite Infinity review will go into more detail about Zelite knives and will also provide you with a link so that you can purchase your very own Zelite Infinity pairing knife.
Overview
What kind of features can you expect on the Zelite Infinity knife and how has it been constructed so that it is user-friendly? Take a look at the following information that will explain everything you need to know about the specifications on this knife.
Features
Rock solid materials. This chefs knife by Zelite Infinity has been made from 67 layers of Japanese AUS 10 Damascus steel. Each layer of the steel helps to strengthen the blade further, creating a finished product that is stunningly sturdy and robust.
These super-tough materials help the knife to remain sharper for longer and require less frequent honing. 
Perfect balance. This knife has been well balanced to counteract the weight of the handle and the blade, helping you to stay in control of the blade even when cutting slippery food. This makes this knife safer to use and a more popular choice for families.
Mirror polish finish. Are you searching for a knife that will really look the part? Then I am sure this Zelite Infinity Knife will be right up your street thanks to the mirror polish finish that is easy to clean and will glimmer when displayed on the knife magnet in your kitchen.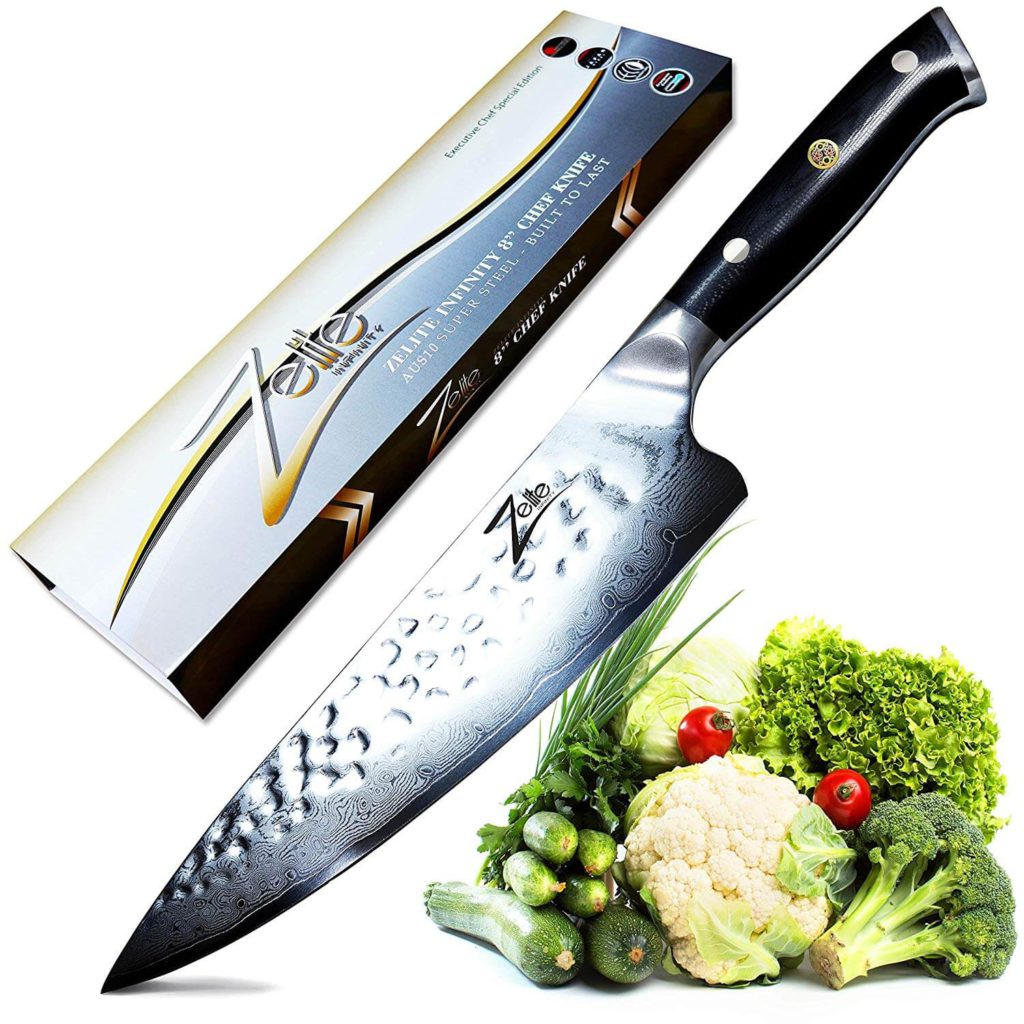 Zelite Infinity Pairing Knife Reviews Pros & Cons
Now you have had a closer look at this Zelite Infinity pairing knife, I am sure you are feeling more confident about purchasing one.
I have outlined our highlights below concerning packaging and our opinion on the craftsmanship of this knife.

Pros
Gift ready. Are you looking for the perfect present for someone who simply loves spending time in the kitchen? Then I am sure they will love receiving this Zelite Infinity pairing knife as it comes gift ready in a pristine gift box. This will make the ideal present for Father's Day, Mother's Day, an anniversary, a birthday or Christmas.
Blade material. Not only is this Damascus steel blade material super tough, but it is also resistant against rust, corrosion, and pitting. This blade will also stay sharper for longer than other, cheaper blade materials.
Cons
Not dishwasher safe. Many users have complained that the knife began to pit or nick when placed in the dishwasher.
It is recommended to wash this utensil by hand and then dry it immediately. Doing so will require a little extra work but it is worth it as it will keep the knife in better condition for longer. 
FAQ
Are Zelite knives any good?
Zelite is a great knife to choose if you want to start your kitchen knife collection. It's high quality Damascus blade makes is ideal for kitchen use and is a great value for money considering the performance.
Where are Zelite knives made?
The Zalite knife is made in Yangjiang, China.
What is the best chef knife for the money?
As per the review above, if you are looking for a high performance knife for your kitchen use then Zelite Infinity chef knife is one of the great ones to choose.
Conclusion
Zelite Infinity has been known for making some fantastic knives and their chefs knife that we have been considering in this article is definitely no exception. Why can we conclude that? The Zelite Infinity pairing knife comes with all of the following features:
A rock solid Damascus steel blade that is made up of 33 layers of AUS-10 steel on both sides, helping it to stay sharper for longer.
An ergonomically designed, rounded handle that is comfortable to use.
A well-balanced design and weight between the handle and the blade, making the knife safer to use.
The perfect gift box to give this knife as a present to a family or friend that simply cannot get enough of the kitchen.
If you are looking for an all-purpose knife with the above mentioned features, then I am sure you will be impressed by the design and makeup of the Zelite Infinity. 
So what is the next step? The next step is simple, follow the link on this page that will help you to get a Zelite Infinity knife delivered to your door as soon as possible so that you can enjoy the swift and clean cutting of this awesome blade.