One of the greatest blenders that is becoming increasingly popular among homeowners across the nation is the Vitamix 5200. But you may be wondering, what do I need a new blender for?
Vitamix 5200
What I love about blenders is that they are so versatile and help you to make a variety of different meals. Asides from being able to count on your Vitamix 5200 blender to make a top of the range smoothie at super speed, you will also be able to use your blender to try your hand at the following recipes:
Awesome homemade lemonade
Just about any cocktail you fancy
Easy peasy scrummy pancakes
The fluffiest scrambled eggs or omelet
Compost breakdown (You can literally use it to do anything)
Vitamix 5200 Review
Now that you have seen just how many uses your Vitamix 5200 can have I am sure you are dying to take a look at the Vita Mix 5200 review I have prepared for you in this article. Not only that, but I have also prepared a handy list of pros and cons so that you can see exactly what to expect when your brand new blender arrives at your door. 

Vitamix 5200 Overview
There are so many recipes you can tackle with blenders in general, but what specifically can a Vitamix 5200 do? The following Vitamix 5200 reviews will help you see just what this blender is all about.
All of this and more is waiting for you in this article. You won't want to miss out!
Vitamix Blender Features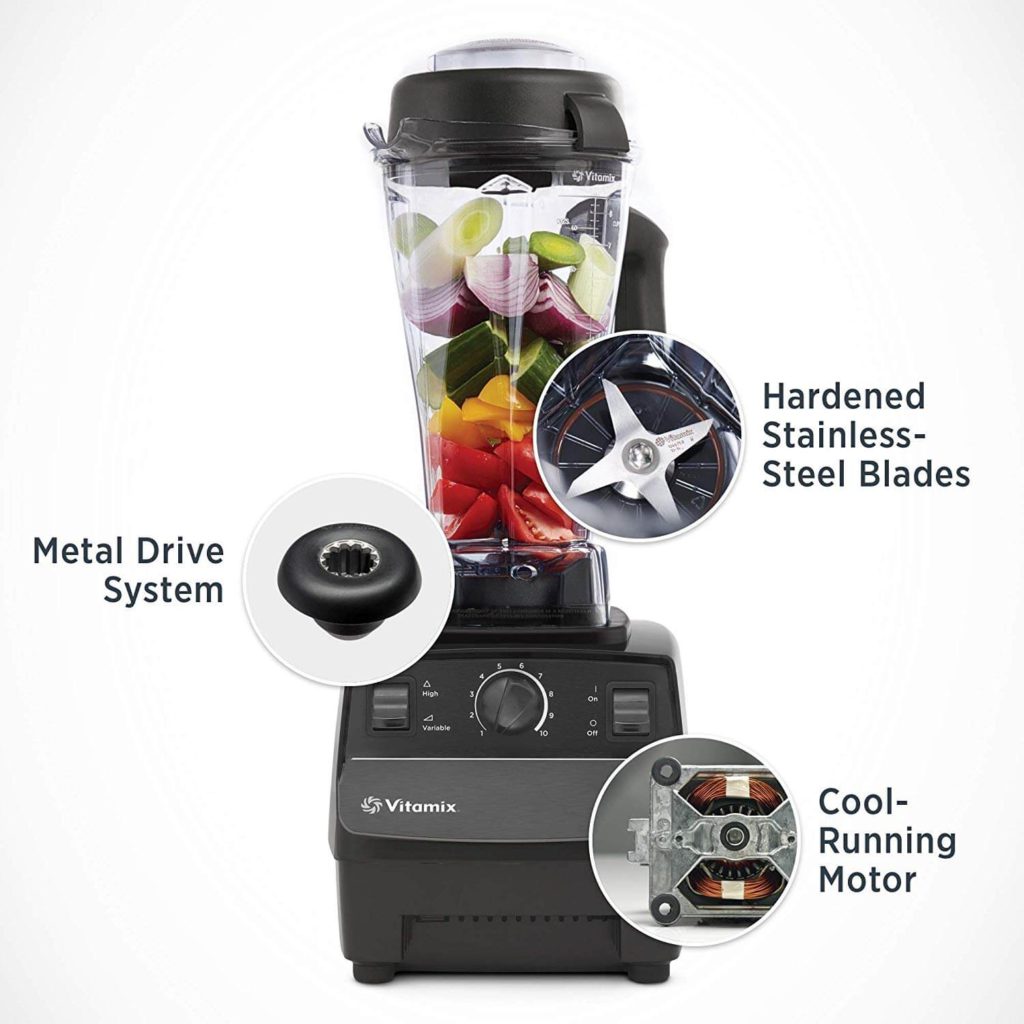 Family sized container. The pitcher on the Vitamix 5200 has a whopping 64 oz maximum – the perfect blender for you to use to mix up something sensational for the whole family to sample. Why make it in batches when you could just get it done in one?
Easy cleaning. No one likes having extra cleaning to do at the end of the day and the team down at Vitamix know that. That is why their blender comes with a self cleaning option. Simply add a little detergent and some warm, soapy water to the pitcher and watch it clean up nicely on its own.
Blade friction heating. The Vitamix 5200 is the perfect blender to use to make piping hot soups, as the friction of the blades will heat up the ingredients as they spin around. The super strong blades and the power behind the motor make it possible to mix even the toughest of ingredients with this blender including leafy greens and ice.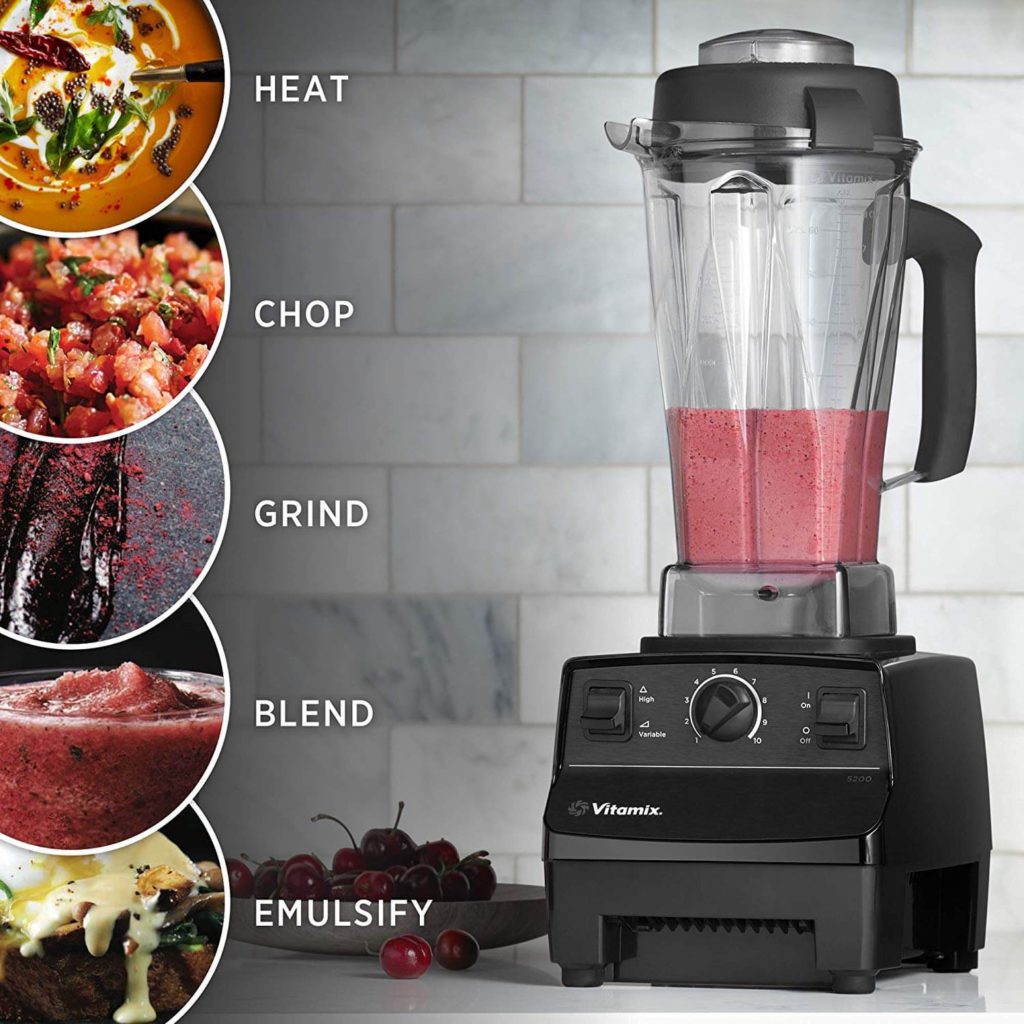 Vitamix 5200 Pros & Cons
So, is the Vitamix 5200 the perfect blender for you? There is only one way to find out – looking at Vitamix 5200 reviews from consumers and seeing what their opinion is on the overall performance of the blender.
Take a look at the following list of pros and cons for the Vitamix 5200 so that you can get savvy on everything this blender is all about.
Pros
The blades are razor sharp and the blender is equipped with a powerful motor that will crush its way through ice and tough vegetables.
Thanks to the friction of the blades, you can make and heat up your homemade soup in about 6 minutes with the Vitamix 5200, so that you do not have to go on to heat it in the microwave or on the hob.
Cons
The Vitamix 5200 is a fantastic blender, but what is most likely to put you off it is its not so fantastic price. This blender model is expensive and some may deem it a little out of their price range if they are only planning to use the blender every once in a while.
The blender does not come with any pre programmed settings so the consumer is in charge of judging the timing needed to make each recipe.
Conclusion
As listed in the outset, there are so many things that can be done with a Vitamix 5200 blender. You can use it to make hot and tasty soups, whip together pancake batter, stir up a 5 fruit smoothie or even roughly chop your ingredients by controlling the blade speed. There is no limit to how creative you can be with a Vitamix 5200!
After looking at the Vitamix 5200 reviews, I am sure you feel more in the know about how the blender operates and how easy it is to keep clean. What other appliance can you name that will clean itself in less than 60 seconds? Simply wipe down the exterior of the blender as required with a warm, damp cloth in order to keep the entire unit in like new condition for longer. 
So if you are looking for a surefire way to create the best summer cocktails, blend your favorite fruits into a smoothie for breakfast or make a show shopping hot soup for the family to enjoy over the dinner table this weekend, make sure you get your hands on a Vitamix 5200 as the best blender to help you put it all together.