Are you a fan of a thick and chunky, golden brown waffle on a weekend morning or as an after dinner snack topped with ice cream and your favorite sticky sauce? Well, let's be honest, who isn't?
If you are a die-hard waffle fan then you will love this article as it has been dedicated to talking about the Cuisinart WAF-F20 double Belgian waffle maker – the only waffle maker you will need to make the very best tall and spongy waffles with deep pockets, perfect for filling with your favorite sweet toppings and diced fruit.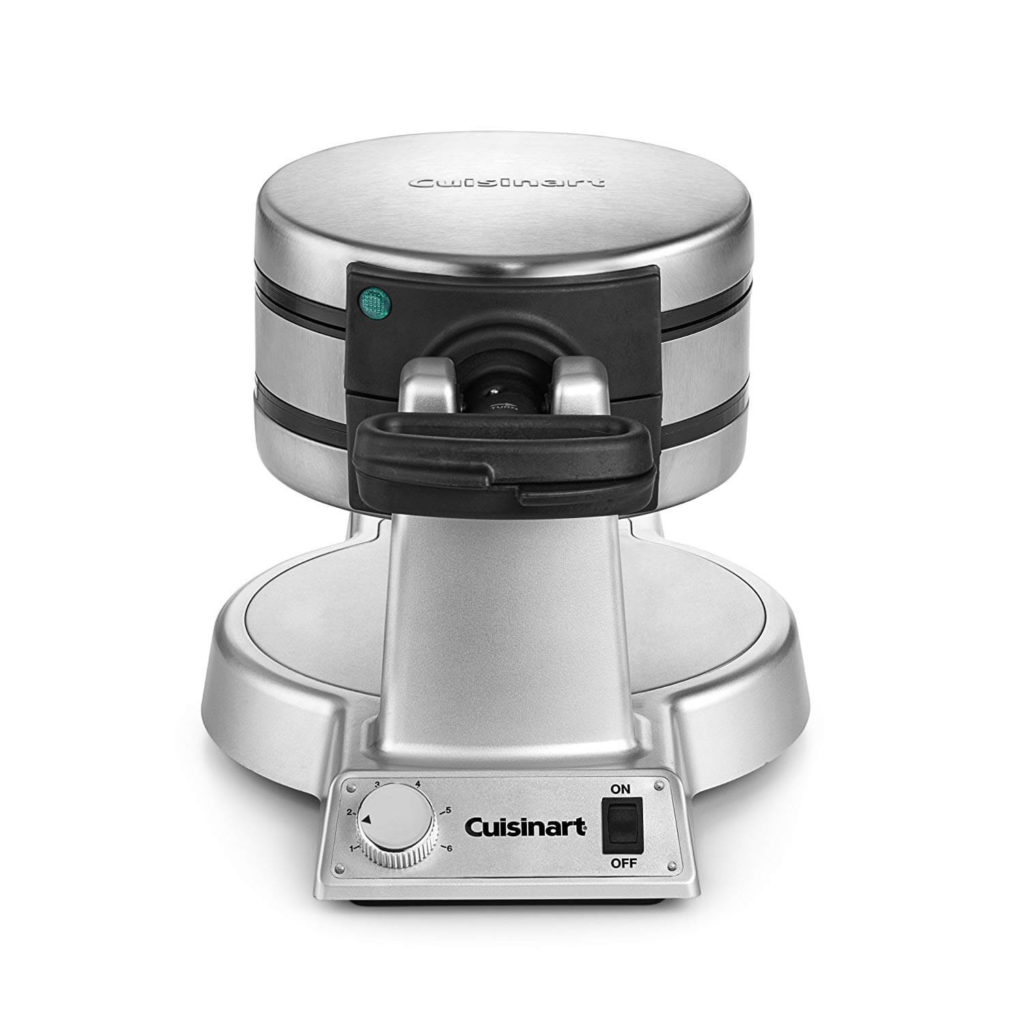 Cuisinart waf-f20 Double Belgian Waffle Maker
Are you ready to find out everything you need to know about this Cuisinart double Belgian waffle maker? Then stay tuned, as this make and model is set to be discussed throughout this article.
Not only will you be able to see a list of all of the fantastic features this Cuisinart WAF-F20 has to offer, but you will also have the opportunity to look at an honest review of the operation and running of the appliance so you can see just how it functions. 

Cuisinart Waffle Maker Review
I am sure you will be glad to know that I am now going to leave the waffling to the Cuisinart WAF-F20 and get straight into the overview!
Overview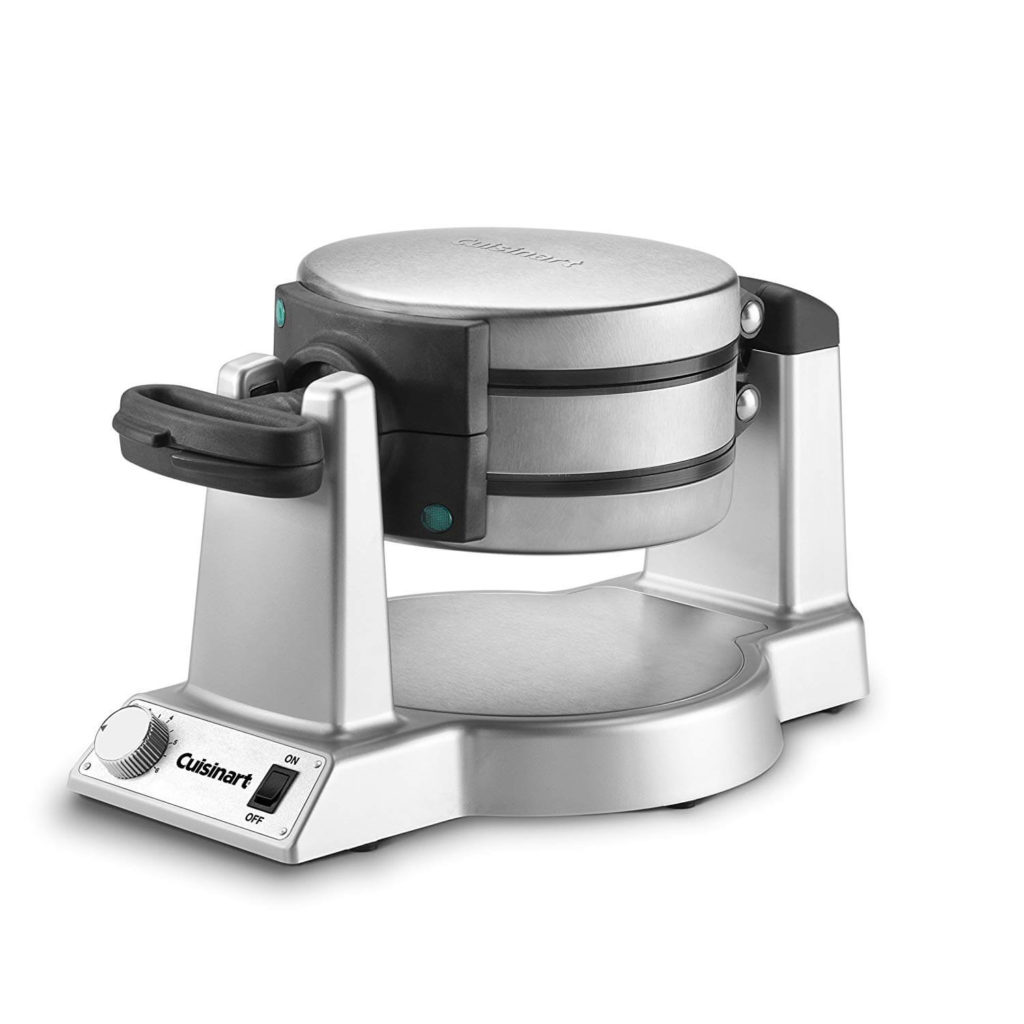 What kind of features can you look forward to experimenting with once the Cuisinart WAF-F20 double Belgian waffle maker stainless steel arrives at your door? Take a look at the pointers below that will show you just what it is all about.
Features
This Cuisinart double waffle maker makes impressively fat, 1 inch thick waffles that your family will love. The appliance helps to create super deep grooves and pouches in the waffles that will cradle oodles of your favorite toppings and drizzles.
Talk about double trouble! This waffle maker will make two delicious waffles at once, making this the perfect appliance for families, or for those who fancy serving up twice the deliciousness in half the time – so it's pretty much perfect for just about every waffle lover under the sun.
Everyone likes their waffles differently and that is why this waffle maker comes with 6 browning settings so that you can make yours just as golden as you like them every time.
The LED ready lights will assist you with cooking as they will light when the waffle maker is ready for the batter and also when they are cooked and ready to be removed. No guesswork and fiddling required!
Pros & Cons
Now that you have had a look at some of the great features that await you on the Cuisinart WAF-F20 double Belgian waffle maker, I am sure you are keen to get hold of one of these models for yourself. Before you do, take a look at this handy list of pros and cons which will go into more detail about how this appliance functions.
Pros
High quality non stick coating. One of the features that is essential and very popular on this appliance is the non stick coating, which helps waffles to easily release, sliding away from the plates once they have finished cooking.
The non stick coating also makes it easier to clean the appliances, cleaning up with just warm water, a drizzle of washing liquid and a non-abrasive cleaning cloth.
Cons
Non removable plates. Some users have noted that the cleaning of this appliance is a little awkward as the plates are not removable and cannot be placed in the dishwasher to be washed. So you will have to take care when cleaning the unit, midning the electrical parts. However, thanks to the non stick coating the appliance is still relatively quick to clean after use, requiring minimal effort.
Conclusion
So what is the general consensus on this waffle maker? As I am sure you have gleaned from this article, the Cuisinart WAF-F20 is a premium appliance with rotating parts that ensures your waffles are as fluffy as can be and as thick and chunky as possible when cooking.
Not only that, but thanks to the helpful LED lights that shine and beep, you will never have to guess again when your waffles have finished cooking, simply remove the waffles from the plates once you have heard the appliance sound. All of these features make this a super simple appliance for the whole family to use and ensures tasty results with every batch you make.
This waffle maker is ideal for families as it will make two waffles at once, that's double the deliciousness! What more could one ask for? So if you are considering purchasing a brand new waffle maker, you cannot go wrong when purchasing a Cuisinart double waffle maker.
Make sure you add one of these fantastic appliances to your shopping basket as soon as possible and treat your family to a scrumptious breakfast treat this weekend! I am sure they will love it!