There is nothing that will tempt you out of bed quicker on a Sunday morning than the waft of a freshly pressed pile of fat and fluffy waffles. Are you looking for a handy appliance that will help you make the best stack in town? Then look no further than the Black and Decker 3 in 1 waffle maker.
Black And Decker 3 In 1 Waffle Maker
This Black Decker G48TD appliance is that fabulous waffle maker that pretty much every waffle lover is ranting and raving about. It will help you to make a delicious plate of steaming hot waffles at record speed – the perfect brunch food for a drizzly weekend. 

Black And Decker 3 In 1 Waffle Maker Review
Are you ready to share that crunchy yet fluffy taste with your family? Then take a look at this article as I will go on to explain more about this 3 in 1 waffle maker by Black & Decker and provide you with a link so that you can get your hands on a G48TD model of your own.
Overview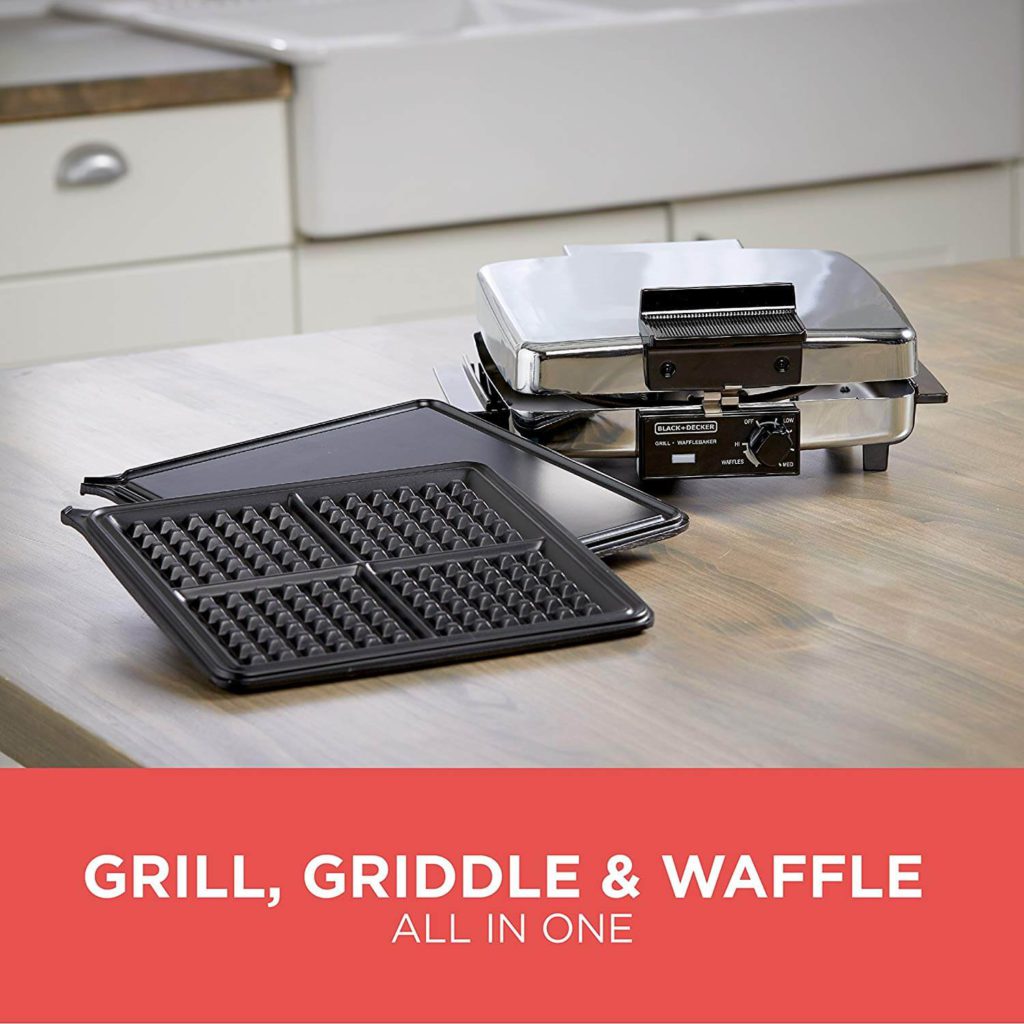 Why is it that everyone loves the Black and Decker G48TD waffle maker? Not only that, but I will also show you a handy list of pros and cons of this model that I am sure you will find helpful to consider when you decide to purchase this fantastic product.  Take a look at just some of the reasons below.
Features
3 in 1. Not only does this waffle maker create a fabulous stack of waffles but it will also toast the perfect sandwich and can even be used to make a fried breakfast. Why not open it flat and try frying your eggs and bacon on the plates for the full American breakfast experience?
Non stick plates. The removable plates on this Black and Decker waffle maker have been coated with a non-stick material that makes them a doddle to clean with just warm water, a drop of detergent, and a non-abrasive cleaning cloth.
Temperature control. This waffle maker has been fitted with a temperature control dial so that you can take charge of exactly how hot the plates get. This will help you to create a variety of different snacks on the plates without the need to use a skillet or other kitchen cookware.
Grease run off channels. One of the most popular features on this waffle maker is the grease run off channels that help to direct oils away from your food, helping your prepared food to be healthier.
Black And Decker 3 In 1 Waffle Maker Pros & Cons
What other fancy features have you got to look forward to on this Black and Decker G48TD waffle maker? Well, I must say it is packed with specifications that you will love that turn making a fresh batch of waffles into something you could do with your eyes shut (don't try that at home). But there are also some features on the G48TD that some users think could use a little tweaking. Take a look at what everyone has to say about it below.
Pros
Multipurpose. One of the most sought-after features on this waffle maker is its multifunctions. It works as a waffle maker, grill, and for griddle cooking the best sunny side eggs, the crispiest bacon, French toast, and sandwiches your family could ask for.
Ease of operation. This 3 in 1 waffle maker is extremely easy to operate, making this appliance a family favorite to have on hand in the kitchen. 
Cons
Timing. Although the waffle maker does have an LED light, this is just to alert the user when the appliance is on and hot, and it does not have a waffle cooking time indicator. It is up to the user to keep an eye on the waffles as they cook.
Conclusion
One's company, two's a crowd, and three's a party. Well, that's definitely true with this 3 in 1 Black and Decker waffle maker. There will be nothing but a party and happy food dancing going on in your kitchen once you open up this appliance flat and use it to cook the greatest fried breakfast. It will help you to serve up something tasty for your family while saving you time on the dishes, now doesn't that sound nice?

Not only does this waffle maker do a great job, but it also really looks the part thanks to its chrome housing, it will shine when sat on your kitchen countertop. 

This is the ideal waffle maker for families as it will help you to cook a variety of snacks and thanks to its 8 inch by 8 inch cooking plates, you will have plenty of room to fry something delicious for everyone to tuck into. 

So, if you are looking for the perfect waffle maker, sandwich toaster, egg and bacon fryer with healthy grease draining plates, I am sure you will love this Black and Decker 3 in 1 waffle maker. Why not treat the family to a tasty Sunday morning brunch by giving this appliance a whirl?