Table could not be displayed.
Are you looking for a gift for a barbecue enthusiast? One of the greatest gifts you can give to someone who loves spending time flipping pounds of sizzling meat on a grill is a pair of the best BBQ gloves. Premium grilling or smoking gloves make a great present as one of the top barbecuing accessory essentials as they are really practical for use not just with a barbecue grill but also around your everyday kitchen.
Barbecue gloves are also a great gift to buy because they are relatively inexpensive in comparison to other barbecuing accessories, they are also a great choice because they are easy to personalize as they come in a variety of colors and styles.
Barbecue gloves make the perfect birthday, Christmas, Father's Day and anniversary present and with the holiday season approaching fast, it is time to start getting your goodies on order before the holiday rush.
If you are purchasing your first set of barbecue gloves then you will need to know what to look for and how you can go about choosing the right pair of gloves. If you are not too sure about what to pick then sit tight as this article will give you a helping hand and suggestions on how to choose the right gloves.
Maybe you are a bit of an old-fashioned cook, you can't seem to get your head around the reason why people need so many kitchen utensils and they all seem like a bit of a waste of money to you.
If you've got quite a wealth of experience in the kitchen you may even be used to cooking without utensils altogether, mixing your food together by simply shaking your saucepans by the handle or even flipping pancakes with your bare hands, using the occasional spatula and wooden spoon when necessary. If that is the case, you may wonder why you need a pair of cooking gloves. Take a look at the section "Why do I need gloves?" in order to find a few instances where bbq gloves come in handy.
Finally and most importantly, the review. During this article, I will go on to show you my top 8 selection of bbq gloves that are storming the nation right now. These are premium barbecue grilling gloves that you will love. Take a look!

Top 8 Barbecue Gloves Reviews
Purchasing the right pair of barbecue gloves is really important as your standard kitchen gloves simply will not cut it for working on the grill. Please note that some of your bog standard kitchen gloves could ignite when exposed to the flames or the heat of an open grill.
That is why it is best to purchase a set of gloves that has been specifically designed for resistance against the high temperatures of a smoker grill. 
Take a look at the top 8 list of barbecue gloves below that will help you find your perfect set of barbecue gloves.
KITHELP BBQ Gloves
Overview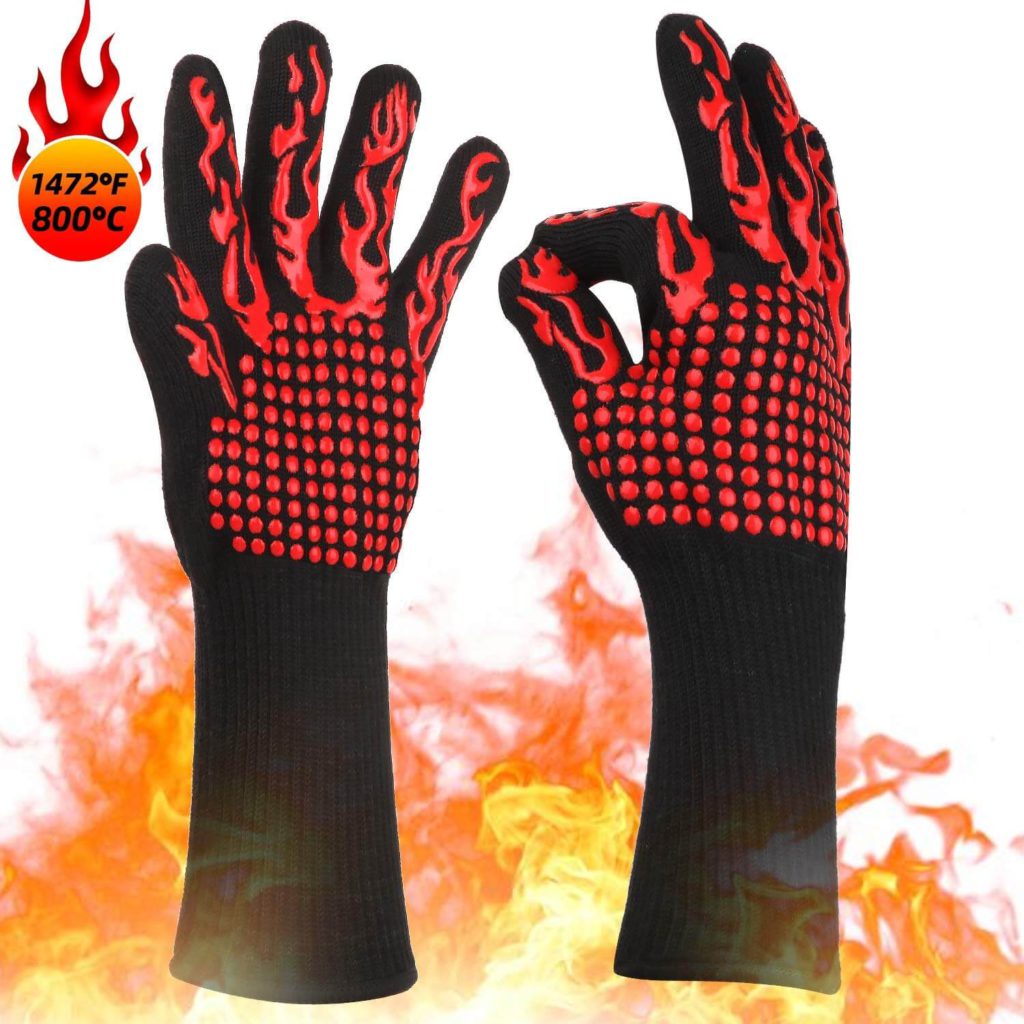 Here is a great pair of extreme heat resistant silicone grill gloves by KITHELP.
Features
These gloves are made up of three layers of heat resistant and non-slip materials making them effective against temperatures of up to 1472 degrees Fahrenheit or 800 degrees Celsius.
The gloves although strong, are made from breathable fibers that allow air to flow to your hands helping to keep them cool over the intense heat of a grill and during the summer.
The gloves also cover the wrists and forearms for complete protection from the heat of the grill.
Pros
Resists heat efficiently
The material is breathable
Strong and well made
Cons
Heat tends to transfer through the gloves after a while so might have to be a bit cautious
GRILL HEAT AID
These grilling gloves have been crafted from Aramid fabric – the same material that is used to make firefighter uniforms!
Overview
These gloves can resist more heat than other materials and gives the user better dexterity in the digits. Check them out.
Features
These gloves can withstand temperatures of up to 932 degrees Fahrenheit making them the perfect gloves to use around a hot grill.
These gloves have extra cuff length helping to further protect your wrists, hands, and forearms from the heat of open flames.
Pros
Extremely durable
Provides great heat protection
Cons
The gloves are not universal in size
Kitchen Perfection
Overview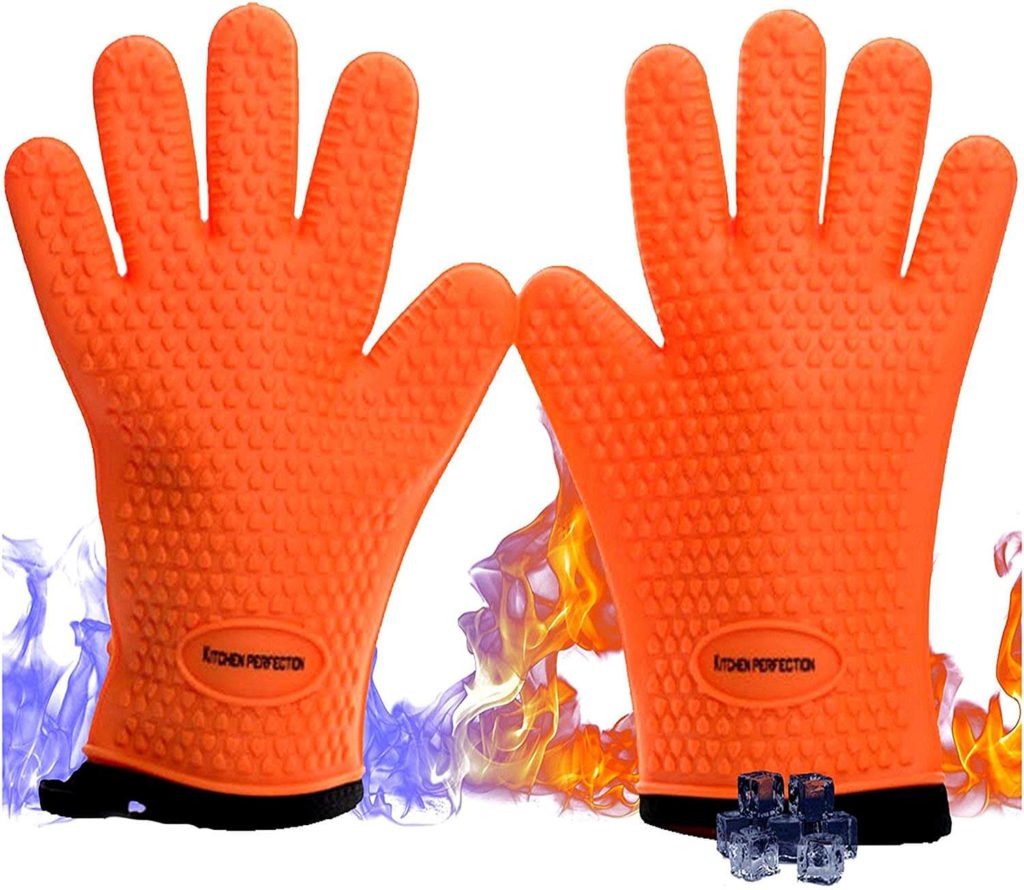 If you have been looking for a top class set of silicone grilling gloves then you will love this pair by Kitchen Protection.
Features
This pair of silicon grilling gloves is 11 inches long and will protect your hands from temperatures up to 500 degrees. 
These gloves have a cotton and waterproof double layer making them easy to wash when dirty and wipe dry ready to be used again.
These gloves are easy to clean making them the perfect solution for handling food directly on the grill.
These gloves come in two great colors so that you can pick the style that most suits you – lively orange or apple green.
Pros
Easy to slide on
Waterproof material
Easy to clean
Cons
Provides ery low heat resistance
SBDW
Overview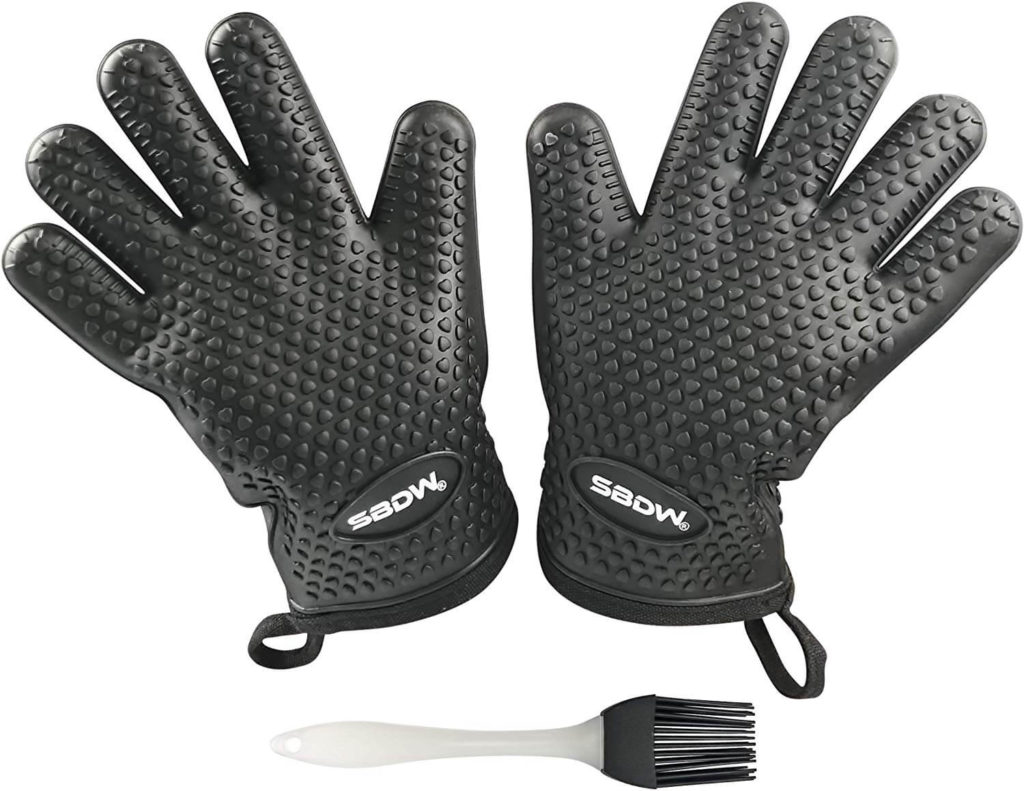 If you like a personalized touch then you will love these bbq cooking gloves by SBDW as they come in 3 creative colors – a vibrant red, classic black, and a cool blue. Choose the color that you love the most.
Features
These gloves are safe to use with temperatures up to 450 degrees Fahrenheit, making them the perfect gloves to use to handle a hot grill.
The internal lining on these gloves is made of a breathable material that allows air to flow to your hands, helping them to stay cool even when faced with the heat of the grill or of the summer months.
Pros
Strong and durable
Resists heat for upto 450 degrees
Cons
The fit is very poor and uncomfortable
Artisan Griller
Overview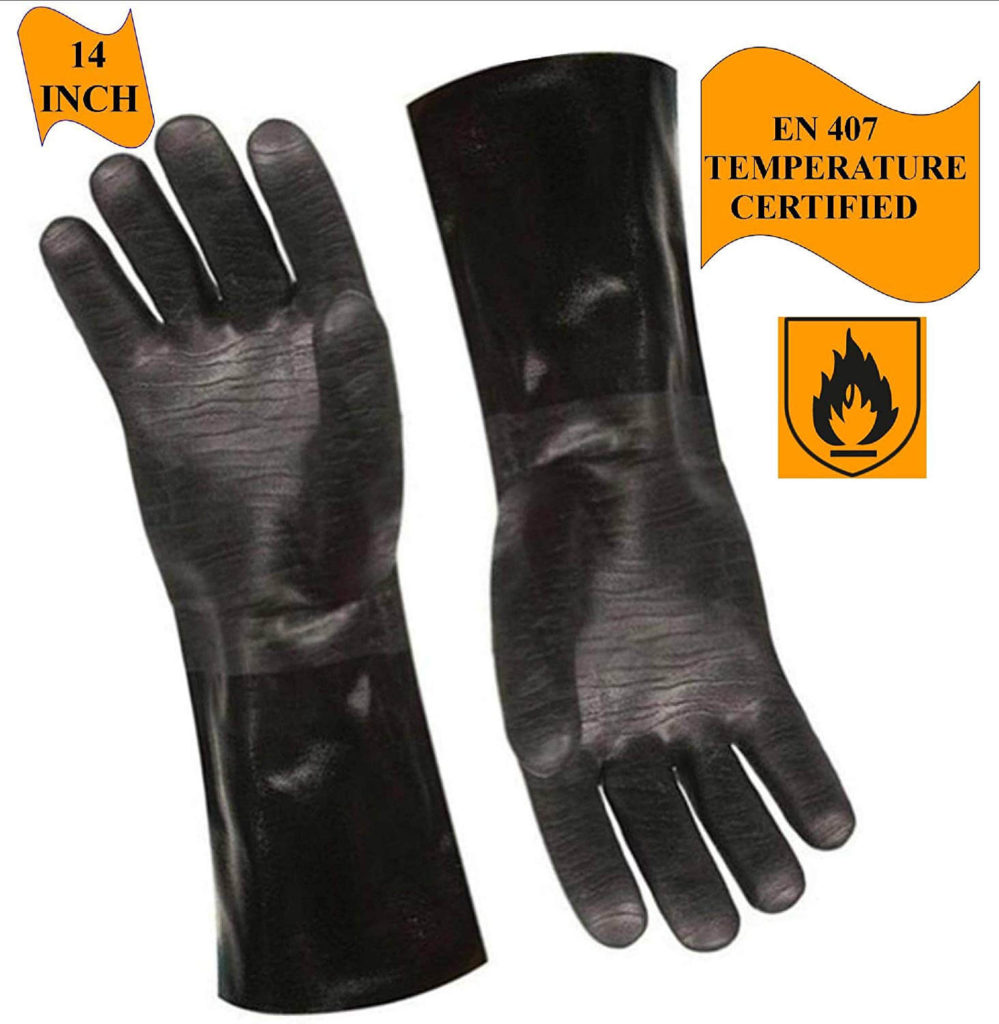 Here is a particularly long pair of bbq gloves, protecting not just the hands and wrists but also the forearm from the harsh temperatures of a smoker grill.
Features
These gloves are 14 inches long, protecting up to the forearm and are lined with jersey cotton – a fantastic fabric that will help to keep your hands cool while using the grill.
The gloves are coated with neoprene rubber making them waterproof and super flexible, great for use with barbecue tools such as scissors and tongs.
Pros
Long gloves and easy to put on
Very flexible material
Easy to wash
Cons
Very low heat resistance and can feel the warmth from the grill right after a while
NIA BBQ Gloves
Overview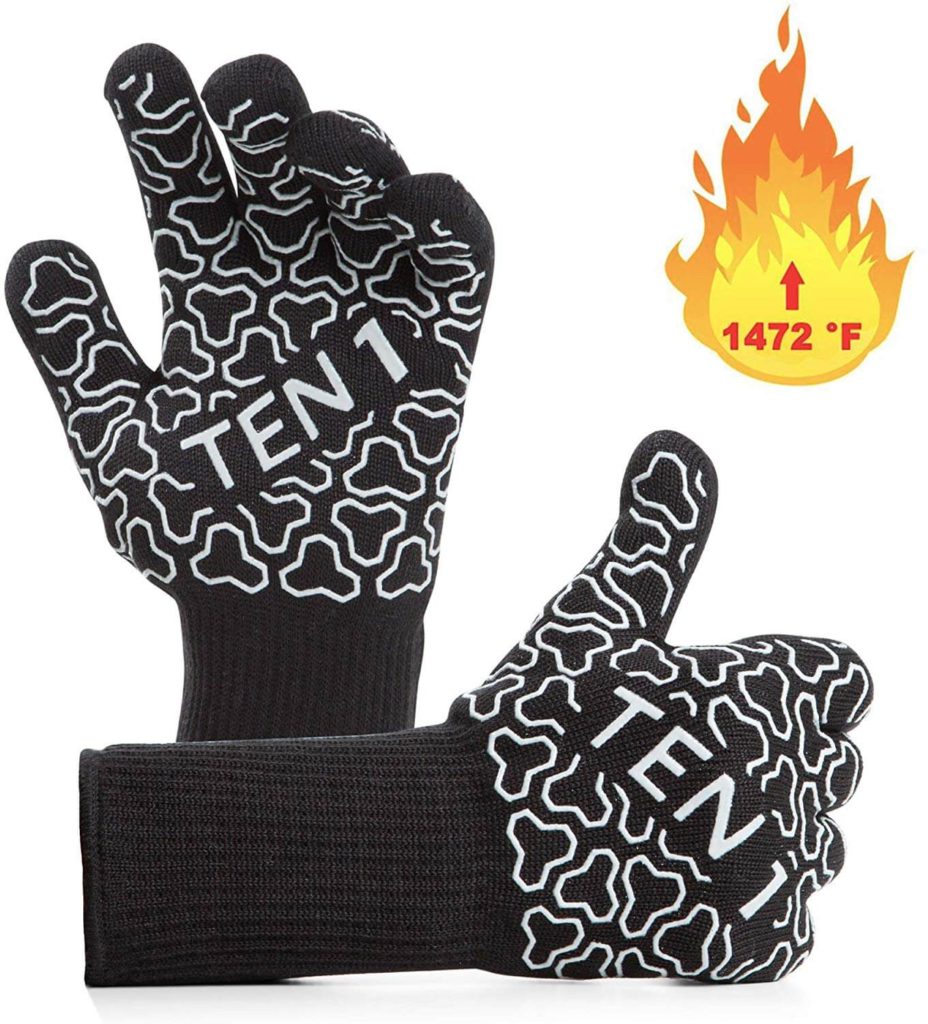 Here is another pair of extreme heat resistant gloves. 
Features
These gloves are resistant to temperatures of up to 1472 degrees Fahrenheit making them the perfect gloves to use on a hot grill and when handling hot racks and plates. 
These gloves are made from Kevlar fabric, making them stain free and odor free, meaning that they will stay in like-new condition for longer.
Pros
Extremely durable material
Provides great heat protection and is ideal for bbq cooking
Cons
The size of the gloves are not ideal for all
Mr. Smith BBQ Comfortable Cotton Inside Grill Gloves Protects to 1472
Overview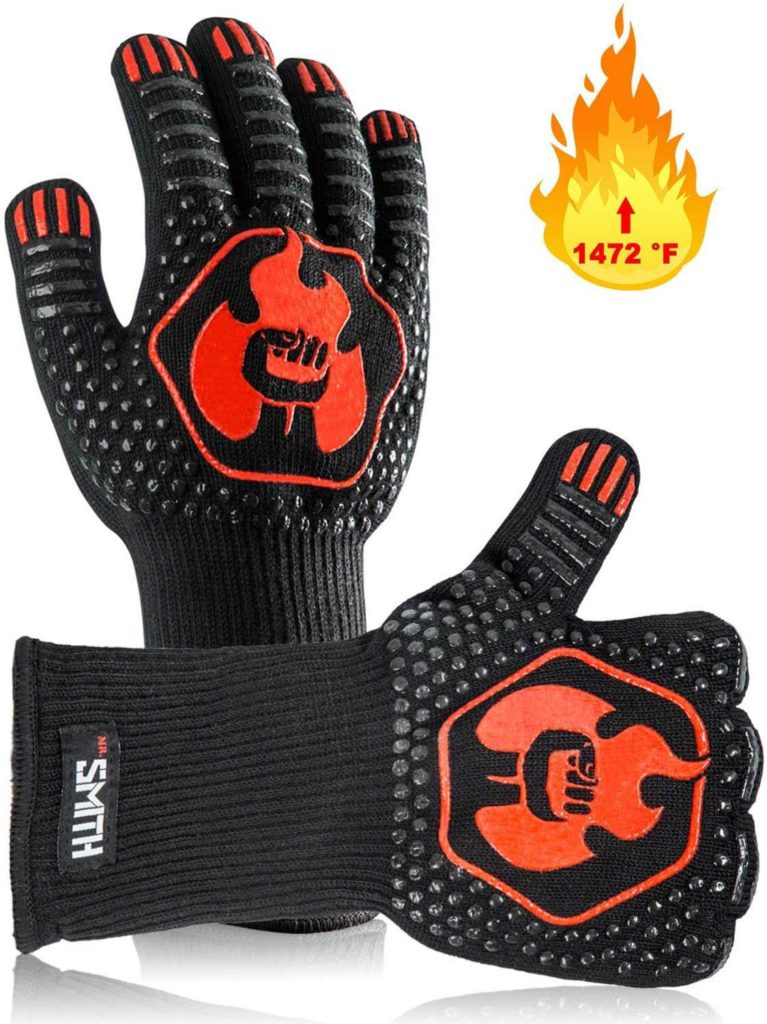 Here is another set of heat resistant bbq gloves that will protect your hands from temperatures of up to 1472 degrees Fahrenheit but this time they are coming to you by the makers at Mr. Smith's.
Features
Not only do these gloves have great heat protection but they are also covered in non slip grip points that will help you to keep a firm hold on kitchen utensils and hot and heavy grill racks and pans.
These gloves are machine washable – helping to make life that little bit easier. 
Pros
Extremely durable
Easy to wash
Cons
Not as resistant to heat as it claims to be but can work on bbq without any issue
OZERO Leather Gloves
Overview
Here is a great pair of leather grilling gloves by OZERO.
Features
These gloves are heat resistant against temperatures up to 932 degrees Fahrenheit. They are 14 inches long, helping you to keep your wrists, hands, and forearms protected from the intense heat of your smoker grill.
These gloves are flame, puncture and oil resistant so that you can have the fullest confidence in them when using them on a grill.
Pros
Extremely efficient in protecting against heat
Long and durable
Cons
This pair of gloves are pretty large in size and that might be an issue for some
How To Choose The Right Gloves
If you have already done a little bit of research into your next pair of barbecuing gloves then you are most likely aware that you have quite a few options before you when it comes to the material of the gloves. You have most probably already come across silicone bbq gloves, fabric meat gloves, leather grilling gloves, or even synthetic bbq gloves and wondered which glove material would be best for your style of cooking.
In order to answer that question, take a look below at the glove material guide that will help you to understand the difference between the four types of gloves, including the good points, and the bad points about each. I will also discuss what kinds of foods and tools they work best with. 
Silicone bbq gloves
Silicone gloves are perfect for direct contact with food because unlike fabric gloves, silicone gloves can be washed clean and wiped dry in an instant.
Silicone is a non-stick material meaning that it will not stick to your food when you are handling it, making it easier for you to transfer your food from your grill to a serving plate without any fuss.
Although silicone is a great choice for handling food, it may not be the best choice for handling intricate kitchen utensils such as kitchen scissors or knives as the gloves are too bulky and do not provide the user with good dexterity for handling utensils.
Fabric bbq gloves
Fabric gloves are the most commonly used kitchen glove because of their dexterity and ability to withstand high temperatures. Fabric bbq gloves are often lined with silicone strips on the fingers and palms in order to further increase their heat resistance in the places where you will need it the most.
Fabric gloves are very comfortable on the hands and will not cause your hands to sweat in the summer unlike other glove materials such as silicone and synthetic bbq gloves that often make the hands feel clammy when used.
The only downside about fabric gloves is that they are not great for handling food as they cannot be wiped clean and will require machine or hand washing and drying. 
Treated leather bbq gloves
Treated leather gloves are fantastic for holding anything hot as the material is highly resistant against hot temperatures. You can use your leather gloves with confidence to hold hot logs, move hot pans and pan handles or even touch smoldering parts of the grill.
Leather gloves, however, are not that effective with direct contact on food as they tend to be rather stiff, giving you limited mobility in the digits. This also makes them unsuitable for use with fine kitchen utensils. Because of the nature of leather, this material also tends to stiffen up over time. 
Leather gloves are not very easy to wash so direct contact with food is not ideal.
Synthetic bbq gloves
Synthetic gloves allow the user to have great mobility in the digits making it easy for you to use the gloves while handling and operating kitchen utensils such as knives, barbecue tongs, and scissors. 
Synthetic gloves can be washed and dried in an instant using warm water and a mild detergent.
However synthetic gloves are made up of thinner materials than other gloves such as leather gloves meaning they are less resistant to high temperatures.
So which glove material should you go for? The choice is up to you and it will be best for you to decide depending on how you cook. 
If you are more of a hands-on chef and you like to be in direct contact with your meat, flipping it, stirring it and marinating it as it sizzles away on the grill then you will find that silicone or synthetic gloves will be the best choice for you. Silicone and synthetic gloves are both easy to wash and dry and are perfect for direct contact with food. 
On the other hand, if you are more of a kitchen utensil lover and are all about your favorite barbecue tongs and lucky spatula then you will love a pair of fabric barbecue gloves as they will give you the confidence to touch hot parts of the grill and the dexterity to handle all of your barbecuing utensils while keeping your hands cool in the summer.
Why Do I Need Gloves?
If you are rather tactile when cooking and like my grandmother you have cast iron fingers and can flip french fries in a skillet with your bare hands then you are probably wondering what the purpose of this article is. "Why do I need a pair of grill mitts?" you may ask. If that question has crossed your mind then allow me to let you in on a few reasons why a grill glove can really save the day.

Handling racks, trays, and dishes.
You will definitely need a good pair of barbecue gloves when handling hot grill trays, racks, and dishes. Why? Because there is no safe way of removing a tray, dish or rack with only a pair of tongs, rather you will need a good solid pair of bbq gloves to remove the dish or rack from the grill without burning yourself. A great pair of treated leather or fabric gloves will be perfect for this job.

Handling large cuts of food.
While barbecue tongs may be the perfect tool for handling sausage links and a few burger buns, you will need your hands to handle chunkier cuts of meat such as a 13 pound brisket or a cut of lamb or a rack of ribs.
A pair of silicone or synthetic gloves will be perfect for you to handle the food directly and then simply wash the gloves clean with detergent and wipe them dry with a microfiber cloth.

Comfort when grilling.
When smoking food on a grill your hands are constantly exposed to high temperatures, something that does not happen when you cook in the kitchen. This can become uncomfortable if you are cooking on a grill and you have to repeatedly draw your hands back because of the overpowering heat of the grill.
To avoid this problem, use a pair of oven gloves when grilling that will protect your hands and wrists from exposure to high temperatures and will make grilling a more pleasant experience.
Has this information convinced you to grab hold of a great set of grilling gloves? If so then you will love what is in store for you next. Check it out!
Conclusion
I am sure that among the list mentioned above of bbq mitts you have been able to find the perfect set of heat resistant bbq gloves in time for you to smoke up the grill this weekend when the family comes over. 
If you are not a big utensil fan and are more hands on when cooking then regardless of whether you will be smoking a leg of lamb, a cut of brisket or pulled pork, gloves made of silicone or synthetic materials will be the best choice for you to season your food and turn it on the grill as and when you need it. 
However, if you are after a little extra dexterity in your digits when cooking then you will love a pair of fabric gloves, perfect for handling utensils and pulling hot racks off of the grill.

Whatever your needs, make sure you pick up a pair of the best heat resistant bbq gloves, today!