Every household needs an awesome waffle maker for those lazy Sunday mornings where the first signs of life from any of your family members are only heard after 10 am and brunch with a steaming hot cup of coffee on the side is an absolute must-have. If you are looking for a top of the range waffle maker for your home, I am sure there will be nothing better suited than a Black Decker G48TD – a premium waffle maker coming to you at a fantastic price. 

Black Decker G48TD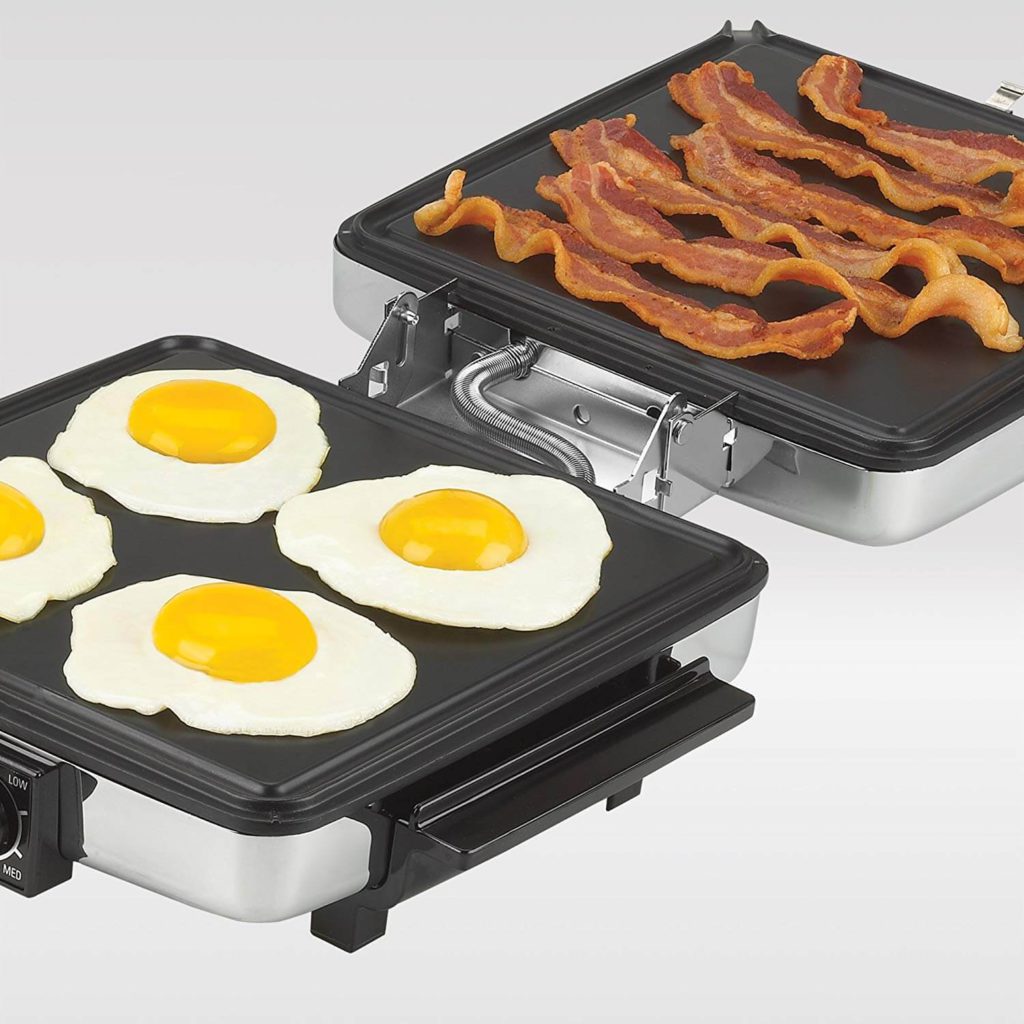 What has the Black and Decker grill got to offer? You will be able to find out in this article as it has been crammed full with everything you need to know about the G48TD waffle maker and all of the fancy features and specifications it comes with.

Black Decker G48TD Review
Skip to the overview if you would like a general idea of everything this Black & Decker G48TD waffle maker can do, or jump straight to the complete list of user pros and cons to find out what consumers are saying about this model so that you can get a better look at your purchase. All of this and more is awaiting you in this Black Decker comprehensive G48TD review. Make sure you check it out!
Overview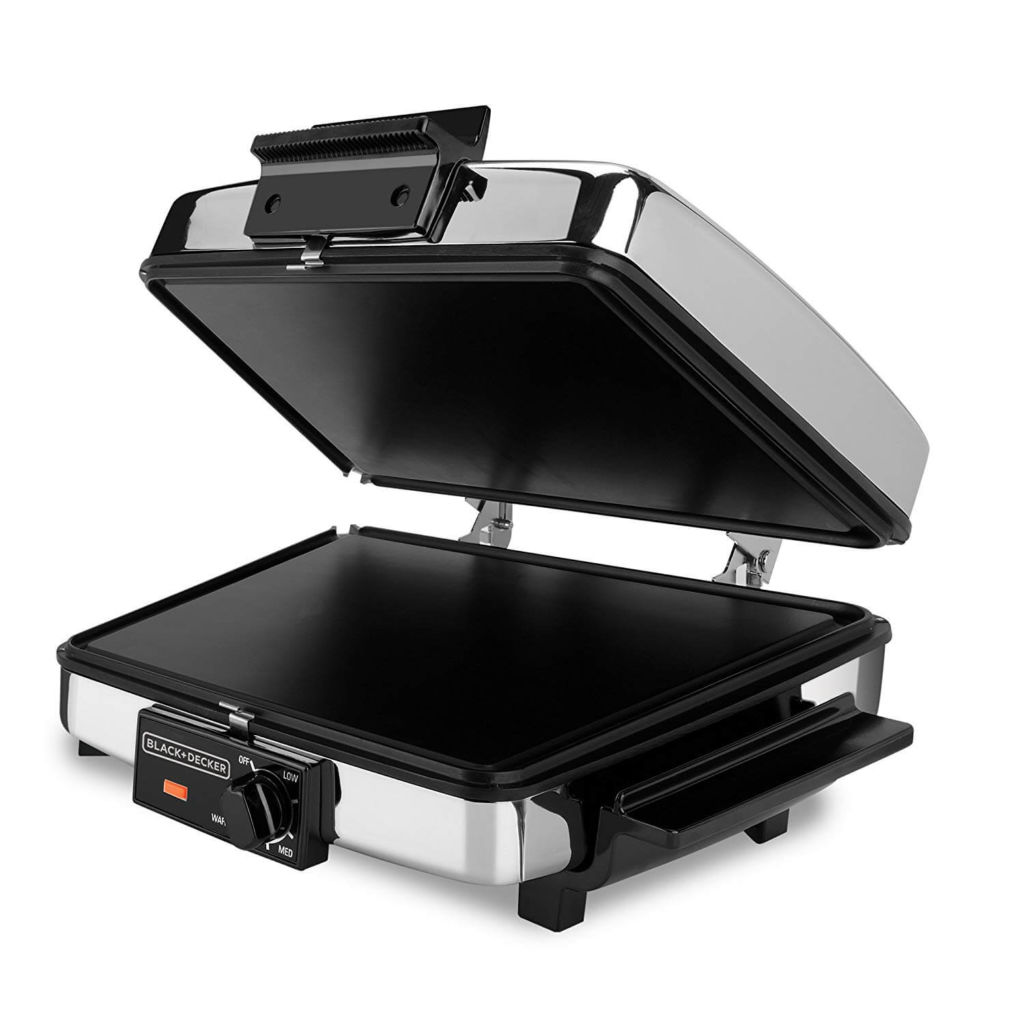 Are you looking for the greatest waffle maker that will assist you in making the very best waffles your family have ever tasted? Then take a look at the Black Decker G48TD overview listed below to see just what this waffle maker has to offer.
Features
Temperature control. The G48TD waffle maker has a temperature dial so that you can control exactly how hot the plates get. Having this control makes it easy for you to cook a variety of different foods on the appliance, including waffles, eggs, bacon, and more!
Healthier cooking. Thanks to the grease run off channels, all of the oils and extra grease will drain away from your food, where you can easily pour it into your trash can after you have finished cooking. This features makes it easier to cook healthier meals as your food will not be sat unnecessarily in excess cooking oil.
Easy cleaning. The grill plates on this waffle maker are non stick, which makes it easier for you to remove the food from the plates once you have finished cooking and also makes it a quick process to get the plates clean again. Simply wipe them with a damp, non-abrasive cleaning cloth.
Black Decker G48TD Pros & Cons
Just in case you are still a little unsure as to whether this is the right model waffle maker for you and your family, take a look at the following list of pros and cons that will let you in on how consumers feel about this model.

Pros
Opens flat. One of the greatest features on this waffle maker is that it can be opened up flat and used to cook a variety of meals. You can use it closed to make the perfect set of waffles or open to fry a couple of eggs, bacon or a whole host of different foods. That way you can get your entire Sunday breakfast cooked using one appliance!
Temperature indicator. The LED lights on the appliance make it easy to know once the waffle maker has heated up and is ready for the batter. Once the appropriate time has lapsed for the waffles to finish cooking another LED light will shine. This will help you to make the perfect fluffy waffles with that irresistible crunchy exterior.
Cons
As expected with most waffle makers, the grates on the plates make it tricky to clean as you have to clean between them individually. But the non-stick coating on the plates makes this easier.
Conclusion
If you have taken a look at the Black & Decker G48TD waffle maker overview and list of pros and cons, I am sure you are keen to get your hands on one of these fantastic appliances.
This waffle maker is ideal not only for making a delicious piping hot stack of waffles, but as shown above, can also be used to make the perfect continental breakfast including eggs, bacon, sandwich wraps, and more. With the variable heat settings and thanks to the removable plates, there is a setting and a plate for you to make a variety of different snack and breakfast foods. 
So, what is the next step? The next step is easy, purchasing! Simply follow the links in this article that will show you the current selling price for this Black & Decker G48TD waffle maker. 
Why wait any longer? The quicker you click and pay, the faster you can have a plate full of fried maple glazed bacon, sunny side fried eggs and a stack of fluffy and golden brown waffles on your plate, ready to drizzle with the stickiest maple syrup – all made on your brand new waffle maker by Black and Decker. Now doesn't that sound scrummy?!
Happy waffling!