There is nothing better than a glass of freshly blended fruit in the morning before work or in the evening as a snack to enjoy before dinner. I am sure that you will agree that the wow factor of your smoothie is highly dependent on the quality of your blender as no one is really a fan of a lumpy, chunky smoothie.

Something that really revolutionized smoothie making for me and instantly made my life ten times easier was purchasing a personal blender. A personal blender, what is that? – you may be wondering, so do read on and allow me to introduce you to the new and wonderful world of some of the best personal blenders.

Top Rated Personal Blenders (Reviews For 2020)
Are you looking for the very best personal blender? Then you are in the right place, as here is a collection on 5 of the greatest personal blenders on the market right now. Mentioned below are a few of the features that really make them stand out, check them out…
NutriBullet Pro
Are you looking for the best small blender out there? Then this 13 piece blender/mixer system by NutriBullet may just be your model. 
Features
Stuck for ideas? Not anymore! This high-speed blender comes with a recipe book packed full of hundreds of recipes that will help you get the most out of your blender.
Make enough for two as this blender comes with two colossal cups and two sips and seal lids for you both to take your smoothie on the go.
The powerful motor with cyclonic action pulverizes food in an instant..
Tribest Personal Blender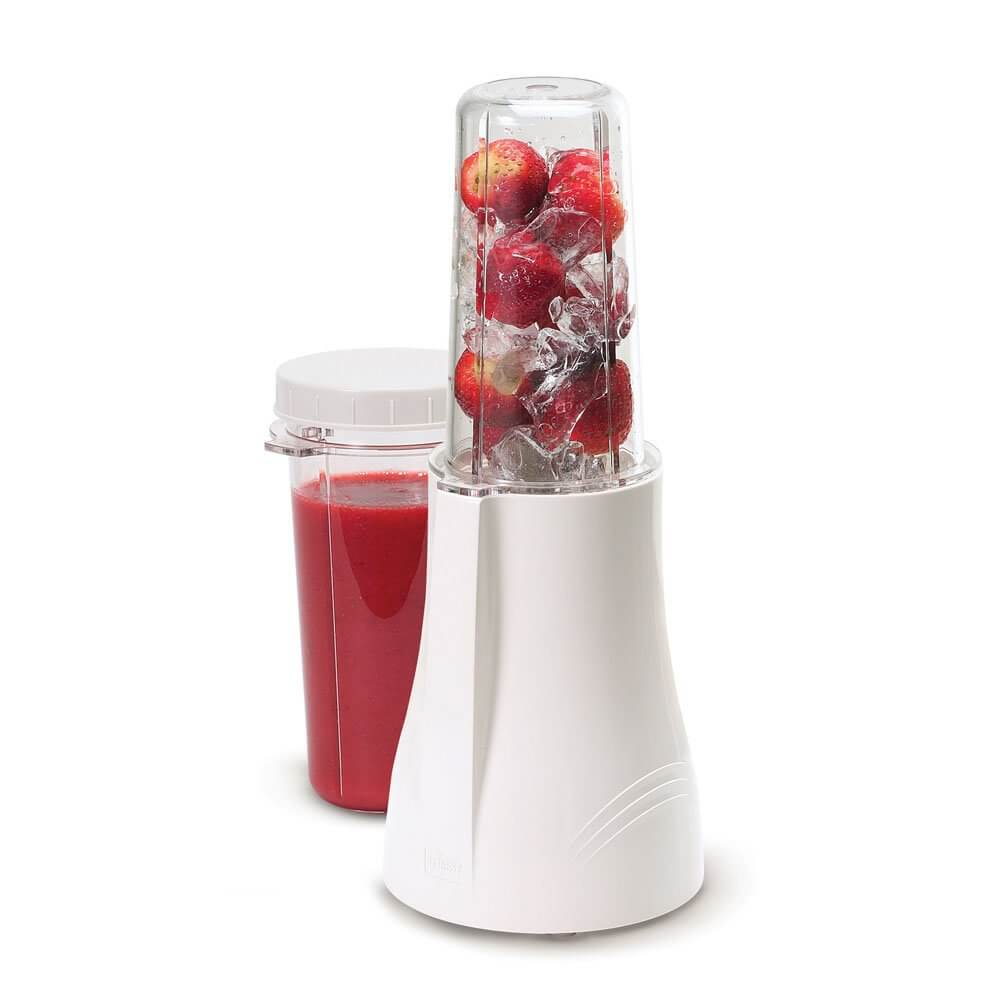 Tribest make some really great appliances and here is the best personal smoothie maker they do. 
Features
Tribest personal blenders come with 2 16 oz blending containers for you to make a smoothie for both you and your partner to enjoy. 
This tri best personal blender has an extremely powerful 200-watt motor that allows you to blend even the toughest of ingredients such as ice, nuts, and seeds. Now you can prepare a frozen fruit dessert to take on the go. 
You can use this model with absolute confidence as it is BPA free so that you don't have to worry about harmful toxins.
Tenswall Portable Blender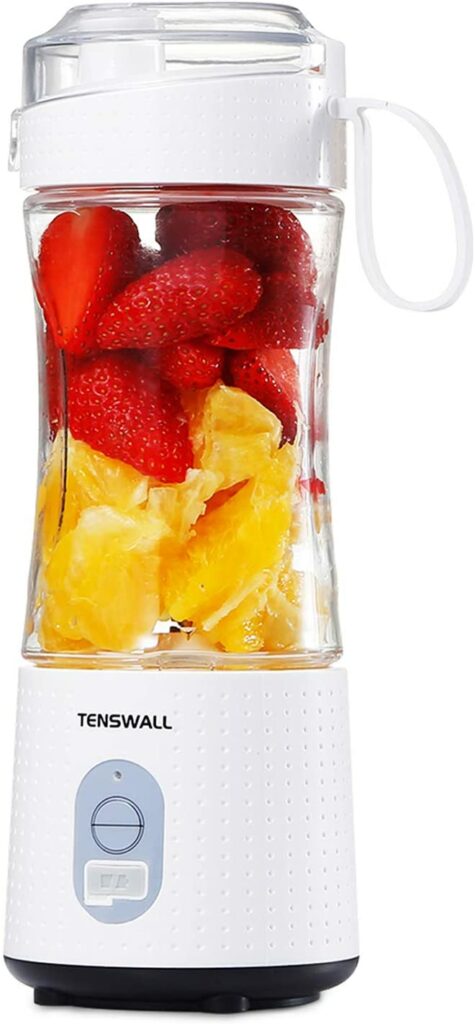 While I was on the hunt for a great individual blender I came across what I think is the best personal smoothie blender by Tenswall. It is fantastic and BPA free so that you can use the blender with complete peace of mind, but that is not all…
Features
It is chargeable by USB, meaning that it can be plugged in a power pack or charged in the car, making it the perfect accompaniment while camping or traveling.
It is small in size and great for those who are looking to declutter the kitchen or who have a smaller food preparation area and storage space. 
The best thing about this model is that the whole product is waterproof and can be rinsed in order to keep it clean. 
Kurso Portable Blender
This portable blender boasts being able to crush ice after just 35 seconds in operation, so you can use the blender on other tough ingredients such as hard vegetables, nuts, and seeds.
Features
It is charged via USB meaning the battery can be topped up just about anywhere with no inconvenience to you, you will simply need a powerpack, car charger or the normal charger with you. 
This blender comes with built in safety features that will stop the blender while in operation should it begin to overheat, keeping you safe.
Hamilton Beach
This personal smoothie blender by Hamilton Beach comes with a 14 oz travel cup and lid so that you can take your smoothie with you on the go.
Features
It is easy to clean as both the container and the lid are both dishwashers safe.
The stainless steel blades and 175 watt motor are very powerful and will pulverize your ingredients fast, including tougher ones such as ice, seeds and nuts. Now there are no limits as to what you could make!
Who is an individual blender for?
We can all see the benefits of having a blender in the kitchen, as previously mentioned, they are perfect for whipping together a healthy smoothie and some of the higher-end models will also have settings that will allow you to make soups, doughs, sauces, condiments and many more foods with your blender. 

But what about an individual blender, what purpose do they really serve? To understand their purpose it is important to know what individual blenders are. An individual or personal blender is a small blender, with a container capacity for one person. Most personal blenders grant the user the convenience of being able to make and consume their smoothie using the same container and most personal blenders come with a handy sip and seal lid accessory that allows the user to take the smoothie with them on the go. 

An individual blender is really fantastic, I recently got my own and simply cannot now imagine life without. The great thing about a personal blender is just how convenient it makes life. I am always in a rush in the mornings (as most of us are) and a few months ago I started trying to improve my breakfast routine and stop myself from simply grabbing something sweet and calorific for breakfast and shoving it in my mouth as I run out of the door. What I wanted to do was actually prepare something nutritious to eat in the mornings.

I found that I had just enough time to prepare a healthy smoothie for breakfast, but just didn't have the time to sit and actually enjoy it, and it would be left sat in the blender all day, in the same place it was made while I'd dash out of the door. That, of course, was until I got myself a personal blender. Now I make my smoothie in my personal blender and when I don't have the time to sit and drink it, I simply remove the container from the base, twist on one of the easy seal lids, throw the whole thing into a bag and then enjoy it as I commute to work.

But convenience isn't the only great thing about a personal blender. Have you ever made yourself a delicious smoothie with banana, or blended an avocado to make your famous homemade guacamole, left it for what seemed to be like next to no time and come back only to see that it has turned brown? That's right, enzymatic browning isn't too pleasant in fruit and can be really off-putting and rather disappointing when a lot of hard work has gone into making your favorite smoothie or sauce. 

What is the solution? A personal blender. Some personal blenders are wireless and can operate without being plugged into the mains. So instead of having to put up with a brown, kind of funny-colored smoothie at lunchtime at the office, why not take the fruit you want to eat with you, chop it and then whizz it together in the staff room? The best thing about personal blenders is that most of them are very quiet, so you won't have to worry about disturbing your workmates while using it and you can enjoy a fresh smoothie every lunch break.

Ok, so let's presume you have made a banana smoothie for work, added a little squeeze of lemon so that it doesn't turn brown but unfortunately, what often happens especially with fresh fruit smoothies is that all of the pith and bits settles at the bottom of the container. There is nothing better than a fresh smoothie and a personal blender will let you enjoy that. Simply take the fruit with you that you would like to blend and use a cordless personal blender to make your fruit into a smoothie, anywhere you need to. Another plus point on personal blenders is that they usually hold on to their charge, so you can make quite a few drinks before having to think about looking for a power socket.

Is that enough convincing about just how essential a personal blender is? Great, let me go on to show you now some of the very best personal blenders.
How to Choose the Best Personal Blender for Smoothies
There are tons of personal blenders on the market today and with information flying at you left right and center about what to avoid and what to go for it can be tricky to know what to look for when purchasing personal smoothie blenders. But don't worry as I am here to help. Here are a few tips on how to choose the best personal blender for smoothies:
Know your ingredients 
Personal blenders come in a wide range of prices with the cheaper models usually having a weaker motor than the more expensive ones. There's nothing wrong with choosing a personal blender with a weaker motor if you choose the right ingredients to put in it. If you know you will only use your blender to liquidize soft fruits and vegetables (eg not nuts, seeds or tough vegetables) then a cheaper personal blender will be more than enough to suit your needs.

Know your quantities
Most single-serve blenders come in sizes for one person to enjoy. But if you will often be making for two, there are personal blenders that have one container that are big enough for a couple to share and personal blenders that have two containers for you to make double the amount of smoothie. Make sure that both containers have sip and seal lids so that you can take them both with you on the go.

Know your settings
Most single-serve blenders come with just a simple on and off blending button, so if you are after a model with pre-set programs that will set the time for the perfect smoothie and switch itself off when it has finished, you will have to search for a higher-end model. 

If you really like the idea of having pre-programmed settings on your blender, you could also choose a regular sized blender model that comes with various settings and the option to use a personal container, so that you can have the best of both worlds.
FAQ
Can you put frozen fruit in a Nutribullet?
Nutribullets are equipped with enough power to deal with frozen fruit and vegetables.
Conclusion
As you have seen, purchasing a personal blender is really the best solution to being able to enjoy fresh fruit and vegetable smoothies on the go. Now that you have had a look at the five best personal blender on the market right now, make a note of the specifications that really caught your eye and then narrow the selection down to the blenders that contain all of the features you need and pick your winner!

With these 5 great models on the market, it has never been easier for you to blend and go!