Are you looking for a brand new blender but are not quite prepared to spend an arm on a leg on it? You will be glad to know that you do not have to as Hamilton Beach has a fantastic range of superb value for money blenders, including the model we will be discussing in this Hamilton Beach Wave Crusher blender review.
Hamilton Beach Wave Crusher Blender Review
There's something about the name of this blender that I really love, Hamilton Beach Wave Crusher
The name reminds me of the sea and of the beach, and what better thing to do at the beach than listen to the waves and sip on a freshly mixed cocktail and might I say, this blender is fantastic at doing that – (mixing cocktails that is, not sipping them).
If you are looking for a blender to whizz together pitchers of the perfect cocktail for your friends to enjoy this weekend, this Hamilton Beach blender is a tool that you simply cannot be without.

But of course, mixing cocktails is not the only thing this Hamilton Beach Wave Crusher blender is good at and I will go on to discuss all of the other uses for this amazing blender throughout this article. So stay tuned for a fantastic Hamilton Beach Wave Crusher review and more, coming right up! 
Hamilton Beach Wave Crusher Blender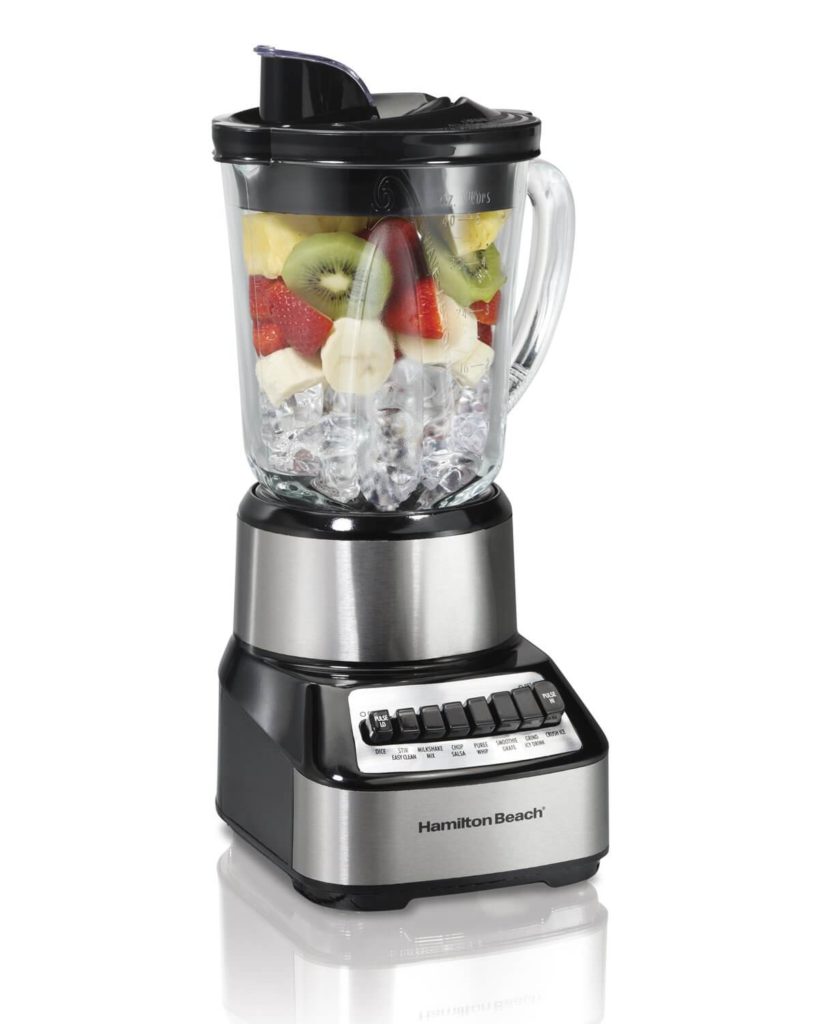 So what else can the Hamilton Beach Wave Crusher blender be used for? The blender is brilliant at making top class smoothies to be enjoyed as part of a healthy balanced breakfast in the morning or a refreshing snack to stop kids from nibbling between meals after school.
Overview
The blender is also ace at making your favorite milkshake and crushing the ice to a pulp to make your frozen treats extra cool in time for the summer.
Are you ready to find out more about it? Then take a look at the overview below:
Features
700 watt power. The 700 watt motor will help to crush ice into snow in just a few seconds. The super powerful motor will also assist you in making your favorite mixes faster than ever.
Drip free spout. Do you hate getting your kitchen countertop dirty? So does the team down at Hamilton Beach and that is why they have designed their blender with a drip free spout that will help you to keep your kitchen work surfaces spotless while transferring the contents of your blender to another container or receptacle.
Dishwasher safe. The lids, blades, and pitcher are all dishwasher safe, but it is best for you to keep them on the top shelf of the dishwasher where temperatures do not reach the extremes.
Hamilton Beach Wave Crusher Blender Pros & Cons
There are so many great things to be said about the Hamilton Beach Wave Crusher.
So take a look at the following consumer opinions that will give you a closer look at the appliance and help you to decide if this is the blender for you.

Pros
Pre programmed settings. The Hamilton Beach Wave Crusher blender comes with 8 different pre programmed settings that will help you to make a variety of recipes including milkshake, salsa, puree, smoothie, iced drinks and more. Make the tastiest recipes at just the press of a button, with no timing and recipe books required!
Great price. Hamilton Beach is known for creating great value for money appliances and this blender is no exception.
Enjoy some premium features on this model at a fraction of what you will pay for other makes and brands.
Cord storage. Keep it all neat and tidy on top of your kitchen units as the blender has cord storage so that you can keep the appliance tucked together.
Cons
The blender does not come with a travel jar with a sealable lid nor an additional smaller pitcher so you will need to decant all of your recipes into a separate container.
Conclusion
Hamilton Beach has a fantastic range of kitchen appliances at reasonable prices and the Wave Crusher blender that we have been considering in this article is a great example of that.
If you are looking for a great quality blender at a low price, you cannot go wrong with one of these. 
Other brands of blenders are also very efficient, but you will pay a lot more for them, even hundreds of dollars, which can seem ludicrous, especially if you are only planning to use your blender every once in a while or no more than a couple of times a week.
Personally speaking, if I am going to justify spending hundreds of dollars on a blender I would also like it to wash the dishes and mop the kitchen floor for me, let alone whiz together a couple of fruits and vegetables.
That is why I love the Hamilton Beach Wave Crusher multi function blender as it is a great appliance coming to you at a very reasonable price.
So if you are dying to get your hands on a quality blender with various pre programmed settings, super speedy blades, a racing motor, and a drip free spout, make sure you treat yourself to a Hamilton Beach Wave Crusher as your best option for affordable but fantastic blending results.