Getting more fruits and vegetables into your diet doesn't have to be a tricky task, and the team down at NutriBullet agree, and that is why they have carefully designed and put together the magnificent NutriBullet NBR-1201 12-Piece High-Speed Blender/Mixer System, the perfect personalized blender that will turn making healthy smoothies from a chore into something you will enjoy doing.
NutriBullet NBR-1201 12-Piece High-Speed Blender/Mixer System
Time is precious in the mornings, and whilst they say that breakfast is one of the most important meals of the day, it is usually the one we pay the least attention to, tend to skip, or fill with just a cup of coffee and high fat or sugary snacks from a drive-thru on the way into work. What can help us to stop this trend? You've got it – the one and only NutriBullet NBR 1201. 
The NutriBullet blender that we will be considering in this article is a fantastic option for whipping together some tasty and nutritious smoothies in next to no time, making a morning fruit shake the perfect option for breakfast.
The blender also comes with some fantastic features that make it even easier for you to take your smoothies with you on the go. 

NutriBullet NBR-1201 12-Piece High-Speed Blender/Mixer System Review
Stay tuned for more information and reviews on this great blender model.
Overview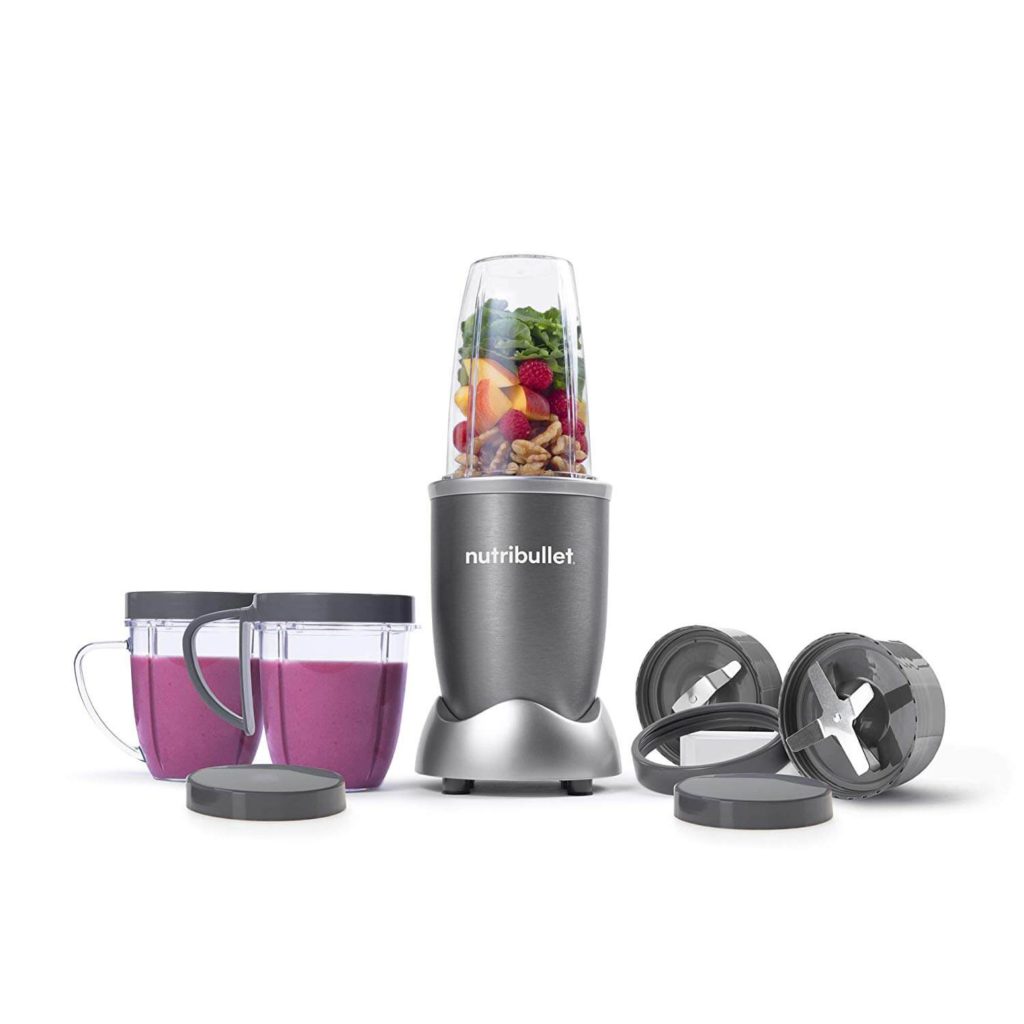 Are you looking to purchase a brand new personalized blender? If so, then you may be curious as to just what the NutriBullet 12-piece high-speed blender/mixer system in gray is all about. That is why I have created the following overview so that you can clearly see exactly what you will be getting when you open the box.
Features
Super speed. Thanks to the super powerful 600 watt motor on this blender, it can make most of your delicious smoothies in less than 60 seconds, giving you more time to get ready in the mornings.
Dishwasher safe. The cups in the NutriBullet 1201 are safe to wash on the top rack of the dishwasher, so you can simply remove them from the base and place them in your machine for easy cleaning.
Recipes galore. Never get stuck for ideas again as this NutriBullet 1201 high-speed blender also comes with a handy recipe book that will help you get the most out of your appliance and will allow the creative juices to flow with your breakfast smoothie ideas.
Personalized blender. The blender cups have a 24 oz capacity – the perfect size for one. Simply make your smoothie, pop on a sip and seal lid, toss it into your rucksack and away you go – healthy eating, even when on the move!
Pros & Cons
I bet now that you have seen all of the fancy features on this NutriBullet 1201 blender, you are itching to get your hands on one asap.
Great! Take a look at the following list of pros and cons that will help you be even more convinced of just how efficient this little blender model is.
Pros
Space saving. Lots of blender models are bulky and intrusive, but the NutriBullet NBR 1201 is the complete opposite, The nutrition extractor measures just 13 inches plus the container, making this the ideal blender to nestle between your kitchen countertop and cupboard units.
Dishwasher safe. One of the working-mom's favorite features on the NutriBullet 1201 is the fact that the cups are top rack dishwasher safe, so that you can whizz and mix ingredients together to your heart's content, without having to worry about cleaning up the mess afterward.
Cons
Warranty. Although this is a superb blender model, most websites and stores are selling it with a limited 1 year warranty. Reviews for the model are fantastic with the vast majority of consumers being happy with their purchase and face no problems when operating it, but the limited and rather short warranty could be somewhat disconcerting to some.
Conclusion
Are you living life in the fast lane and are ready to take the reins back on your diet and start consuming more fruits and vegetables on a daily basis? Then there is no better time to start doing so than right now!
Place a NutriBullet NBR-1201 blender into your shopping basket and you will see just how helpful the blender is and how it will assist you to make better and healthier food choices. 
If you have been searching for a new blender for a while now,  I am sure you are aware that there are a tonne of different blender models and manufacturers to choose from, all with different shapes, designs and specifications. So how can you know if the NutriBullet NBR 1201 is the blender for you? 
The NutriBullet 1201 is the ideal blender for you and your family if you are looking for the following:
A personalized blender that will make it easier to take your smoothies on the go.
A part dishwashable blender that is easy to clean.
A blender with a powerful motor that can break through the toughest of ingredients
Rest assured that if you are looking for a blender with the above-mentioned specifications and more, the NutriBullet NBR 1201 is definitely the model for you!