If you are looking for the very best Oster blender on the market then you have come to the right place. In this article, I will discuss the in's and out's and everything you need to know about the Oster pro-1200 Blender without all of the confusing jargon. 
The Oster Pro 1200 Blender is a fantastic choice, but when buying bigger and slightly pricer appliances it is always good to be in the know about the benefits and specifications that come with the appliance so that you can be sure it will meet and even exceed your standards, helping you to purchase with real of mind.
That is why this article has been prepared specifically for you, as I will go on to list in detail the benefits of the Oster 1200 Pro Blender and show you just how easy it is to use.
Not only that, but I will also go on to list the specifications and everything the Oster 1200 has to offer along with opinions and comments from consumers. 
So if you are looking for a full Oster 1200 Pro Blender review with everything you need to know about this blender, then please read on…

Oster Pro 1200 Blender Reviews
If you are looking to purchase an Oster Pro Blender then the best thing you can do is read the following Oster Pro 1200 Pro Blender Reviews to make sure that this blender ticks all the right boxes.
Overview
If you have a large family then this is th the ideal blender for you. This comes with several speed settings and the Boroclass glass jar can hold up to 6 servings which is enough for the whole family! Check it out below!
Features
This is particularly useful if you have several mouths to feed. You don't want to have to make 2-3 batches of your favorite smoothie, that takes too much time.
It comes with 7-speed settings so that you can follow the recipe to the T. The pre-programmed settings will help you to make the very best green or frozen smoothies, chop food or make salsa or milkshake.
The 3.5-inch blade helps the food to blend faster so that you can have your smoothie on the table at record speed.
It has a 1,200-watt engine with 900 watts of ice crushing power that will help you to turn frozen fruit into a sorbet and fruit and veg into a puree in next to no time.
It comes with a 5 cup food processing bowl, ideal for fast food preparation. Food processing bowls are better for making soups or turning frozen bananas into ice cream 🙂
It also comes with a smoothie on-the-go cup so that you can take your delicious creation with you to drink on the move.
The Oster Pro 1200 Blender comes with a 10-year limited warranty so that you can feel at ease when purchasing.
Pros
The motor is extremely powerful and can blend almost anything to fine puree or juice
Has multiple speed setting
The jar is large enough for serving the entire family
Makes the perfect smoothie without any lumps
Cons
The jar tends to leak
Difficult to open and reattach the bottom part with the blade for cleaning purpose.
Detailed Benefits of the Oster 1200 Pro Blender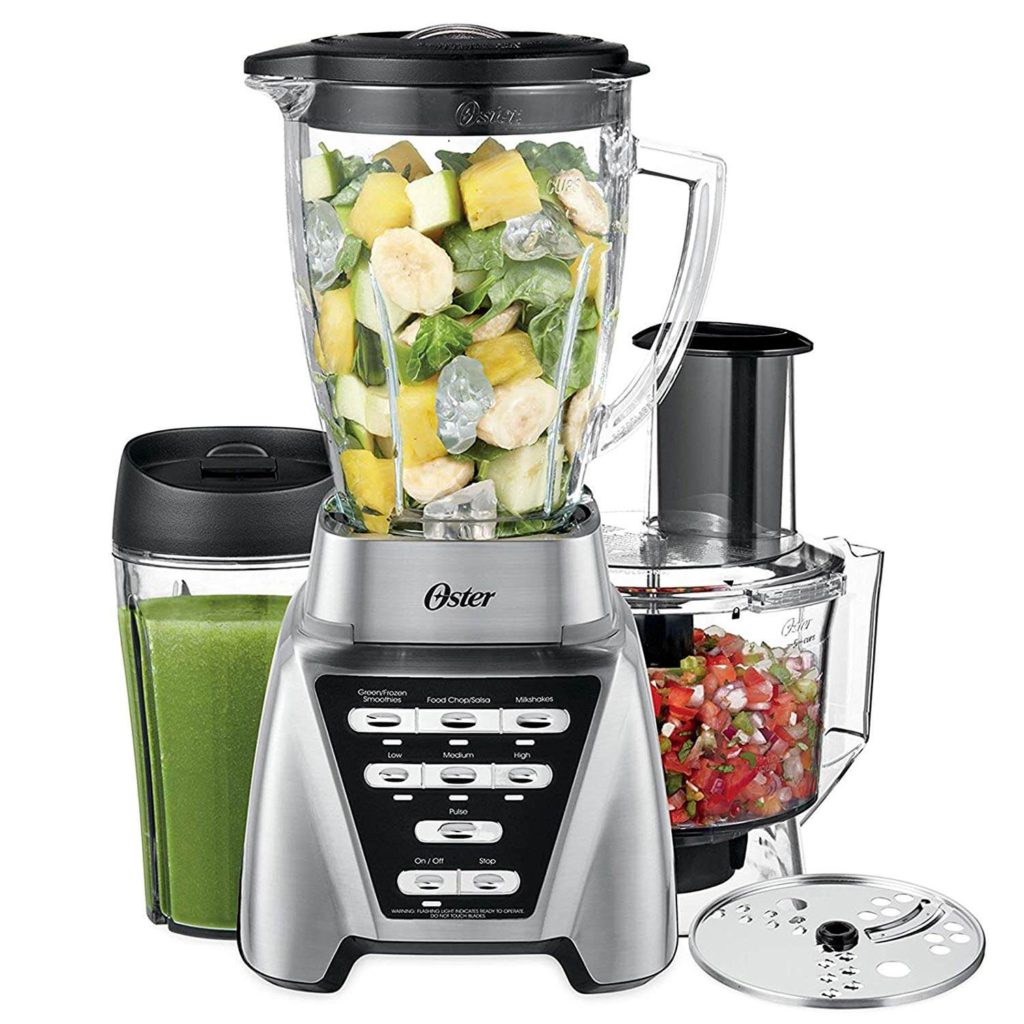 If you are a smoothie enthusiast and are looking for the very best fruit and vegetable blender out there then perhaps you have been researching quite a few different makes and models to see which would best suit you.
So you have landed on the Oster 1200 Pro Blender and might I say, you have made a great choice. Why? The Oster 1200 Pro Blender is a fantastic blender and in many facets is a better option than other well-known blenders like a Vitamix.
In order to get an idea about the areas in which an Oster 1200 Pro Blender is better than any other, take a look at the following list of detailed benefits that will help you to see just why this blender is a number one choice.

It is small, compact but at the same time powerful 
As I am sure you have noticed on your quest for the best blender, many of them are absolute monstrosities. They are so tall and bulky, making them a pain to move and turning them into the main feature (or better expressed, an eye-sore) in your kitchen.
Some models are so humongous that they won't fit between your kitchen countertop and your cupboard units, making them difficult to use and inconvenient to store. 
What about the Oster Pro 1200 Blender in comparison? It measures a mere 8.5 x 10.2 x 13.9 inches and weighs in at only 7 pounds, making it easy to lift and store. 
If you don't have a huge kitchen it can be nice to store your blender away to save counter space.
Powerful motor 
Does the smaller size of this blender mean it doesn't have any oomph behind it? Not at all. It has 1,200 watts of blending power and can crush ice, make salsa and also frozen desserts. Also, the 3.5-inch wide blade will have your smoothies whipped together in a jiffy.
Of course, it doesn't have the most powerful motor on the market, so you won't be able to use this blender to make nut butter, but you will be able to whisk together the creamiest tomatillo salsa or the spiciest pico de gallo at just the push of a button.
This isn't necessarily a bad thing as it will be less noisy than some of the bigger blenders out there.
Dishwasher safe
An easy clean up makes all of the difference and some blenders aren't dishwasher safe in part. On the other hand, the Oster 1200 Pro comes with a dishwasher safe Boroclass glass jar that will shimmer and shine like new after a quick cycle in the dishwasher.
How Easy is This Blender to Use?
Let's face it, no one reads the instruction manual these days and that is why it is so important that appliances are straightforward to use. That is why I love the Oster Pro 1200 Blender as it is as easy as one, two, three to operate. Here's why:

It comes with 7-speeds and 3-programmed settings, making it a walk in the park to make the very best green or frozen smoothies, chop food or make salsa or even whizz together a creamy smoothie. 
The Oster Pro comes with a handy Pulse feature that can be used to clean the glass jar after use and is also useful for adding control and precision when using the blender.
The bottom of the jar comes with drainage holes so that regardless of whether you wash it by hand or in the dishwasher, it won't fill up with water and will be ready to hand dry or simply store and the end of a dishwasher cycle.
Conclusion
Before clicking 'confirm and pay' on that blender you have had your eye on for a little while, make sure you consider the Oster pro 1200 blender as a viable option because it comes with the following features:

Dishwashable
Small and lightweight but powerful motor
7-speed settings
3 preset programs
Works as a food processor as well as a blender
You won't be disappointed with the Oster Pro 1200 Blender by your side!