I am sure you will agree that advancements in technology are on the up and are making various facets of our lives more efficient. A cell phone can provide you with just about all of the information you will ever need, cars are practically driving themselves, there is no end to the advancements when it comes to kitchen appliances.
And the same can be said about WearEver cookware, it is making leaps to create efficient kitchen appliances that make cooking a complex meal dead easy.
WearEver Cookware
Let's face it, some things really suck the fun out of cooking, for example, the mess you make along the way and cleaning everything up afterward. That is one of the main reasons why we love a set of WearEver pans as a lot of thought and careful planning has gone into their design to cut down on mess and make the set easier to polish back up to their original shine.

WearEver Cookware Review
So where can you find out more about a fantastic set of WearEver pots? In this very article! Stay tuned, as, in this article, we will go onto talk some more about WearEver pots and pans and what you can expect from their shiniest set. 
Overview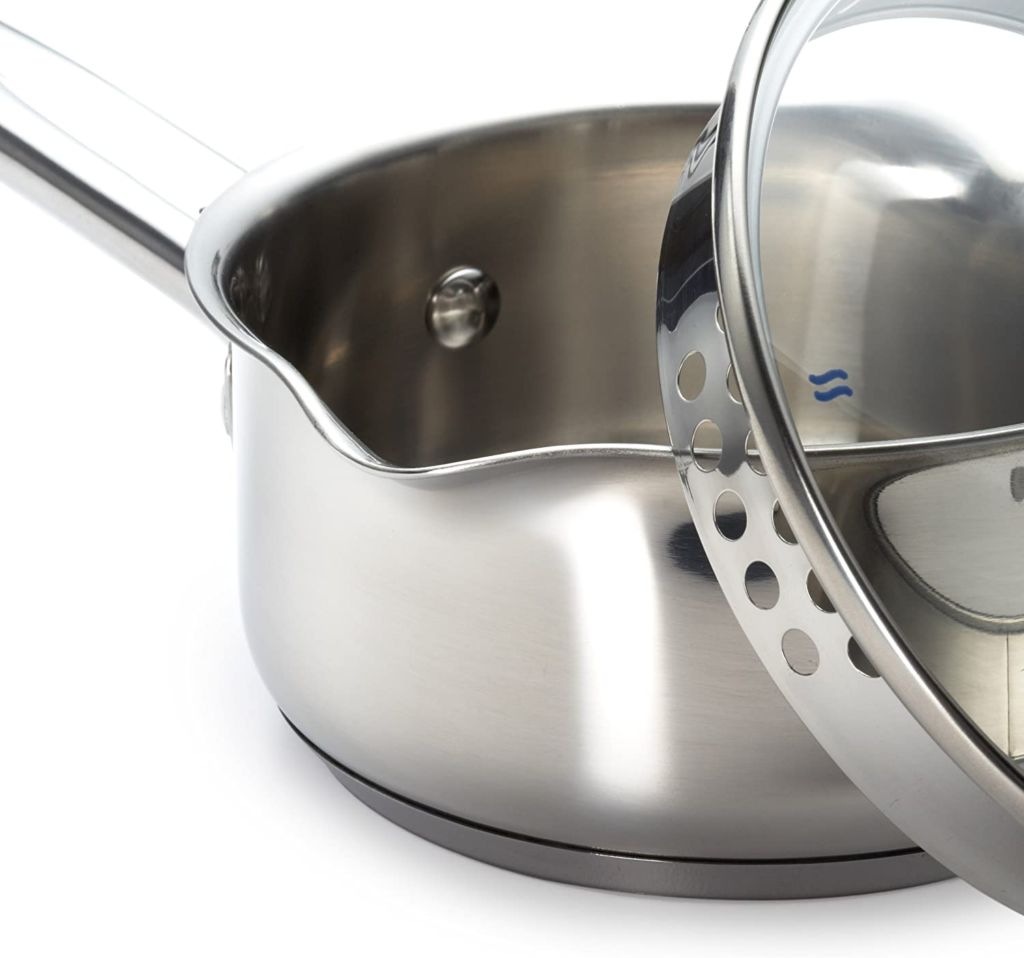 Would you like to know why so many homeowners are choosing WearEver A834S9 as their next cookware set? Then take a look below.
Features
This set comes complete with two saucepans with lids, one sauté pan, one stock pot, and one colander. And to finish off the package nicely, it also comes with 2 stainless steel kitchen utensils including one serving spoon, and one slotted serving spoon.
The set has been put together with ergonomically designed handles that allow the user to get a great grip on the cookware, making the set safer to use. The handles are comfortable to hold, making it easier to and more pleasant to transfer the set from hob ring to hob ring.
Forget about decanting and using ovenproof dishes as this set is ovenproof up to 500 degrees Fahrenheit. This is the ideal cookware set to use to go from stovetop to oven in one clean sweep. There's one way to cut down on the washing up!
This cookware set has been designed with pouring spouts on each of the pans that help the user to pour the contents of the cookware without spilling it. That's right, messy kitchen countertops will be a thing of the past with this WearEver cookware!
Pros & Cons 
Would you like to find out more about this 10 piece cookware set? Then take a look at the list of pros and cons below that will explain the ins and outs of this set, including the things we love and the things that could use improvement in the design.
Pros
This cookware set comes with tight locking lids that are ideal for keeping flavors tucked in and also for raising temperatures quickly. The lids have been designed with vapor holes that will prevent the build up of steam under the lid. The set comes complete with glass lids that will help you to keep an eye on your food as it cooks.
This set has been cleverly put together to encourage heat to spread across the base of the cookware preventing hot spots from developing while you are cooking. This even distribution encourages food to cook faster and more steadily.
Cons
Although this is a superb stainless steel cookware set, the set does not have a non stick coating so it will require you to apply a little cooking oil or butter to the base of the pans before cooking to prevent your food from sticking when cooking with high temperatures.
Conclusion
As mentioned in the outset, technology is advancing left right and center, so why can we not expect the same from our cookware? Whilst we cannot expect our cookware to peel the ingredients for us, chop them, cook them to perfection and then display them on four dinner plates around the dining room table, we can expect them to have advancements that make cooking simpler. 
That is why we love the WearEver cookware set, as it comes with a good number of handy features that help to make cooking easier and reduce the amount of cleaning up you have to do at the end of the evening. 
The easy pouring spouts making it a doddle to empty the contents of your cookware from one place to another and the fact that it is oven safe may even save you a job emptying the contents of your cookware in the first place! The tempered glass lids are ideal so that you can keep an eye on your food with a mere glance instead of constantly lifting the lids. 
There are so many features on this cookware that turn this WearEver A834S9 model into the greatest choice for busy families. Would you like to see this set in action? Then make sure you add one to your basket today!

Check us out on the top blog list!