They say that breakfast is the most important meal of the day and there is nothing better than getting something tasty in your belly before heading off to work that will keep you away from the biscuit tin and out of the drive-thru until lunchtime. 
Breville BTA830XL Toaster
Some breakfasts simply cannot be beaten – a piping hot stack of pancakes with a smidgin of Nutella, homemade waffles smothered in creamy butter, fried eggs, and crispy bacon or even a bowl of cinnamon and apple porridge drizzled with local honey.
But now, let's be realistic. If you are anything like me, fancy and elaborate breakfasts like the ones listed above are strictly reserved for weekends. There is simply no time for flipping eggs and whisking pancake batter together on a weekday. 
Breville BTA830XL Toaster Review
That is why my favorite weekday breakfast meal is toast. It is quick and easy to make and with the right toaster behind you, it will brown just as you like it every time and stay warm until you come to eat it. Toast can be enjoyed with a variety of different spreads and toppings and is great when enjoyed as part of a balanced diet. 
So if you are on the hunt for the best Breville BTA830XL toaster to make the very best toasty breakfasts then stay tuned.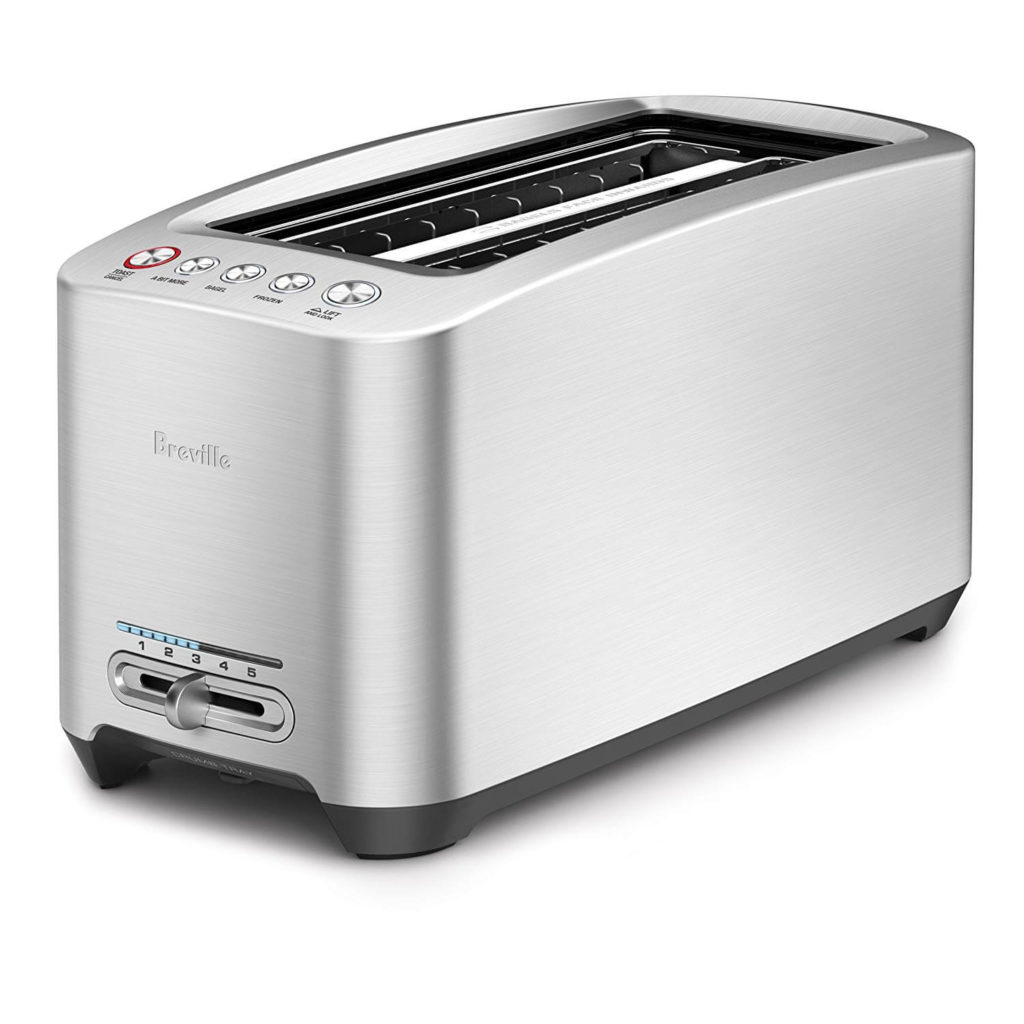 Overview
If your toaster is looking a little worse for wear, then make sure you shop around for your replacement.
Here is one of your best options – a Breville BTA830XL Die Cast toaster. It is the perfect toaster for families and busy people, take a look at just why that is the case:
Features
This toaster has ample room for not just one or two slices, but for a generous four slices of toast to brown at once.
The slots are long on the toaster, making it the perfect solution for browning bagels, and chunkier bread such as artisanal and homemade bread. 
The toaster has extra long slots that are perfect for fitting artisanal and homemade bread – (should life ever give us enough hours in the day to make some, of course).
This BTA830XL toaster by Breville has LED lights that will shine to alert you when your toast is in progress – just another one of the handy features that make breakfast time simpler.
Pros
This toaster is safe for use around the whole family as it has a cool touch body that will not heat up while the toaster is in use. Now you will not have to worry about anyone burning their hands on the side of it, even if it is placed on your kitchen countertop.
Would you like your toast just a little browner? The super cool "a bit more" setting on this toaster can be pressed if you would like to brown your toast just a fraction more, that will help you to get your toast just as brown as you like it without the risk of it burning.
Cons
Has a tendency to toast the break unevenly
Key Features of the BTA830XL Breville
If you are fed up with burnt toast, cold toast, and toast that takes forever to… well toast, then you need a new toaster. But why settle for just any old toaster when you can have Breville's best? Take a look at the key features of this BTA830XL toaster by Breville that I am sure you will love and will make breakfast time a speedier process in the morning. Check it out.
Is your kitchen crowded in the mornings? Are you sick and tired of the daily fight for the toaster? Get breakfast sorted faster with this toaster as it has space to brown up to four slices of bread at once! That will help to get everyone out of the door at record speed – for once you may even find yourself walking to the office instead of having to sprint there.
Conclusion
Some of the best breakfasts to enjoy in the morning are the simplest breakfasts such as a golden brown slice of artisanal seeded bread with a dollop of your favorite spread accompanied by a cup of coffee and a banana to munch on as you dive out of the front door. 
But in order for even the most simple of breakfasts to turn out well, you must have the right equipment behind you. A toaster that burns easily, that takes ages to heat up or that is tricky to clean or requires frequent cleaning is not ideal for a busy family. Also, mini toasters with space for just two slices of bread are really only convenient for couples or for those who live alone. That is why if you have a busy family that loves a well-toasted breakfast, I recommend that you take a look at the Breville bta830xl toasters listed in this article as your best options for amazing toasted breakfasts.
There are some really nice features on Breville toasters that make them even more apt for family use such as a cool-touch exterior and a "brown a little more" function that will toast your bread a little more without burning it.
All of these features and more are coming to you by Breville – the company that is out to make cooking easier.