Time in the mornings is really a rather elusive concept. You look at the clock and you still have an hour to spare, what seems to be 5 minutes later you look at the clock again and 20 minutes have already passed.
With breakfast being the most important meal of the day it is essential to get something nutritious in your system before beginning to tackle the outside world, but with time fleeting, it is also imperative that the nutritious breakfast is quick and easy to prepare.
That is where toast comes into the equation. Toast is a simple, speedy and tasty breakfast meal. Pop a couple of slices of your favorite bread into the toaster, hold down the lever and away you go.
The fact that it is so easy to make turns it into the perfect breakfast meal for the kids to prepare for themselves, giving you more time to juggle the other important tasks that must be done before you leave the house. 
My favorite thing about toast in the mornings is just how creative you can be with it and how many tasty topping and spread variations can go on top of it. "Toast?
That's boring!" I'm sure you have heard that said before one too many a time and over the years I have found the solution, or should I say I have found solutions to that very problem.
The way to keep toast fun in the mornings is by varying the spreads and toppings you put on it, you can also try varying your bread, from wholemeal to multigrain, brown to white, paninis to bagels, that will also help keep breakfasts exciting. 

Toast Topping Inspirations
Looking for some toast topping inspiration? Then have a look at the following list of my favorite morning toast spreads that your family will love.
Once you have given them a try, have a go at mixing and matching the toppings until you find your perfect combination.
Fruitilicious toast toppings:
Almond or cashew butter, sliced banana and a light dusting of cinnamon
Crumbled goat cheese and thinly chopped strawberries
Chunky peanut butter spread with a layer of green apple slices on top
Wacky vegetable toast toppings:
Hummus, cucumber and a dash of sea salt
Mashed avocado, sliced tomato and a drizzle of balsamic vinegar
Fried egg on a bed of fresh spinach with a grated feta cheese on top
With the kids school holidays fast approaching it is important to have some tasty toast topping ideas on hand to keep them full until lunchtime.
Here are some of my kids' favorite toast topping and spread combinations that I'm sure your little ones will also love.
The best toast toppings for kids
A layer of Nutella, sliced banana and a sprinkle of cinnamon
Blackberry jam with bits and halved cherries on top
Cream cheese spread with strawberry slices 
But as I am sure you will agree, the success of your toast mornings depends greatly on the quality of your toaster.
Without a good toaster, your toast will either burn to smithereens, or you have to constantly hover over it, popping it up every two minutes to see if it has finished browning yet. 
Perhaps you have already got a toaster, a bit like the one described above and are looking for a better model.
Or maybe your are kitting out your very first kitchen and are looking for some information on the very best toaster for your new pad.
Whatever the case, there are so many makes and models of different toasters out there that it can be exhausting and somewhat discouraging to have to scroll through endless reviews trying to evaluate which model to buy.
That is why this article has been prepared for you as I will go on to discuss the very best long slot toasters on the market right now with a list of their specifications so that you can buy with confidence.
Best Long Slot Toaster Reviews For 2020 ( Top 6 )
Before you hit purchase on that long slot toaster you have in your favorites tab, have a look at the following list of the top 6 long slot toasters on the market right now.
Consider the specifications and then choose a model that you think will suit your family best.
Hamilton Beach
This long slot toaster by Hamilton Beach comes with extra long and extra thick slots, so that you will no longer have to cram your bread into the toaster.
You will be able to toast bagels and other artisan breads with ease.
Features
One of my favorite features on this toaster is the keep warm setting. No one likes cold toast and with this model it will be a thing of the past.
It will sound an audible beep when the toast is finished, but will keep it warm for an additional 3 minutes without affecting the browning.
The cool wall exterior also means that you will not be at risk of burning yourself should you brush against the outside of the toaster while it is in operation, making it a safer option for families with young children.
Cuisinart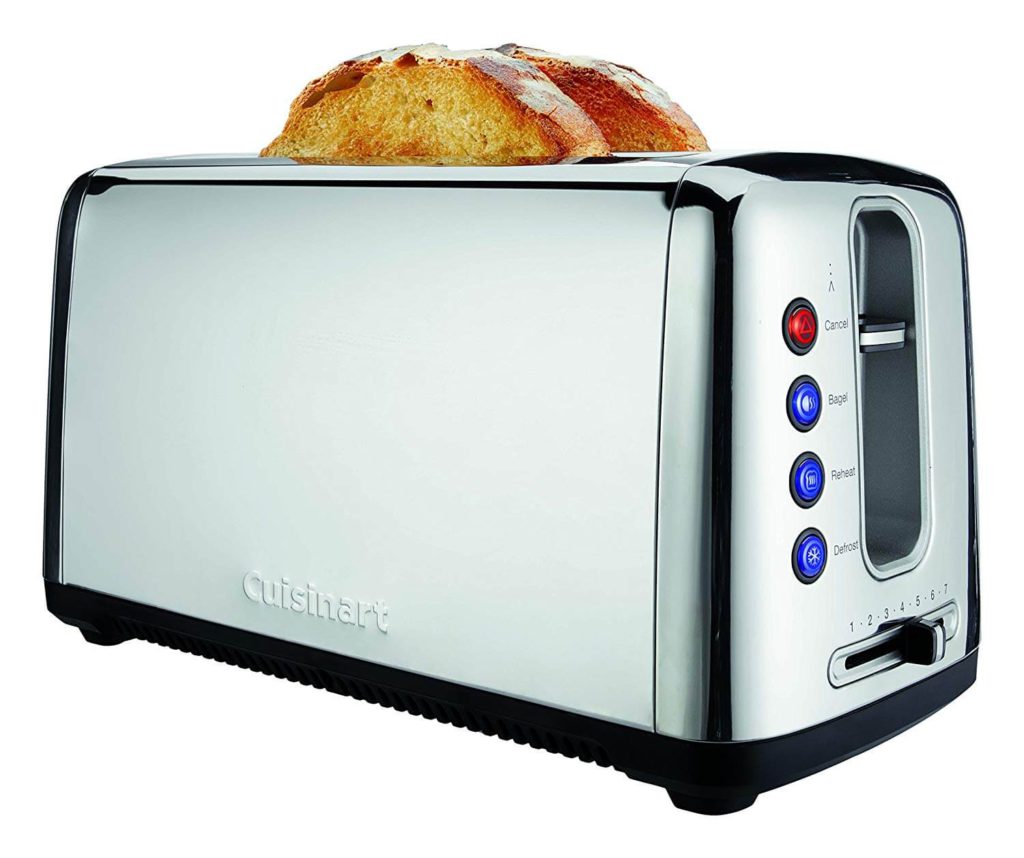 If you like your toast just so, then this is the model for you.
This Cuisinart CPT-2400 toaster has six toast browning settings so that you can get the color you like on your toast without having to continuously check the status of it.
Make it the way you want it every morning at just the push of a button.
Features
The toaster also comes with some pre-programmed settings, such as toast, bagel, reheat and defrost, giving you more options to suit your needs.
Fed up of all the messy cleaning? This slice toaster comes with a pull out crumb tray that can simply be removed, wiped over with a dry cloth and then reinserted. Easy peasy.
Breville BTA830XL Slice Toaster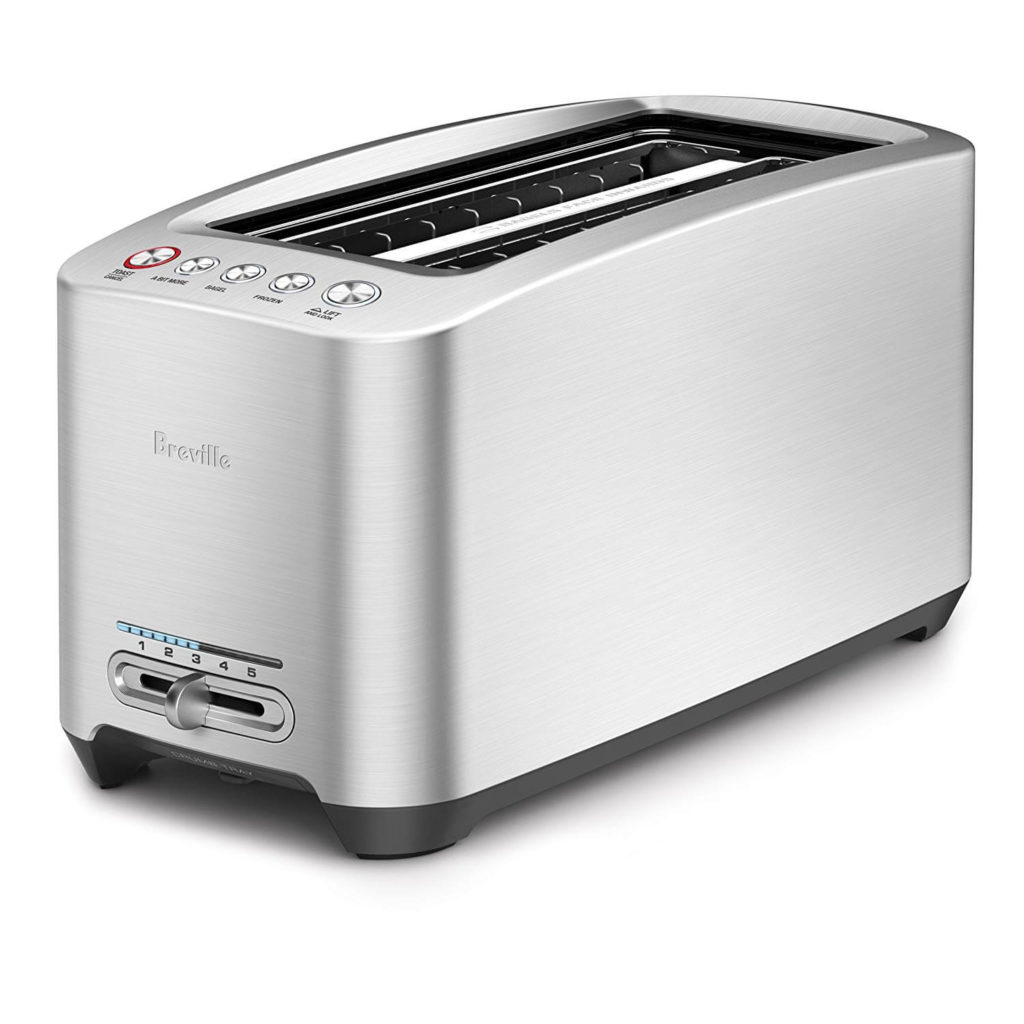 This long slot toaster by Breville is called a smart toaster for a reason.
One of those being that it has various toast browning settings that allow you to achieve the color you like every time without having to constantly pop up your bread. 
Features
Another one of this toasters' savvy skills is its "Lift and look" function, that will allow you to have a look at the bread mid-operation.
Think it needs a couple more seconds to reach the stage you like best? Not a problem, simply press the "A bit more" function for the toaster to give it just a little more toasting time.
KitchenAid KMT4116CU Toaster
Like to keep things neat and tidy in the kitchen? Then this toaster will help you out as it is compact and the cord can be stored under the base of the toaster, keeping everything tucked out of the way.
Features
Not a fan of cold toast? This long slot toaster by KitchenAid comes with a reheat setting to help bring your cold toast back to life.
Not only that, but it has 7 browning settings for you to toast it just the way you like it.
The removable crumb tray slides out and makes it easier to clean.
HoLife Slice Toaster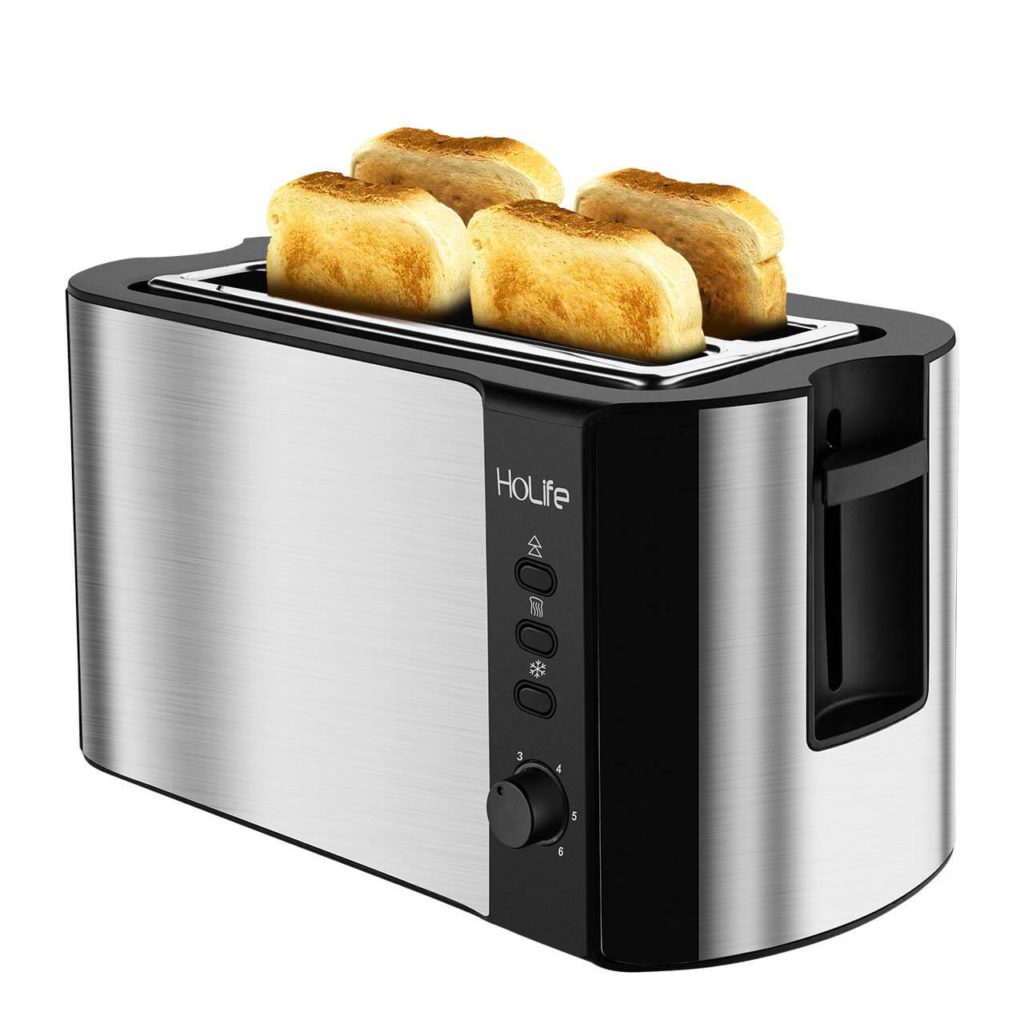 Do you love a croissant or a hot bread roll in the morning? Then let this HoLife long slot toaster be your faithful kitchen companion as it comes with a built in warming rack that is perfect to place croissants, rolls and other round bread on top and will heat them for you, ready for you to spread with butter and marmalade once they have finished toasting.
Features
Small slices of bread are tasty too, and this toaster has a long lever, making it easier for you to remove even the smallest slices of bread from the toaster without putting yourself in danger.
Oster Long Slot Toaster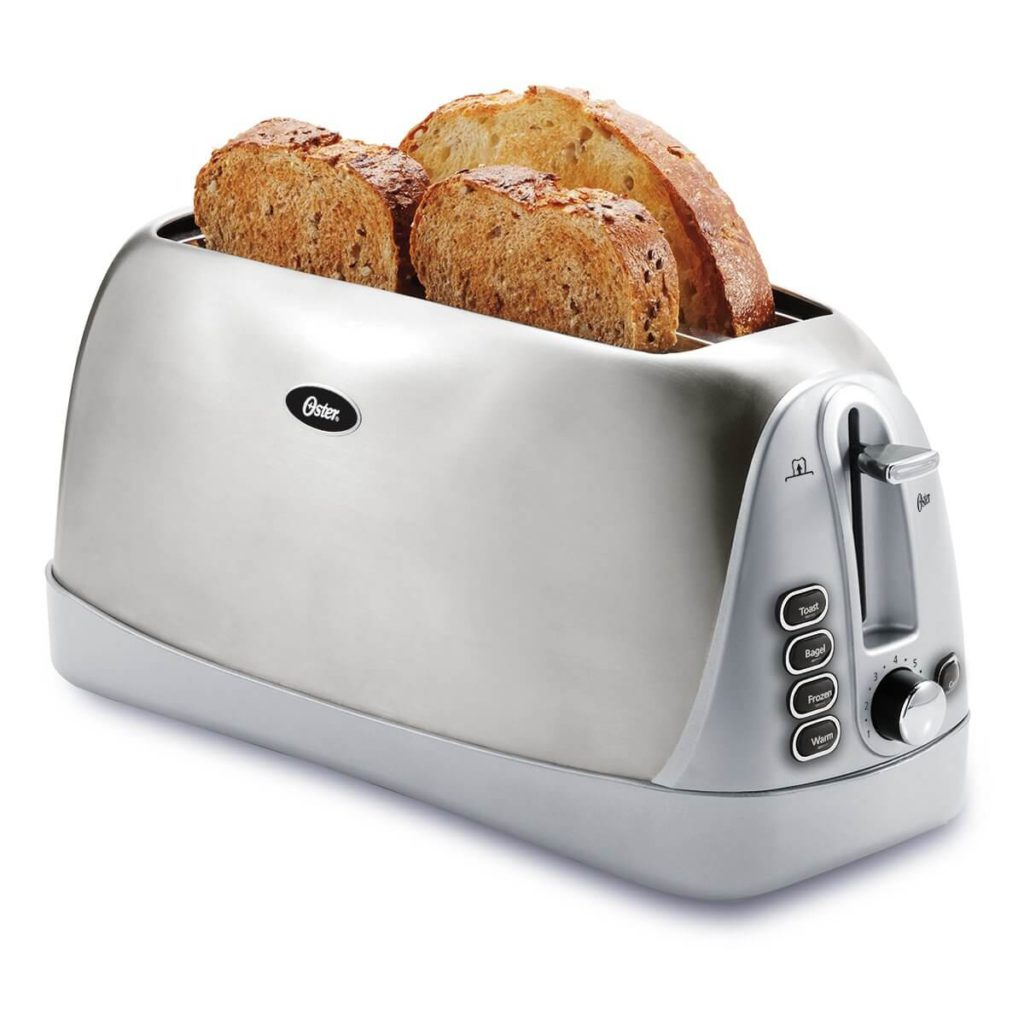 Making breakfast for the whole family? Piece of cake, as this long slot toaster by Oster has a 4 slice capacity, helping you to get breakfast on the table at record speed.
Features
The cleaning of this toaster has just got easier as the pull out crumb tray is dishwasher safe and is easy to remove and helps to keep the inside of the toaster clean.
This toaster also comes with a very clever anti-jam feature, which will automatically turn the toaster off should food become jammed inside it, making it safe for you to remove. 
Do You Need a Long Slot Toaster?
So you may be wondering, won't a regular slot toaster suit my needs? Maybe, but with the tastiest bread out there now coming in more artisan shapes and sizes, a long slot toaster is becoming a family favorite across the nation. 
Long slot toasters help you to toast different types of bread such as paninis, bagels, muffins, homemade bread and the like because of their wider and longer toast slots that allow for thicker bread to pass through.
Normal toast slots will only hold regular sized sandwich bread slices which can be somewhat limiting depending on your toast preferences. 
Another great thing about long slot toasters is that they are usually smaller and more compact than regular sized toasters, so if you are looking to save a little countertop space in the kitchen, a long slot toaster is the model for you.
FAQ
Conclusion
There are so many toasters on the market and it is important to choose one with all the features you need.
Some of the nice features listed in the toasters mentioned above were
Dishwashable removable crumb tray
4 slice capacity
Warming rack
Extra-long lever
Various browning settings
Various pre-programmed settings
Warm function
Cool exterior
As a toast lover you will know which of these bonus features is essential for you to have in your next toaster, so make a checklist of the ones that are important to you, reread the specifications on the above mentioned long slot toasters and then choose the model that best suits your requirements. 
Let's toast!