Intro
Breakfast. The most important but often the most neglected meal of the day. Breakfast meals can vary greatly from region to region but there are some breakfast snacks that are really just universal. And that is where toast comes in to play.

Toast is a great breakfast and lunch snack. It is also perfect for a little nibble towards the end of the day when you get those after dinner grumbles around 9 or 10 pm. It is simple and easy to make, meaning that it is popular for both children and adults.

Sometimes breakfasts can get a little boring, but when you start to mix things up by toasting different types of bread such as wholegrain, sourdough and rye, you can make up some really exciting combinations. I have recently been on the quest to make my morning breakfasts more nutritious, but super tasty and filling, to keep me going throughout the whole morning at work. If you have been looking for something similar, try out the following healthy breakfast toast ideas that are quick and easy to put together and will keep you fuller for longer.

Hummus, sliced cucumber and crumbled feta cheese, perfect on toasted rye or sourdough bread.
Boiled egg
, assorted spinach leaves and green pesto, simply sublime when paired with whole grain or seeded toasted bread.
Avocado, coriander and diced tomato, also works well with seeded bread or wholemeal bread.
Maybe you have got a little more of a sweet tooth in the mornings, and need that extra kick to help you start the day on the right foot. Or perhaps you are preparing breakfast for some of the younger members of your family and are looking for some tips on how to make toast extra tasty. Have a stab at some of these slightly sweeter breakfast toast recipes that your family will adore:

Cashew butter, cinnamon and mashed banana. Great to eat early in the morning, for that extra burst of energy. Fantastic on plain or wholemeal bread.
Raspberry and blackberry halves over a cream cheese spread. Choose any of your favorite breads to toast as your base for this breakfast.
Sliced pineapple lying on a bed of cottage cheese with grated almonds on top.
Thinly sliced pear on ricotta with a generous drizzle of honey.
You family will love these exciting new toast recipes, try them out then mix and match the ingredients until you have found a combo that they really love.
Is it Worth Having a Toaster Oven?
My mother was always trying to get the most out of every cent she earned, she had a very one-appliance-does-all mentality. As a result, as I grew up I was not one for spending cash frivolously, everything I buy has been thought about. But some purchases really are no-brainers. And the biggest no-brainer of all is a toaster oven.

Why? Well a toaster oven is an appliance that you will be using pretty much every single day, and most likely multiple times a day if you have a family. Some may think that a toaster oven is limited to, well, making toast, but the truth is that that isn't even the half of it. Most toaster ovens can be used to make a variety of different dishes, some of which I have listed below:
Salmon. When it has been marinated overnight, a piece of fresh salmon cooked in a toaster oven can be mighty tasty.
Peanut butter cookies. A Friday night essential.
Bruschetta on a crunchy French or Italian bread with all of the juicy toppings.
Roasted asparagus, drizzled in olive oil, and topped with black pepper granules and sea salt.
Bacon. A toaster oven is the perfect temperature for you to make the crispiest bacon, a great filling for a sandwich or to chop small and add to a pasta dish.
English muffins, crumpets and scones and any other British classics, toasted to perfection just in time for you to have tea with the Queen.
Quesadilla. Made in a toaster oven means there won't be any pans to wash up afterwards. Now there's something definitely worth investing in!
So, although a toaster oven is for making toast, it can also help you to create many other meals that are just as tasty and getting everything done in one compact appliance can help to save space and is a great help on busy weekdays.
Toaster Oven Uses vs Conventional Oven
Perhaps you are just starting up at a new house or apartment and are wondering whether purchasing a toaster oven is really worth your while. There are a lot of initial costs to lay out for when you first move in to a new house and it can all get a little overwhelming. Perhaps you already have an oven-grill or a conventional oven and are considering toasting your bread on it. But there are some real benefits to having a toaster oven and I will go through them with you so that you can make the best decision.

Here are some of the fantastic features that a toaster oven can offer that a conventional oven would not be able to:
Storage. Maybe you don't have a lot of space on your kitchen countertop and are looking for ways to declutter. One of the best ways to doing so is using a toaster oven, as it can easily be stored away when it is not in use, giving you more room on your kitchen work surfaces.
Pricing. The cost of a toaster oven versus a conventional oven has no competition. A toaster is much cheaper to purchase and doesn't come with any pesky installation charges. Simply plug it in and you will be good to go.
Energy efficient. A toaster oven runs using less electricity than a conventional oven, so you can have it on for longer, without worrying about racking up a huge electric bill at the end of the month. Now doesn't that give you peace of mind?
Now, of course, a conventional oven will be able to cook a much wider variety of foods faster and has more heating options and settings than your average toaster oven. So having a conventional oven is definitely essential for the home, but as you can see from the above mentioned list, having a toaster oven could also be equally as important when it comes to preparing certain foods.
10 Top Toaster Ovens Review
There are so many different makes and models of toaster ovens on the market today, it may seem a little tricky to know which one to buy. So, before you hit 'purchase' make sure you have a look at the following list of the top ten toaster ovens that you can buy, today. Carefully read through the specifications to ensure you purchase a toaster oven that really fills your families needs.
Panasonic Toaster Oven NB-G110P FlashXpress with Double Infrared Heating and Removable 9-Inch Inner Baking Tray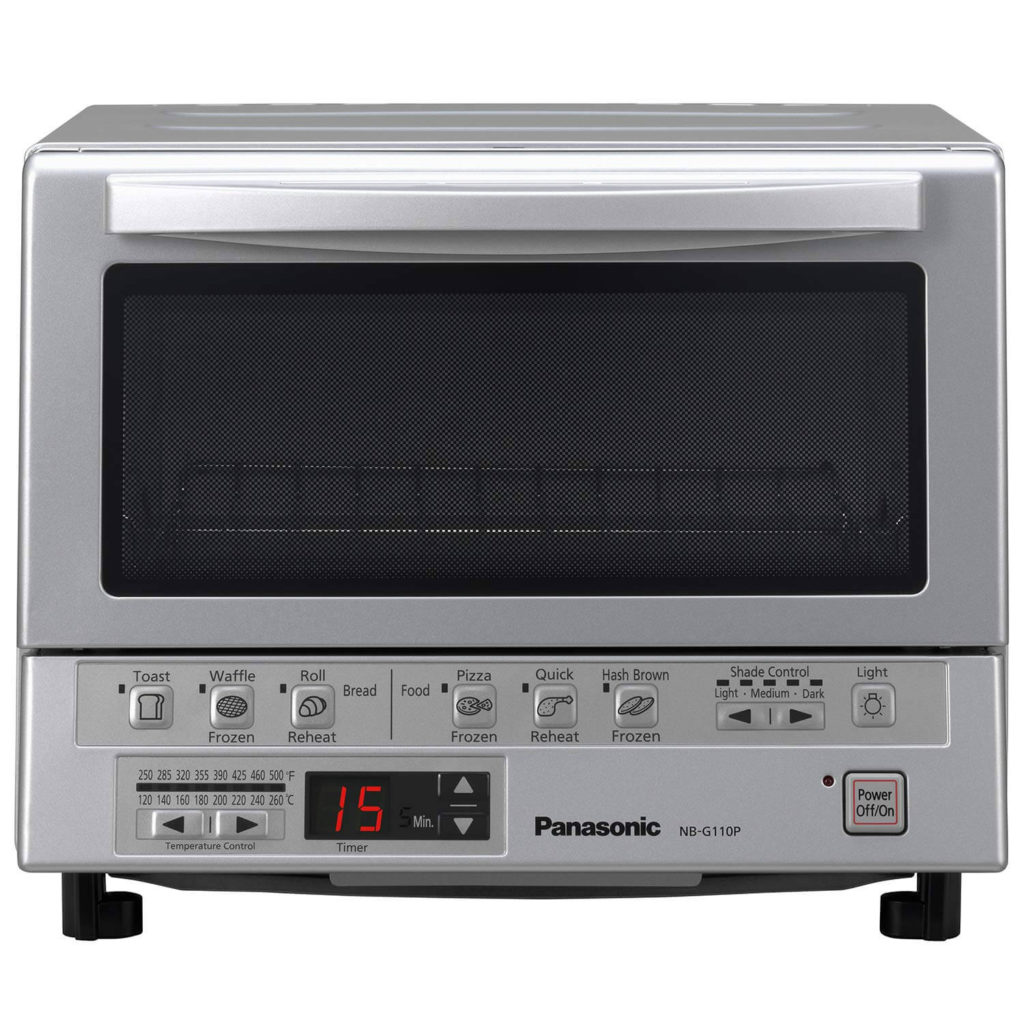 Looking for the best rated toaster oven? This Panasonic Toaster Oven has had some fantastic reviews from customers and has some great features that you will find really useful:
Six auto cook menus. This toaster oven comes with six pre-set cooking settings for you to make the very best toast, waffles, rolls, bread, pizza or hash browns at just the press of a button. Simply pop the food in, choose your setting, then sit back and let the toaster oven do all of the hard work for you.
Browning. It comes with a toast shading monitor, so that you can slide the dial to increase or decrease the browning on your bread. Now you can prepare you breakfast just as you like it. You can choose between light, medium or dark on this versatile toaster oven.
DASH DMTO100GBAQ04 Mini Toaster Oven Cooker
If you are on a bit of a budget, there is no need for you to spend an arm and a leg on a toaster oven, especially if you are just starting to kit out a new kitchen and are looking to save a little here and there on your electrical devices. That is why I love this mini toaster oven cooker by DASH as it is the very best toaster oven under $50.

Not only will it toast the best bread, but it can also crisp up a paninis, bagels, cookies and pizza, making the perfect kitchen tool.

What I really like about this mini toaster oven is that it comes in some really funky colors, so that you can choose one that really matches the style of your kitchen. Pick between aqua, pink, yellow and red for the toaster oven that will shine on your kitchen countertop.

Oster Toaster Oven | Digital Convection Oven, Large 6-Slice Capacity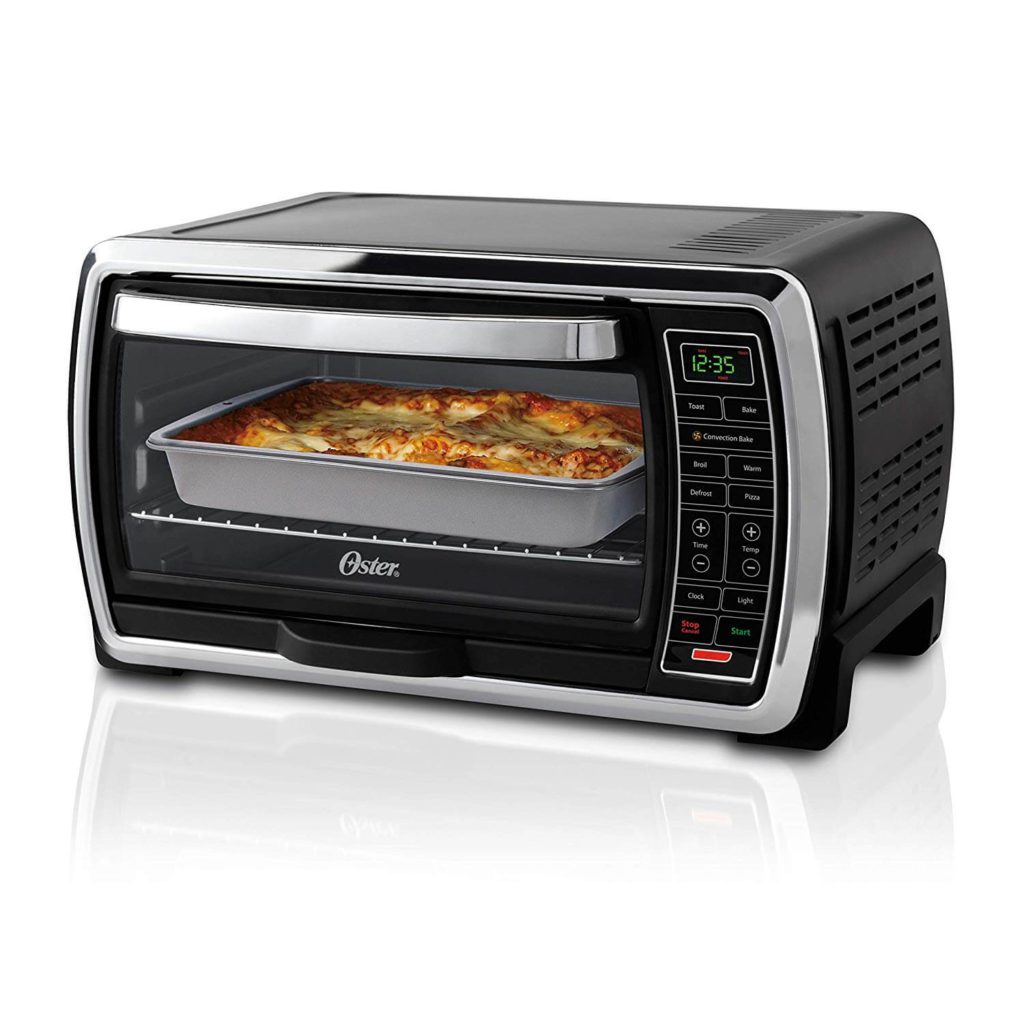 This toaster oven is really quite clever. It comes with 7 cooking settings so that you can put together just about any meal and it will be ready in a matter of minutes. You can use the pre-set functions to toast, bake, convection bake, broil, warm, defrost and even bake a pizza. With this Oster toaster oven behind you, there will be nothing stopping you from putting together some of the tastiest dinners.

Fed up of long laborious clean ups? Me too. And this toaster oven has been designed to help. It comes with a removable crumb tray that can easily be emptied into the trash, wiped and reinserted, helping to speed things up after cooking so that you can get down to the more important eating.

Elite Cuisine ERO-2008N Countertop Toaster Oven, 60-Min Timer with Stay-On Function Rotisserie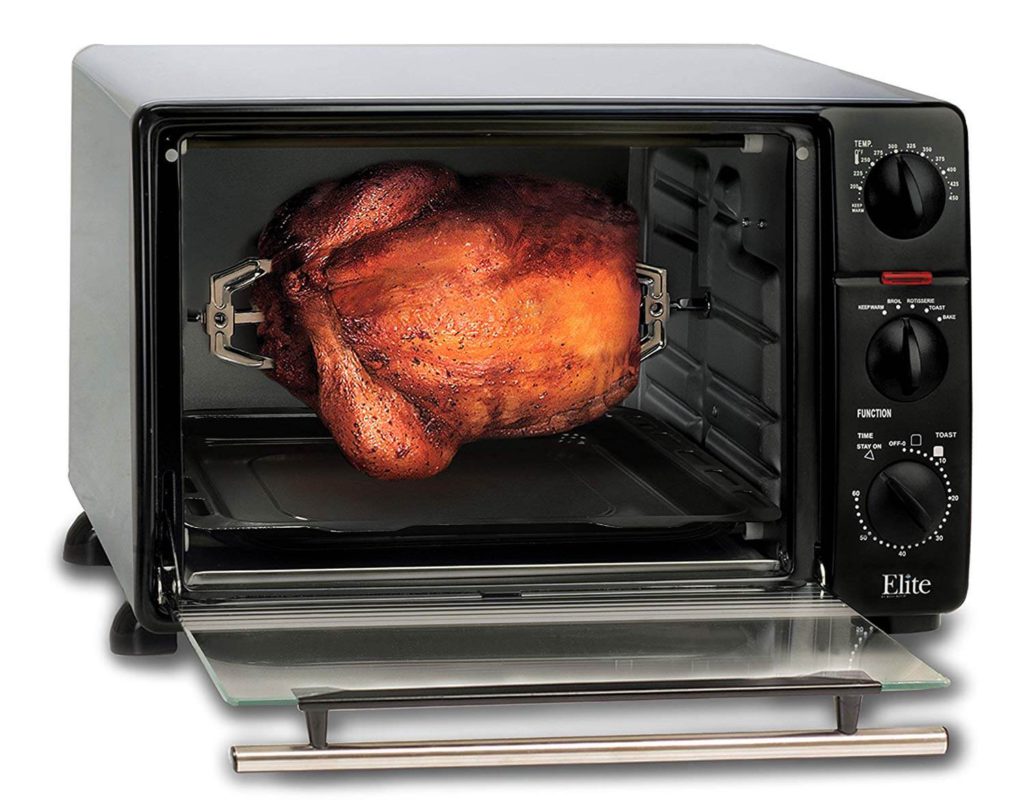 If you have a large family, then this is toaster oven will be perfect, brought to you buy Elite Cuisine. The oven has an extra large capacity, capable of browning six slices of bread at once. The toaster oven can be used to cook a lot more than just toast, and has a sixty minute timer that sounds an audible "ping" when the chosen time has elapsed.

You can use this toaster oven to make the following foods and more:
Bake up to a 12 inch pizza
Make toast
Reheat leftovers
Roast a rotisserie chicken or other meats, using the handy tool.
The 23 liter capacity on this countertop toaster oven means it can make more tasty dinners in next to no time. You will have the supper ready and on the table before the family can even think about feeling hungry.

Hamilton Beach 2-in-1 Countertop Oven and Long Slot Toaster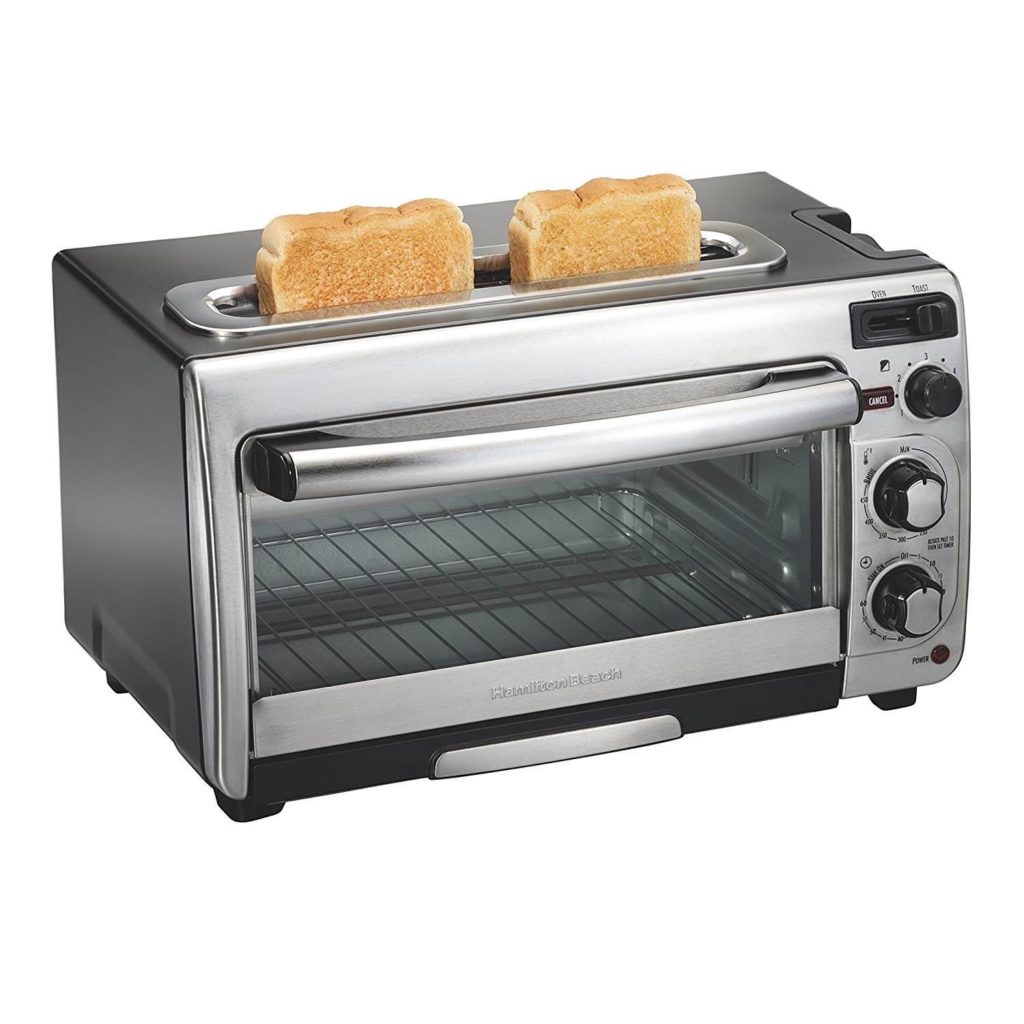 Maybe you are more of the traditional pop-up toaster kind of person, but like the idea of the versatility that comes with a toaster oven and the various meals that can be made using one. That is where this Hamilton Beach two in one really comes in handy. This countertop oven and long slot toaster has two spaces in the pop-up part of the toaster oven for you to make some traditional toaster toast. Meanwhile, you could have something cooking on the bottom half of the oven. The top half can really come in handy when toasting normal sandwich bread, and the bottom will be extremely useful when toasting bread with toppings, such as cheese and ham toasties.

The long slot toaster on top has been made especially wide, so that you can toast bagels and homemade bread to perfection.

Nostalgia RTOV220RETRORED Retro 12-Slice Convection Toaster Oven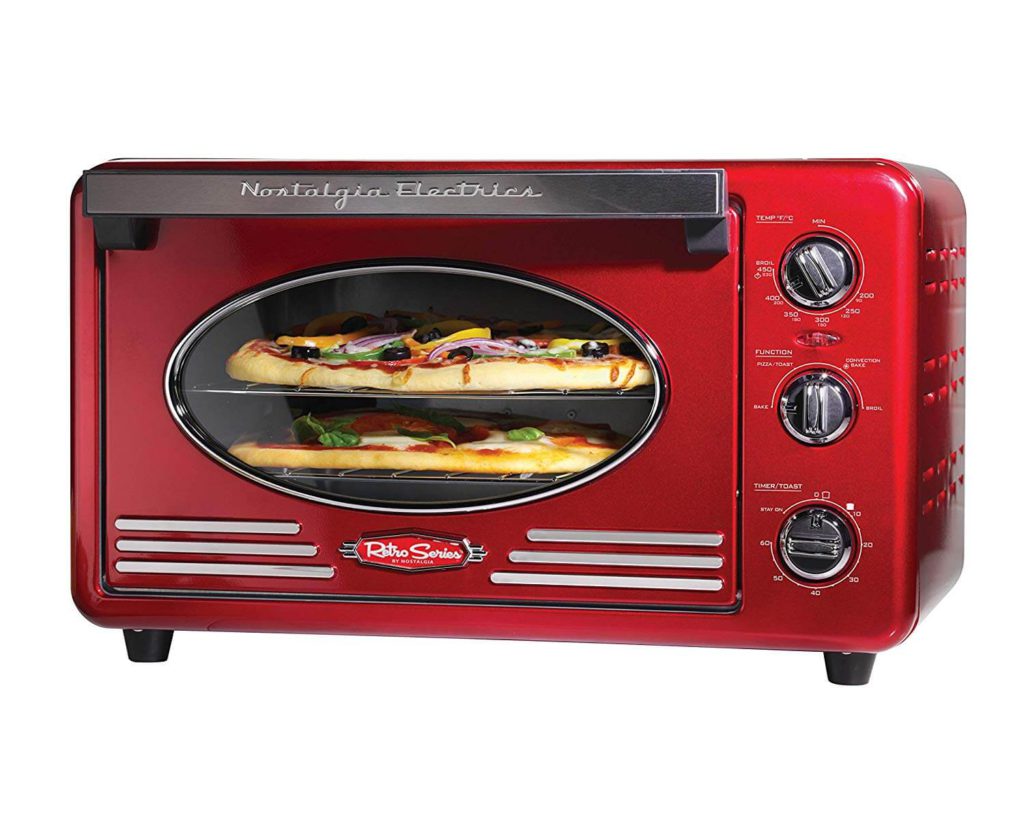 Here is another super stylish convection toaster oven that will look fantastic when displayed on your kitchen countertop. It comes in a cool aqua blue and a retro red that will match both modern and more traditional style kitchens.

This toaster oven has the capacity to brown 6 slices of sandwich bread, broil some tenderloin steaks or even cook two twelve inch pizzas. It is the perfect solution, not only for breakfast meals, but also for lunches and dinners.

Not a fan of cleaning up? Not to worry, as this toaster oven comes with a crumb tray that can be removed, emptied into the trash, wiped over and inserted again, making difficult toaster oven cleaning a thing of the past. It also comes with an aluminium baking tray, the best equipment to help you get baking as soon as you recieve your appliance.

Cuisinart TOB-1010 Toaster Oven Broiler
There is nothing worse than having red hot appliances in the kitchen, especially when you have young children in the house. That is why I really like this toaster oven broiler by Cuisinart as it has a cool touch handle on the front and a removable crumb tray with a cool grip handle, to prevent unnecessary burns in the kitchen.

The toaster oven comes with a handy shade dial, so that you can increase and decrease the browning on your toast meaning you can have it exactly as you want it, every time.

This is a great toaster oven as it comes with the space capacity for six slices of bread, but not only does it tackle toast, but it can also bake, broil, keep food warm and bake a deliciously cheesy pizza. That's got Friday night sorted.

Hamilton Beach Countertop Toaster Oven Easy Reach with Roll-Top Door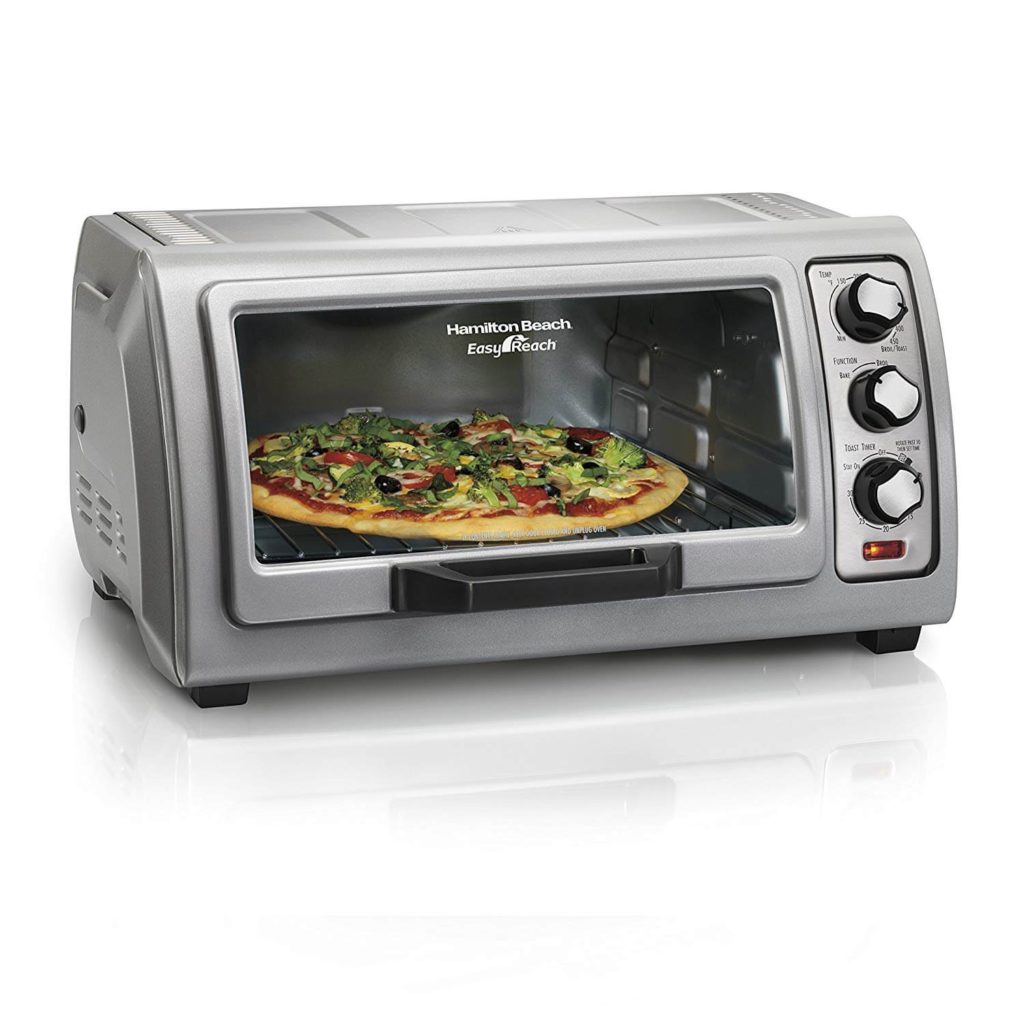 If you are thinking about space saving in the kitchen or if you are wanting to declutter your kitchen countertops, then this is definitely the toaster oven for you. This toaster oven by Hamilton Beach has an innovative roll-top door, meaning that there are no piping hot oven doors flying open in the kitchen. That means you will be able to move food in and out of the toaster oven without having to use an oven glove or a kitchen towel. Super.

Another feature I also really like on this toaster oven is the glass door, it is easy for you to check up on your food while it is cooking, without you having to constantly open the toaster oven to do so.

It comes with a handy toast timer, so that you can choose the appropriate cooking time that will brown your bread just as you like it.

Hamilton Beach 31126 6-Slice Easy Reach Toaster Oven with Timer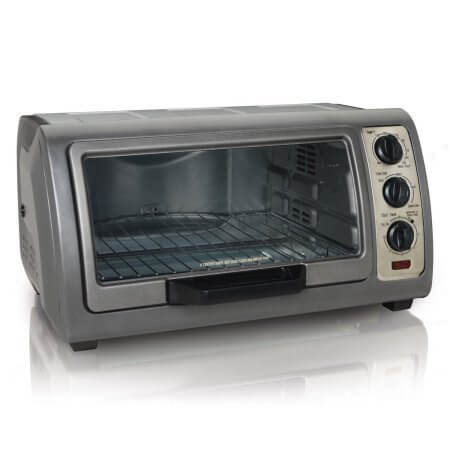 Here is another great toaster oven with a roll top door. Not only is this feature a lot safer, as it prevents being burnt on a hot oven door, but it will also make it a lot easier for you to clean the toaster oven, and means you can keep an eye on your food while it is cooking thanks to the large transparent glass door.

The toaster oven also comes with a removable crumb tray, that you can take out, shake into the trash, wipe and then reinsert into the oven.

This oven is the perfect size for the average family as it has the space to cook six slices of bread, or a nine inch pizza with ease.

Hamilton Beach 4-Slice Red Toaster Oven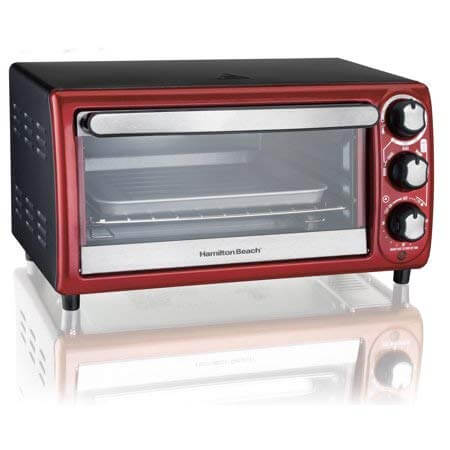 Let's face it, some kitchen appliances nowadays are quite bog standard and ugly looking, and don't really add anything to the style of the kitchen. That is definitely not the case with this toaster oven by Hamilton Beach. I really love it as it comes in a striking red and its retro style buttons make it the perfect match for the style of any kitchen.

This toaster oven comes with a few accessories including two oven baking trays and an oven rack that will help you to get started straight away.

Not only does it come with a very useful 30 minute timer that will sound when the chosen time has elapsed, but it also comes with a 'stay on' setting, for if you want to leave your food in a little longer to brown or want to keep it on a low heat for a longer period of time while you wait for guests to arrive.

Conclusion
So, before you purchase your brand new toaster oven, make sure it has all of the features you will really need to cook up something tasty for the family this weekend. The best toaster ovens not only make toast, but they also have options to bake pizza, defrost and reheat food. Look out for a toaster oven that can fit at least six slices of bread in at once and can cook a nine inch pizza or larger. And most importantly, choose a model that will look snazzy when placed on your kitchen countertop, a shiny modern day retro model that will really look the part amongst your other kitchen appliances.

Happy toasting!