Our #1 Choice
Hamilton Beach 2-in-1 Countertop Oven and Long Slot Toaster,...
Cuisinart TOA-60 Convection Toaster Oven Airfryer, Stainless...
Hamilton Beach Toastation Oven with 2-Slice Toaster Combo,...
Maxi-Matic Retro Nostalgia 3-in-1 Breakfast Maker Station 4...
Hamilton Beach Toastation Oven with 2 Slice Toaster Combo,...





Cuisinart TOA-60 Convection Toaster Oven Airfryer, Stainless...

Hamilton Beach Toastation Oven with 2-Slice Toaster Combo,...

Maxi-Matic Retro Nostalgia 3-in-1 Breakfast Maker Station 4...

Hamilton Beach Toastation Oven with 2 Slice Toaster Combo,...

Is it just me, or does the kitchen never quite seem to be big enough? I wouldn't classify myself a hoarder, I think I have the appropriate amount of kitchen appliances tucked away in drawers, piled in cupboards, and placed on the kitchen work surface, but I still feel like I have next to no space in the kitchen when I have friends over, or when I am trying to cook a large meal.

If you are anything like me, the thought of a snazzy new kitchen extension has probably crossed your mind one or two times. I daydream at the thought of all the extra space.
I even considered having a pantry built. But, then I sat and really thought about it, what do I want a pantry (or even better, a brand new kitchen extension) for? Only to fill it with more clutter!

That is when it came across my mind, instead of saving to invest in a new kitchen, why not save to invest in more efficient kitchen appliances? Space-saving and more compact appliances that will get the job done just as well, or even better.
That way I would have more room to actually move about in my kitchen, and I would have the space to tuck away some more of the kitchen appliances I have just laying around on the kitchen countertop, which in my opinion, are a little bit of an eye-sore and are simply just in the way.

One of my greatest finds when delving into the world of space-saving in the kitchen was a toaster oven combinations. It just makes so much sense, I mean, why take up double the amount of space having a seperate oven and toaster, when a nifty toaster oven would do the two jobs in one?

That is why this article has been prepared for you, to help declutter yourself of a few kitchen appliances. A toaster oven combo is also great for saving a few dollars, as instead of having to fork out for two different appliances, you can put the cash towards just the one and even have a little left over for you to spend on you – cheeky!

Toaster oven combinations are simply fantastic as the top half functions as a toaster, which you can use to toast bread, bagels, ready made waffles, pitta bread, or just about anything you can imagine; while the oven section can be used to make a pizza, warm up some oven fries for a Friday evening dinner, cook chicken nuggets or even bake come crumbly and gooey chocolate chip cookies. All of that wrapped up in one neat appliance makes it the perfect solution to a crowded work surface.
7 Best Toaster Oven Combos Unit Reviews For 2020
Hamilton Beach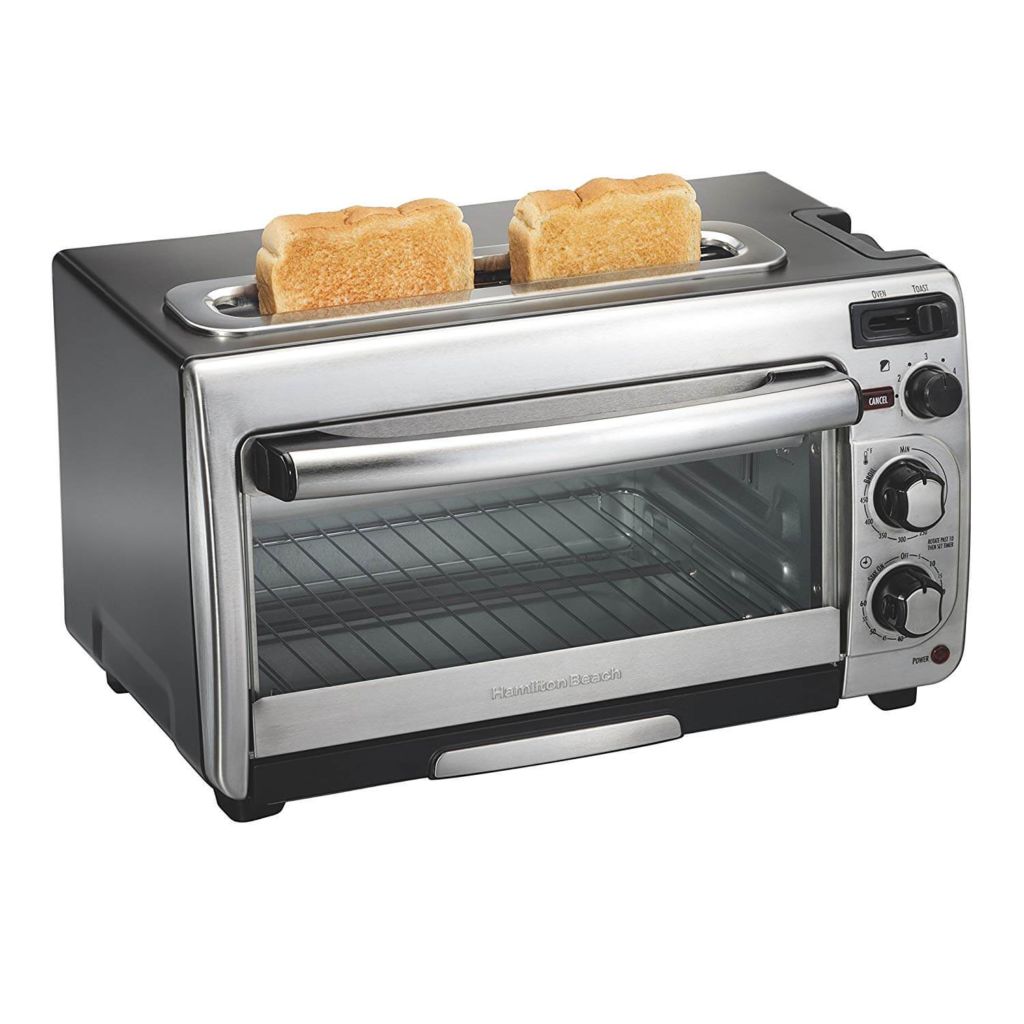 Everyone is looking to save a couple of dollars here and there, but it may not always seem possible when you are having to purchase new electrical items. That is why I love this countertop oven by Hamilton Beach as it may well be the best toaster oven under $100. Have a look at a few of its features to see why.
Toaster Oven Combination Features
Never burn a meal again! As this combo appliance comes with an automatic shut off timer, meaning you can set the time and walk away, the oven will switch off when it has finished cooking.
The removable crumb tray means you can simply empty debris and mess straight into the trash.
This combo appliance toasts bread 40% faster than the leading toaster oven and its toasting slots are wide enough to cook any type of bread, including bagels!
Cuisinart TOA-60 Toaster Oven Combo
Bit of a fried-food junkie? Then you will love this toaster oven as it offers a great tasting healthy alternative to a fryup.
Features
It comes with an air fryer. An air fryer uses powerful hot air to make your fried food favorites such as potato chips, chicken drumsticks, and dumplings. That means you can enjoy that same fried crunch but without the skyrocketing calorie level. Beautiful!
This toaster oven combination is certainly no one-hit wonder, as it can also bake, broil, warm and toast your favorite foods.
It is easy to clean up as the toaster oven has a non-stick interior that can be wiped down with a warm, soapy non-abrasive cleaning cloth or sponge.
Hamilton Beach Countertop Oven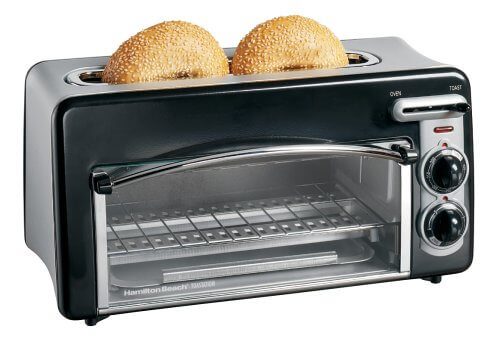 I really like the color of this countertop oven toaster by Hamilton Beach. I know I said before that looks aren't everything, but you don't want to buy something that looks bulky and awkward. This toaster oven combination comes in a very modern and stylish black which I think will blend quite nicely with both modern and rustic kitchens.
Features
You will leap with joy to know that the removable oven rack and baking pan are both dishwasher safe, so once you are done with them, there's no soaking and scrubbing necessary.
It also comes with a removable crumb tray that will really get you out of the kitchen and onto the sofa faster. Result!
It has a wide oven that can fit up to two 16 inch pizzas, so get ready to feed the whole clan this weekend!
Maxi-Matic Toaster Oven Combination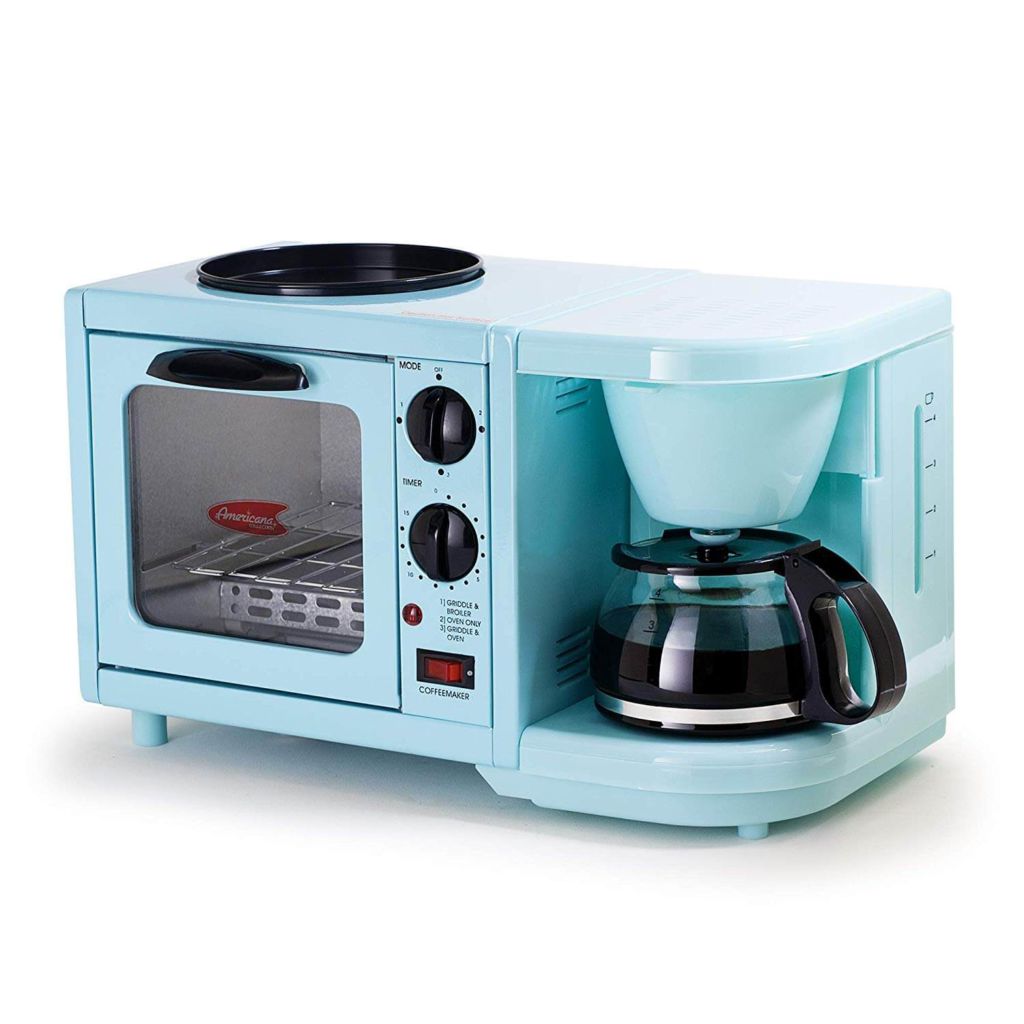 Now, if you are looking to save a little countertop space in your kitchen this is definitely the appliance for you. Not only does it do just about everything, but it also comes in four modern colors of your choice, so that you can pick the one that really suits you.
You have the option of a cool duck egg blue, a racing red, a stylish black or a very modern white.
Features
This toaster oven is really a great combo as it also makes coffee, and let's not forget about the griddle! So that has breakfast time sorted. Fancy making toast, frying an egg, cooking some sausages and brewing a coffee, all with one handy appliance!
Now I don't know about you, but I can definitely make room for that on my countertop!
Hamilton Beach 22720 Toaster Oven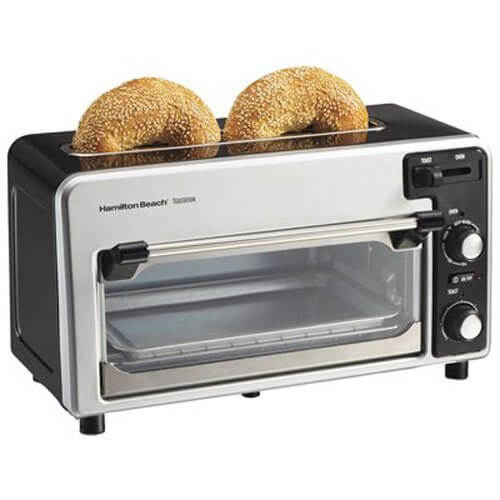 This is another one of my favorite toaster ovens, as with this model, you are really in control.  
Features
The toast shade selector means you can choose exactly how brown you want your toast to be. Simply pop it in, and let the toaster do the rest!
The crumb tray can easily be removed and shaken into the trash and the tray can be popped in the dishwasher, saving you time and energy!
Nutrichef Toaster Oven Combo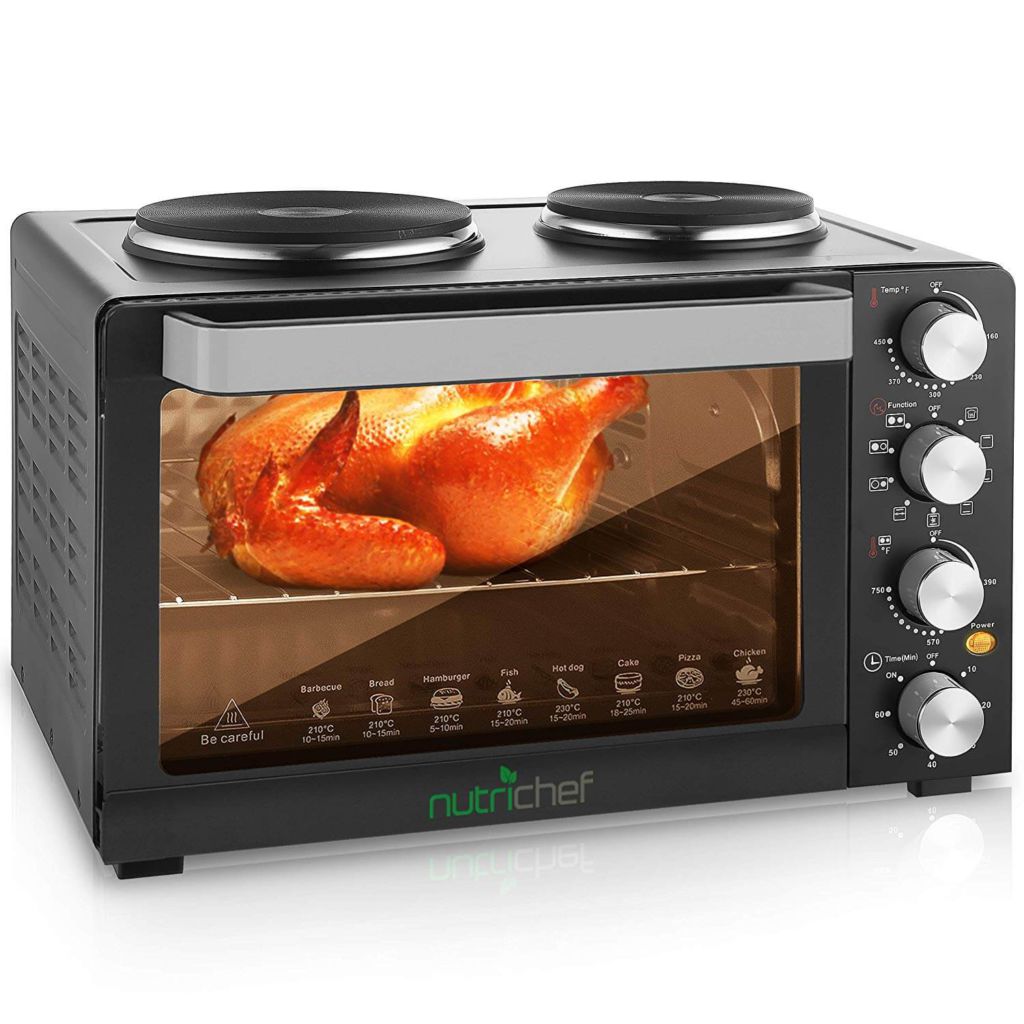 If you have a small kitchen and are looking to save on space, or if you are not a massive fan of cooking on a gas hob, this is definitely the appliance for you!
Features
It comes with one large and one small hot plate on the top of the unit, which you can use to cook just about everything.
Try frying an egg, browning some french toast or even boiling half a dozen potatoes on the top of this 30 Quarts Kitchen Convection Oven.
It is also easy to clean as the inside of the oven has a stain resistant coating, and can be kept in pristine condition simply using a warm soapy non abrasive sponge.The racks can be removed and placed in the dishwasher.
The 60 minute shut off timer means that you will never burn a meal again. Simply turn the timer dial and the oven will turn itself off when the chosen time has elapsed.   
Hamilton Beach Toaster Oven Combo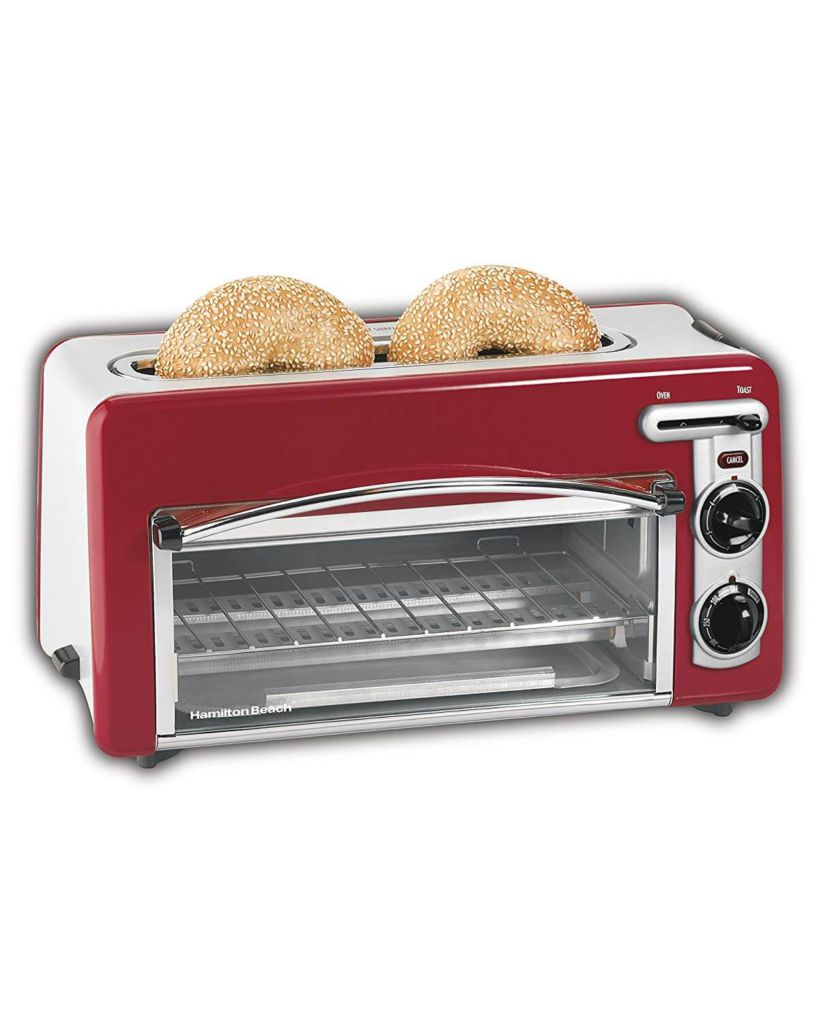 Looking to spend a little less on electric bills? Who isn't? This Hamilton Beach oven toaster will help you out.
Features
It saves time and energy as it toasts bread up to 24% faster than the leading brand, meaning you will be able to get breakfast on the table at record speed.
It also uses 73% less energy than a conventional oven!
Have your toast your way as this combo appliance has 6 toast browning settings for you to choose from so that you can enjoy your marmalade on toast just the way you like it.
Mueller Austria Toaster Oven Combo
Are you looking for a toaster oven that will complete not just one function, but four?
Then you have come to the right place as this toaster oven by Mueller can bake, broil, toast and keep your favorite snacks and goodies warm while you set the table for dinner. Sounds perfect, right?
Features
Do you hate cleaning up as much as I do? Then this toaster oven will be your next go to appliance as cleaning it couldn't be simpler!
This toaster oven comes with a removable crumb tray, making it dead easy to clean.
The 30 minute timer will help you to keep an eye on the clock and keep track of the status of your food. The glass door will also help you to keep watch on the deliciousness without having to constantly open the door to do so.
Important Toaster Oven Combination Options to Consider
Now, don't get me wrong, while toaster oven combinations are simply the best thing since sliced bread, there are a few things you should be wary of before purchasing.
Combo appliances
As you are probably aware, some combination appliances profess to be professionals at more than one function, but these often turn out to be Jacks of all trades, but masters of none.
There are some extremely reasonably priced toaster oven combinations out there, but I advise you to err a little on the side of caution. My mother always used to say to me, buy cheap, buy twice, and that can be true with toaster oven combinations.
So before you click "purchase", make sure you are looking at a middle of the range to high end toaster oven combo, so that you are really getting what you have paid for.
No one has time to sit around in the morning waiting for a toaster that never seems to brown, and an oven that quickly burns your food is just no fun at all. That is why it is essential to pick a good quality toaster oven combo.
Finding the right price
As I just stated, purchasing a cheap toaster oven may not be the wisest decision, but it doesn't have to cost you an arm and a leg either.
That is why I have compiled a list of reasonably priced toaster oven combination appliances below, so that you can find the best toaster oven under 100 dollars.
Tidiness
No one likes an eye-sore appliance, especially if you are purchasing something you know is going to sit on your work surface 24/7.
While appearance isn't everything, it is really important for the toaster oven to be aesthetically pleasing. It is also essential for it to be easy to clean.
Now, all of the above factors are really important to consider before choosing a toaster oven combo and that is why I have mentioned below the following list of the 7 best toaster ovens on the market right now.
Have a look at their specifications so that you know you will be purchasing exactly what you need.
Toaster Oven Combos FAQ
What is the best air fryer toaster oven combo?
Hamilton Beach 2-in-1 Countertop Oven and Long Slot Toaster, Stainless Steel.
Cuisinart TOA-60 Air Fryer Toaster Oven, Silver.
Hamilton Beach Toastation 2-Slice Toaster and Countertop Oven, Black. Maxi-Matic EBK-200BL Coffee Maker Toaster Oven Griddle 3-in-1 Multifunction Breakfast Center.
Hamilton Beach 22720 Toastation Toaster and Oven.
30 Quarts Kitchen Convection Oven – 1400 Watt Countertop Turbo, Rotisserie Roaster.
Cooker with Grill, Griddle Top Rack, Dual Hot Plates, Toaster.
Hamilton Beach Toastation Oven with 2-Slice Toaster Combo.
Toaster Oven 4 Slice Multifunction Stainless Steel with Timer
Are toaster ovens healthy?
Yes, toaster ovens are completely healthy and do not cause health problems.
Can you cook raw meat in a toaster oven?
Yes, some cuts of meat can be cooked in a toaster oven. Use cuts of meat that are leaner to avoid spatter.
Best Toaster Oven Combinations Conclusion
So, a toaster oven combination is a great space saver. Before you splash the cash, make sure that you pick the best toaster and oven combination that comes with a few of the following features to make sure it really ticks all of the right boxes.
Easy clean
Choose a combo with a removable crumb tray and preferably with a rack that can be placed in the dishwasher to clean.
Shut off timer
It is a real pain when you constantly have to keep an eye on food, trying to calculate how long it has been in the oven. A shut off timer will do all of that for you.
Toast shade selector
A toaster oven that comes with a few browning options means that you can have your toast exactly how you want it, every time, without having to hover over the toaster.
Multi-functions
Choosing a toaster oven with more functions isn't necessary, but there are some excellent models on the market that also include griddles and coffee makers that really will help you to save space in the kitchen and also help to keep everything breakfasty in one space.