Vitamix blenders are the kitchen accessory to have, especially if you're on a health kick. They're brilliant for blending and breaking down food types that other blenders might struggle with – for instance, you can use it to make nut milk from whole nuts. But just how to decide which is the best vitamix blender for you?
There's a whole bunch of factors to take into account – from the price, to whether you want wireless connectivity! Each type has a variety of pros and cons, and we're here to take you through them all.
Who Is Vitamix?
But just who is Vitamix? Originally, they produced a variety of kitchen accessories based on encouraging a healthy lifestyle – and they've been around since 1921!
They were originally known as The Natural Food Institute, and these healthy goals are still a key part of their ethos today.
Their blenders date back to 1937, meaning there's a strong history behind their designs – and they're named after the healthy ethos in the company, with 'vita' meaning 'life'. You can find Vitamix models in restaurants and hospitality suites throughout the world, as well as the commercial models we've detailed below.
Recommendations
Vitamix 5300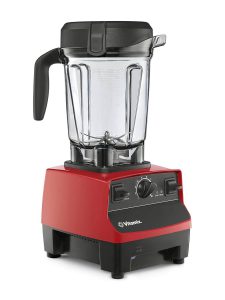 The Vitamix 5300 is almost certainly the best price Vitamix blender.
It lacks some of the more complex features you'll find in other models, but as a functional, hard-working blender, it does the trick.
It has a variable speed control (which can be changed whilst it's on, not just before it starts!) and a pulse feature to allow for heartier recipes. It has aircraft-grade hardened stainless steel blades to ensure even the toughest ingredients are blended smoothly.
Pros
Easy to assemble and use
Much quicker than many other blenders on the market
Large size, meaning you can make large portions in one go
It's wide rather than tall, so can fit underneath your counters
Cons
It's very strong – which means it can be very loud.
The large size can make it trickier to make small amounts
There are some issues with the top, as it is made of hard plastic and can be prone to falling out (luckily, not during the blending process).
Vitamix 5200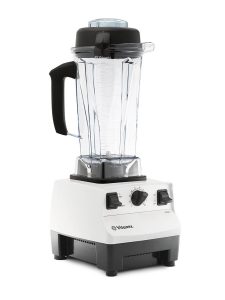 The Vitamix 5200 is a slight step up in price – around $400 depending on color choice – but comes with a few additional features.
As well as the variable speed control, the large size and the aircraft-grade hardened stainless steel blades, it has the ability to take cold ingredients to piping hot thanks to the speed the blades spin at.
Since they're fast enough to create friction heat, you can make hot soup with this, as well as cold smoothies!
Pros
The thinner base means it's easy to make small portions
It runs at incredibly high speeds, making it easy to blend chunks of vegetables without having to spend time chopping them up in advance.
Due to the friction heat, it's not limited to making cold food.
Cons
As with the Vitamix 5300, it's quite loud – especially whilst making hot food.
The height can make it tricky to clean sometimes – and it's not always easy to get all of a thicker mix (like hummus) out without using a spatula.
As a taller model, it's not as easy to fit under a counter, so may take up space on your countertop.
Vitamix E310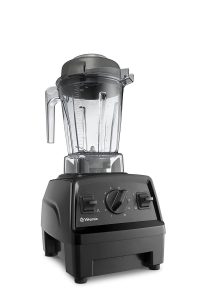 The Vitamix E310 is another of the more affordable models, and it's very similar to the Vitamix 5300, with the major difference being the size.
This has a 48 oz container, rather than a 64oz, making it more suited to those of you who may wish for smaller portions, or who have limited kitchen space.
Once again, it has a variable speed control, the pulse feature and the hardened steel blades. Definitely a contender for the best price Vitamix blender.
Pros
Compact size makes it easy to store when not in use.
Narrow shape makes it easy to make smaller portions.
Easy to clean – the smaller container means you can reach to the bottom if needed.
Cons
As with the other Vitamix blenders, it's quite loud.
It doesn't always blend as easily as some of the larger containers – occasionally the mix on the sides will be a bit thick.
Can occasionally vibrate enough to move (but that's easy to fix with a hand on the top).
Vitamix 750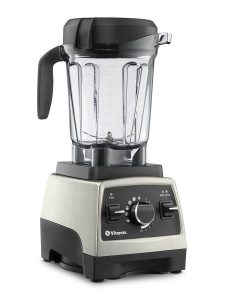 Time to jump up a few steps in price! The Vitamix 750 comes in a little higher, but you do get extra value for those extra bucks. Whilst the cheaper models rely on manual control with their variable dials, this also has an automated option – with five pre-programmed settings that allow you to simply put your ingredients in, turn it on, and get on with something else.
Pros
The pre-programmed settings make this incredibly convenient and great for people on the go.
Quieter than the cheaper models (though not silent)
Built to last, with a good length warranty
Can do both hot and cold foods.
Cons
The cost – it's more expensive than the previous options, and if you're not sure you'll use the extra features, it may not be as worth it.
Designed for larger volumes, so not ideal for single-person portions of smoothies as the blades don't sit quite at the bottom.
As with the other larger models, it can be a little difficult to clean out completely.
Vitamix 7500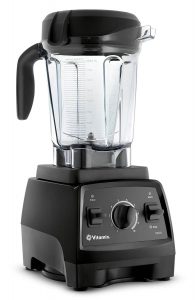 Still in the upper price range, but a little less so is the Vitamix 7500.
This doesn't have any automated options, instead having the variable speed dial. It's a 64 oz container, wide at the bottom and shorter in height in order to fit beneath counters.
Pros
More powerful than the similar cheaper model (the 5200), making it able to blend even the toughest ingredients.
Very quick results, especially for simple smoothies – often in less than a minute!
One of the quieter (though again, not silent) models.
Cons
As with the 750, this is more suited to large batches and you'll struggle with smaller portions
Much more expensive than the 5200, for very little difference unless you're making large batches.
The top can be a little bit hard to remove on occasion, and it's still quite large despite it's shorter height.
Vitamix A3300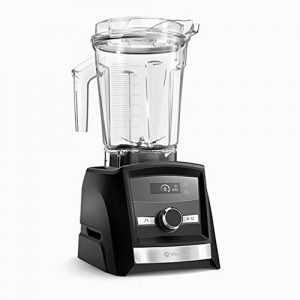 The Vitamix A3300 is in the mid price range for a Vitamix blender. As well as the standard variable speed control, pulse feature and stainless steel blades, it also has wireless connectivity, a programmable timer and a touch interface.
This is the perfect mix of high-tech and simplicity, with the option to pair it with an app in order to use their recipes, or simply use as is with the manual speed control
Pros
The programmable timer means you don't have to worry about waiting next to it in order to turn it off.
If you swap between the 32oz (not included) and 64 oz container, it automatically adjusts to the size difference.
Touchscreen interface makes it easy to wipe-clean.
Cons
If you're not likely to use the wireless feature, it's a lot of extra money for not much additional value.
Best suited for larger portions – you'd need to purchase the 32oz container for smaller sizes.
Conclusion
So just what is the best price Vitamix blender?
That depends on what you're planning to use it for. However, we'd recommend the Vitamix E310 for those of you likely to want smaller portions – it's the only one to come with a 48 oz container rather than the standard 64oz.
If you're happy with a 64oz container, it's dependent on what features you want – the automated settings of the 750 are great, but unless you see yourself using them frequently, it might be safer to settle for the mid-range A3300.
Whichever you choose, they all have the same high-quality processing ability, the aircraft-grade steel blades and the variable speed options, so it's really a case of deciding just how many features you want on top of that. Whichever you choose, we're sure you'll wonder just how you ate before you owned it!
Do you use a Vitamix blender? Let us know how you like it in the comments below!