Everyone who is into blenders is talking about the superiority of the Vitamix A3300 in comparison to other models. This blender has a great combination of cutting edge technology and a sleek and compact design that is becoming increasingly popular among homeowners.
Vitamix A3300
Are you looking to treat yourself and the family to a brand new blender? Perhaps you are composing a list of blenders that you would like to decide between, and if so, you should definitely consider adding the A3300 Vitamix to such a list. 
A brilliant blender is like having an extra helping hand around the kitchen. It will help you to whizz together the creamiest milkshakes and the fruitiest smoothies – the perfect breakfast treats that will keep your family full until lunchtime.

Vitamix A3300 Review
Let's face it, it isn't easy getting healthy meals into teenage children. But with this Vitamix blender, I was able to encourage my little rubble to drink a smoothie a day when made up of their favorite fruits and mixed with a dash of honey. There are so many ways to make smoothies an exciting treat for breakfast or something interesting to drink afterschool that make healthy eating something easy to implement around the house.
This article will explain more about the A3300 and will shed light on how it operates. Take a look!
Overview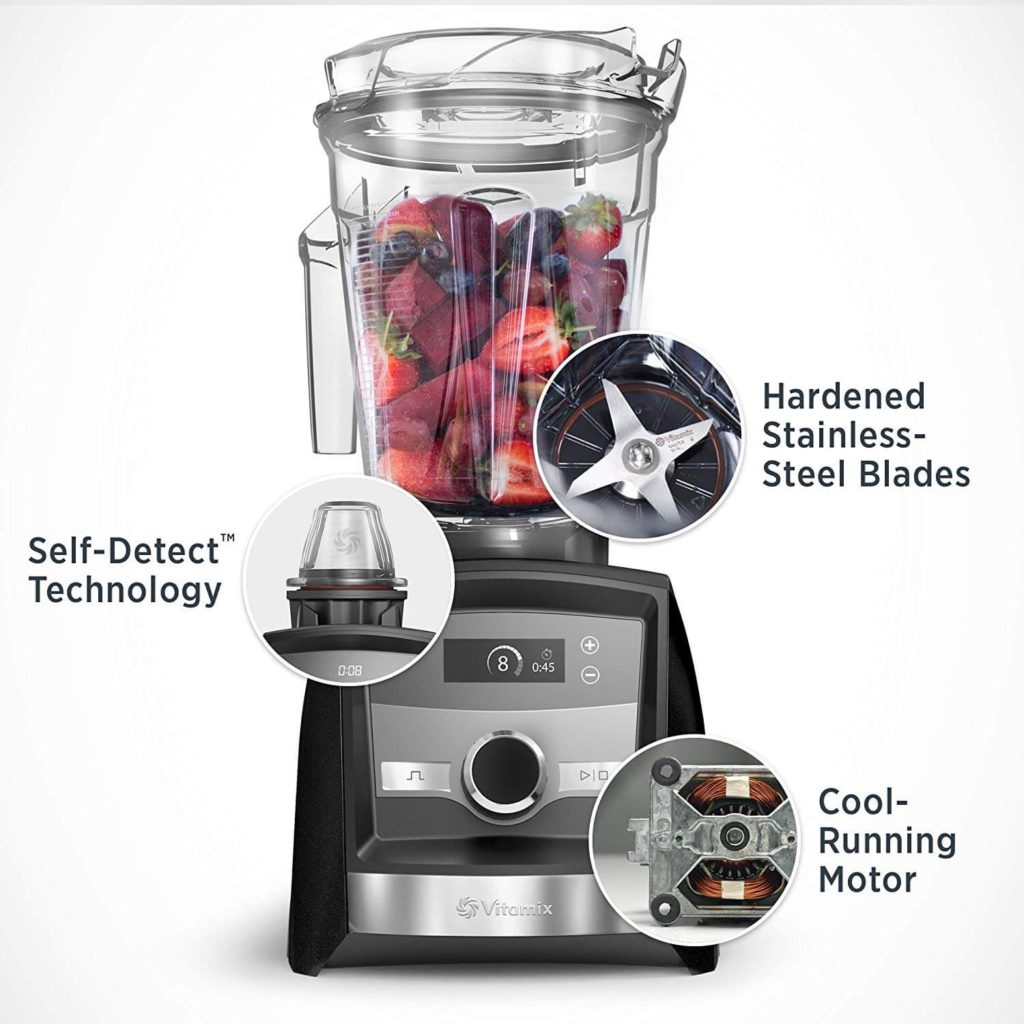 What are some of the features that people are ranting and raving about on this Vitamix Ascent A3300? There are so many handy elements that have been crafted into its design that will make blending your favorite fruits and vegetables a piece of cake. You can check them out below.
Features
With this blender you are in control as it has a dial that will allow you to finetune the speed of the blades, helping you to make just about any meal, exactly as the recipe entails.
This blender has a useful timer feature that will allow you to set your food on to be mixed for specific allotments of time without having to worry about keeping an eye on the pitcher so that your food does not over process.
The blades on this blender move so quickly that it is possible for you to make a hot soup with the right ingredients in about 6 minutes. That's right, there will be no need for you to warm up your meal in a microwave or on the hob.
This blender is tough enough to crush ice, so why not use it to make some tasty frozen desserts or even spin some cocktails together?
Pros & Cons 
That is not all this blender has to offer! There are more hidden gems that I will now share with you in the following pros and cons section. Not only that, but you will be able to investigate the one feature that consumers were not so keen about with this model.
Pros
This unit is dead easy to clean as it only requires a dollop of liquid detergent and some warm water to be added to the pitcher. To proceed, place the blender on the highest spin cycle and it will clean itself in under 60 seconds. There is no scrubbing and soaking required – isn't that a dream come true?
This blender has a sleek touchscreen interface that gives it a more professional and modern look and also makes it easier to wipe clean with one simple sweep.
Cons
Unfortunately, the Vitamix A3300 does not come with any pre-programmed settings that would help you with the timing for certain recipes such as smoothies, purees, and soups. So you will have to consult a recipe book for the exact timings that each meal will take to make or keep an eye on the contents of the pitcher to see how well everything is blending together.
Conclusion
There is so much to this blender that will make it a really fantastic choice for you and the whole family. It can be used to grind even the toughest of ingredients such as nuts, coffee beans and even those stubborn veggies that are sometimes tricky even for a knife to get through. You can use your Vitamix A3300 to make the tastiest dips, purees, and sauces to match the most awesome recipes. 
What if you are wondering, "What will I use the blender for?". That's okay, we all need a little inspiration from time to time, and that is why the team down at Vitamix has included the access to an app with the purchase of an A3300 blender listing over 500 of the best Vitamix blender recipes, all ready to be experimented by you.
Not only will these recipes get you into sampling new meals, but they will also help you to get the most out of your brand new blender and all of its outstanding features.
If you are looking for a super duper blender, make sure you consider the Vitamix A3300 as one of your best options! I am sure you will be nothing but impressed with the results!