The benefit of having a blender among the appliances in your kitchen cannot be over-emphasized.
It allows you to prepare drinks in your home with different recipes, saving you the cost of buying ready-made drinks that are not healthy. In our Vitamix 5300 review, we find it is one of the best blenders in the market right now.
The blender is powerful enough to blend most food items. It also has other amazing features to make it a reliable tool in your kitchen. This review will take a look at the features of this blender.
It will also give its good and bad sides from the perspective of people who have used it.
Who is Vitamix?
Vitamix, which has been in operation since 1921, is a company that is owned and operated by the Barnard family. It specializes in the manufacture of blenders for commercial and household use.
These blenders are classified into three; ascent, personal and legacy series. It also manufactures beverages, frozen treat mixers and food preparations used for commercial purposes.
Since 1948, the company has established its base in Olmsted Township, Ohio and has an employee population of more than 1000, most of whom are based in its Northeast Ohio headquarters.
The company was founded by William Grover Barnard, who started out selling kitchen products.
It started as The Natural Food Institute until 1964 when it changed the name to Vita-Mix Corporation. It has has a rich history and has grown to what it is today.
Vitamix 5300 Review
Every shopper will take a quick look at a product's features to make a decision on whether to buy or not.
Overview
In line with this, Vitamix 5300 has special features that people look for in a blender. What are these features? Let's have a look at them.
Vitamix Features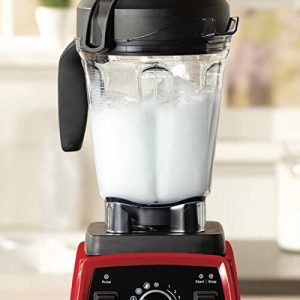 Its motor is highly powerful aiding its performance. The 2.2 HP motor in the blender contains, propels its blades and makes the blender able to blend tough ingredients to produce a top-quality blend.
The blender's speed control can be varied to the user's required speed. This gives them full control of the whole food processing.
It is fitted with a 64-ounce container.  This container is big enough, allowing it to process ingredients in quantities that are enough for the whole family.
Stainless steel has been used to make the blades contained in the blender. This gives the blender the ability to blend fruits, raw vegetables, and other food items exceptionally well and fast.
Put this blender to the test by using it to slice and dice its way through carrots, parsnips, broccoli, and other tough vegetables. It will also cut its way through apples and other hard fruit, that will help you to make the best smoothies for the family this weekend at record speed.
To guarantee the quality of the blender, it comes with a warranty of 7 years. This covers all parts of the blender together with the transportation costs involved.
It is BPA-free. This means the materials used in making the blender are non-toxic and good for processing food. This eliminates the possibility of chemical substances mixing in food as the materials are free from harmful chemicals.
Pros & Cons
The Vitamix 5300 blender, like any other product, has its fair share of good and bad aspects. Below is a list of its pros and cons.
Pros
The blender has a beautiful and stylish design.
It is fitted with a very powerful motor that enables it to blend whatever ingredient that comes its way.
Its blades are made from stainless steel. This, not only allow the blender to last longer but also gives it the ability to blend hard food ingredients thanks to its strong blades.
The speed of the blender can be controlled. This allows its users to be in control of the blending process for good and desired outcomes.
The controls in the blender are easy to understand and use. Users who don't have much experience in using blenders will not have a difficult time using it thanks to its user-friendliness.
The blender also has a strong base. This gives adequate stability to the blender, especially when in use, and also makes it have a longer lifespan.
Cons
The blender is very noisy when blending ingredients. Not many people are comfortable with the noise it produces.
Many parts of the blender are made from plastic. This makes the blender catch bad odor requiring regular cleaning to prevent.
The cost of the blender is too high for many people to afford.
The Vitamix 5200 vs Vitamix 5300
So your thinking of purchasing a blender, but not sure which one to go for? Let me help you out, as I have done all the research and scrolled through endless consumer Vitamix 5300 reviews so that you don't have to.
The following is a comparison of the two blenders so that you can make a decision about which one to purchase.
Here is the difference between the Vitamix 5200 and Vitamix 5300:
Pulse feature
The Vitamix 5200 does not come with a pulse feature while the Vitamix 5300 does. Why is this so important? The pulse setting makes the blender work at its fastest speed, so if you want to blend chunky vegetables to make a soup, for example, it would be a good idea to press the pulse button first to get the vegetables chopped up quickly before changing settings.
Motor
The Vitamix 5200 has a 2 horsepower motor whereas the Vitamix 5300 blender boasts a 2.2 horsepower motor meaning it is more powerful and can work for longer.
Height
One of the more frustrating things about the Vitamix 5200 is its height. It has a total height of 20.5 inches while most kitchen cabinets are placed 20 inches above the countertop meaning that this blender may not fit neatly on your work surface ready for you to grab whenever you need to.
That is why the newer Vitamix 5300 model measures only 17.25 inches, meaning that it will fit as snug as a bug in a rug between your countertop and kitchen cabinets.
It is great because although it isn't as tall, it still has the great 64-ounce capacity that the also Vitamix 5200 boasts.
So although both the Vitamix 5200 and the 5300 are both great blenders, consider the pulse feature, faster motor and convenient height that are offered by the Vitamix 5300 before making your purchase.
Vitamix 5300 Conclusion
The Vitamix 5300 blender has the capability of performing great tasks as it can be shown in this review. It has outstanding features that include its high-power motor, controllable food processing speed and strong blades that enable it to blend most ingredients with much ease.
The blender is also fitted with a container that is of good size, allowing it to process ingredients able to feed many people at once. Besides, the blender is user-friendly, ensuring even new users to make their favorite drinks comfortably.
The blender also has a few aspects, like the loud noise it produces when blending, which many users don't like about it. However, its positive aspects far outreach the negative aspects.
Do you use a Vitamix blender? Let us know how you like it in the comments below!