This is not just another blender review. This is a Vitamix A2300 review. 
There are so many features on the Vitamix A2300 that make this a serious and competitive blender model in the world of kitchen appliances. The layout of the blender is well-presented and superbly designed and the unit itself comes with a variety of features that make it a brilliant appliance that is ideal for both families and couples alike.
Vitamix A2300 Review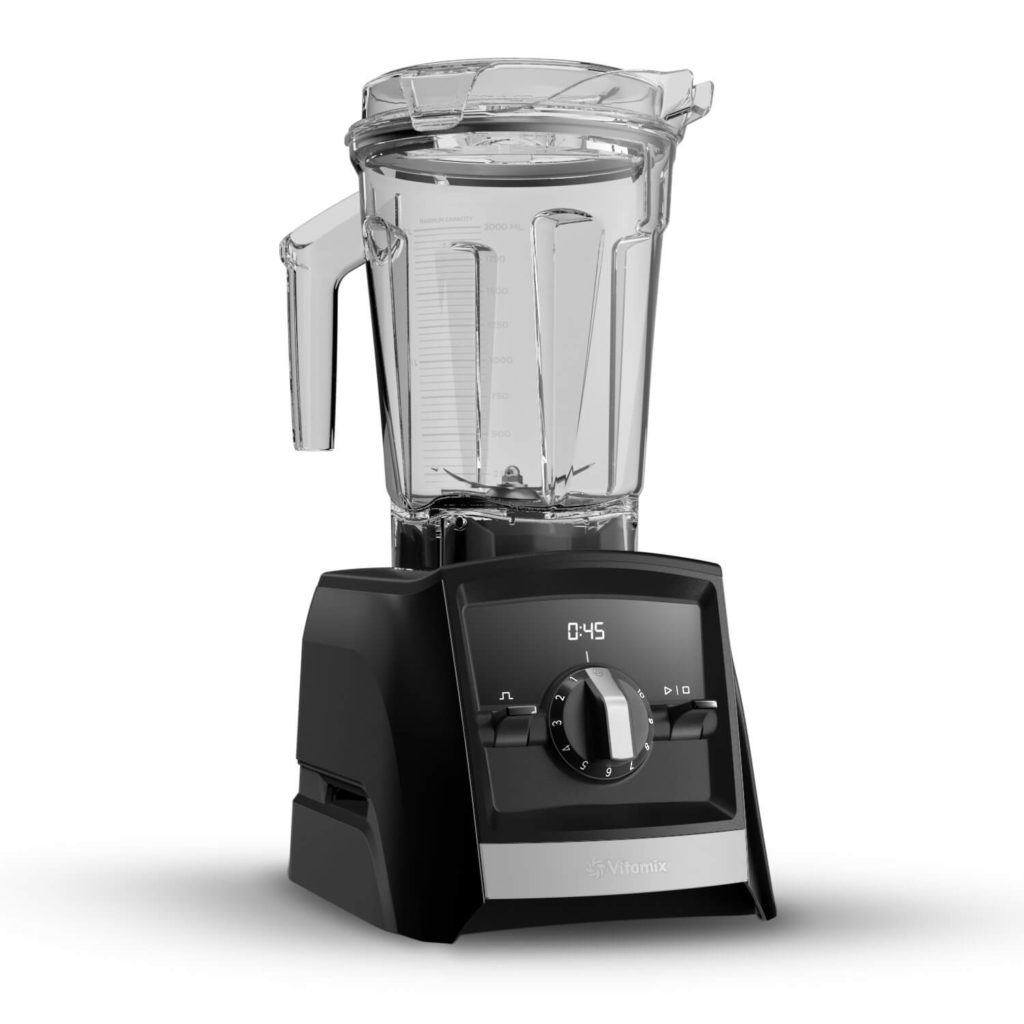 Are you looking to replace your current blender? Or perhaps you are considering making some healthier meals, smoothies, and milkshakes to enjoy with the family at dinner time or as a nutritious snack. If so, then I am sure the Vitamix Ascent A2300 will be the solution for you.
This article will go on to discuss all of the important features on the A2300 and will also list the pros and cons that come with this particular model so that you can get a clear picture of what will turn up at your door once you purchase this blender.

Vitamix A2300 Review
So, to get in the know about all things Vitamix A2300, stick with us, and we will take you through everything about this model, starting with an overview. 
Overview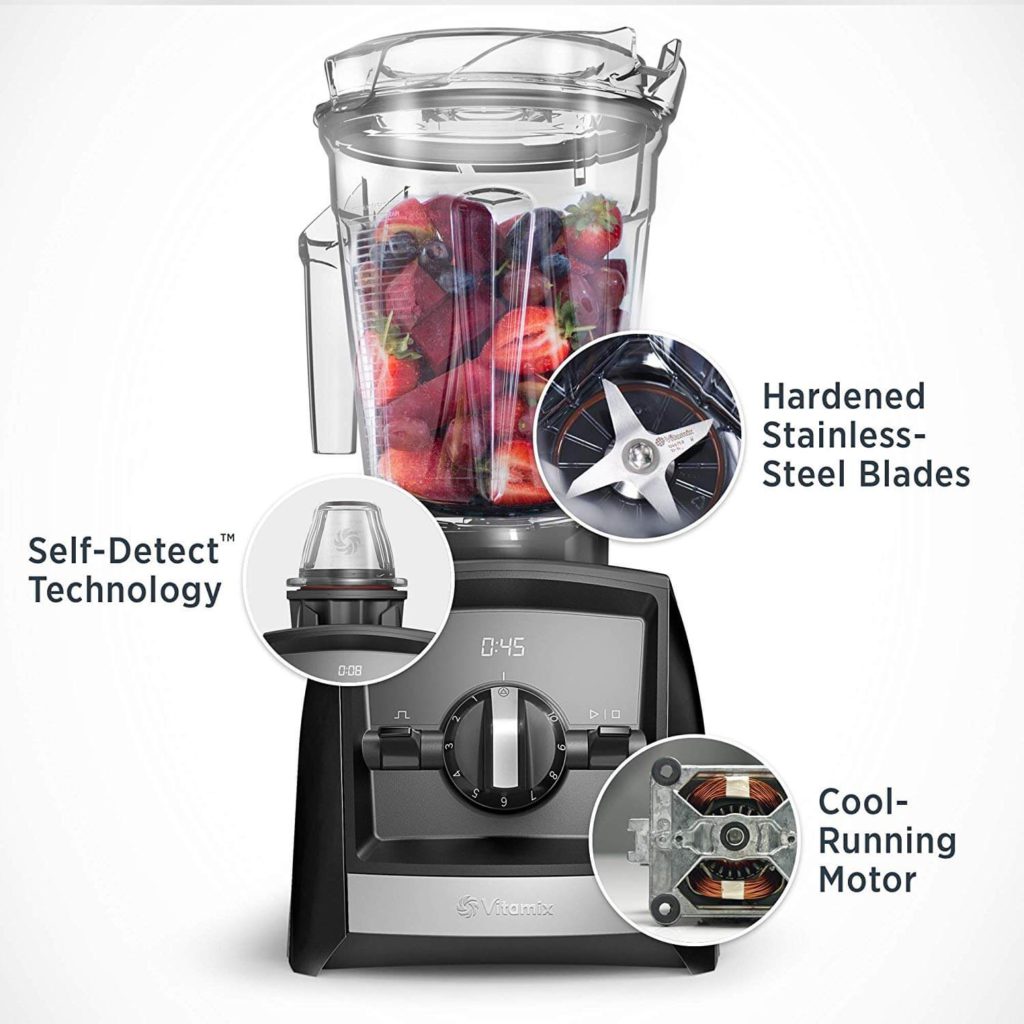 So what is so special about the Vitamix A2300 blender? Take a look at the following list of specifications that will show you exactly what this blender is capable of.
Features
You can use this blender to help you whizz together just about any recipe as it comes with 10 different speeds that make it easier to create a variety of different meals. 
From cold veggies to hot soup, this blender can spin your ingredients together to make the very best hot soup thanks to the speed and friction of the blades. That's right, you won't even need to warm up your soup in the microwave once it has finished blending, simply serve it straight from the pitcher into your dinner bowls!
This blender has a 64 ounce pitcher, the perfect size for you to make a tasty meal or batch of smoothie for the whole family to enjoy. This blender is ideal for making the tastiest creations for parties of four, or for smaller parties that don't mind fridging their deliciousness to enjoy again later. 
The 4 foot cord will allow you to work from various points in the kitchen without having to stretch and cook in awkward places near an electric outlet.
Pros & Cons 
I am sure you are keen to know what everyone has been saying about the Vitamix A2300 blender.
Take a look at the information below that will share some of the pros and cons of this model with you.
Pros
Colors. This blender comes in a stylish selection of colors – a classic black, a sophisticated white, and a fire red. These cool colors will help you to match your appliance to your kitchen color scheme.
Recipes. It is easy to get stuck in a rut when it comes to cooking. That is why this blender is here to help. The purchase of every A2300 will give you access to the Vitamix app, and release over 500 recipes that will show you how to get the most out of your brand new blender using a selection of new ingredients and spices.
Cons
Price. This is an expensive model, and maybe a little out of your budget if you are looking for a blender that you will use infrequently. This blender does come with many features which I think will be very handy should you wish to use it on a regular basis or even daily that will definitely make it worth the money.
Conclusion
As considered in this article, yes, the Vitamix A2300 blender is an expensive model and is definitely not the blender that you want to be investing in if you only plan on using the blender every so often. But what the A2300 has to offer you is a tried and tested quality that is simply unbeatable. 
This blender is far more than an appliance that will help you to make a creamy milkshake or a fruity smoothie, it is an appliance that will help you to make the most innovative recipes. With this model, you could make the most nutritious hot soups, the sweetest frozen desserts, and the perfect homemade dips and dressings to accompany tonight's dinner. But that is not all, you could even use it to spin together baby food, mix batters or dough that will help you to achieve the fluffiest bread rolls. There is really no end to the possibilities and the number of recipes you can make and prepare with this blender. 
So if you are looking for a fantastic blender that will assist you with making something creative and exciting for the family to tuck into, make sure you add a Vitamix A2300 to your basket ASAP!