There is no easier way to start your day with something nutritious and tasty than with a warm and crunchy toast breakfast and the best appliance you can get your hands on to start it all up is a Hamilton Beach keep warm toaster.
Hamilton Beach 24810 Toaster
Are you looking for a brand new, reliable and speedy toaster that will help you to get breakfast on the table in the mornings quicker than ever before? Then you will need to get hold of a Hamilton Beach 24810 long slot keep warm toaster that will be featured in this article. 
What is so great about the Hamilton Beach 24810 and what features does it come with that make even the simplest of breakfast meals even faster to prepare? You will be able to find out the answers to these questions and more in this article.

Hamilton Beach 24810 Toaster Review
This article has been prepared with a handy overview that will discuss some of the main features of this toaster. It will also go into detail on some of the pros and cons of its design and operation which users have found handy to keep in mind before purchasing. So, if you are ready to take a closer look at this Hamilton Beach toaster, let's get started!
Overview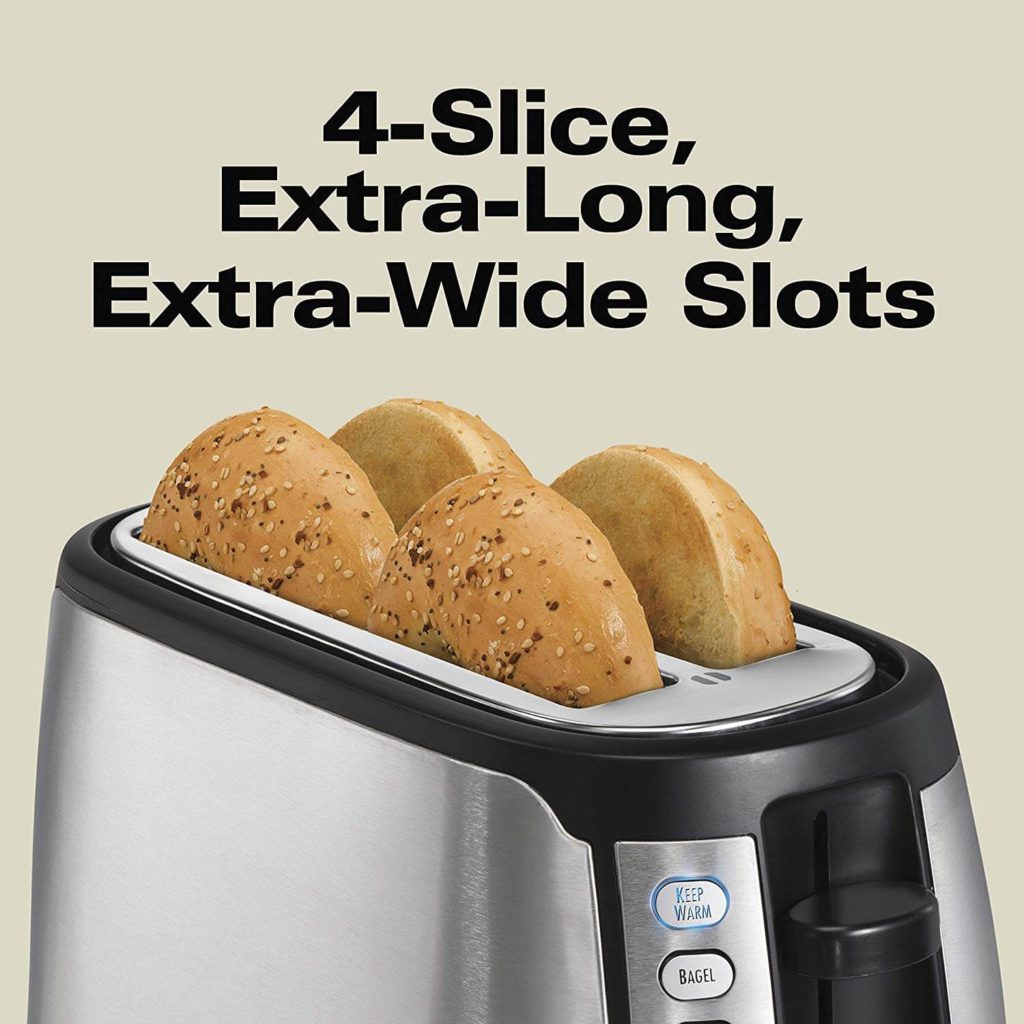 Are you ready to find out what awaits you when unboxing your brand new Hamilton Beach 24810 4-slice long slot keep warm toaster? Then take a look at the following list of features that I am sure will do nothing but impress you.
Features
Extra long, extra wide slots. This 4-slice toaster was designed to accommodate artisan bread. With this Hamilton Beach model by your side, you will be able to toast your favorite homemade bread, including bagels, paninis and more. 
Keep warm. Not quite ready to bite into your toast? Not a problem, simply touch the "Keep Warm" setting on the side of the toaster and it will keep your toast warm for an additional three minutes without burning it.
Cool to touch. This toaster comes with a great safety feature that will help you to keep you and your family members safe around the kitchen. The outside of the toaster remains cool to touch even when in operation so that you do not have to worry about brushing against it and burning yourself.
Boost. No matter what the size of your bread, even if they are small little slices, you will be able to eject them easily from the toaster using the boost lift.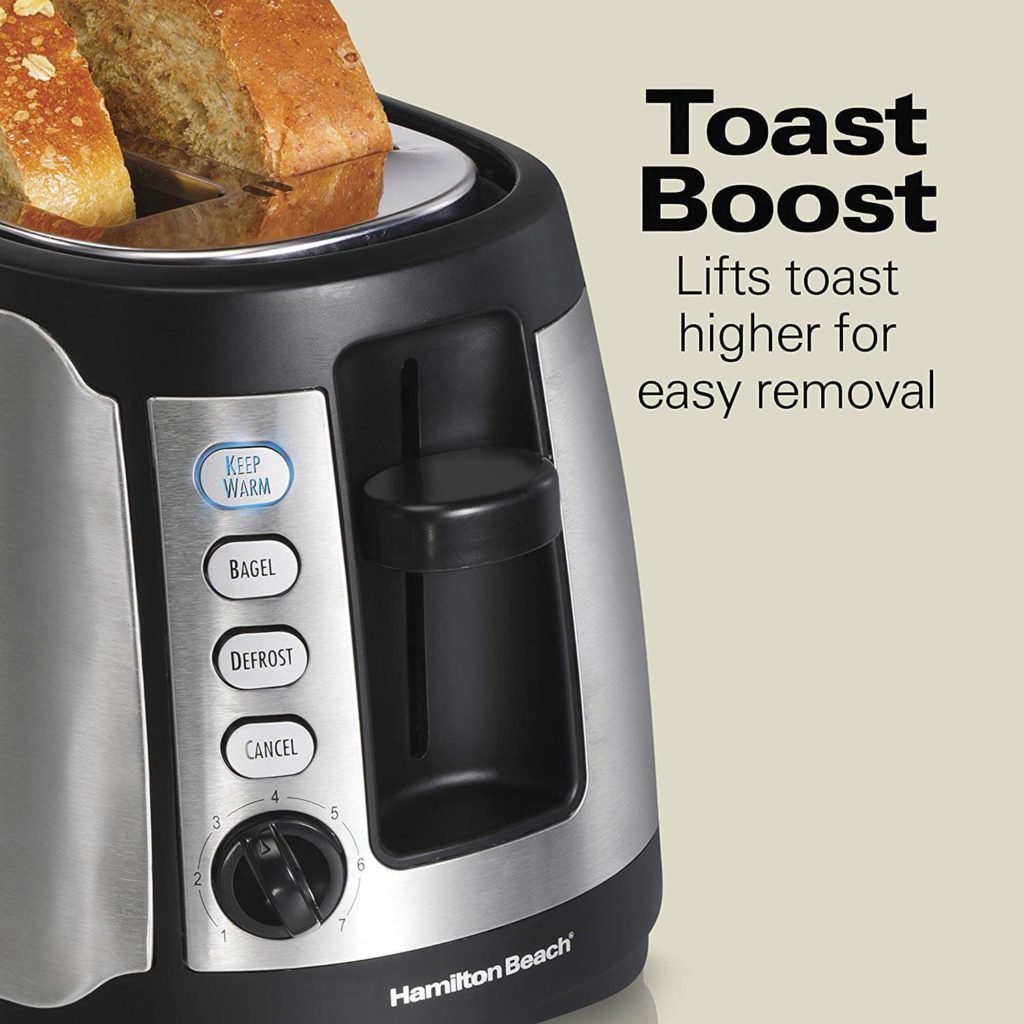 Pros & Cons
Now that you have seen some of the fancy features this Hamilton Beach keep warm toaster comes with, I am sure you are keen to find out a little more about it.
Take a look at the following list of pros and cons for this toaster model that I am sure will help you to make a great decision when purchasing.
Pros
Family size. One of the handiest features on this toaster is the 4-slot capacity that makes this an ideal toaster for use with the whole family and for rushed breakfast mornings.
Extra settings. This toaster also comes with bagel, defrost and cancel buttons that will help you to complete different functions with this appliance.
Keep warm. The keep warm setting is definitely one of the most useful as no one is a fan of cold toast! Keep your toast warm for an additional 3 minutes after it has popped with this feature.
Cons
Crumb tray. Although this toaster comes with many handy features, it lacks a removable crumb tray, meaning you will have to clean it the traditional way – shaking it frantically over the trash can, which can be a little messy, but does the trick.
Conclusion
A Hamilton Beach 24810 toaster is a great choice for anyone who is looking for a reliable, family sized toaster that will operate fast and even keep their bread warm once it has finished toasting.
Not only is the Hamilton Beach 4-slice toaster a practical toaster for families, but it is also a stylish toaster for both modern and more traditional style kitchens thanks to its stainless steel exterior and illuminating buttons that are easy to clean, making them glimmer and reflecting the smart and compact of the unit.
But those are not the only reasons this toaster is a family favorite. It is also becoming increasingly popular thanks to its lightweight design (the toaster weighs in at just 5.33 pounds) which makes it a doddle to lift and transport the toaster around the kitchen. 
Now that you have had a look at all of the features you can find on this Hamilton Beach keep warm toaster, I am sure you are itching to get your hands on one as soon as possible. I don't blame you, it is a fantastic model. So what can you do next? Follow the link on this page and add a Hamilton Beach toaster to your basket today!