You may be wondering "Why are all kitchen enthusiasts raving about the All Clad non stick roasting pan?". Allow me to let you in on something. There are so many reasons the AllClad Roaster has become extremely popular in the cooking world, and that is why this article has been created so that you can get in on the latest and best cooking equipment in the culinary world.
All-Clad Roasting Pan Review
An All Clad roaster with rack is a kitchen cookware tray that is on a mission. That mission is to provide the homeowner with some cookware that is large enough to fit all of their delicious cuts of meat inside without having to use two roasting pans or having to faff about cooking in batches.
Its mission is also to provide users with a non stick roasting pan that will help them to release food easier and will save time on soaking and scrubbing. Thankfully, this All Clad roasting rack has successfully checked all the boxes with the very best results and this article will give an overview of why this roasting pan is a must have.

All-Clad Roasting Pan Review
This article will go into detail about the All-Clad roasting pan and will discuss the pros and cons of this model. You will not want to miss out!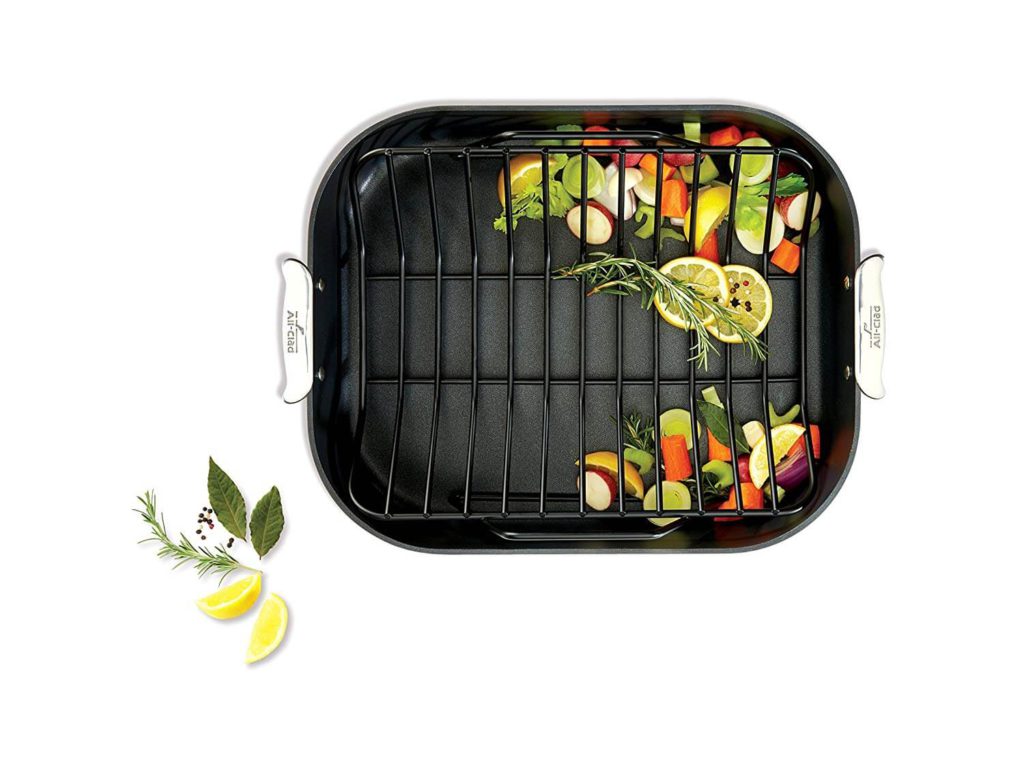 Are you ready to find out exactly how this roasting pan by All-Clad has been designed? Then stay tuned as all will be explained below:
Overview 
Are you planning a meal for the whole family? Not to worry as this 16 inch by 13 inch roasting pan will provide you with ample space to roast a bird or a selection of nutritious winter veggies for everyone to enjoy. 
Features
Keep the oven cleaner with this pan! This pan has been designed with tall, straight sides that will help you to keep the juices and gravies inside the pan without having to worry about them spilling as you maneuver it in and out of the oven. 
This pan is dishwasher safe! Leaving you with no pesky scraping and scrubbing to do at the end of the evening, simply place the pan into the dishwasher and forget about it!
This pan has been designed with a PFOA free non stick coating that will release your food so that it slides away from the pan without having to line it with excess oil. The non stick coating will also make it easier for you to clean the pan should you wish to wash it by hand.
Pros & Cons 
This roasting pan is extremely popular. But what exactly is it that makes it so popular? And is there anything about this pan that could possibly be improved on All-Clad's next model? The answers to these questions will be revealed in the following pros and cons section. Check it out.
Pros
The roasting rack has been designed into a V shape. The V shaped rack helps your meat to brown more evenly, especially if you are cooking a bird such as a turkey or chicken, it will help to lift the wings and the legs so that they cook at the same rate as the breast. 
The pan has been coated in a scratch resistant material that helps to keep it free from scratches and in the best condition possible. This coating keeps the roasting pan looking like-new for longer.
The handles make it easier for the user to move the pan in and out of the oven safely.
Cons
Some users have found that the roasting rack is particularly difficult to clean and that it does not wash very easily in the dishwasher. They have found that it cleans up far better when washed by hand. 
Conclusion
A great roasting pan is an essential part of the kitchen when it comes to the holidays. Nothing screams Thanksgiving better than the perfect roasted turkey with all of the frillings and Christmas will never be the same without a roasted bird or two to share with the family.
But if you like getting stuck in when cooking in the kitchen, then I am sure you will not wait for the holidays to come around to roast your favorite birds. Anniversaries, birthdays, weekends, there is never a bad time to whip out the roasting pan and roast a deliciously succulent cut of meat for family and friends to tuck into.
There are so many great occasions for a roast and that is why you need to get a hold of a reliable, robust, non stick roasting pan as soon as possible. Now that you have had a look at the All-Clad E7649764 roasting pan, I am sure you have liked the features that it comes with that really facilitate roasting and more importantly – cleaning.
If you have liked what you have seen in the All-Clad roasting pan, why not add one to your basket today by following the link on this page? I am sure you will be happy with your purchase!